Don't overdo the spirit of the season
'Tis the season to be jolly is a sentiment that many will take to heart this December. And why not? Holidays, for some, are times for celebrating. Unfortunately, January tends to become a month of unhappy reckoning, as all the excessive intake of food and drink takes its toll. Rapid weight gain, elevated lipid and liver enzyme levels, increased blood sugar as well as blood pressure levels all combine to give the year an inauspicious start health-wise.
There is a difference between indulgence and overindulgence, between enjoying oneself and gorging, states Mrs Sigrid S. De Silva, Consultant Dietician at Asha Central Hospital. It is not unusual to find people having gained 5 - 10 kgs after a month of celebration, she says, adding that this is most common during December and other such festive times like the Sinhala and Tamil New Year. Ironically, the feasting is not even that much fun while it lasts. Common complaints of indigestion and lethargy abound, as do hangovers from a night spent imbibing prodigious amounts of alcohol.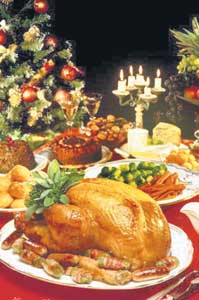 "What you have consumed," says Mrs. De Silva, "will take its turn of events - it will be digested and absorbed." She explains that at the end of the partying there will be no way to wish the discomfort away. Instead, it is best to "think before you eat." Easier said than done, no doubt, but necessary nevertheless. "When it comes to alcohol," she says, "you must have at least 3 alcohol-free days per week." Likewise, eating out - be it at a restaurant or at a friend's party - is best limited to no more than thrice a week.
However, if your schedule is particularly hectic and you are eating out very often, it is advisable to have very light meals at home. Fruits, soup, boiled vegetables or even a glass of milk, followed by an early night is just the thing to give your system a little time to recoup says Mrs. De Silva. While an all-day diet will sap your strength, perhaps at a time you need it most, keeping dinner at home uncomplicated will still do the trick.
Of course, the one thing hardest to replace is simple sleep. A lack of rest might be the most draining aspect of the holidays, what with various events upsetting your regular schedule. Despite this, it is advisable to stay fit. Brisk walks will do wonders for your metabolism and state of mind. So there is good news, and this is it - with a little care, you can really enjoy your holiday, and the months that follow. The key, as always, lies in moderation. "Choose smart," says Mrs. De Silva. Here she offers a few other suggestions:
Don't set out to deprive yourself, instead think before you eat. The point is to not try and make a meal of the whole buffet. Instead, take your time, choose only what you would really like to eat.
Combine discretion with a slower pace. Savour the flavours, instead of gulping it down. As the tables this season tend to groan under the weight of numerous delicacies and rich foods, approach eating as a time for simply sampling a wide range of dishes. When you eat at this pace, instead of gorging, you will find that not only do you enjoy your meal more, but that you are satisfied with less.
Don't skip meals in an attempt to do justice to a big dinner. This will only make you sick. In addition, before you leave home, try and grab a small, low-fat meal or snack. This will mean that you can relax at the party, undisturbed by a growling stomach. Plus, it will also help you avoid overindulging.
Controlling your portions is more than half the battle won. Avoid piling your plate high with food; instead aim for a moderate amount. The recommendation is that you serve yourself an amount of food about the size of your fist.
Be prepared to find alcohol stimulates your appetite considerably. Those who indulge in high calorie bites before moving onto a late, large dinner must be prepared not only for extra kilos, but for indigestion as well
If you have to have your dessert every night, keep the portion small. Where possible train your sweet tooth to appreciate fruits.
Move away from the buffet, after you're done eating. Never under-estimate the temptation presented by the sight and smell of food.
The morning after a night of heavy partying is going to have your body drained. It is important you replenish electrolytes by drinking a glass of milk or fruit juice.
Drink plenty of water throughout the day. A large glass of water drunk a little while before you eat will help you feel fuller.
Maintain physical activity. Don't let exercise take a break during the holidays. A 20-minute brisk walk after a meal can help burn off excess calories.
And lastly, at a party, concentrate on people, not food. The holidays offer us all a chance to spend time with those dear to us, and since it is difficult to talk and eat at the same time, catching up with everyone might turn out to be the most sure-fire diet plan!