'Sanda Nodutu Sanda' : A political plot
In the quest for supremacy, politics entangles the poor and in its wake brings untold misery. The spell cast by politics makes them assassins and perpetrators of criminal acts and driving them to the brink of death.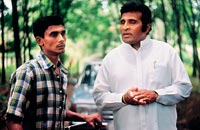 Scenes from the teledrama
Edward Samaradivakara comes from a walawwa and is a politician. His political opponent is Suriyabanda who is also of the same party. They are contesting for preferential votes. His son Wasantha is a graduate and manages his father's rubber factory: His daughter Nethmini, an undergraduate is in love with a fellow undergrad, Migara and the father objects to the affair. This is because Migara does not have any political background. Nisansala is the daughter of a labourer in Edward's rubber estate and her brother is Sirisoma. There is a beauty contest in the village and Sirisoma's girl friend Ramani is planning to take part. But Sirisoma opposes this as he would lose her if she wins the contest. Nisansala and Ramani are close friends. Ramani invites Nisansala to join the contest and Sirisoma too encourages his sister to take part in the event. This was done with an ulterior motive. Nisansala takes part in the beauty contest and she is adjudged the "Beauty Queen". This paves the way for her to get a clerical job in Wasantha's factory. Wasantha gets attracted to Nisansala and they fall in love. And Nisansala gets pregnant by Wasantha.
But Wasantha forsakes her and gets married to Maureen a girl from an affluent family. Just after the marriage Wasantha has to go abroad.
There is a bitter feud between the Edward and the Muthumukarana walawwas. Muthukumarana's son, Neil who had been abroad for years returns to Sri Lanka. He lives a calm and quite life. But when he sees Nisansala he falls in love. He comes to know about her, feels sorry for her, and decides to get married to her. Muthukumarana's family too is happy about their new daughter-in-law and they all start loving Nisansala. Muthukumarana writes his whole property to his grand child. But as Nisansala's confinement approaches, Neil wants to know the real father of the child. Though Nisansala doesn't reveal the indentity, Neil manages to uncover it. When he hears that he is going to be the father to a child of Wasantha he gets furious. He feels that it was a plot by Wasantha and Edwards to destroy the Muthukumarana family. Neil becomes a different person and many tragic event happens in the Muthukumarana walawwa.
Nisansala suddenly disappears Neil's father Mr. Muthukumarana who loves his daughter-in-law commits suicide. When Sirisoma comes for the funeral he inquires about his sister but Neil lies. But Sirisoma comes to know everything and he starts clashes with Wasantha and his Edward's family.
Meanwhile Edward's arch rival Suriyabandara uses this to sling mud at the Edwards. And Sirisoma who hears that his sister is being humiliated by Suryabandara gets more angry. But one day Sirisoma is mysteriously killed.
Who killed Sirisoma? What happened to Nisanasala? What is the future of Ramani? And many questions to be answered at the end of 37 episode teledrama.
The big cast includes Amiththa Weerasinghe, Nadeesha Hemamalee, Jagath Benaragama, Madani Malwatte, Cletus Mendis, Grace Ariyawimal, G. R. Perera, Leonie Kotalawela, Dananjaya Siriwardena, Muthu Tharanga, Ananda Wickremage, Daya Tennakoon, Banuka Manoratne, Victor Ramanayake, Rozanne Diaz, Roshan Ranawaka, Janak Premalal, Manel Wanaguru, Ajith Lokuge and many others.
Screenplay written by Leel Ananda Gajanayake, camera by Daya Suriyarachchi, edited by Buddika Ranasinghe, art direction by Sirinatha Wickremasinghe and Rohana Hewawitharana. Music directed by Ananda Gamage.
To the production of Shan Ananda Ratnayake Sanda Nodutu Sanda is directed by Jagath Benaragama.