Latest collection at Torana
The latest to hit the market from Torana is a mixed baggage. It's a heap of fun and variety including a karaoke CD , a collection of songs ahead of Vesak festival, a couple of movies and not excluding brand new bunch of songs from Sirasa Superstars.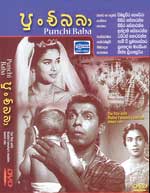 Punchi Baba
Torana is known to cater to everybody's taste alike and that may be the very reason they wanted to release two movies an old time hit "Punchi Baba" starring heroine of the Sinhala cinema Malini Fonseka and Joe Abeywickreme and a recent hit "Mille Soya" featuring Sangeetha Weeraratne and Mahendra Perera.

Punchi Baba carrying a strong message unlike majority of the films that roll in to the market one after the other,will even appeal to the younger generation.
Critics called Boodee Keerthisena's "Mille Soya" as an intelligent and innovative work relating a story of Sri Lankan youth. Its success needs no elaboration. The film bagged 18 major awards including SIGNIS Awards for Best Picture, Best Editor, Art Director, Music Composer and Cinematographer.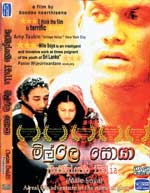 Mille Soya
It is not just the film Mille Soya that the viewer can enjoy but they can also watch behind the scene action with a separate segment dealing with the "making of Mille Soya."
Dropping some useful hints to prospective film directors the CD also carries another segment on the scene selection of the movie and also take the viewer beyond the sheer pleasure of watching the movie into what went into the making of the film.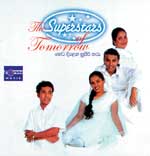 SuperStar
Sinhala Karaoke Volume 15 is another in a series of Karaoke by comprsing ever famous songs by CT Fernando and later sung by his son Priyantha Fernando with the music redone.
Among the songs are Sanda Wata Rantharu, Kimada Sumihiriye, Mee Amba Wanaye, Mee Wadayake Jeevithe, Bilinda Nelawe, Mage Sudu Mame, Piyumehi Peni Bothi and Amba Ruk Sewanelle.

Sirasa Superstars are loved by all and when Torana released a CD comprising brand new songs by four singers among those who were selected to the final twenty members, it was certainly the right decision at this time.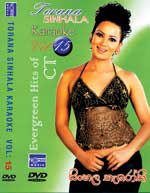 Sinhala Karoke 15
'Budu Ama Wessa' - a line of songs in view of the Vesak festival including songs by Victor Ratnayake, Karunaratne Divulgane, Nirosha Virajini, Athula and Samitha, Latha Walpola, and Guanadasa Kapuge just arrived in the market at the apportune time.