Thomian Society of Colombo: Dinner Theatre - a resplendent evening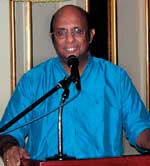 Dr. Vijaya Corea
A distinguished gathering of old Thomians from S. Thomas' College, Mount Lavinia, Gurutalawa, Bandarawela and S. Thomas' Preparatory School, Kollupitiya had what was described by many of those present as 'one of the most memorable times' in their lives on Saturday, May 7 at the Crystal Ballroom of Taj Samudra Hotel.

Founder President of the Thomian Society of Colombo, Dr. Vijaya Corea, was indeed gleeful as he welcomed the 'house full' audience to the Dinner Theatre, which saw every ticket sold out eight days prior to the event. Dr Corea said : "Tickets selling like hot cakes have now become a hallmark of the activities of the Thomian Society of Colombo - a matter of pride for the entire membership." The evening began with friendship and chatter and the clicking of glasses to the sound of 'cheers' as old Thomians, their guests and friends mingled with unprecedented cordiality. Then, with each in his/her seat, heads turned as the theatre was about to begin. Playwright/Actor, Indu Dharmasena,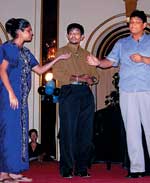 A scene from the dinner theatre
fulfilled all expectations as the two dramas - "Room to Let" and "Fortress in the sky" produced ripples of laughter that enhanced the degree of relaxation that had already begun to fill the air. The sit-down dinner was sumptuous. The fellowship was excellent. The Dinner Theatre of the Thomian Society of Colombo enjoyed the distinction of remaining an evening to remember.