'Samara' showcases Sanjaya's talents
'Samara', the debut directorial venture of young filmmaker Sanjaya Nirmal now screens on EAP circuit cinemas around the country.
Starting his career with 'Nonimi Yathra', a ten one episodic miniplays based on world famous short stories, Sanjaya in his maiden effort in cinema brings a story with a touch of a popular theme.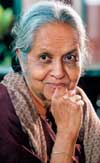 Iranganie Serasinghe
The film revolves around Samara (Sandali Welikanne), the child and her mother Indu played by Kanchana Mendis. Indu is a music loving young mother living with her only child separated from her lover Shane (Buddhika Jayaratne).
Being defeated in love Indu has not given up having hopes and dreams. But her dream is shattered when she meets with an accident on her way to a practical test in music.

Her bike collides with a car driven by young doctor Kalana (Kamal Addararachchi).

Indu is prevented from going for the test and Kalana sympathises with her. He is attracted to Indu not knowing that she is a mother. Ruwina (Semini Iddamalgoda), Kalana's intended wife who hears this, prevents him from meeting Indu or helping her. The film gives many a dramatic twist and turn ending in its fairytale romance.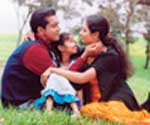 Kamal, Kanchana and Sandali in a scene from the movie
Although there are a few lapses to good filmmaking Samara on the whole is both entertaining and exhilarating.
Iranganie Serasinghe, Sandali Welikanne, Nelum Perera, Buddhadasa Vithanarachchi, Nilanthi Wijeysinghe, Seetha Kumari, Ruwan Wickremasinghe, Tyronne Michael, Soma Mawalage, Piyumi Shanika and Neeta Fernando play guest role in the cast of Samara.

The crew consist of professionals as well as amateurs. 'Samara' is edited by Rukmal Nirosh while Pradeep Bulathsinghala handles the camera.

Milton Jayawardena is executive director and Rohana Weerasinghe is responsible for the original score with some harmonious tunes. To the lyrics written by Sunil Ariyaratne and Bandara Ehaliyagoda, Rukantha Gunathilaka, Uresha Ravihari, Grecian Ananda, Morris Wijesinghe and Nelu Adhikari have rendered their voices for background songs. Advertising executive is Nihal Sanjaya.

For EAP Films 'Samara' is produced by Soma Edirisinghe.