CHINTHANA US bound
By S.R. Pathiravithana

Sri Lanka's latest sports sensation Chinthana Withanage is in for further luck. Now he will join the Lankan 400 metres sprinter Prasanna Amerasekera and shuttler Niluka Karunaratne in undergoing IOC sponsored training courses.

Withanage who won the "gold" medal for the under 65kg weightlifting category at the Melbourne Commonwealth Games has got the nod from the USA Academy of Weightlifting in Colarado Springs.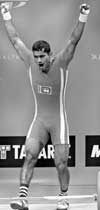 According to Sri Lanka Olympic Committee Chief Hemasiri Fernando when they met at the last IOC meeting in Korea recently to ratify the Olympic Scholarships the names of Prasanna Amerasekera and Niluka Karunaratne had been accepted from the original list of five sent in. Fernando added "At this point we pushed for Withanage's name to be included, but, initially they said that it was too late. However in a sudden streak of luck the head of the USA Academy of Weightlifting who was not an original invitee also happened to be at this gathering and we took the chance to make a request on Chinthana's behalf and he readily accepted it. Right at this moment we are going through the customary visa procedures and if everything does go well the three sportsmen will head for the USA by the 15th of June."

Chinthana Withanage will be undergoing the training course for a period of two years and this will culminate with the participation at the next Olympics in China two years hence. When asked whether the Lankan threesome would be taking part in the SAF games scheduled for August in Colombo the NOC head said "Yes, we will get them down for the SAF games and they can go back to their training programmes once their events are over.

Originally as soon as Chinthana won his Commonwealth title it was speculated that he would undergo a training course in Melbourne Australia, but this latest development has preceded it.

Meanwhile the Sri Lanka Weightlifting Federation is making arrangements to send an eight member contingent to take part in the Commonwealth/Oceania Championship which will be held in Western Samoa in July. Withanage was also to represent Sri Lanka at this championship, but now with this latest development he may not be present in Samoa.