Over the top
By Ayesha Inoon
He was on top of the world. Tears of joy sprang to his eyes despite his exhaustion as he dug the Sri Lankan flag into the snow. After long months of preparation and tiring days of tortuous climbing, he had finally made it. As he looked at the incredible beauty of the Himalayas, it was a moment of indescribable wonder.
On April 17 this year, Elmo Francis became the first Sri Lankan to reach the summit of Mera Peak which stands at 6654m.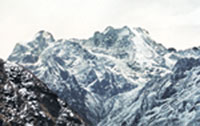 The Mera Peak
The eldest in a family of four, 29-year-old Elmo always had a deep yearning for adventure. An avid nature-lover and water sports enthusiast, he began exploring local peaks such as Knuckles and Adam's Peak and in his first expedition to the Himalayas in 2001, trekked to the Ama Dablam base camp, at an altitude of 5700 metres.

A triumphant Elmo
The mountain he set his sights on this time was Mera Peak in the lovely uninhabited Everest region in Nepal, the highest of all trekking peaks in the Himalayas.
Preparing for this expedition was no easy task, says Elmo. He spent hours on research, made sure he would be in excellent physical condition to undertake the rigours of the expedition and wrote letter after letter, until he ultimately convinced several organisations including MAS, HSBC, Kodak and the Sri Lanka Tourist Board to sponsor his expedition.
Finally, on April 5, he was his way to Delhi, from where he travelled to Kathmandu where he was met by executives from Explore Himalaya Travel & Adventure, his agents in Nepal. The flights were sponsored by SriLankan Airlines and Royal Nepal Airlines.
He began his trek from the small Sherpa town of Lukla on April 8, accompanied by his team of two sherpas or climbing guides- Phurba Pasang Sherpa and Lakpa Sherpa, a cook and five porters. Passing a number of tiny hamlets, they entered an area of thick forest on a hillside before they reached Chutanga, the first camp. Here, they spent two days getting acclimatized. The next challenge was to cross the Zatrwa La pass, which connects the two valleys of Khumbu and Hinku. This was one of the hardest parts of the climb, due to the technical difficulties of the ascent, says Elmo.
Their climb continued through long, cold days, filled with the beauty of pine forests and rhododendron trees, snow-capped boulders, alpine lakes and fleeting glimpses of wild life. Crevices created by the movement of ice plates had to be crossed with great care and the experience and knowledge of the sherpas proved invaluable in this, says Elmo.
A memorable part of the trek was meeting some Maoist rebel leaders, in whose territory he now was and to whom he had to pay a donation of Rs. 5000. Another was his short visit to the Gompa temple on the rock, where he was blessed by the Lama.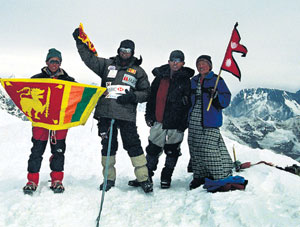 Elmo and his team at the peak
In the late afternoon of April 16 they reached high camp, at an altitude of 5800 m where they enjoyed a meal of soup, porridge and tea and settled down to a much needed rest. By now the whole team was completely worn out, the low oxygen levels taking their toll.
Waking up at 1 a.m., Elmo took a moment to absorb the strange and mystic loveliness of the mountainside by moonlight. The time had come. After sipping cups of hot coffee and eating the special high-nutrition breakfast prepared by the cook, they began the final leg of their journey.
By sunrise they had reached an altitude of 6000 m. At 9.30 a.m. Elmo's dream was realised, and he stood on the summit of Mera Peak. Crying and laughing at the same time, his team mates hugged each other, as they used the satellite telephone to transmit the news of their success.
"No one can take away this feeling," Elmo says with pride, "I've learned a lot about myself and what I am capable of."
Mountaineering is a matter of life and death and you need to know exactly what you are doing, says Elmo. The right clothes, climbing gear, and above all, the right attitude are essential. As one reaches higher altitudes and oxygen levels drop, physical exhaustion sets in, he says, and with it many climbers begin to wonder if the ascent is worth it. A climber has to go slowly, allowing his body to adjust to the changes. After a certain point the brain only concentrates on the vital parts of your body, such as the heart and lungs; from there, he says, you climb on sheer will power alone.
Elmo believes in taking risks, but calculated ones. Bad weather, deteriorating physical health-all this must be taken into account he says, adding that if he had sensed these at any point, he would have turned back. "You have dreams - but there's a fine line between what you can achieve and what you can't. You have to take a million things into consideration."
An Assistant Manager at HSBC, also reading for his degree in Sociology, Elmo says he needs to concentrate on work and studies for a while before his next adventure. But isn't he hoping to climb Mount Everest sometime? "Definitely," he says with a grin.