Rajapaksa's 'lion-like' option
By Our Political Editor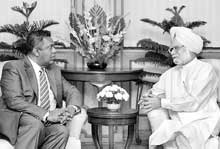 Foreign Minister Mangala Samaraweera (L) speaks to Indian Prime Minister Manmohan Singh in New Delhi. Samaraweera is in India to brief the Indian leadership on the situation in Sri Lanka. REUTERS
Going to Parliament was almost next to nature for Mahinda Rajapaksa until he became Sri Lanka's fifth executive President of Sri Lanka. From 1970 he did so as a parliamentarian, barring a break from 1977-89, more lately with the added title of being Prime Minister.
Last Wednesday it was different. Though President, he was going there in his capacity as the Minister of Finance. That was to chair a meeting of the Parliamentary Consultative Committee -- a joint body of government and opposition parliamentarians designed to ensure the efficient working of all ministries. But he found to his dismay that the Committee he was chairing was the only one that was operational. None of the others had even met.
There was a full house and business was as usual until a United National Party (UNP) parliamentarian struck a discordant note. Neomal Perera from the Puttalam district said he came from an area where the illicit liquor industry flourished. It had now become the means of livelihood for a large number of people. He urged President Rajapaksa, as Minister of Finance, to legalise that industry. In other words here was an opposition parliamentarian wanting the kasippu or illicit hooch industry countrywide legalized. Imagine kasippu dens and drunken people dancing in every street corner.
Making such a proposal was ugly enough. That it came just a day ahead of Vesak when the nation marked the 2550th Buddha Jayanthi celebrations made it shameful. Fellow UNP parliamentarians stood aghast. At least one of them hit his right hand on his forehead. President Rajapaksa took it in his stride. In his summing up speech he said he had heard the views expressed by Perera. He made clear he did not agree with him. It was not his Government's policy to legalise kasippu, leave alone expanding the network of legal liquor outlets.
When he was Prime Minister and went to Parliament, the meals for him was always in his annexe there. But Rajapaksa chose to have lunch that Wednesday at the Parliament canteen. He made sure Speaker W.J.M. Lokubandara, the custodian of Parliament, was told that President would lunch there.
Flanked by government and opposition MPs he sat down to a rice and curry meal. A former UNP cabinet minister and parliamentarian from Mahiyangana, Lakshman Seneviratne wanted to be seated with Rajapaksa. He lamented to a colleague "how can I go and face the President. Not after that man (Neomal Perera) wanted the kasippu industry legalized. The UNP is not for kasippu karayas."
Lunch over, President Rajapaksa moved from table to table greeting MPs. His aides reacted with some trepidation when he moved towards a group of Tamil National Alliance MPs. Beginning Tuesday; they had staged a walk out in parliament demanding that the Government stop the wave of so-called killings in the north and east. Would they snub or jeer at him? There was no such thing. Instead there was bonhomie as they exchanged pleasantries with Rajapaksa who continues to retain his common touch or rural charm six months into the presidency.
Thursday was different. At the Presidential Secretariat he took part in a ceremony where he declared Vesak Full Moon Poya day of 2006 to Vesak Day in 2007 as the country's 2550th Sambudda Jayanthi Year. The event was to have been held elsewhere but security considerations had prompted it to be held at the Presidential Secretariat. It was during the ceremony that afternoon that President Rajapaksa learnt the LTTE had mounted a major attack on a naval convoy in the high seas of the north east. Our Defence Correspondent gives a detailed account of the event. He also interviewed President Rajapaksa on his responses. They appear on the opposite page.
Soon after fighting erupted the Operations Room at Navy Headquarters became a hive of activity. It was not only in terms of directing counter measures against the attackers but also other responses. Defence Secretary Gothabaya Rajapaksa was on hand. So was Presidential Secretary Lalith Weeratunga and Foreign Minister Mangala Samaraweera. They were discussing, among other matters, about a response. It was in Sinhala. Should it be "Balu Niyawa" or "Sinha Niyawa."
In other words, the question was whether to respond like a dog or a lion. If a stone was hurled at a dog, it would run in the opposite direction. But if it was done to a lion, it would run in the direction from which the stone was hurled. They were unanimous that the reaction should be one like a lion. Air Force was ordered to carry out air attacks on selected Tiger guerrilla targets -- for the first time in the four-year-long ceasefire. While helicopter gunships went to engage the Sea Tiger boats in battle, Kfir jets bombed the LTTE airstrip near Iranamadu.
That night armed forces top brass and senior defence officials met President Rajapaksa at Temple Trees. They were unanimous in their view that there should be a limited attack on Friday to send a message to the LTTE. That was to make them know they cannot get away by staging violent attacks on the armed forces. The answer was a firm "no" from President Rajapaksa. He said on Vesak day there should be no such offensive action. However, he said if any attacks were carried out by Tiger guerrillas, the armed forces were free to defend and even hit back.
Later Foreign Minister Mangala Samaraweera briefed President Rajapaksa on his official visit to India. Most of the discussions in India had centred on the ongoing peace process and the need to continue it. Samaraweera accused the UNP of having carried out a propaganda campaign in India by apprising their leaders that the JVP was the stumbling block to the peace process. He said he was able to clear such misunderstandings successfully.
He said that he briefed Indian leaders that in the past the JVP had insisted on the LTTE laying down arms before entering the peace process. This time, however, they had fully supported the peace process though they had reservations on some aspects of its implementation. Samaraweera explained he told Indian leaders that the LTTE had not changed its stance of being committed to a separate state. He said India had offered its fullest support to the Government of Sri Lanka.
It was during a meeting with the National Patriotic Movement that President Rajapaksa acknowledged a war situation was building up. An NPM delegation that included Dr. Gunadasa Amerasekera, Ven. Damara Amila Thera and JVP's Wimal Weerawansa met President Rajapaksa for a meeting on Tuesday.
President Rajapaksa said he needed the Movement's co-operation much more than the way the JVP co-operated. There were eyebrows raised. Whilst Weerawansa remained puzzled, it was Amerasekera who asked Rajapaksa what he meant by that? For a moment the NPM delegation felt frictions had developed between President Rajapaksa and the JVP.
A smiling Rajapaksa offered an explanation. He said at present the JVP was extending support to him from outside the Government. He had felt that the JVP's support would be much more meaningful and of greater use if they joined the Government and extended their support. That was how important the JVP support was. The issue of security for some 300 Sinhala villages bordering areas dominated by the LTTE was raised by the delegation. Rajapaksa directed his Secretary Lalith Weeratunga to co-ordinate with the NPM and take measures to protect these villagers.
Since the peace process began, the arrival of dignitaries has often become a media event even if what those concerned do end up as non events. Once more Japan's Special Envoy for the peace process, Yasushi Akashi, arrived in Colombo, as always with a broad smile and a cheque book in his pocket. Japan is Sri Lanka's largest aid donor.
He met Foreign Minister Samaraweera upon his return from India. He expressed the view that he did not think the LTTE could be brought to the negotiating table at this point of time. There was also a meeting in Parliament with Minister Nimal Siripala de Silva. But the hottest was the one on one he had with JVP leader Somawansa Amerasinghe.
Amerasinghe was infuriated at remarks Akashi had reportedly made in a television interview that UN peace keeping troops should be sent to Sri Lanka. If that happens, he warned, the JV P would take to the streets. He said there was no need for any foreign troops in Sri Lankan soil. Akashi wavered. He tried to explain what he meant without offending Amerasinghe. The JVP leader also raised issue over a federal solution to the ethnic conflict. He said the JVP did not believe that was the answer.
While the LTTE had unleashed an un-declared war on the State of Sri Lanka, Rajapaksa was striving for national unity. The UNP had pledged its support to the Rajapaksa Administration at the All Party Conference in the event civil war breaks out.
And as this national unity was being brokered, it happened to come at an awkward time for Rajapaksa -- in the midst of a battle for supremacy for control of the Colombo Municipal Council - and all the divisive factors of parochial politics coming into play.