Moves to develop uncleared Northeast
By Shelani Perera
The Government is to utilise part of an Asian Development Bank loan to develop uncleared areas following the opening of the A 9 route on Friday.

The Government would spend Rs. 150 million of the US $ 40 million (Rs. 3.680 million) ADB loan to develop various sectors in the area with agriculture and school development being given priority, Mannar Government Agent V. Visuvalingam told The Sunday Times.

Farmers would be offered aid to buy fertilizer while schools would be reconstructed with science laboratories. Hospitals would also be renovated with every hospital being provided with ambulance facilities. Improvements in postal service, water and sanitation facilities were also being planned, the GA said. He said the Government was studying the possibility of providing electricity to the area by installing solar power systems.

---
One killed in mine blast
One person was killed and two were injured in the Ariyalai area of Jaffna when a tractor in which they were travelling was caught in a pressure mine explosion, residents said.

The victim was identified as Sinnaiya Nagaratnam (26), a father of two.

---
East not so optimistic
By Faraza Farook and Tania Fernando reporting from Trincomalee
Psychological pressure to recruit children and youth has evidently increased in the Eastern province with the LTTE reportedly infiltrating into government-controlled areas including schools and refugee camps.

Children who spoke to The Sunday Times said they were shown documentaries depicting the fighting and sufferings endured by Tamils which developed a sense of guilt in their minds and inspired them to fight for their rights. Villagers said some 16 and 17 year-olds had volunteered to join the LTTE after watching the video films shown in the night at the refugee camps.

A fourteen year-old boy suffering from a chest problem taken last week with three others his age from a refugee camp in Trincomalee, told The Sunday Times as to how he decided to join the LTTE after watching the video.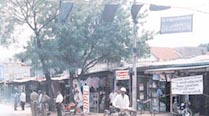 Black flags in protest against child conscription by the LTTE in the East.

"I wanted to experience what I saw on video and decided to join the LTTE," he said.
"Around 1.30 one night they took us in a boat and half way through they blind folded us until we reached a house. During our two day stay we were shown several movies and documentaries on nature which kept us entertained".
He said that he and his friends were approached by the LTTE and having watched the documentaries on several occasions, they were eager to pay a visit. The 14-year-old told us that we too could watch the documentaries if we came in the night.
His mother had to keep searching for two days before she finally learnt that her son and the three boys were taken to Mutur. "They simply came and took my son away. I didn't know where to look, but on information that the LTTE may have taken the children to Mutur, I went there". She said her son was released after much reasoning and pleading about his illness.
The boys said they felt no fear at the LTTE camp as they were treated very well and given enough food. "I knew my mother was looking for me and asked them to let me go home and they released me".
The 3rd mile post, Pallethotam, Selvanayagapuram and Thorankattu were some areas that children were recruited while letters have been sent to schools in the Sambur, Mutur, 64 Mile Post and Patchanur in Trincomalee to release children.
However, the LTTE in a recent statement said some recruitment was made to strengthen the administrative and political wing, but denied reports of forcible child recruitment.
In Batticaloa, recruitment appeared to be widespread from Valaichenai to Chenkalady and even Batticaloa town. Similar reports were also received from Pannankuda, Karaithanthivu and Thandiady in the Vavunativu division and Pattipalai, Wellaveli and Vaharai.
Many Tamil families said they had been subjected to intense psychological pressure to either pay a ransom or give a child while Muslim families were fleeing in fear that the LTTE would eye their children if the ransom was not paid. Others were left with no option but to give into the demands of the LTTE.
Villagers said that youth were also given the impression that they would be absorbed into the government's armed forces after successful peace talks if they join the LTTE now.
Extortion too was widespread in the Eastern province. Banks were the latest target where staff were threatened to reveal accounts of clients to extort money from those with a fat bank balance. According to some bank officers in Batticaloa, some bank staff were intimidated on their way home to reveal details.
In the event that a person was unable to pay cash, any movable property such as motor bikes or jewellery were taken away forcefully, residents said.
In Batticaloa, the situation was so bad that people were fleeing their homes. Residents said there was one case where a lawyer was forced to pay about a million, while teachers in a leading school were ordered to pay one eighth of their salary to the LTTE.
Kantale, Mutur and Kinniya were the most affected areas in Trincomalee. Though shopkeepers protested against the continuing extortion, none dared to complain to the police.
A family fled the village early last week in Kantale following threats from the LTTE. Sarath Jayasinghe who won a lottery for Rs. 500,000 got a demand for Rs. 300,000. The family was held hostage for three hours after which the LTTE had taken Rs. 47,000 worth jewellery and Rs. 2500 in cash, ordering them to keep the rest of the money ready the next day. Mr. Jayasinghe and his family in fear of their lives left the village immediately.
Though letters were distributed or verbal demands were made those approached were tight lipped and none complained to the police todate except Jayasinghe. The Police said that nine children from Tamil families were reportedly taken by the LTTE, but no complaints had been made.
According to the Police, this month alone, six LTTE cadres with hand grenades, cyanide capsules and walkie-talkies had been arrested on two different occasions and released after questioning on orders from higher authorities.
While the hope of peace was the foremost in the minds of many, people were also pessimistic as to how successful the talks would be with problems of recruitment and extortion being rampant even at a time of a truce.