Hashan puts Lanka in box seat
By Bernie Wijesekera
A career best unbeaten 143 by Hashan Tillekeratne against the West Indies put Sri Lanka in the box seat, on the third day of their third and final Test match continued at the SSC grounds,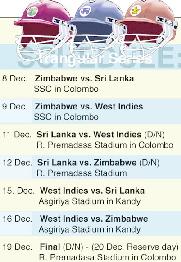 yesterday. This was his ninth Test 100

At close the Lankans in reply to the Caribbean first innings total of 390 all out, were 477 for 5 and lead by 132 runs with five wickets in hand with two days left. They already lead 2-nil in the series.

The Windies middle and lower was made to look brittle - losing seven wickets for 18 runs. It was a pathetic batting display by a Windies team here. Brian Lara showed his class and maturity after a shocking start, 2 for 17. Firstly he repaired the innings with R. Sarwan (69) in a 196 third -wicket stand before Sarwan was run out. Then with Carl Hooper (57) saw them reach 345 for 3. Lara gave an object lesson in correct batsmanship under pressure with a wide range of strokes. Pity the youngsters were not there to watch the maestro, who became the first overseas player to make a Test double ton here. Despite a dubious decision at Asgiriya, being ruled out for 45, he went on to accumulate runs freely - 558 runs in five innings. After Lara's heroics, the Windies flattered and fell apart to the second new ball burst by Chaminda Vaas, who proved the master destructor. With sheer speed and venom on a docile pitch which had even bounce Vaas dissected the Windies middle and lower order to return the career best Test figures of 7 for 120. Lion-hearted Vaas put Sri Lanka back on the track.

At close Sri Lanka were 193 for 3, a spirited reply. Resuming their innings in overcast skies yesterday, the first proved helpful for the seam bowlers. Not out batsmen Jayawardena (32) and Arnold on 10 had to face some hostile bowling from Dillon and Collins, who probed the batsmen regularly with their speed and swing. However the duo lacked the experience. Even the aging Courtney Walsh could have made best of the early morning moisture to torment the local batsmen.

Dillon finally got the scalp of calm and cool Mahela Jayawardena. Mahela was caught in two minds to be ruled leg-before for 39 in 90 balls with 4 fours.

Tillekeratne joined subdued Arnold. After a nervous start, he settled down finding his touch and batting with gay abandon found the pickets regularly. He was pretty harsh on paceman Marlon Black, hitting the bowler for 10 runs in one over to race to his 50 in 77 balls with four fours. Senior partner Arnold was more solid and went for lunch on 49, 293 for 4, Hashan on 89.

After the break Arnold scored a stubborn 50 in 106 balls. Hashan, driving powerfully threw caution to the winds against the mediocre Windies attack. He notched his 100 with a straight drive off Black to reach his ninth Test century. The flourishing fifth wicket stand of 141 runs came to an end when Arnold attempted to cut 'offie' Hooper, was caught behind for 65 (in 148 balls with four fours in 234 mts).

Tilan Samaraweera, who joined Hashan continued the onslaught. The Windies bowling was made to look as bad as their batting. The pair made merry on a shirt-front pitch prepared by SSC curator Ranil Abeynaike which was lively and good for both batting and bowling. The pair batted on till the close to put on 132 runs for an unbeaten sixth wicket - 477 for 5. Tillekeratne 143 n.o., his highest in Test surpassing 131 n.o., against India. He had 17 fours made in 231 balls, while all-rounder Samaraweera batting with charm aggression made 68 n.o., with 5 fours in 114 balls.

With the pitch playing true, the Lankans should go on a spree before they make a declaration. The Windies lower order looks brittle and Sri Lanka are poised for a whitewash. Much will depend on their top order to perform the rescue-act, otherwise they will be sitting on a bed of nails.
Scoreboard
West Indies 1st innings: 390 (R. Sarwan 69, Brian Lara 221, C. Hooper 56; Chaminda Vaas 32.2-5-120- 7).

Sri Lanka 1st innings Overnight 190/3 Contd.:

Mahela Jayawardena l.b.w. Dillon 39

(Caught in two minds - half-cock)

Russel Arnold c. Jacob, b. Hooper 65

(Attempted to cut)

Hashan Tillekeratne not out 143

Tilan Samaraweera not out 68

Extras: (byes 5, l.b. 8, no balls 3 wides 2 18

Total (for 5 wkts at close in 154 overs, 668 mints) 477

Fall: 3rd at 179, then 204 (Mahela), 345 (Arnold)

Bowling: M. Dillon 38-7-104-2-2 (2 wides, 2 n.b.), P. Collins 34-3-97- 1 (1 n.b.), M. Black 24-2-106-1; D. Ramnarine 17-3 51-0, C. Hooper 30-5-76-1, C. Gayle 9-1-23-0, R. Sarwan 2-0-7-0.

---
Upul, Chamara tame Zimbabwe bowlers
By Marlon Fernandopulle
Upul Chandana and Chamara Silva gave Zimbabwe a taste of things to come when they scored sparkling half centuries and helped the Board XI to a convincing six wicket victory against the visitors in a limited over game at the Moratuwa Stadium yesterday.

Both Chandana and Silva who are fighting to regain their places in the limited over side were involved in an unfinished 93 run stand for the fifth wicket as a young Sri Lankan side humiliated a strong Zimbabwe outfit.

Zimbabwe - 186 all out in 46.2 overs(Grant Flower 14, Andy Flower 66, Craig Wishart 28, Douglas Marillier 20, Sean Ervine 20; Prabath Nissanka 1/30, Akalanka Ganegama 2/22, Suresh Perera 2/36, Rangana Herath 3/23, Kaushal Lokuarachchi 1/30)

Sri Lanka Board XI-188 /4 in 36.2 overs(Pradeep Hewage 12, Upekha Fernando 13, Thilina Kandambi 40, Chamara Silva 50 n.o, Upul Chandana 50 n.o; Heath Streak 1/31, Henry Olanga 1/22, Trevis Friend 1/47, Sean Ervine 1/15)