Flavoured sketches
Deva brews tea stain paintings for the industry
It all started with a very ordinary cup of tea. Deva Dhajahetti, on holiday back home in Kandy for his 32nd birthday in May was enjoying a refreshing cup of plain tea when the thought crossed his mind, 'Why not try some sketches with tea stains?'
Some months later, Deva has a small but impressive portfolio of tea stain paintings and is preparing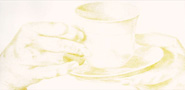 for his first exhibition to be held at the Barefoot Gallery in November.
Working in the advertising industry, this young man is never short of creative ideas. Always artistic, he has been drawing for many years, mainly monochrome pencil sketches, more as a means of relaxation than as a profession. It was not until the idea of tea stain painting took root in his mind, that he pursued it seriously. His first effort was a sketch of Sir Thomas Lipton, the pioneering tea planter. This was followed, quite naturally, by a painting of Lipton's Seat, the famous viewpoint on Dambatenne estate in Haputale which affords a panoramic view of the South.
Those two paintings were so appreciated by the tea industry that Brooke Bond Ltd commissioned him to produce the same paintings for their head office in the UK. The paintings will travel farther afield for Brooke Bond, London will present these two paintings to the Royal Estate Tea Company in New Jersey when the Thomas Lipton office in the US holds a seminar there.
These past few months, Deva has been hard at work, capturing different facets of the tea trade. The paintings are subtle, yet striking in their skilled brushwork. A view of the gentle slopes of a tea estate, only the slopes here are brown not lush green, the ubiquitous two leaves and a bud, even a cup and saucer take on new shades in his hands.
The fact that the tea industry has responded so positively to his efforts has spurred Deva on. With his keen advertising instinct alive to the potential this medium offers, Deva says he would like to see tea stain paintings being done by many other artists since the country itself is synonymous with tea in the eyes of the world. Tea stain paintings would look great not only in the offices of tea companies, but in hotels, guest houses and homes, he says.
So, is he the first to do tea stain art? Of that, he isn't sure. He's found plenty of reference to coffee stain paintings in his research on the Internet but nothing so far on using tea for painting purposes.
The other factor that attracts Deva to tea stain paintings is its environmental suitability. "Tea is known to be beneficial to the health and it is non-toxic, so it makes a lot of sense to use it," he adds.
As a medium, tea has its advantages and disadvantages. Different brews give different stains, he says, having experimented quite extensively, but there is also the factor that mistakes are not that easy to correct. A slight slip can be touched up but when the stain settles, you can see the blotches," he says wryly. "The challenge is to capture subtle variations in light and depth."
And will they last in this climate of heat and humidity? He sees no reason for doubt. Stains are not easily got rid of, he says, " so there's no reason why these paintings will not outlive me."
His first exhibition to be held in November, will be a small one but his hope is that every one of the works on show will be a collector's item.
– Renuka Sadanandan