Contents
---
'Josephian Mardi Gras'
'Josephian Mardi Gras' is the name of the entertainment filled grand musical show, which will come alive on July 28 at the St Joseph's College auditorium at 7.30pm

'Josephian Mardi Gras' will feature the cream of Sri Lanka's Western musicians and singers. This has been organized by the Sports Council of the St Joseph's College to raise funds for the development of sports and extra curricular activities.

The popular bands 'Wild Fire' , 'Ultimate' with Damian and Geoff of Purple Rain fame, Corrine de Almeida ,Ginger, Natasha Fernando, Ronnie Leitch and Annesley Malawana will be in action at this 'Mardi Gras'

The tickets are priced at Rs. 750-/, Rs 500/- and Rs 300/-. The tickets are available at the College swimming pool office, Food City outlets, Rock Cafe, JAIC Hilton and Union Chemists.

Sun FM and Gold FM will be the official radio station for the 'Josephian Mardi Gras'

---
'Ama Rasa Pem' from Srimathi
After a long spell of silence Srimathi Tillekaratne has launched a CD and an audio cassette titled "Ama Rasa Pem".

The CD and the cassette contain some of her most popular songs, such as, "Amarasa Pem Rasa", "Ananthayata Ma Igulena", "Me Mulu Ahasama", "Kalbalamin Lathavemi", "Nelumvila Mamai", "Rattaran Menik", "Kiriketi Puthanuvane", "Sansun Ruvan", "Aathma Gananak", "Kalpana Rehenin", "Eka Ginikoorai", "Adara Gangulaka", "Hirugenavilla", "Adara Suba" and "Piya Madahasa Muva". The lyrics are by Premakeerthi de Alwis, Saman Chandranath Weerasinghe and Cyril A. Seelwimala.

The CD and the cassette has been produced by Vijitha Paranavithana for Vijitha Trade Centre, Colombo 1.

---
'It's My Cricket Party'
By Sanath Weerasuriya
'It's My Party', a cricket party hosted by Tony Greig will be held at the South Lawn of Taj Samudra Hotel on August 2.

'It's My Party' will feature grand musical extravaganza with a fashion show with Lanka's top models.

There will be an Award Ceremony for cricketing giants for their, 'Legendary Contributions to cricket.'
'Wild Fire' lead by Derek Wickremanayake will be the main attraction of this cricket party.
'It's My Party' is organised by 'The Wicket. com', the latest web page on cricket.
This has coincided with the twenty years celebration of Sri Lankan Test Cricket.
Sri Lankan cricketers, past and present, Indian and New Zealand Cricket teams and number of former Test players from other cricketing nations will be in attendance at this 'Party.'
wwwThe Wicket. com management who are organising the party said "Legendary Contributions to Cricket" awards will be made and this will reassemble those who are household names and alive and kicking.
The tickets for 'It's My Party' are priced at Rs. 600/- and over 1000 fans are expected to take part in this party.

---
'Richmond Ruvana': The pride of 'Richmond Rhythm'
Richmond College Galle will be launching a VCD named "Richmond Ruvana" on July 28, (Old Boys Day) at Town Hall, Galle at 5.30 p.m.

While Richmond saga with so much rich episodes, encompasses its 125th year, Old Boys' Association of Richmond College has organized a gaiety festival named "Richmond Rhythm" for five days from July 25 to July 29 by the historic Galle Fortress. Concurrent to this "Richmond Pawura-Matara", an Old Boys' coalition of Matara, has organized to hold the launching ceremony of the VCD named "Richmond Ruvana".

The "Richmond Ruvana" VCD undoubtedly shares a distinct momentum in Sri Lankan audio-visual history. That is because this VCD is the first of its kind, which contains the College anthems in both languages, coincides documentaries in both languages.

Richmond College,which initially commenced as Galle High School in 1876 completes the 125th anniversary in July 2001. Since its inception Richmond College has produced many laudable citizens to the nation.

The artistes who contributed for this "Richmond Ruvana" VCD are, the plot, co-direction and script by Bandula Nanayakkara wasam an old boy of the College, direction by Lakshman Wijesekara, camera by Ayeshmantha Hettiarachchi, editing by Chandimal Andradi, and voicing by Tissa Abeysekera, Dr. Buddhi Weerasinghe who did the English translation, Sisira Wijethunge the cover designer and Sajeewa Vithanage.

---
Hilarious story of flat dwellers
"Thattu Geval" a teleplay mainly woven around Mr. Peter's family members and the interesting incidents that take place in their housing scheme will be telecast every Sunday at 9.00 pm on Swarnawahini.

Living in a housing scheme close to the capital, Peter's family comprising his wife, Mabel, two daughters Tekla and Trixy and son Sahan who is dreaming of being an international cricketer.

As the head of the family, Peter works in a firm as clerk while his two daughters, one works in an advertising firm and the other in a supermarket. The only dream of Tekla is to settle down in a foreign land with her lover Bandu.

Though the house they live in is too small for them, they in order to earn extra money rent at a room in their house. Many prospective, boarders turn up in response to the newspaper advertisement and Namal, gets the nod of preference as the most suitable to be given the room. No sooner he takes up his residence Peter's other daughter starts an affair with the newcomer.

Peter's neighbours comprising many interesting characters too play vital roles in developing the story. Mr. Ratmalgama works on night duty most of the days is nicknamed as "Night watchman" by Peter's son and "Good Evening" by others in the family. He is a close friend of Peter's family.

"Pimpom" is another popular character among the occupants in the scheme. Doing odd jobs he plays the role of a matchmaker delivering love letters of the young lovers in the scheme. At times interesting situations arise when he mixes up the letters and hands them over to wrong parties.

Mr. Silva, a pensioner is also another interesting character in 'Thattu Gewal'. Appointed as the president of the welfare society of the scheme his interests are mainly in solving the international problems than those of the scheme. Hence he is popularly known as "Kofi Annan".

Grocery owner of the scheme is an important man in the scheme. Though "Jayamangala Stores" sold many things on credit , the owner manages to recover them tactfully.

He has regular quarrels with his wife who complains about his special interest in other women.

The teleplay shows how everyone in the scheme shares each others happiness and losses together. In one such incident the picnic organised by the welfare society ends with a vehicle break down and the journey to Yala ends with a day out to a nearby beach.

Another time everyone in the scheme get alarmed hearing their scheme would be destroyed with the proposed construction of an air port and a highway.

Getting together they go to meet the politician in the area with a petition signed by all but realises that it is only a hoax and that they have been misled. Hemasiri Liyanage, Menike Attanayake, Daya Tennakoon, Grace Ariyawimal, Mahendra Perera and Nayana Kumari are the main stars.

Under H. D. Premaratne's guidance 'Thattu Gewal' is directed by Anuruddha Jayasinghe. The script is by Kapila Kumara Kalinga.

---
'Poronduwa':Ratnam on correct track again
By Susitha R. Fernando
"Poronduwa" is the latest film written and directed by Chandran Ratnam. His previous films which have won international acclaim will be released on the fifth circuit from early August.

Ratnam's last film focuses on a girl who captivated by the world of love and responsibility around her makes a promise which becomes the focal point of the film she had made.

The story is woven around the lovers, Vijendra and Pooja who decide to get married against the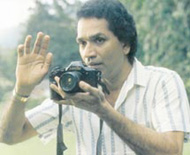 wishes of Vijendra's mother.
On the way to the celebration, they meet with an accident that leaves Vijendra in a serious condition and who decide Pooja is left paralysed.
Pooja an orphan, is approached by Vijendra's mother to accept monetary and medical help from her in exchange of a promise, never to see or ever contact her son. Under duress, Pooja reluctantly agrees.
Vijendra who is told that Pooja had died in the accident, is taken to a hospital in London. Pooja moves to Kandy for medical treatment and therapy, which is paid for by Vijendra's mother.
While Vijendra recuperates and then graduates from Law School in London, Pooja has a friendly relationship with Ajith, her doctor in Kandy.
Vijendra finally returns to Sri Lanka and is compelled to take to politics, following in his father's footsteps. Dr. Ajith has now fallen in love with Pooja, but Pooja is unable to reciprocate.
Pooja, who is now an Art Teacher, follows Vijendra's career in the press and in the news, as he ascends to great heights in politics. However, she is saddened by her belief that he has abandoned her.
Vijendra is invited to be the Chief Guest at her school prize giving but Pooja has promised never to meet him. Would the old lovers reunite or does Pooja hold on to her promise?
Chandran Ratnam directed "Adara Kathawak" (Love Story) which was Sri Lanka's Official entry to the International Film Festival of India in 1983. "Janelaya" ( The Window) represented Sri Lanka at the Tokyo and Cairo film festivals.
While the main characters are played by Ravindra Randeniya and Wasanthi Chathurani in "Poronduwa" Irangani Serasinghe, Achala Alles, Asoka Peiris, Shesha Palihakkara, Somy Ratnayake and Lucky Wickremasinghe plays the other principal roles.
The main location of 'Poronduwa' include the areas in Colombo and Kandy.
The technical crew comprises Elmo Halliday as the editor, Eroll Kelly as art director, Rohana Weerasinghe directs the filmscore and Sumedha Liyanage and Donald Karunaratne jointly handle the camera. The screen-play is by late the Herbert Ranjith Peiris and Ratnam himself.
'Poronduwa' is produced by Asoka Perera and is presented by Taprobane Films.

---
'Census': A short film on Rupavahini
The 'Census' a short film directed by Robert Cruz will be shown on Rupavahini soon.

This short film was officially launched at the Sri Lanka Television Training Institute on Saturday, July 21.'Asian Film Centre' is the promotional body of this short film and according to them the film is based on a novel by Kerala writer Karoor Nilakantha Pillai.

The film is in Sinhala with English subtitles. It was shot on Betacam video tape with a duration of 26 minutes. Damayanthi Fonseka and Mahendra Perera play the lead roles and the photography is handled by Palitha Perera. The Sinhala screen dialogue has been written by the film director Prasanna Vithanage.

This short film is based on a book by the Malayalam short story book THE WOODEN DOLLS by the esteemed Kerala writer, the late Karoor Nilakantha Pillai. The film tells the story of a male Census officer who arrives at the hut of a poor young woman to gather information on the occupants of the household. He asks questions about her age, her marriage and her job. She is surprised, amused, and irritated in equal measure at his questions and angrily refuses to fit into the standard ideas about the marital status and jobs of women like her. As the questioning continues, their mutual trust and attraction for each other grows. By the end of the film, he is surprised by what she does to earn a living, and she in turn finds out that he is not simply a local official who fills in forms.

Robert Crusz is the co-ordinator of the Tulana Media Unit, which is attached to the Tulana Research Centre for Encounter and Dialogue in Gonawala, Kelaniya. He was a founder member of the Sankofa film and video workshop in London, UK and was on the editorial boards of the international film journals Screen and Frame work. His drama - documentary film Inbetween produced for and broadcast on Channel Four TV in the UK was part of the Best of British Independent Film and Video collection which toured the world under the auspices of the UK Arts Council in 1992.

A book containing Karoor's short story "The Wooden Dolls" translated into English, Sinhalese and Tamil (by M.I. Kuruvilla, Ajantha Dharmasiri and Kavaloor Rajadurai respectively), with an introductory article entitled "The Half Truths of Classification - The Wooden Dolls and the Census" by Dr. Neloufer de Mel, has been published by the Asian Film Centre.

---
TV SCENE
'A Case for Life'
Kelly Porter (Valerie Bertinelli) and her sister, Liz Hamilton (Mel Harris) are best friends, until the one issue that divides them - abortion threatens to destroy their life time relationship. Kelly is pregnant with her fifth child. She believed so strongly in the pro-life movement that she organized anti-abortion demonstrations and even involved her children in the protests.

On the other side, Liz is a pro-choice lawyer who has dedicated her life to defending her client's right to choose.

When Kelly faints at an anti-abortion demonstration, her family rushes to her side at the hospital.

Despite the doctor's diagnosis that Kelly's growing foetus could send her in to massive cardiac arrest, Kelly refuses his recommended treatment - a therapeutic abortion. Fearful for her life, her husband, Stan, (Brian McNamara) and her father reconsider their own anti-abortion stance and urge Kelly to not put her life in jeopardy.

Saturday, June 28 at 9.30pm on Sirasa TV

---
Stephen Flemming on MTV
New Zealand captain Stephen Flemming will be interviewed by Brian Thomas on this week's Episode on MTV on July 24.

This interview is on Stephen Flemming's career, his achievements, and failures as a captain. The show will also feature a special story on the triangular series in Sri Lanka and in the Global arena there will be special footage on the England vs Australia matches.

---
'Once Upon a Time in China & America'
During the late Ching Dynasty of China, the head of Guangdong province's militia WONG FEI-HUNG (Jet Li) set up a kungfu institute and a medical clinic named "Bo Chi Lam" in Guangzhou to cure patients and to help the weak, with a mission to advocate the spirit of Chinese martial arts. SO, a disciple of WONG, opened a "Bo Chi Lam" branch in the China Town of San Francisco, aiming to further promote Chinese martial arts overseas.

WONG decided to take a trip to San Francisco to see how his American branch was doing, as well as to visit SO. WONG went with SISTER 13 and disciple CHE.

The trio had an accident upon arrival at the U.S. While trying to rescue SISTER 13, WONG fell into a deep valley. He subsequently lost his memory. Fortunately, he was saved by an aboriginal tribe called the EAGLE, and thereafter lived with them leading a nomad' s life.

SISTER 13, CHE, and SO were desperate in search of their master, but in vain. Instead, they came across a selfish and dictatorial MAYOR of a small town in the Western area. They witnessed that the tyrant brutally treated many Chinese labour. But since their priority is to find master WONG, they dared not rush into any action.

On one occasion, during a combat between the EAGLE and the devilish RED HAIR tribe, WONG retrieved his memory.

English Film with Sinhala sub titles on Monday at 9.30 p.m. on Swarnavahini.

Last includes Jet Li Yuen Biao and Rosmand Kwan.

---
Food Festival on Bonsoir
"Bonsoir" will be taking you to the best moments of Culinary Art 2001 and sharing with you some of the secrets of one of the oldest Bakeries in Sri Lanka!!

Those who are still inexperienced in the field of cooking will be able to gather some useful tips on how to make elaborate desserts and more practical items like bread.

We will also learn how to choose the best wines, cheeses and breads which are available in France and very much present in our local stores too.

This programme is produced by Sumaya Samarasinghe

"Bonsoir" July 23, Monday on ITN at 8 p.m.

---
Action on Fan Club
Catch the action with host Kumar de Silva on ITN's popular and longest running English pop music programme "Fan Club" - which comes to you every Tuesday at 8.00 p.m.

Write in with your comments and suggestions to - Fanclub, ITN Commercial Division, 325, Bauddhaloka Mawatha, Colombo 7, or on email to fanclub@sri.lanka.net

---
'Lagaan' hits Top 10 in Britain
Actor-producer Aamir Khan's maiden venture Lagaan has stormed into the countrywide box office Top 10 in Britain and has become a craze even among non-Asian film goers.

Lagaan is a dream Aamir - one of India's biggest movie stars and most accomplished actors - believed in so passionately that when it didn't find a producer he donned the mantle himself.

A.R. Rahman composes music with lyrics written by Javed Akhtar. A stellar cast that includes Asha Bhosle, Udit Narayan, Alka Yagnik, Sukhwinder Singh, Srinivas, A.R. Rahman himself, and a special song by Lata Mangeshkar. In fact, this is the first time where Aamir Khan, Ashutosh Gowariker, A.R. Rahman and Jave Akhtar have come together to create music.

It is the story of a peasant uprising against British rule in 1893. Its budget of 4 million pounds, inflated by attention to detail such as flying in real English corsets and hats from London, is large by Indian standards and the film is the first serious attempt by Bollywood to make a "crossover" film to appeal to Indian and western audiences in the mass market.

Lagaan is a Bollywood film with a difference - an Indian-made film featuring 15 British actors. It is proving so popular in mainstream west end cinemas that crowds have had to be turned away this week.

Out of Lagaan's 3 hour 42 minute running time, a full hour is devoted to a game of cricket, an intensely fought match between a group of British soldiers and the residents of Bhuj in Gujarat.

The film relates the hardship of a village forced to pay tax to the British Raj after years of drought. They appeal to the local British administrator, played by television actor Paul Blackthorne, and he agrees to waive the tax for three years if they can beat a British team at cricket - a game the villagers have never seen. The climax is the crucial match.

The game of cricket has a strong modern feel to it with lots of sledging and intimidation by the British and even match fixing.

The dialogue is in Hindi and English and out of 29 prints of the film released here-some at mainstream cinemas such as the Odeon Piccadilly - 22 are sub-titled.

Lagaan was shot in Bhuj six months before the region was devastated by an earthquake. Proceeds from the exhibition will go to the area's earthquake fund.

The film has become the first commercial Hindi film to get what one critic described as the "nearest thing to a full mainstream release that any Bollywood picture has yet achieved" and has come to London after raking in an estimated 300,000 pounds in other parts of Britain.

Its promoters expect it to join the big league of such Mandarin Chinese hits as Crouching Tiger Hidden Dragon in persuading a mainstream audience to pay to see a sub-titled Asian film.

CD's and Cassettes of Lagaan are released in Sri Lanka By M. Entertainments (Pvt) Ltd.