Running street fights between stone throwing protesters and police which erupted during Thursday's UNP led opposition procession resulted in hundreds of innocent by-standers and schoolchildren being caught up in the melee. In the face of unrestrained tear-gassing and brutal attacks by the Police, the streets of central Colombo and many of its suburbs were turned into a free-for-all between the police and protesters.
Although Police in Maradana acted with some restraint, those dealing with the crowds in Nugegoda and Peliyagoda showed little restraint physically attacking the protesters, on lookers and even those trying to offer water to help those suffering as a result of the tear gas.
The homes of popular singer Mariazelle Gunatilleke and Colombo district MP Lilantha Perera were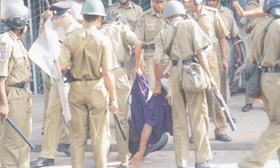 also tear gassed.
Two MPs, Rajitha Senaratne and Siri Andrahennadi who were tear-gassed and stopped from proceeding by the Police at Wellawatte, found a way to get to Maradana. They, along with a group of their supporters headed for the beach and boarded a train and arrived at their destination, Maradana.
A disturbing feature in Nugegoda was the presence of several policemen reportedly minus their service numbers and people in civvies acting alongside the Police.
Meanwhile media personnel were also not spared in the mayhem with a camera being snatched by a policeman and a photojournalist from Lake House also being injured. It is learned that a group of lawyers who tried to explain to the Police that media personnel had the right to cover events were also beaten up resulting in injuries to two of them.
School children being caught up in the tear gas attacks was another tragic dimension of black Thursday. At least seven tear gas canisters fell inside St. John's College causing teachers and children to cough and tear. Similarly, in Maradana, students from Ananda College and Ananda Balika Vidyalaya, were seen running with their faces covered.
Tear gas had even reached the homes of hundreds of people living along the alleys in the Maradana area. The residents were seen shutting their doors and windows to keep out the smoke, and placing buckets of water outside their homes for the victims of teargas attacks to wash their eyes.
P. Chandrasekaran, the leader of the Up Country People's Front and some of his supporters also suffered a baton charge attack near the Maradana police station. "Why should we safeguard politicians, when it is they who get the people to participate in illegal protests," a policeman told us when questioned why there was a need to attack unarmed politicians or civilians.
Thursday's protests began in six different places and were to converge in Maradana for a meeting to be addressed by UNP and Leader of the Opposition Ranil Wickremesinghe. However, Police prevented most of the protesters from entering Colombo at the Kelaniya bridge by erecting barricades and even using containers to block the roads.
Undeterred some protesters broke through and entered the city and made it to Maradana.
The procession that came from the direction of Mount Lavinia was stopped by Police at Dehiwela while another was stopped at Nugegoda. A large section of the crowd that converged in Borella made it upto Ananda College in Maradana but were prevented from proceeding further.
Finally, the crowd gathered at Punchi Borella where the UNP leader addressed the crowd. Later he told a news conference that inspite of an attempt to eliminate him, the party would continue to agitate until Parliament was re-summoned.
Although a government statement issued after the incidents blamed the protesters for provoking the police by throwing bottles and stones, most observers believe police acted excessively with scenes of old men and women being baton charged.
Meanwhile UNP Deputy Leader Karu Jayasuriya alleged that PSD members disguised in civvies attacked the protesters. "Innocent pedestrians, train commuters and non-protesters were the victims of the police action. The protesters themselves were innocent people who cannot be faulted for unruly behaviour," he said.
Meanwhile it is learnt that many senior politicians of the ruling People's Alliance have also condemned the police brutality and expressed disgust over the political green light given to the police to go on the rampage.
In one incident close to the Cinnamon Gardens police station, Police firing had reportedly left a man injured with blood pouring from his face. However, fellow protesters and sympathetic onlookers had apparently refused to accompany the man to hospital.
"I came with you, now that I am wounded don't abandon me," the man had reportedly cried out. But his cry had fallen on deaf ears.
"The President being a woman and a mother, should know to look after the people of her country as a mother," a member of the Lak Vanitha Movement, Ajantha Gunasekera said.
Former Mrs. World and UNP activist Rosy Senanayake and veteran leftist politician Vasudeva Nanayakkara were among those who fell victim to the tear gassing by the Police.
Mr.Nanayakkara who confronted Police in Maradana where he arrived there with a small group of protesters challenged the Police to tear gas him which they reportedly did willingly.
"He acted like a 'chandiya but there can be no "chandiya" in the face of tear gas," a policeman at the scene said.
Mrs.Senanayake who was suffering from nausea as a result of the tear gas attack at Nugegoda charged that some form of poison had been added to make the protesters suffer.
Meanwhile, it has been alleged that the tear gas used contained a substance harmful to the lungs. Similarly, organizers complained that rubber bullets were sprayed without any prior announcements as required by law.
General Hospital Director Hector Weerasinghe said the death toll from Thursday's incident stood at two while one person was in intensive care and 24 others were receiving treatment. Several policemen had also been treated for tear gas poisoning.

---
Manjula did not come for lunch
On Thursday morning, Prasadi told her brother Manjula not to take part in the UNP demonstration as she felt it was an astrologically bad day for him. But he smiled and left, saying he would not come for lunch. But before he could have his lunch elsewhere on that fateful day, a bullet hit him, killing him on the spot.

Manjula Prasad, a store keeper at the Ports Authority was the vice president of the UNP's Colombo North youth front. He was gunned down just outside the party office of the area's UNP parliamentarian Lilantha Perera.

Describing the chaos that led to the death of the 26-year-old party activist, Mr. Perera said the police had blocked all roads leading to Maradana from Kotahena. "I tried to convince police officers at barricades that as citizens of this country we enjoy the freedom of movement. But they did not give in. Later we decided that we should somehow make it to Maradana," Mr. Perera said.

Mr. Perera said a small group of party activists led by Manjula left his office, but when they were approaching the barricades, the police fired teargas indiscriminately, hitting even medical clinics and houses. Soon bullets followed teargas canisters. Among those hit by live bullets was Sumith Perera. He said when police fired teargas, they ran towards the party office. He said a few minutes later some 20 canisters of teargas were fired, the situation was calm and the police moved away.

"We thought everything was over and we could go ahead one by one towards Maradana. Manjula then wanted to see whether there was still any police presence. He gave us the all-clear signal and called us to join him.

"But as we walked forward, a police officer emerged from nowhere and opened fire from what looked like a pistol. Manjula was hit and he fell down. We ran back. I turned back to see whether the police were chasing us. I saw a policeman firing. I was hit by a bullet," the eyewitness and victim said.

Mahinda Thilakasiri, private secretary of Parliamentarian Lilantha Perera said he could identify the officer who fired at the UNP activists.

On Friday Colombo Additional Magistrate Ayeshani Jayasena ordered that three police officers who allegedly fired at protesters at Jampettah Street be arrested.
---
Bystanders hit by mayhem
Amongst the injured were many innocent bystanders and onlookers, who were milling about the streets or at their work places.

Forty-year-old R.S.A. de Alwis, working in a company that specializes in computer graphics and type setting in the super market building at Borella, was one such victim. He was one among a crowd observing the proceedings of the demonstration below, from his work place when, a canister of tear gas crashed through a window hitting him on his eye, witnesses to the incident said.

They said the protesters had gathered for about one and a half hours before breaking through barriers and running towards Maradana.This was followed by police shooting tear gas at the protesters and nearby buildings, they said.

Mr. Alwis is undergoing treatment at the hospital after his eye was operated on last evening. As he was not in a condition to speak, his sister told us that the eye was severely injured and he would have to undergo a transplant.

Mohammed Yusuf, (29), was in his office at Maradana in the vicinity of the rally, when he was shot at.

He claimed he had been throwing out a canister of tear gas that had landed on his office balcony when he was shot at. He said his brother and father too were in the office but were not injured.

Some residents in Maradana who witnessed some of the incidents charged that policemen jumped into their gardens, threw tear gas at them and opened fire.

Meanwhile we spoke to some of the demonstrators who gave us their account of what happened.

J.A.S. Jayakody (35), a demonstrator from Warakapola, said he and his friend Achintha Gunaratne were approaching the barricade at Peliyagoda, with their arms raised above their heads, (as a sign of peace) when police opened fire.

He claims all he wanted to do was ask the police whether they would allow them to pass through or not. However, he says he didn't get the opportunity as the police fired at them badly wounding him on his thigh and his friend, on the chest.Mr. Gunaratne later succumbed to his injuries.(Please see separate story)

Mohammed Pasily, (38), a protester from Minuwangoda, who had been injured when glass from a nearby building had fallen on him claimed he had been beaten by the police.

Another protester, from Kotahena, who was shot at Maradana K. Chandrasena, said police had fired at him even though he had already received permission to pass through the barricade. He had received a bullet on his head and was in hospital reportedly in a critical condition.

Two Policemen who had been admitted to the General Hospital had been released within a few hours, hospital sources said.

---
Achintha's bullet of death
In 1987 Achintha Gunaratne's father was shot dead by persons believed to be JVPers. This time it was Achintha himself who fell victim to a police bullet while taking part in the demonstration at Peliyagoda.

Twenty- nine- year old Achintha, a father of two children- one just 40 days old had left his home at Pallabage, off the Warakapola - Anguruwella road informing his wife he would be participating in the protest.

Achintha, a member of the Warakapola UNP youth wing had organised a group of about 200 people under the leadership of parliamentarian Manodha Wijeratne.

According to Y.P.Nimal Samarasinghe, a colleague of the victim,they had set off in several buses but had to get off at Kelaniya and walk the rest of the way because the roads were blocked.

"We reached Peliyagoda and joined the protesters. We were pushed back several times, but we did not give up. We came under several tear gas attacks too but managed to withstand them.

"Eight of our colleagues including Achintha were trying to go ahead when suddenly a policeman opened fire directly at Achintha. Another colleague was also hit and we saw them both fall," Mr. Samarasinghe said.

He said it took about 15 minutes to pull Achintha out of the crowd and then they had no way of getting him to hospital.They had appealed to a private van driver but he had refused and eventually they had forced a three-wheeler driver to take Achintha to hospital.

Doctors battled to save Achintha's life, but in the afternoon he passed away.

Achintha's 26-year-old wife Pushpa Nilanthi Abeysundara, said her husband had promised to return home by night and she was waiting his arrival.

"After the evening news bulletin my brother- in- law came home and said he had heard that Achintha had been injured and rushed to hospital. We tried to make inquiries, but failed. It was only on Friday that I learnt my husband had been brought to Colombo to undergo surgery and had later passed away," a tearful Pushpa said.

"If I only knew that taking part in the protest will be so risky I would have not allowed him to participate," she lamented.

Meanwhile parliamentarian Wijeratne said during the incident he had been heading in a different direction. He said the party hopes to open two fixed deposits for Achintha's two children and build them a house.