Mallung in a curry
By Fuzzy
I loved geography while in school, and I'd bet you anything that Sri Lanka is part of the landmass they call "Asia". And if I got that right, and I'm positive I did, then it follows logically that I'm Asian, right?

Well, not so. When you are among heaps of other "Asians" who look as different as possible from each other, further identification is necessary. Even before I stepped on this fair land Down Under, my cousin, a savvy citizen of same, announced that I would no longer be Asian. Asians, over here, are those from further east of the continent and I'm likely to draw confused stares if I called myself or anyone else who looks like me, Asian.

Instead, those of us born closer to the Indian subcontinent have a more eloquent term of identification based on a celebrated culinary tradition. We are the 'Curries'. Oh yes, the dish you make with 'pol kiri' and spices. Basically, anyone from Asia but not "Asian" and not from the Middle East, and has at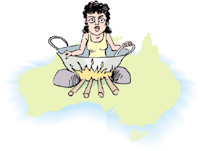 least one traditional dish that can be called curry, is a 'Curry'.
Talk about identity crisis. It couldn't have come at a worse time. I was trying to grapple with the reality of having to remain anonymous for three years if I insisted on using my first name for all communications with the outside world. Introducing myself was a painful affair. To say my name, or rather, to hear others trying to repeat it after me called for tremendous courage. I could say that many got it right after half a dozen tries if I ignore that everybody stressed the wrong syllable. Only, I cannot ignore it because my name got reduced to an exotic 'mallung' when the stress mistakenly fell on the last syllable and not the first one. Add to that, my two friends from Samoa and Fiji were telling me that I'm not an 'Islander' as they are, though I too come from an island. And here I am told that I'm not even Asian any longer.
Belonging to the Curry community meant an unspoken brotherhood with all nationalities that made it up. This became evident in my very first week at university, the Orientation Week. O-Week is when all societies on campus from the Campus Bible Study to Underwater Social Club to Society of Beer Appreciation set up camp along the main walkway to display their wares in a mad rush to lure new members. Walking down this avenue of tents, I find myself confronted by a stranger who is, well, a 'Curry'.
"Hi, I'm the president of the Indian Association, and I'm wondering if you are an Indian student...?"
Naturally, I say no and hope this answer will send him scuttling back to whatever tent he popped up from. By now, I am deeply weary of anyone with that over-friendly tone of voice. Either they are out to force me into some godforsaken society, or about to swamp me with information leaflets about some flaming meeting. But my words hardly have the desired impact on the stranger. Too late, I realize it was a mistake to tell him where I'm from.
"Oh that's okay, we have heaps of Sri Lankans in our association. Sri Lankan, Indian, Pakistani, what does it matter? Would you like to join? We organise stuff like...."
I thought it was rather nice of the president himself to step out of his makeshift abode to make this offer and his sense of fraternity with the entire subcontinent was rather disarming. But I was not going to have another society clog my email with their notifications. Besides I was trying hard to shake off the feeling of being in Pettah at midday among diligent street-vendors trying to sell everything from men's belts to garden tools. Also, I was still seething from someone's conviction that Sri Lanka was in India (not even Indian Ocean, but India, period). Mercifully, my reluctance is evident in my face and he takes the hint. With the cordial comment that I'm always welcome to join even later, he drifts off casting an eagle eye on the sea of faces.
However, being 'Curry', it's not always easy to escape the subcontinent influence. More alarmingly, you find that when far away from home, you really don't want to. Take for example Hindi movies. They are a substantial part of the Curry identity, and watching a Hindi movie is a phenomenal event. I never imagined the day would come when someone in my home would actually rent out a Hindi movie on video. But now, without having to cope with one every single day on every single channel, even for me, they seem to be such rare and sublime occasions. Oh yes, I'm talking about the movies where the heroine breaks into a song in her dreams and has several changes of clothing during the song (still sleeping, mind you) and the hero survives after being bashed to mush and run over by a truck. Yes, the ones with lots of fighting where only the bad guys die, lots of flower bushes and lots of inspiring speeches (meant to be spontaneous) on the glory of love.
Back home, the Hindi movie experience consisted of my family having to shoo me off the room in order to watch it peacefully sans my smart comments. Now I'm the first to shoo off my little cousin playing imaginary cricket in front of the TV the moment Salman Khan prances in on screen.
The painful tele-dramas watched ritually over dinner everyday back home has earned the same status. But the pleasure is due mostly to the lack of advertisements ("Ithin apiva balaganna kavuruth ne-nay...") which often overlap with the drama, so that the protagonist suddenly disappears into the midst of a flock of girls dancing around a lottery ticket vendor. Also, you can actually keep track of what is happening in the story since it is watched at two to three hour stretches and not in half-hour slots, further divided into four-minute slots by the ads.
Then there's the ultimate Sri Lankan experience on this side of the hemisphere, the 'Sinhala kadeys'. One fine day I ventured into one tucked in the backyard of a Sydney suburb residence. Once inside, for a moment I frantically wondered whether I was part of an experiment for instant time-travel. The authenticity of the 'kadey' was uncanny though mostly tinned or canned. There were shelves lined with tinned or canned 'polos curry', 'ambul thiyal', 'batu curry' and every other possible 'curry'. Then there were packets of 'soya meat' and 'hal masso' and gunny bags of 'parippu' and 'hal' in true Sri Lankan style. The little room, fittingly dark, was pervaded with the 'aroma' of spices and many a slightly rotting thing and a 'handun kura' stuck in a cranny. The shelf near the counter was stacked with a few dozen Sinhala novels bearing names of maidens or flowers, and tele-drama videos. I also spied a mosquito drifting among the gunny bags in a corner, his eloquent drone bringing me nostalgic memories of evenings at home, and the experience was complete.
So to wind up, let's just say that I did get used to the idea of being 'Curry'. What I'll never get used is the way these foreign tongues never get my name correct. Ugh, I shudder just to think about that particular 'mallung'.
---
Inoka shines at Cambridge
By Seneka Abeyratne
She is slim, beautiful, charming and very bright. Perhaps inspired by her grand uncles Bunty and Stanley de Zoysa, Inoka Razeen decided at an early age (that is, when she was only five or six!) to study law. At age sixteen, while studying at The Colombo International School (CIS), she thought she would apply to Cambridge 'just for kicks" as she put it. Now, at eighteen, she has already completed one year at Jesus College with a first class under her belt.

And what is she reading? Law, of course.

That's not all. When she got admission to Cambridge, she also received a financial award, or bursary, from the Cambridge Commonwealth Trust, a rare feat indeed for a Sri Lankan. And in March this year, due to her outstanding academic record, she was, by resolution of the Trustees of the Cambridge Commonwealth Trust, admitted as a Fellow of the Cambridge Commonwealth Society.

Wait, there's more. During her first term at Cambridge, she won the prestigious Mooter's trophy awarded by Jesus College to the person with the best debating and analytical skills. Now a person born and bred in Sri Lanka who can lick the Brits in a gruelling mooting contest must surely possess extraordinary oratorical skills. "Cambridge is a great place," says Inoka. "The intellectual standards, the artistic and architectural traditions, the historical setting, and the social and cultural environment are incredible and I'm enjoying every moment of it."

Years ago, Ole Ceetee wrote a newspaper article about some unusually bright kids, including "Inoka, the darlingest of little darlings, who, at the rate she is going now, will one day adorn the Speaker's Chair in some future parliament. At four she could sing, talk more intelligently than many an older child, and appeared to have a knack for making friends and influencing people."

It was on December 23, 1982 that Seedevi and Azhar Razeen were blessed with their only child, whom they named Inoka. Little did they know that their lively and bright-eyed daughter would surpass their wildest expectations in terms of her scholastic and creative achievements. At five, she and six other talented children were selected by Lathifa Ismail to exhibit their paintings at the Lionel Wendt. At thirteen, she came first in an island-wide under 16 oratorical contest jointly organized by the YMCA and the Rotary Club. That same year (1996) she took the Trinity College London examinations (Speech, Drama and Effective Communication) and won first place in Asia Grade 6. This was no surprise as she had got distinctions in all grades from age four up to Performer's Certificate. "I owe all this to Aunty Sam," says Inoka, referring to her teacher, Samantha de Soysa.

At fourteen, she and Yohan Benedict won the 'Graceful Dancing' competition at the Taj, and she later represented Sri Lanka at an international Dance-Sport championship in Singapore. At fifteen, she sat for the O-levels from Bishops College and got eight distinctions. At Bishops, Inoka was not just a brilliant student (consistently bagging the top prizes including the class and subject prizes), but also excelled in art, drama, debating, table tennis and public relations. Anyone who saw the musical "King and I" (presented by the Yolande School of Speech and Drama in 1999) will recall how well she sang and portrayed the role of Lady Thiang.

At 16, Inoka won a Zonta Award for "Young Women in Public Affairs". At 17, she sat for the London A-Levels from the Colombo International School (CIS) and got three A's, offering classical civilization, economics and mathematics. She won the coveted Edexcel awards for overall results as well as for being placed among the top 20 worldwide in economics. On the basis of her brilliant A-Level results and a successful interview at Cambridge (which included rigorous written and oral exams), she was offered a generous bursary and in September 2000, she enrolled at Jesus College to commence her law degree.

Despite her brains and good looks, Inoka is a simple girl at heart, with her feet planted firmly on the ground. "What is the key to success?" I asked and after a moment's thought, she said, "Interest, motivation and efficient time management." She added that she is very grateful to her parents for all their love and support and that her religion (Buddhism) has also had a great influence on her life. Then we talked about Bishops and CIS. She said the former prepared her for life while the latter prepared her for Cambridge and that both schools had been instrumental in shaping her character and her destiny.

---
Gentlemen (and ladies) prefer blondes
Blondes. Taxis stop for them, men buy them drinks, and now moviegoers can't get enough of them either. You'd think it would almost be worth putting up with all of those jokes.

Reese Witherspoon staked her claim to A-list status, boosting the MGM comedy Legally Blonde to the head of a crowded slate at the nation's theatres. All by herself — no, Luke Wilson doesn't count — the 25-year-old actress edged out runner-up The Score, with its Stanislavskian triple-threat marquee of Marlon Brando, Robert De Niro, and Edward Norton.

Blonde's weekend ticket sales totalled a muscular $20.4 million according to studio estimates released earlier today. That's roughly the same amount that Witherspoon's first vehicle, the 1996 thriller Fear, in which she starred opposite Mark Wahlberg, took in over the course of its entire theatrical release.

Previously, the best opening weekend take for a movie featuring Witherspoon in a starring role was the $13 million grossed by Cruel Intentions in 1999 — but that teen drama also drew on the clout of Buffy the Vampire Slayer star Sarah Michelle Gellar and Witherspoon's husband, actor Ryan Phillippe.

Score in Second, Fantasy Flops

The Score, with the notoriety of living legends Brando and De Niro driving it, took in an estimated $19 million to finish second. The heist thriller enjoyed one of the better weekends rung up by an R-rated film, bettering the debut of Swordfish and coming up just short of the first-weekend numbers posted by Scary Movie 2.

Last weekend's big winner, the pet-centric Cats & Dogs, tumbled from its lofty perch to finish third with ticket sales of approximately $12 million. Its drop in earnings of approximately 45 percent put it on similar footing with nearly every other movie that has topped the box office this summer. The weekend's third major new release, Sony's much-ballyhooed Final Fantasy: The Spirits Within, finished fourth, but couldn't compete with the numbers posted by fellow newcomers Blonde and The Score. (All three films were on relatively equal footing, with Blonde and Final Fantasy opening at slightly more than 2,600 theatres apiece, and 2,129 sites booked for The Score.)

The revolutionary animated film, which opened Wednesday, amassed accolades for its eye-poppingly realistic CG animation, but earned only $11.5 million Friday, Saturday, and Sunday, pushing its total take to just over $19 million. With estimates placing its production costs between $135 million and $145 million, the sci-fi epic could eventually rank as one of 2001's biggest busts.

The Top 10 films for July 13-15, 2001:

1. Legally Blonde, $20.4 million
2. The Score, $19 million
3. Cats & Dogs, $12 million
4. Final Fantasy: The Spirits Within, $11.5 million
5. Scary Movie 2, $9.5 million
6. The Fast and the Furious, $7.8 million
7. Dr. Dolittle 2, $7 million
8. Kiss of the Dragon, $5.8 million
9. A.I.: Artificial Intelligence, $5.1 million
10. Tomb Raider, $4 million