Contents
---
'Hot Shot' from Shaggy
By Sanath Weerasuriya
Popular singer Shaggy is the star of this week's'Original Music Competition'in TV Times.

Like the time he hit the top around the world with his first major single ("Oh Carolina"), or the time he walked unnoticed through a crowded arena before a concert, then required an escort on the way out because of the mob of newly-won fans.This was what happenned in Sri Lanka too.

Shaggy's favourite challenge, however, is one he poses to himself every time he enters the studio and draws on his limitless hit-making talent. That experience must have become routine for Shaggy,while creating his new album 'Hot Shot'. In its thirteen tracks,'Hot Shot' proves Shaggy remains a master of many styles - from reggae and dancehall to pop/R&B - making it a happy hunting ground for every kind of music fan.

For fans accustomed to Shaggy's well-known party vibe, some of the sentiments on 'Hot Shot' might come as a surprise. "Hope" (featured in the Kevin Costner film "For The Love Of The Game") is a stirring, autobiographical portrait of the artist as a young man.

The album also includes "Luv Me, Luv Me," Shaggy's hit duet with Janet Jackson. The great Minneapolis-based production team also produced the songs "Lonely Lover" and "Dance and Shout". Other tracks such as the "Freaky Girl" and "Wasn't Me" seamlessly blend Shaggy's Jamaican and US roots.

In his usual smooth sexiness Shaggy delivers "Leave It To Me", "Lonely Lover" and "Angle" (based on the 60's classic "Angel of the Morning") which are highlights, as is the prayerful "Why Me Lord," the middle-eastern flavoured "Hey Love" and the Latin shimmer of "Chica Bonita" show Shaggy's fluency in any musical idiom. That kind of universal spirit has kept Shaggy at the top of his game since launching his career.

Though he has lived his entire adult life in the US, Shaggy's roots are in Kingston, Jamaica, where he was born Orville Richard Burrell on October 22, 1968. As a kid, his friends nicknamed him "Shaggy" after the omnivorous character from the cartoon "Scooby Doo".

Shaggy's international success began with the 1993 release of Pure Pleasure, his debut album. It featured "Oh Carolina," which became one of the biggest hit singles in UK pop history. With the 1995 release of Boombastic, Shaggy connected with US audiences in a big way. The platinum certified album won the 1996 Grammy Award for Best Reggae Album, while the title track shattered boundaries at radio, topping Billboard's Reggae, R&B and Rap charts. It also became the No.1 selling single and hit No.3 on Billboard's Hot 100 Singles Chart.

Shaggy's European success continued as "Boombastic" topped charts across the continent.

Look for Shaggy's 'Hot Shot' at M-Entertainments dealer outlets and grab an original copy for yourself.

But still you can win five Original albums of 'Hot Shot' by answering the simple question on the 'Sony Music / TV Times coupon'.

To enter this contest, all you have to do is to answer the question on the coupon and send it to the address given below.

The address is "Listen to Original Music Contest, No. 46, C/o Maharaja Entertainments (Pvt.) Ltd., 330, T.B.Jayah Mawatha, Colombo. 10.

Tel: + 941672425-8, Fax + 941699070. E Mail: me@lgo.lk

All the entries must be originals from the TV Times and no photocopies or faxes will be entertained.

All correct entries will be drawn by a panel of judges. The entries should reach the above address by May 22, the latest.

The decision of the judges will be final and the names of the winners will be announced in The Sunday TV Times accordingly.

Here are the winners of contest no. 42. The winners of two Sony Original CDs are Sherwin Silva of Moratuwa and A. Perera of Wattala. The two audio winners are Chinthaka Herath of Kandy and F.R. Shabdeen of Dehiwela.

The 10% off gift vouchers go to M.L.A. Fathah of Colombo 2, Miss. Neleisha Weerasinghe of Ragama, Cabrine Tillekeratne of Kandana, Yohan Ferreira of Kelaniya, Thenuka Fernando of Moratuwa and Mohamed Irshad of Colombo 3.

The Poster winners are Salitha Liyanaarachchi of Moratuwa, Daphne Ann Weinman of Mt. Lavinia, Suranga Rackshan of Akuressa, Nigel Edirisinghe of Wattala and Premina Marso of Borelasgamuwa.

---
New audios from Felix and Priyanath
Veteran Singer Felix Anton released his latest cassette 'Gee 16' recently.

This time, Felix has teamed up with the band 'Sahara' for backing music.

Some of his popular hits along with new songs get the 'Sahara' touch in this cassette.

'Sulan Rella', 'Aadara Piya Landune', 'Mal Nelala', 'Palandi Mini Muthu' and 'Nilambare' (originally sung with Rukmani Devi).

The lyrics were penned by Karunaratne Abeysekera, Ratnalanka Abeywickrema, Camillus Perera and Felix Anton.

Music arrangements for songs were handled by Stanley Peiris, Milton Peiris, Ranjith Perera, Victor Dalugama, Rocksamy, Victor Ratnayake and Felix himself.

Meanwhile popular singer musician Priyanath Ratnayake released his music cassette 'Priyanath Ratnayake with Sunflower' after an eight year silence.

This audio includes some of his popular songs like 'Latha Madulu', 'Parama Pivithuru', 'Ma Kesedo Labanne', 'Ganga Uthurai', 'Thun Sinhalayama', 'Nisansala' and 'Kinkini'.

The music for this cassette was provided by popular group 'Sunflower'.

Priyanath is the music director of 'Jack and Jill'.

He has directed music for several, teledramas and films.

'Punchi Weerayo', 'Ginigath Reyak', 'Malawunge Rathriya', 'Bimmal', 'Gangulen Etharata' and 'Pawuru Padanam' are these teledramas.

Also he has directed music for films such as 'Thisaravi', 'Nohandan, Kumariya' and Wasanthaye Kunatuwak' previously.

---
Middle East Radio
Radio Sri Lanka Broadcasts Sinhala and Tamil programmes for the benefit of Middle East Sri Lankans. This broadcast is relayed daily from 22.15 hours to 23.15 hours on "Pavana" Radio Sri Lanka frequencies as well as in Middle East high powered transmission.

During this time people in Sri Lanka can communicate with their friends and family members in Middle East through this two-way radio programme.

As from 23.15 hours this broadcast is continued upto 00.45 hours on the following day. During this broadcast programmes are presented in Sinhala and Tamil, which includes Sri Lankan News, Newspaper reviews and Music etc. Standard tasty humour too is also included.

Programmes are presented by Dhammika P. Ratnayake and Mrs. Kusum Peiris.

---
Cliff Richard on Etv
It's the man with Lucky lips himself Cliff Richard with his exclusive Millennium Concert special re-telecast on Mother's Day. Today (Sunday) at 9 p.m. on Etv!

It's a special treat from Etv just for Mothers. This concert will feature his all time hits plus he pays tribute to "King" Elvis Presley with an Elvis medley. While watching this concert Mothers can win loads of Skin care products from Oil Of Olay, the sponsors of this concert. So Mothers don't forget this evening you have a date with Cliff Richard!

'Rafters Retreat' from EAT

'White Water rafting' is the latest attraction among water sport lovers in Sri Lanka.

Promoted by 'Eco Adventure Travels', a subsidiary of 'Connaissance', 'Rafters Retreat' is now on at Kelani River off Kithulgala.

The Manager of Eco Adventure Travels (EAT) Shehan Pilapitiya said, though it is new in Sri Lanka, they have expertise knowledge and qualified instructors to run this new adventure at Kithulgala.

'White Water Rafting' is not the only activity offered by EAT . According to Shehan, they have facilities to carry out Deep Sea Diving, Surfing and other water sports activities, tracking Mountain biking, camping , safaries and Rock Climbing.

"We by far are the only specialist company that offers adventure tours in Sri Lanka," he added. The company's rafting instructors are the first in this country.

Shehan Pilapitiya himself is the first Sri Lankan to be qualified in rafting overseas having trained in South Africa.

"At the recently conducted PATA Adventure Travel Mart in Kandalama, many travel agents did rafting with us and commended our work. Also we have been invited to participate for the " Four Square White Water Rafting Challenge" in India soon' Shehan said

"Being in business for nearly eight months,we have so far trained around 50 to 60 people a month in white water rafting," he added.

"Rafter's Retreat", the ECO Travels white water rafting site at Kithulgala is the very first fully equipped water rafting site in this country. It has all the updated equipment and is situated in a scenic location by the Kelani river.

The site comprises a restaurant and lodge cabins which are entirely made of wood with balconies overlooking the river. The site would be expanded to have five more lodge cabins in addition to three available at present.

'Also we have a packege deal for the adventure lovers. Rs.2150/- per day will include rafting under the specially trained guide, toddy treat after the rafting session, river bathing, meals, changing rooms and tea.' Shehan explained.

In a bid to create awareness a special promotional activity was organized recently. Representatives of leading tour organisers participated in this activity and experienced a session of rafting.

This was done in order to get these organizations in turn to promote white water rafting among their clients.

---
BBH has a five star service
By Sanath Weerasuriya
Bentota Beach Hotel which is 30 years old is now elevated to four star plus status to put back on track to meet the new millennium.

'Four Star plus but with five star service' is how its Director General Manager, Rohan Amerasinghe described the hotel. Bentota Beach Hotel is a unique property. Regarded as the biggest hotel in the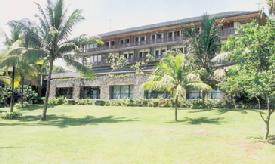 area, BBH has 11 acres of landscape beautifully located in between Bentara River and the Indian Ocean.
BBH is built in colonial Dutch Fort style, which is a district style architecture. The entrance through a promende wooden steps and newly painted batik ceiling blend the colonial style with modern art.
BBH is a unique example for still popular 'Sun Sand, Sea and River', though the Ceylon Tourist Board changes its policy to nature and culture.
BBH has 133 rooms and all rooms are spacious with a magnificent balcony view over pool, ocean or on the other side, the river.
There are 105 standard rooms, all equipped with centralized smoke detectors, room safe, mini bar, satellite TV and IDD facilities. There are 25 superior rooms and three suites.
'Suites are with all the modern amenities and a butter service too. When a couple or a family checks into a suite, I hardly see them outside. They come out only to get into the pool. All the other facilities are available up there,' explained Mr. Amerasinghe.
BBH, the flagship of Keells Hotels, score more on water sports.
The exciting line up of water sports available at the Bentota Beach Hotel is unmatched, with Club Intersport, which adjoins the hotel, a veritable sports lovers paradise set amidst serenity. Wind surfing, jet skiing, beach volleyball, river cruises, speedboats diving, diving classes, banana boating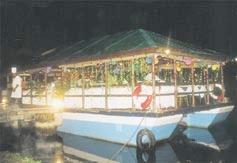 and water gymnastics are just some of the water sports facilities that are available.
"Teams of professional instructors are always on hand to instruct and guide you, so that even a novice may try their hand at their favourite sport," said Rohan.
Apart from water sports, a fully equipped gym, tennis, squash, billiard, badminton, archery, TT and cricket are the other sports facilities available.
'Because we have the large landscape, most of Sri Lankan visitors on holiday, take to cricket. But we always promote other sports and water activities', he said.
When dusk falls and twilight sets in Bentota, guests are enthralled by the cultural shows, musical nights and the wide range of evening entertainment. The animators present an extremely colourful show which is a blend of local and western music, with each show based on a specific theme and presented on a specially constructed stage, utilizing light and sound.
The open air discotheque where guests could dance the night away in the moonlight, features Karaoke Music Videos, as well as films.
Children too have been catered for, with the 11 acres of landscaped lawns offering a wide range of kiddies games, elephant rides and fun in abundance.
'The hotel has two elephants and foreign visitors love to watch them having a dip in the river. Some are very keen to get on to them and wash them,' Rohan explained.
For gourmets, cuisine at Bentota Beach Hotel is a culinary experience. In fact rarely will visitors be offered such a tempting and mouth-watering array of exotic foods prepared under one roof.
The Peacock Restaurant which is set on two levels with the lower deck fronting the lagoon, offers breakfast, lunch and dinner in the form of buffet meals, while the barbecues and grills are a feast by themselves at dinner time. The Suriya Garden situated near the Pool Terrace serves snacks including Sri Lankan delicacies while the Peacock Bar boasts a well stocked cellar and serves a wide range of Alcoholic and non Alcoholic drinks. The Araliya Restaurant has a gourmand ala Carte menu with its own wine cellar. Piano music adds to the atmosphere of elegance, and your dining pleasure.
The adjoining Club Intersport Restaurant with its stunning views of the Indian Ocean and the Bentota Lagoon, specializes in a dazzling array of Sea Food, which is as fresh as it can get.
'If a Riverboat Romance is what you are after, the Hotel's floating Restaurant - the Pontoon is a must. Special Pontoon nights can also be arranged for barbecues, weddings, cocktails and other special events. For a small group of 10 or 15 people, Pontoon is ideal. You can have a small cruise, while having your dinner, Rohan said.
The hotel also offers state-of-the-art conference facilities, while the spacious conference hall can accommodate 125 persons theatre style and 60 persons classroom style. The pre-conference area seats 50 on theatre style configuration, and 20 in classroom style, all of which makes the Bentota Beach Hotel an attractive location to combine work with leisure.
Ayurvedha treatment centre is the other popular feature of the hotel. The trained doctors are there to carry out professional massages, herbal treatment, beauty care and all other treatments.
Despite its development as a tourist resort complex of international standards, the hotel is mindful of its surroundings, said the DGM. The inherent character of the town of Bentota as a small coastal and river mouth village has been retained, while the hotel offers numerous opportunities via local excursions, both by river as well as land.
Traditional methods of fishing using Catamaran boats may be seen all along the Bentota coast, while the hinterland is one of charm and interest with many varying lifestyles and traditional occupations to be seen.
Boat trips to Galatara (Litle Adam's Peak), a little village about 20 km. up river is an interesting experience, while land excursions to ancient temples, spice groves, village exploration and bird watching, provide an eventful holiday experience.

---
Jury convicts her for his crime
By Susitha R. Fernando
Internationally acclaimed filmmaker Prasanna Vithanage's much publicized "Anantha Rathriya" (Dark Night of the soul) has been released on the fifth circuit.

The film is woven around a man struggling with a guilty conscience over a mistake he made while a youth by seducing a young servant girl.

The film which has already won international fame having participated in several film festivals including Melbourne, Fukuoka, Pusan, Singapore, Manila, Trivandrum, Delhi and Calcutta. It won the Jury's Special Mention at the 1st Pusan International Film Fest.

The film also won awards at the 1996 Sri Lanka Film Critics Forum Awards for the outstanding film, the best director and the script writer.

Anantha Rathriya unfolds around Suwisal a successful middle aged company director played by talented Ravindra Randeniya.

Suwisal is called for jury service of the trial of a sex worker and finds that the accused was the servant girl who worked in his house twenty five years ago and who was raped by him.

Piyum (Swarna Mallawara-chchi) accused of murdering a client was made pregnant by Suwisal while working in his house but was refused any help later.

While on the jury Suwisal was uncertain whether Piyum had recognised him. But she evidently showed no signs of recognition. Though he votes with the rest of the jury to convict her for ten years imprisonment it is Suwisal who is sentenced to a lifetime of guilt.

His conscience accuses him to share the blame for the woman's downfall. In his attempt to get away from the nagging worry he nulls on lodging an appeal on her behalf but fears to proceed with it lest it would damage his reputation. But this dilly dallying makes the dilemma worse and he struggles to rid himself the blame for a crime he committed long time back. He is not understood by anybody. Would Suwisal persist in his efforts and visit Piyum in jail? Does she recognise him? The answer to these questions can be found in the final scenes of 'Anantha Rathriya'.

Vithanage made this film in 1996 after overcoming many obstacles he had faced in his film making journey Internationally acclaimed "Purahanda Kaluwara" in which Joe Abeywickrema was given the Best Actor award at the Singapore Film Festival was banned claiming security reasons and a case is now pending over the denial of exhibition rights to the film.

Numerically he has done only four films but all of them are award winners both locally and internationally.

His "Sisila Gini Gani" (Ice on the Fire) won nine OCIC awards and seven Swarna Sanka awards including the best director and "Pawuru Walalu" (Walls within) brought international fame by winning the Award for best actress for Nita Fernando at the Singapore Film Festival and NETPAC Award at Amiens International Film Festival. His latest which is yet to be released "Purhanda Kaluwara" (Death on the Full Moon Day)" grabbed several international awards.

The cast includes some of the experienced and talented stars like Swarna Mallawarachchi, Ravindra Randeniya, Yashoda Wimaladharma, Tony Ranas-inghe, Hemasiri Liyanage, Veena Jayakody, Priya Ranasinghe, Radha De Mel and Kithsiri Aponsu.

Ebert Wijesinghe did the make up, Lal Piyasena was the editor and Harsh Makalanda did the music score.

---
Bonsoir on cinema
With the famous Cannes International Film Festival taking place in France this month, Bonsoir presents a special programme on cinema focusing on Franco-Sri Lankan and Indo-Sri Lankan links.

The programme features Dr. Lester James Peries and Sumitra Peries and the Golden Lotus awards they were presented with at the third annual Deauville Asian Film Festival in Northern France in March this year.

The viewers will also be taken to the early days of the Cannes Film Festival when the stars arrived by car and train, and were more accessible with security being far more lax than it is today.

The cameras then switch to award-winning director Somaratne Dissanayake, producer Renuka Balasooriya and the success their maiden venture 'Saroja' had at the 07th Asian Film Festival at Vesoul in France early this year.

Bonsoir closes with the cameras following Indian director K. Bikram Singh filming Lester James and Sumitra Peries (facing the cameras for a change!!!) on location at St. Mary's Church in Dehiwela where as a baby, LJP was baptised 82 years ago.

This special Bonsoir programme is hosted and produced by Kumar de Silva.

Bonsoir - Monday, May 14 at 8.00 p.m. on ITN