Face it
By Ruhanie Perera
Many people walk into 'Soigner' nervous and depressed. As a result of various skin diseases they've lost all hope. Many of them are reluctant to leave the house and in some cases they even have difficulty with certain types of clothing.

But after some months of treatment they walk out radiant with bright smiles on their now clear and fresh faces.

The unique type of treatment available at 'Soigner', Sonali Fernando's beauty therapy centre, is called hydradermie. A course of treatment that cures any type of skin disease, ranging from acute skin diseases to pigmentation, acne, wrinkles, scars, sunburn, etc. What is different about hydradermie is that it enables the specially manufactured gels for each condition to be sucked into the skin. Hydradermic thus treats the condition from within.

Explaining the process Sonali says she first cleanses the skin using 'Guinot' products, which are manufactured in France.

She then applies a liquid known as an electrozone, which conducts the current from galvanized rollers used in this process. Then depending on the skin condition a medicated gel for that specific disease is applied and special galvanized rollers are held onto the skin that is affected and an electrode is given to a client to hold.

As the galvanic current passes through the pores open up and the gel penetrates into the deepest level of the skin. Finally she massages the skin and a masque is applied.

Although the treatment is successful, Sonali stresses that one must have patience. "A client shouldn't expect overnight results, after all I am not working miracles. People must realize that a completely new skin has to grow."

According to her sometimes it takes nearly six months for complete recovery and in extreme cases a little over a year. "During this time they cannot use any cosmetics, other than the medicated creams I prescribe for them. If clients are not careful after the treatment they can do more damage to their skin." In addition to that clients must be careful about their diet, which means cutting out oily food and sweets, eating lots of fruit and drinking plenty of water. "I see to it that each client keeps a chart of what they eat, so that I can monitor it. If they cheat on this, they only cheat themselves.

"Skin diseases can be avoided if a person is careful," says Sonali. "Be careful about what you eat, making sure that you don't overdo junk food and chocolates. In addition avoid sharing pillows, clothes, towels, make-up and even your soap, because some skin diseases can be transferred to other people through these means."

Other than the hydradermie treatment, there is a range of other treatments on offer at the clinic. Sonali also does aromatic facials, aromatherapy massages, manicures, pedicures, eyebrow re-shaping, eyelash tinting and waxing. "My method of waxing is slightly different,' says Sonali, "I use beeswax instead of the sugar wax used at many of the salons. "The difference is that beeswax reduces the hair growth."

Sonali studied beauty therapy at the Steiner Beauty Therapy School in London, which offers a five-year beauty therapy course.

She was also one of the few students who were chosen by the school to be sent for a month of further training in Paris. "We were chosen on how well we performed at our exams while at school.

In addition to all the beauty sections, studying beauty therapy was somewhat like studying medicine, because we had to understand the inner workings of the body." Once back in Sri Lanka, having completed her course, she was encouraged by her father and her mentor Ramani Fernando to open her own beauty therapy clinic. "Initially I wanted to work for her, but she encouraged me to open out on my own and supported my plans after that," says Sonali, a CIDESCO certificate holder, who has now been successfully running her clinic since 1998.

For Sonali this is what she has always wanted to do. "I was always interested in this field, but I'm also thrilled that I offer something different. I know in my own way I am making someone's life a little better and I'm happy about that.'.
Tom cosies up with Cameron - As Nicole steps out with Russell

Nicole Kidman is stepping out with Russell Crowe - and Tom Cruise is cosying up with his sexy co-star Cameron Diaz.

The actor has been huddling with Cameron on the set of his new movie "Vanilla Sky" and sources say it's beginning to look like they're sweet on each other.

Spokesmen for both Tom and Nicole deny that the stars are romancing anyone.

"But everyone on the set has seen Tom and Cameron together," said a Hollywood insider. "Her arm is around him or his is around her."

Sparring spouses Nicole and Tom, who split up on February 5, have hired powerhouse divorce lawyers and they've been hammering each other over child custody and money for weeks now.

But Cameron has put a smile back on Tom's face, the insider said.

"Over the past week Tom has been happier than anyone has seen him since the divorce from Nicole was announced - all because of Cameron," the insider said.

"He's kidding with the crew, being very pleasant and even jovial. He's back to his old self."

Tom Cruise would not be the first guy to succumb to Cameron's charms.

The sexy blonde was going hot-and-heavy with ED Norton after stealing him from Courtney Love, and she had a long romance with her "There's Something About Mary" co-star Matt Dillon. She dumped him because he wouldn't commit. While filming "The Gangs of New York" the "Charlie's Angel" star enjoyed a wild night of revelry and dirty-dancing with cast mate Leonardo DiCaprio.

And Cameron recently pulled the plug on plans to marry hunky fiance Jared Leto after he went off the deep end and refused to have sex with her while preparing for his role as a heroin addict in "Requiem for a Dream," pals say.

"Then when filming wrapped up, he was so spent he could barely function.

"So Cameron told him she thought it would be a good idea to call off the wedding and take things a bit more slowly."
Who needs Tom Cruise?

Nicole Kidman enjoyed enjoyed a wild night out with hunky Russell Crowe as they hit the Hollywood hot spots. "Her bitter break-up from Tom Cruise seemed miles away as she and Crowe kicked up their heels" a witness said.

---
Let my father marry Camilla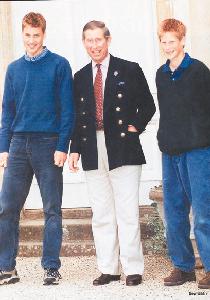 Prince William will campaign for the marriage between his father and Camilla to finally take place - to the horror of Diana's outraged friends

It's Prince William to the rescue again as Prince Charles pulls out the stops to win public acceptance of Camilla, clearing the way for him to finally marry his mistress.

Wills is regarded as the palace's saviour, his resemblance to Diana making him the Prince of Hearts in the eyes of an adoring British public. And Charles hopes people will think that what's good enough for Wills is good enough for them - even Camilla becoming queen.

Over several quiet dinners with his sons, Charles has secured the boys' agreement to pose with Camilla and himself for photographers to start the Camilla PR ball rolling.

Wills is right behind his dad and will help him launch the 'Camilla Campaign'. The first photos are expected to take place mid-year just before he begins studying at St Andrews University, Scotland.

Camilla and the princes have never been snapped together, so anticipation is high. The closest they came was early last month when Camilla and William were among 550 guests at a 10th birthday party for Britain's press watchdog, the Press Complaints Commission.'

Even though Wills and Camilla were at the same event in Somerset House, London, they ensured they weren't able to be pictured together. However, the time is now ripe for Charles to make his move. While no woman will ever replace their mother Diana, in private both William and younger brother Harry have accepted that Camilla is the love of their father's life and they have a good rapport.

It's a far cry from their first meeting four years ago, after which Camilla confessed to shaking so much she needed a strong gin and tonic.

'Let me be quite clear,' says a senior palace source. 'The Prince of Wales would dearly like to marry Camilla. But at the moment a royal marriage just wouldn't wash with the British public. In the last poll, three out of four people were against Charles and Camilla marrying.

'However, Charles is slowly winning round the people, and I'm sure that he will eventually get his way. Wills and Harry will have a critical role in this, as they are both charming boys and there's not a person in the world who would have a bad word to say about them. So the obvious next step is for Camilla to be pictured with Wills, and after that Camilla and Wills to step out in public together more often.'

Camilla now openly accompanies Charles to public engagements and in private she is his wife in all but name. She spends most of her time at his St James' Palace apartment or at Highgrove. Charles also lavishes her with jewellery fit for a queen.

Before Wills starts the Camilla Campaign for his father, however, he is enjoying a four-month safari in Africa to finish off his gap year. He'll take time out from the trip to attend the World Cup Polo Championships 2001 in Melbourne later this month.

The heat will be on Wills when he finally arrives home. Dians's friends are outraged at the idea of the marriage and that Camilla is so close to her beloved boys.

Says one indignant friend: 'People seem to have forgotten that Camilla was the woman who destroyed Diana's marriage.'

---
J - Lo begs Puffy-take me back
But angry mum warns her to stay away

Jennifer Lopez is desperate to reconcile with ex-boyfriend Sean " Puffy" Combs now that he's been acquitted of a gun rap.

But she's up against a formidable opponent-Puff Daddy's own mother, Janice Combs, who feels Lopez deserted her son in his darkest hour.

" Now that Puffy's been acquitted, Jennifer feels it's safe to get back with him," says a source.

"It broke her heart to leave him, but she had to think of the career she'd worked so hard to build. Still, she couldn't stay completely away. They secretly communicated by phone.

" And now, she's sent a message to him begging him to take her back."

And insiders say she's ready to come back, despite Combs' new lawsuit brought by Kim Porter, the mother of his youngest son.

Porter is demanding a $2 million payment up front, plus $20,000 a month in child support.

None of this is stopping Lopez, who's riding high with her hit album J. Lo, from longing to be back in Combs' arms once again,

"I don't care if he has 100 love children scattered around the world," the singer/actress told a pal.

"I want him back."

And sources say Puffy, who has earned $60 million from Bad Boy Records and $100 million from his Sean John clothing line last year alone, would welcome her back - if not for the fierce objections of his mother Janice.

" Puffy is torn," says another source. " He's still in love with Jennifer, but he loves and respects him mom.

"He's in sheer agony over having to choose between the woman of his dreams and the mother he so clearly adores."

Some of the tension stems from the fact that Janice Combs embraced Lopez like a daughter during the 2 1/2 years the celeb couple was together.

But everything changed when Combs, 31, was accused of firing a gun at Club New York in December 1999.

He faced up to 15 years in prison for the offence.

Lopez, 30, was present at the time of the crime, but wasn't charged.

But from the beginning, Puffy claims he was gallantly looking out for her.

During an interview with the New York Times, Combs said that after their arrest that fateful night, Lopez was hysterically weeping as she was chained to a bench at the police precinct.

" My only concern was just getting Jennifer out of there," he said, his eyes filling with tears until the macho star became so overcome with emotion he had to leave the interview.

But Lopez dumped him on Valentine's Day and his mom Janice is still seething over the memory of her macho son sobbing his heart out.

Pals say that a furious Janice told Combs, " If you get back with that girl, I'll never talk to you again" !

"She's nothing but a snake in the grass and she's no friend to you' !

During the trial, Lopez added insult to injury by gallivanting in Australia with a new beau, dancer Cris Judd.

Puffy was so distraught over her absence from his life that he forbade members of his entourage to mention her name, say sources.

And insiders say that during the last week of Combs' trial, Janice told a group of his friends, " I'm sick of all the grief Jennifer's given my son."Puffy bought her diamonds, he wined and dined her and treated her like pure gold.

"And right when he needed her, during the trial, she was going out with that dancer ! " Despite all that, every day before court, Puffy would pray Jennifer would return to him, says a source.

On March 16, a jury of five women and seven men cleared Puffy of all charges after 22 hours of deliberation.

Also cleared was Combs' bodyguard, Anthony Jones, 35. A third defendant, rapper Jamal Barrow, 21, was found guilty of first-degree assault for shooting two bystanders during the incident.

Right after the verdict, Puffy went into seclusion with his mom and his two sons, Justin, 8, and Christian, 2. And his mother has warned Lopez to stay away.

"If I find out she's called Puffy, I'm going to give her an earful. I'll make it so she never wants to dial his number again" Puff can't deal with her right now. "

"He's just got to get his life back on track." Meanwhile, sources say, he often just sits alone in his bedroom and listens to Jennifer's new CD and watches her music videos on MTV . He's barely slept, taking quick cat-naps on the couch."He's already lost about 20 pounds and is losing more, and it's starting to show."

Says another source: "Puffy should be bouncing off the ceiling with happiness, but instead, he's crying like a baby, telling his closest friends that he can't stand being away from Jennifer.

"But his mom's making him choose between them, and he's more cut up than ever."