Cager girls: Winners all the way
By Ruth Sutton
The Interschools tournament on April 3rd at the Holy Family Convent School in Colombo was the setting for a fascinating insight into women's basketball.

Competing in a woefully under recognized sport, these young players, just by being on the court, are all winners - whichever team they are on - having had to conquer sexism, lack of funding and an absence of adequate interest.

The play at an interschool level was of a consistently high standard, with the girls (all under 17) displaying strength, speed and agility coupled with a fluid grace and natural aptitude for the game. What was immediately striking was that the egotistical individualism that often characterizes the men's game, was not present. These girls really worked as teams and showed the utmost respect for their opponents.

Easha Katugampola at the age of 17 plays for her school (Visakha Vidalaya, Colombo), has represented the district, is Vice Captain of the Sri Lanka Schools Team and has even achieved the distinction of being one of the 12 to represent the country at the Asia Basket Ball Championships.

The Schools Team has always put in fantastic, gutsy performances in the Junior National Championships, but this year, the girls outdid themselves and soared to extraordinary heights in accomplishing a victorious first for any Schools Women's Basketball team . At the Senior National Championships (22 -27 March 2001) after a lengthy and hard fought series of matches, they won the tournament. The achievement was all the more potent as the team they triumphed over in the final were the Navy (5 of whose players were in the national team) who had previously won against them in the Junior League, thus denying them the title.

This is a feat worthy of high praise in itself, but the dedication and talent of these young players becomes all the more apparent when you discover that they are all much younger than their opponents, and do not have the luxury of training together as a team very often.

Selections for the Schools Team take place all over the island, and the final pool is a mixture of girls from Colombo, Galle, Kandy and islandwide. They therefore have very limited time available to them in the runup to each tournament in which to all get together and practice: but with a camaraderie that is essential to their success, players offer to house out of town teammates, and all ensure that the valuable time they have together is utilized to the optimum.

Playing basketball, for these young ladies, let alone attempting any assault on a tournament title is a matter of hard work, commitment and co-operation tested to the extreme. Players who are used to meeting each other on opposing teams must learn about each other rapidly, develop heightened awareness skills and instinct very quickly, and put these into effective use immediately. A large dose of patience must be vital too, in order to gel together as an efficient and mutually supportive team.

Their efforts are clearly rewarded by their great successes, but Easha is disappointed in the lack of interest in women's basketball and women's sport in general. On asking her if she would like to become a professional sportswoman, she replied, "Sports as a career is not recognized for women in Sri Lanka". This apathy towards the promotion and development of women in sport is underpinned by an earlier conversation in which I was told about how it is impossible to get sponsorship, and that despite their achievements, the girls have had to raise money themselves to buy their kits.

They must all possess uncommon amounts of discipline and application, for after telling me that a career as a sportswoman is not an option, it is clear that all of the team members manage to combine top level basketball with their schoolwork. "It is all about making maximum use of your time," Easha continues. Further evidence of this lies in the fact that they only had 3 and a half weeks to train before the Senior National Tournament, and that a lot of the team's O 'level results were outstanding. The next big challenge will be the Provinces Tournament later on this year. Many of the girls will be trying out for province teams as well as coping with the pressures of A'levels, and trials for the National Teams will take place later this year.

As for the progress of the School's Team and women's basketball in general? ......Watch this space,..... these young sportswomen are headed for great things, and don't be surprised if they hit the headlines in the near future.

---
Degeneration of a good sport
Point of view
The pavilion is amazingly large. Each show attracts hundreds of thousands of enthusiastic spectators to the fullest capacity of the building. What we see on TV screen is a vast ocean of human heads and bodies. That is testimony to its extreme popularity. The majority of the audience is the young including babies rocking on their mothers' laps. The number of tickets sold out and the income generated from a single show is to be researched for business evaluation. At the same time the extent of damage and destruction caused to the younger generation is also to be researched by humanists.

The audience enjoy the show intensely. Mothers awake and stand their sleeping babies to feast the eyes on an exciting show which is so horrible to be seen even by adults. It is an atmosphere of terror and bloodshed, a devilish scene of chaos, a barbaric game which is not governed by human discipline, rules and regulations of the sport. If the satellite TV shows are not hallucinations or illusions, magic or muppet shows, and if they are real shows performed by humans they can take a corrupting psychological effect in the attitude formation of the young.

This article is a comment on wrestling and it is based on popular wrestling shows conducted at various centres throughout the world, particularly in the USA. These shows are often telecast through satellite television channels.

One has to see some of these shows for a better understanding. The following text is an attempt to give a brief description of their nature. The so-called wrestlers appear on stage thundering, howling and growling, yelling at their opponents, boasting of their muscular strength and previous world championship records. The game starts in disorder and confusion. When one contestant is not ready or while overlooking, his opponent delivers a mortal blow from behind. Thus without any contest one wrestler is defeated in a matter of seconds. Ignoring or not noticing the foul play the referee crowns the miscreant as the wrestling champion.

When a somewhat disciplined and law-abiding wrestler is nearly to win a game after an exhaustive round of performance he is pathetically rounded up by the gang of his opponent and tortured cruelly and audaciously. Thus the chances of his winning the game is sabotaged by unfair meddling. The victory is grabbed by force by the miscreant accompanied by his supporters. Even lethal arms and weapons are brought into the ring and are used in public. Unscrupulous acts such as strangling, turning and twisting arms and limbs, striking with iron bars, driving finger nails into the nostrils and eyes in order to cause internal bleeding etc., are very common scenes.

A disciplined wrestler who follows the rules is often the loser and the victim. The fact that he dared to come to the ring is taken as a sin and the sinner is duly punished by thugs. The so-called winner and his retinue celebrate the victory giving another show - trampling on the body of the defeated victim, spitting on his face, sneezing and dropping nasal discharge on his mouth, in some cases laying a wreath or a shroud on his sweating body to symbolize the end of his wrestling career and death. There were many instances such as shaving the hair on one side of the face and head as mark of punishment meted out to bandits in the ancient times. Spraying on the victim's body a phrase indicating defeat and surrender and throwing him out of the ring like the carcass of a dead animal subjecting to mass humiliation by an equally heartless and inhuman audience being conditioned to derive sadistic pleasure.

The referee is a mere puppet in this game. The invincible wrestlers never abide by his orders or judgements; instead he himself is beaten and thrown out of the ring. The organizers have no authority or control within the premises at all. The wrestlers themselves reign over the scenario with their henchmen hiding in and around the ring waiting to capitalise any moment in their favour. They mislead, deceive and obliterate the referee's view on the spot and make him give a wrong judgement. Instead of treating it as an act of treachery the audience endorse it as an act of bravery. The more the foul play and the intensity of injustice the more the thrill and applause from the spectators. Not remaining with cheering alone the girls and women treat the emerging heroes with warm kisses and embraces.

There are well-organized wrestler gangs identified by various titles such as NWO (New World Order) Nation of Domination, RAW WAR, Cult of Doom etc., displayed on T-shirts and head bands worn by the enthusiastic wrestling spectators. Each gang consists a good number of rascals who are equally capable of cruelty and malpractices. They march towards the wrestling centre ceremoniously like kings amidst fireworks display, theatrical setting of lighting and standing ovation of the audience. At the ring they vow to take on and do away with anyone who challenges their position. The habit of a brave person is that he comes to the ring alone in order to take part in a game. But it is a common practice of these gangs to send one of their members first and the others to haunt around the ring waiting for malpractices.

If the two opponents are left to themselves unmediated and uninterfered the audience would watch an exciting game of wrestling between two persons. Instead the pleasure of watching an exciting show turns into a nerve-racking imbroglio, a heart- throbbing wild scene where a person fighting alone is defeated by a group. Not confining wrestling to a game conducted at a wrestling centre, these gangs hunt down potentially threatening and capable wrestlers in an attempt to wreak vengeance and wipe them out once and for all. Thus any wrestling championship title and prize awarded by these wrestling centres should be considered - not a symbol of justice and fairplay - but a symbol of injustice and foulplay. It is strange to note that international sports authorities are turning a blind eye until a good sport is being adulterated and degenerated by a handful of businessmen.

(To be continued next week)

Madduma Bandara Navarathne,
Technical College, Embilipitiya.

---
Sports gallery
SL Airlines swimmers strike gold and silver
Three SriLankan Airlines employees have brought fame to Sri Lanka when they won 11 medals — seven golds, three silvers and one bronze — at the Masters Games in Wanganui, New Zealand.

Competing with more than 250 swimmers from nine countries, P.S.P. Dayananda, Sanjeewa Abeysinghe and D. P. Sasanka made their mark in all the events.

At a ceremony to felicitate the trio SriLankan Airlines Senior Manager Milinda Ratnayake said "Our swimmers are rearing to go all the time. We at SriLankan Airlines are proud of all three of them and I am sure that they will achieve many more such laurels in the future."
Ravi, the youngest
Ravi Fernando has become the youngest member to be nominated to serve on the Board of Directors the Duncan White Sports Foundation. He is the Managing Director/Chief Executive Officer of Reckitt Benckiser and excelled in sports both at Royal and S. Thomas. He won his public schools colours in Track & Field played cricket, rugby, hockey and water polo respectively.
Gold Medal for Sumaiya
Sumaiya Mubarak Thaha was awarded the gold medal in athletics inthe Under11 age group at the Melbourne International School meet held at the Shalika Grounds, Narahenpita

---
Fastest time on debut
After a lapse of two years, the engines roared at Katukurunda with Damien (Dan) Dissanayake making a welcome debut to the tracks in round one which kept everybody guessing as to who this driver was, increasing his lead in every lap.

Dan driving in the colours of Mobil did this from start to finish to take the chequered flag in his Mitsubishi Evolution 6 pulling away from the Caltex thoroughbreds Nishan Weerasuriya, Shanaka Ambrose, Rizvi Farouk as well as 'Pol Thel' Dilantha Malagamuwa ex BP Dinesh Dheragoda and non starter the youthful Aravinda Premadasa.

Unfortunately Dan could not make it a memorable day, by winning two events when his turbo head lossened, but not before giving everyone a scare leading from the start, having to give up, but with greatness of recording the fastest lap of the day of 1 minute 01 second.

All credit should go to his technical boss Phil Marks from England who had a hand in the final tune up. Marks who praised Dan's skills on the track and gave the Mobil TRI synthetic oils credit for helping Dan towards this victory. While Dan excelled in the 1665 class, Caltex came winners in the cars. In the earlier events, the Mobil comprising Sheran Cooke, Romani de Silva battled it out in the big birds the Formulas.

Both Caltex and Mobil dominated almost all races which clash will be renewed at the Mahagastota, Radella and Fox Hill races lined up for this month.

Dilantha Malagamuwa too showed his prowess in the two wheelers with only Damien Gunatilleke giving a chase to Dilantha. Sheran Fernando too excelled with his Honda Civic, taking second place in a split second concentration at the goose bend depriving him the honour of taking the chequered flag.

The father and son combination of Sumanapala and Madshan Mannapperuma gave a classic example of keeping onto the lead to take the first and second place in the Group A motor cars event.

Amongst the other winners were, Kumar Samarasinghe, Sisira Goonasekera, A. Gunasekera.

---
Pentathlon Swimming Championships
Ananda - Mahamaya overall winners
Ananda College and Mahamaya College, Kandy emerged overall boys and girls champions of the Pentathlon Swimming Championships 2001 concluded at the Sugathadasa Stadium Swimming Pool.

The girls from Kandy clinched the girls' trophy by 5 points from Ladies' College who finished runners-up with 42 points. Musaeus finished third with 36 points while in the boys' category Royal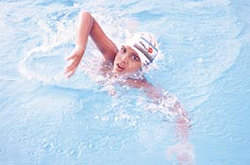 College finished second with 45 points followed by Asian International School in third place with 33 points.
The meet which is the first meet for the championship swimmers this year is also the only meet that requires all swimmers to compete in all five disciplines i.e., Backstroke, Breaststroke, Butterfly, Freestyle and the individual medley to be placed in their respective age group categories according to the lowest accumulated times from the five disciplines.
A few new records were also established at the meet. Shirantha Ariyawardena of St. Peter's College was the first to establish a new record with his swim of 41.86 secs. in the 50m. Backstroke.
Age Group Champions
Girls:
Under 10 Minuruwani Samarakoon (HC)
Under 12 Imara Fahim (BC)
Under 14 Chathuri Abeykoon (LC)
Under 16 Rukshani Guneratne (MC)
Under 19 Dilanthi Ranaweera (MCK)
Open Zoe Sandya Veera (AIS)
Boys:
Under 10 H. Unamboowa (TCK)
Under 12 Ashane Fernando (SJC)
Under 14 M.I. Fahim (EMS)
Under 16 Dharshaka Tennekoon (AC)
Under 19 Naveen Karunaratne (AIS)
Open Arun Karunaratne (SSC)

---
Lumbini MV lock horns with Maris Stella in k/o final
By M.Shamil Amit
Lumbini MV the school's league champions this season will go all out to make it a double when they lock horns with Maris Stella today in the final of the Lemonade Cup knockout tournament to be played at the SSC grounds.

The feature of this year's final is that both teams are the winner and runners up respectively of the league competetion. Both teams had a successful run up to the final defeating more fancied teams. Lumbini defeated the formidable Peterites while Maris Stella had the better of two strong teams in Ananda and S. Thomas' Mt Lavinia.

Lumbini will be led by wicketkeeper batsman Sandun Senanayake and have some good allrounders in the calibre of Lasantha Kumara, Upul Indrasiri, Sajith Dilantha, Malinga Perera, to name a few on the other hand Maris Stella will depend on their skipper Malik Jayawardene who has been consistent with the bat and is a hard hitter having cracked 15 sixes in two matches against Ananda and S.Thomas', another batsman who could be in the runs is Ishan Muthaliph with Sandun Dias, Shanaka Silva, Buddika Fernando, Kevin Anthony and Hadlee Jayawardene to swell the score. Much depends on the pitch as these two teams will be for the first time playing on the SSC turf.

On paper both teams are equally balanced and to predict the winner is your guess is as good as mine. We will be able to see an entertaining day of cricket as both teams are not second to each other.

---
In brief
"Big Match" off
St. Benedict's College has decided to terminate their cricket 'Big Match' against D.S. Senanayake MV with immediate effect following the ugly incidents that took place at the encounter last week.

The big match which was inaugurated in 1992 will not be played in future while St. Benedict's will also not play D.S.Senan- ayake in any other sports events.

The decision was taken following a meeting of the Old Boys Union of St. Benedict's College and the college authorities (MF)
Sugathapala best shooter
Chandima Sugathapala won the best civilian shooter award in the Standard Class event in the 7th Action Challenge Shooting meet held at the Sport Shooting Club Range in Nuwara-Eliya. Chandima also won the best civilian individual standard event.
Liyanage heads SLFF again
Bodhi Liyanage, who represents Kandy FL, was once again reelected as President of the Sri Lanka Football Federation at its annual general meeting held in Negombo.

Bodhi Liyanage, a product of Mahinda College Galle said that it was after coming to Kandy he got involved in football administration in 1989. "It was the sports promoter of the hills, Hafiz Marikar, who roped me into football and from there only I got into the FFSL." said Liyanage.

Continuing Liyanage said, "Today's Kandy's football is on a good footing. If we have the ground facilities, football will be the number one sport in Kandy. Twenty eight clubs are playing soccer in Kandy".
Seethadevi tour South India
Seethadevi BMV Kandy will make a tour of South India to take part in a competition organised by the Tamil Nadu Women's Hockey Association.

They are also scheduled to play eight other matches. The Kandy school will field two teams - the under15 and under 16 sides and will pit their skills against Madras Combined, Madras Schools and the Tamil Nadu Hockey development squad. The two Seethadevi BMV teams:

Under 15: Shanika Priyadarshani (Capt), Chathirika Dilhani, Seetha Ranjani, Pavitha Wickremasinghe, Nilmini Attanayake, Thanuji Premasiri, Pradeepa Nilmini, Kaplani Tharika, Madura Bishoni, Upala Ratnaweera, Yamuna Anushka, Siththi Yoosuf, Maneesha Madushani andNimali Wickremasinghe. Under 16 - Dilmi Dilani Kumari (Capt), Chandrakanthi Senaviratne, Vajira Rajapakse, Jeewanthika Keerthiratne, Vajira Levedeniya, Nishanthi Nilmini, Sandiya Kumari, Charuni Daulagala, Nadeesha Erandi, Dilani Liyanarachchi, Nilusha Perera, Anusha Sandamali, Prabashini Basnayake. Officials: Mrs. A.P.D. Sumanasinghe, Mrs, S.W.Naranpanawa, Mrs. D.K. Ekanayake, S.K. Ranasinghe and Coach: M.A.M. Ashraff.
century by Kanchana Rodrigo
Mercantile Bank helped by a century by Kanchana Rodrigo (105), beat ACL Cables by 48 runs in their Mercantile E Division tournament encounter played at the D.S. Senanayake grounds, Wijerama Mawatha.

Merchant Bank batting first totalled 275 and ACL Cables were bowled out for 227.

Merchant Bank: 275 (M. Sooriyarachchi 41, Kanchana Rodrigo 105, N. Fernando 31, D. Pinto 17, C. Gunawardena 17; A. Jayasinghe 2/35, D. Bandara 4/37).

ACL Cables: 227 (L. Samarasinghe 33, A. Jayasinghe 44, S. Silva 37, N. Ranbodagalla 45, N. Rajapaksa 14, D. Bandara 12, Sarath Chandra 12 not out; S. Fernando 4/36, Kanchana Rodrigo 2/48, C. Gunawardena 3/39).

---
Havies bag Le Bond trophy
By Bernie Wijesekera
Amid thunder and lightening Havelocks S.C. after leadng 5-0 at the interval stormed their way to a hard-fought 13 points (two tries and a penalty) to nil win over gutty Navy in the Western Province RFU Under-24 final, played at Havelock Park on April 5.

This tournament was again sponsored by Hameedias for the Le Bond trophy, despite CH & FC (last year's champs) and CR & FC skipping the tournament, but still generated much interest.

Despite humid conditions, this much-look-forward to final was watched by an appreciative crowd and was closely contested. In the second half the sailors provided the sparks and fire and put on tremendous pressure with their robust play in the loose. They were unlucky not to have scored. Havies had to sweat hard for this win despite getting abundant possession.

It was Havies' better knowhow that helped them to be in front in this gruelling contest played in miry conditions. Just before the short whistle, Havies opened scoring through Panditharatne, off a good move.

In the second half, they were seen back-peddling. But coach Hisham Abdeen changed the play and decided to run the ball which resulted in a penalty and their second try off a maul, followed by a high grubber. Chrith Kodagda touched down.

Havies continued their winning streak for year 2001 season to bag their third trophy. Earlier they won the inter-club 'sevens' and the WPRFU 10-a-side tournament, too. It was an inspired team effort by them. Dr. Maiya Gunasekera was the chief guest. Ibrahim Hamid was the guest of honour and gave away the main awards. While Tyronne Jayamanne Marketing Manager, Hameedias gave away the Player-of-the-final to Rajiv Ganapathy. Havies this year is being coached by Hisham Abdeen, a keen student of the game who has done an excellent job with his charges. It should do well that the Rugby Union make use of his experience and knowledge.

Dr. Maiya Gunasekera, too agrees, even to train the juniors. Referee - Aruna Jaysekera

---
Army to play in Pataya 10's rugby
Sri Lanka Army who performed well in Thailand winning both their games handsomely last year has been invited to play in the Pataya rugby 10s invitation tournament to be held in April 14 and 15.

According to sources quite a number of foreign participants will scrum down.

The Army team will be led by Kapila Knowlton. The soldiers who performed well in last year's domestic tournament, is sure to impress in Pataya with their fast open running rugby.

Maurice Perera, who helped Army to make last year's visit to Thailand is again in the forefront in co-ordinating with the Pataya invitation tournament. (BW)