ADB to spend US$ 240 mln. this year
The Asian Development Bank (ADB) is spending US $ 240 million this year in Sri Lanka for projects involving southern sector development, power sector reforms, rural electrification and northeast development in education, water supply and roads, a bank spokesperson said.

The northeast development programme, to be implemented by the government, is expected to get underway later this year.

Last week the ADB said it was planning to provide Sri Lanka with loans and technical assistance worth US $680 million between 2002 and 2004 with a majority of the funding going to programs helping the poor.

"What was finalized at the latest round of discussions is a tentative programme of assistance between 2002 and 2004 with provision for change in case the government changes its strategies," the spokesperson said.

In a statement on Tuesday, the Manila-based development bank said projects targeting the poor would constitute 56 percent of the total programs during this period.

"The program has a narrower sector focus than in the past, linkages between projects to increase synergy effect of project, and higher priority for sectors where ADB has been the lead dialogue partner for institutional and policy reforms," it said.

Funding details were finalized at the conclusion of an ADB mission to Sri Lanka between March 19 and April 2 to discuss the bank's country strategy in Sri Lanka and formulate loan and technical assistance programs for 2002-2004. The team held a high-level discussion on poverty reduction on March 23, discussing with state agencies, NGOs, the private sector, and donor agencies ADB's future strategy in addressing poverty. "The wrap-up meeting was held April 2 chaired by the Secretary, Ministry of Finance and Planning, and a memorandum of understanding was signed between the mission and the government," the statement added.

---
NAMAL announces increased dividends to unit holders
The Directors of National Asset Management Limited (NAMAL) have announced a dividend payment of Rs. 0.55 per unit to all unit holders of National Equity Fund (NEF) on March 29, 2001.

NEF was introduced to the market in 1991 and has a reputation for consistent payment of dividends to unit holders, year after year. With an asset base of over Rs. 660 million, NEF is one of the largest open-ended unit trusts operating in Sri Lanka. The funds assets are invested in shares trading at the Colombo Stock Exchange, and in interest generating instruments such as government treasury bills.

This provides the investors, with the balance between capital gains, in periods where the stock market performs well, and the stability of dividends and interest income, during difficult times in the stock market.

"Since its inception NEF has declared dividends of up to Rs. 8.00 per unit which is the highest, so far, declared by a single Unit Trust," said S. Jeyavarman, Chief Executive Officer, of NAMAL.

Notwithstanding the demanding conditions in the capital market, the dividend and interest income of the fund increased substantially. "The timely shifting of funds out of the stock market into fixed income securities, together with the rise in interest rates, and higher dividend pay out policy of companies the fund has invested in contributed towards the enhanced dividends this year," explained Mr. Prabodha Samarasekera, the Fund Manager of National Equity Fund.

The funds total income during an ll-month period was Rs. 65.82 million where the dividend income grew from Rs. 18.87 million to Rs. 23.11 million, an increase of 22% year on year.

The interest income advanced from Rs. 32.38 million to Rs. 42.71 million, a rise of 32% over the previous year.

Currently, National Equity Funds investments are allocated on the basis of 54% to 46% between shares and fixed income securities."

"We are confident that the change in the asset mix carried out this year would result in better income to unit holders in the coming years," said Mr. Jeyavarman.

---
Free Medical Information
The GlaxoSmithKline Medical Information Centre, a fully-fledged consumer medical advisory unit has been established by SmithKline Beecham (Pvt) Ltd., the makers of Panadol. Two consumer hotlines (tel.no 320096/ 331155) have been set up to provide Sri Lankans with information and advise on a range of medical issues. The Centre is open on weekdays between 8.30 a.m. and 7.30 p.m.

The GlaxoSmithKline Medical Information Centre is the second phase of the company's medical welfare programme. Said Kosala Dissanayake, Chairman, SmithKline Beecham Pvt. Ltd., "This is the only such private sector consumer unit in the country providing information on general health care. In fact Sri Lanka is also the only country where the GlaxoSmithKline Medical Information Centre has been set up."

The objective of the advisory unit is to guide consumers on how to deal with health issues. Often people are unable to cope with medical problems due to the lack of information on diagnosis, symptoms and treatment. The aim is to clarify doubts and provide advice and guidance for treatment.

Two qualified doctors, handle the GlaxoSmithKline Information Centre. Up to 400 calls are received per month from all parts of the country including the war zone. Calls are divided into information (do's and don'ts of diseases, their symptoms and complications, etc) and advice (nutrition, psychological problems, family planning, home emergencies etc.).

Mr. Dissanayake further added, "Lack of adequate information on health matters can sometimes prove fatal. This makes the establishment of this unit all the more significant. It is important that more people are aware of this facility to optimise its use."

The services of the doctors at the GlaxoSmithKline Information Centre are available free of charge and are accessible to everyone across the country on the above two hotlines

---
Academic and research network launched
The Academic and Research Network for Sri Lankan Universities was formally commissioned at the BMICH on March 23.

The highlight of the formal commissioning was a live linkage to the University of Stockholm via the Network. This was achieved through Internet connections. Proceedings in Sri Lanka and Sweden were projected onto two giant screens and the two countries communicated to each other. The chief guest was the Minister of Higher Education and IT Development, and guests of honour included Sir Arthur C. Clarke and the Charge d' Affaires, Embassy of Sweden.

The network gives students and researchers speedy access to information on the Internet while also facilitating inter- university connectivity and communication. The project, which is already in place, is funded by the Swedish International Development Cooperation Agency (SIDA). Alongside this project, SIDA is also funding a related programme to train IT academic staff of Universities.

This programme began in 1999 and will continue till 2002.

---
Ceylinco launches security transport
CEYLINCO-CISCO, is expanding its operations with the launch of CEYLINCO-CISCO Security Transport & Allied Services (Pvt.) Limited, from one of its existing departments.

Ceylinco-Cisco, hopes to provide its customers with even greater levels of service and satisfaction through a company specialised in the security transport industry, whereby providing their customers with tailor-made solutions to suit their unique needs.

CEYLlNCO-CISCO has been at the forefront of security management for over 20 years in Sri Lanka. Ceylinco combines quality manpower, experience, and expertise with state-of-the-art technology from their partner, the Singapore-based CISCO International (owned by the Singapore Government).

CEYLINCO-CISCO Security Transport & Allied Services (Pvt) Ltd., provides one of the highest levels of protection against loss in the security transport industry. A well-maintained bandit resistant security transport fleet, equipped with secure communications and escorted by armed guards, transport cash, bullion, and other high value articles securely around the country every single day.

---
Learning via the Internet with Evolution
By Harendra Alwis
Evolution Software Pvt Ltd recently launched apexstudy.com, an Internet based computer software, which will enable educational institutions in Sri Lanka to conduct their courses via the Internet.

The company plans to tap the e-learning market which is seen growing globally into a US $2 billion industry in less than four years with already more than 14 million people logging on to their computers in pursuit of a virtual education each day. Distance learning is expected to be a popular choice among students who cannot get to a physical classroom, whether because of distance, disability or other commitments.

The software apexstudy.com was introduced on March 30 in Colombo. It has in its many features, a 'black board' that allows the instructor to conduct demonstrations in real time, and a chat program integrated to it which will allow communication between the instructor and among the students themselves.

Evolution Software said it would be able to customize the software according to the needs and requirements of the institutions who intend to use it. Its speciality is the ability to function even at the low speed Internet connections (33.6 kbps) in Sri Lanka and with minimal hardware and software requirements.

apexstudy.com would be first introduced to academic bodies in Sri Lanka and then worldwide. This will enable educational institutions in the country to promote distant learning via the Internet with apexstudy.com and it is hoped to list the first one hundred institutions free of charge in the portal. Evolution software is a partner of the Sri Lanka Technology Incubator Private Limited.

The Sri Lanka Technology Incubator is the first technology incubator of its kind in Sri Lanka and could be visited at www.conceptnursery.com.

---
FCCISL and 3M Lanka focus on safety at work
Speaking at a seminar on Industrial Safety, Occupational Health and Workmen's Compensation jointly organised by FCCISL and 3M Lanka (Pvt) Ltd. Dr. Ranjit de Alwis, Deputy Commissioner of Labour focused on the importance of occupational safety to enhance labour productivity.

He explained that a sick workforce would slow down the productive process and the work related diseases and accidents would cost the company more for medical treatment and necessitate the recruitment of a new workforce. Pointing out that prevention is better than cure, he said taking remedial measures to safeguard the workforce from health hazards and injuries would necessarily increase profits and reduce human suffering

Speaking on the importance of implementing a proper programme on Respiratory and Hearing Protection in factory premises, Mehraj Sally, Divisional Manager, 3M Occupational Health and Safety Division urged that the occupational hazards must be identified by using monitors to assess the concentration levels of hazards at factories and by resorting to the use of environmentally acceptable safety equipment.

Explaining further, he said the use of absorbents for chemical spill response would be more advantageous and he deplored the various obstacles that lay in the path of implementing a proper respiratory or hearing protection programme. Detailing the drawbacks, Mehraj Sally said invariably the top management's lack of commitment to face the occupational hazards caused by occupational contaminants arise from the fact that contaminants take years to manifest the ill-effects resulting in lung disease. He added many health hazards cannot be seem by the naked eye, smelt or even felt. But when they start manifesting in 10, 15 or 20 years it becomes impossible to reverse.

Secondly, he stated that the lack of training programmes for the workforce has necessitated 3M to conduct safety awareness programmes in more that 100 factories without levying any fee.

The third drawback he added should receive the attention of the state to define the duty rates applicable to importation of personal protective equipment. He pointed out that in most developed countries, respirators are classified under life saving devices and they are not subject to any import duties.

---
Shipping & Aviation
Mercosul Line orders two container vessels from Brazil
P&O Nedlloyd's Brazilian flagged carrier, Mercosul Line, has placed an order for two container vessels of 1700 teu to be built at Enstalleiro Itajai in Brazil. The vessels are to be delivered in 2003/4.

Mercosul Line offers a regular service between Argentina, Uruguay, Paraguay and Brazil. These four countries make up the Mercosul Tradebloc.

For Mercosul Line, as well as for P&O Nedlloyd, this investment underscores the importance of the growing Mercosul Trade and the rapidly developing economies of, particularly, Brazil.

As part of the Mercosul Line service, P&O Nedlloyd will be able to offer through documents to and from ports which are not direct calls for the various international services operating on the East Coast of South America.

Commenting on the contract, P&O Nedlloyd Director Rutger van Slobbe said, "This contract further enhances the strong ties between Brazil and P&O Nedlloyd which have existed over many years."

---
Top travel agents tour Mauritius
Ceylinco Universal Limited, General Sales Agents for Air Mauritius is proud to announce that five top performing travel agents purely on their productivity was selected for a familiarization tour to Mauritius. They are also pleased to announce that SriLankan Airlines being the national carrier joined Air Mauritius in co-sponsoring this familiarization tour by way of their offering tickets for the participants between Colombo and Singapore.

This tour group comprised of five top performing agents, namely; Travel Data, First Base Travels, The Traveller, Classic Travels & Ceylinco Travels & Tours. Palitha Senanayake of SriLankan Airlines also joined this group and it was led by Gerald Hindle of Air Mauritius, Colombo. The complete tour took 9 (nine) days and they had an action-packed tour of Mauritius where they had the opportunity of visiting many hotel properties to look into their facilities and what Mauritius has on offer as an exotic tourist destination.

Mauritius although it is an island surrounded by sea has much to offer apart from sea beach and water sports. This group had that opportunity of visiting the Pamplemousses Gardens where many flora could be seen and one speciality been a special kind of Water Lily where the leaf is about 3 to 4 feet in diameter. The Capital Port Louis where the Caudan and the Water Front could be seen and many shops for shopping. The Mahebourg where the theatre of the famous Franco-British naval battle took place in which for the first and the only time Napoleonic Fleet defeated the British. The Grand Baie situated 40 kilo metres north of Port Louis which is an enchanting bay of emerald and turquoise waters is a strong concentration of hotels, fashion craft boutiques and restaurants. Grand Bassin is the most famous of all the lakes and the waterways of Mauritius.

---
Millennium Holidays for Travel Services
Millennium Holidays (Pvt) Ltd. at no 136, Main Street Colombo 11, offers service beyond expection to all their clientele, it organisation during the last year. Friendly and professional service and personal tough are the forte in this company. It caters to all Travel related services required by the corporate traveller the end result being time and value for Money.

Achieving this set standard in the organization is possible due to the innovative methods which have been put into practice. Company's prompt response is possible due to the fact the staff being well trained in all areas of travel and time management.

Accessibility to company's website and requisition for inquiries will receive immediate attention.

The ultimate vision of Millennium Holidays has been achieved as a one stop Holiday and Travel shop which include holiday accessibility to the website which would provide information on flights, visa requirements to all countries, making own reservations, cost of air passages etc.

---
'Change the laws'
Unilever Ceylon Ltd (UCL) chairman Mike Thompson in a comprehensive interview with The Sunday Times Business recently spoke on a range of issues including future plans, industrial unrest, strategies and other issues. Excerpts of the interview:
By Chanakya Dissanayake
BT:As a global strategy, Unilever has been reducing the product portfolio to concentrate on its more profitable brands. Are you doing the same in Sri Lanka?
Mike Thompson:The brand focus exercise is a global initiative. It also includes Sri Lanka. We have almost finished our exercise in Sri Lanka and we have finished the de-listing of certain brands. Only the Debutante perfume range remains to be de-listed.
The whole purpose of this brand focusing is to select the key brands and put the organisation's resources behind them to develop them.
How do you see the effect of local competition on Unilever's key brands, for example toothpaste?
I am a great believer in competition. It's good for the consumer and it improves the producer, since it forces them to be better. Our toothpaste brand Signal, is very strong in Sri Lanka. We enjoy the largest market share and we have a schools' dental hygiene programme that has been running for more than 20 years. Our market share will not diminish, because Signal is a high quality product.
As a person who has been with the Unilever international staff for many years, how do you see Sri Lanka's competitiveness, compared to other countries in the region?
Let me answer it this way ... Globalisation is with us and it is stronger than ever. When you talk about production costs, Sri Lanka has to remain competitive. Sri Lanka is surrounded by a number of very competitive economies, including Malaysia, Indonesia and India. So it is absolutely necessary that Sri Lanka improves its competitiveness.
Our main objective is to keep the costs low. There are many ways of doing this. It involves a high commitment from the top management downwards to keep costs low and I am personally reviewing all costs.
We have been very successful in containing our costs, but it doesn't mean that we will sit back and relax because there is always a danger of a country becoming uncompetitive.
What exactly do you mean by that?
For example the recent surcharge on imports add to our costs. Also wage demands that are not reasonable, can add to costs. High inflation also makes us uncompetitive.
Considering the economies of scale of your Indian operation, will you resort to import all Unilever products from India?
My desire is to establish Unilever's Sri Lankan operation as a supplier to other Unilever countries. We have done that on many occasions in the past.
However, our efforts are now being undermined by union activities. We wanted to restructure our Grandpass plant to give it more flexibility to produce more.
To do that, we wanted to relocate the soap packaging facility to Sapugaskanda. With these changes we were planning to export 8,000 tons of semi-finished soap to our Indian Company.
We proved that we could take the maximum advantage of the FTA with India. We proved our competitiveness. But the union activists prevented the restructuring and shifting of the machinery, and I had to remove the Grandpass plant from our strategic list.
What are your plans to counter this union activity?
The unions, especially the JVP controlled ones are having a political agenda, not an industrial relations agenda. Our Union is a sub branch of a political party.
We have been talking to our workers and union members of the shift and the compensation package. When we attempted to move, a situation developed and my managers would have been in danger if they proceeded with the shift.
The union saw this shift as an opportunity to demand an unreasonable wage increase. This is not about wages, this is about the management choice about where it places it assets.
The final outcome of this union activity is that, we cannot increase our production in Grandpass and we will have to import the excess demand. We cannot engage in the export business.
What will be the final outcome of this union activity?
We are a multi-national and a multi-local company. We have been in Sri Lanka since 1937 and that is a long time. We have understood the local consumer needs and there will always be a marketing and distribution company in Sri Lanka. Where the products come from will be immaterial.
And if we have a workforce and a union lacking in foresight, refusing to understand that what we need to do is expand production, we will have to go elsewhere for production.
Will you pull out the production facilities if the labour situation worsens?
Absolutely. It is a tough decision. But, how can I maintain this factory in the strategic list, if I can't expand it?
What is Unilever asking the government to do at this point?
Change the outdated labour laws. Every chairman has been saying this in his company report for the past so many years. I have personally represented this to the government.

---
Sri Lankan businesses help 'clean' lights to shine
The wave of the future
By Frank A. Campbell
Usually, only banks such as the World Bank and the Asian Development Bank "get mixed up" with Third World development. Yet Sri Lanka's commercial banks are involved in a project that fights poverty while supplying environmentally friendly electricity, often to rural homes where only the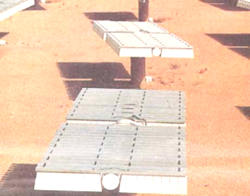 kerosene lamp had gone before.

Jayantha Nagendran came close to abandoning the traditional banker's reserve as he exulted: "This is a new experience for the bank. It is a new experience for the country." He is Senior Vice-President (Liability Management) of the DFCC Bank, formerly the Development Finance Corporation of Ceylon. DFCC Bank has been engaged by the Sri Lankan government to exercise day-to-day administration of the project financed by the Global Environment Facility and the World Bank.

Nagendran combines his senior vice-presidency with the special task of managing the project designed to improve energy services delivery in the country.

The major part of the project provides loans to facilitate three kinds of energy initiatives. One initiative has to do with small village hydro projects, providing electricity to communities not connected, or likely to be connected any time soon, to the national electricity grid. The second supports the distribution of solar home systems (SHS), which provide a modest amount of electric power to individual families. Electricity from new mini-hydros - the third, slightly more ambitious initiative - is fed into the national grid and is then available to provide power, for example, to plantations growing the tea for which Sri Lanka is known worldwide.

Tens of thousands - eventually hundreds of thousands - of Sri Lankans are expected to benefit from these three sets of activities. All three sets have begun to yield positive results. By the end of the project later this year, some 10,000 families - about 50,000 persons - will have received small solar home systems that convert energy from the sun's rays into electricity for domestic use. Even after the project, distribution of these systems is expected to continue. Several thousand families will get their electricity from the small village-level hydro schemes.

Already, many have been able to put aside the old bottle kerosene lamps and dry-cell batteries. They now use these new sources of energy to obtain lights and power their television sets and, in some cases, even an appliance or two. As Nagendran explains, not all needs can be met from these low-level power sources. Families linked to the village hydro installations "have to take turns at ironing, because if all the homes iron at the same time, there will be problems."

Yet when he visits families benefiting from the project, their satisfaction is unmistakable. "The main thing is the children," he said, once again sounding more like a development worker than a banker. "They feel the benefit more. The air is cleaner without the kerosene. The lighting is better. They can read better and for longer hours. Then there is the housewife. The kitchen is cleaner and better lit."

One benefit that strongly impresses Nagendran - one which, he says, the people hardly ever mention - is the reduction in deaths through fire caused by fallen kerosene lamps. Every day, he says, you can read about one of these deaths in areas where people still use those lamps. "Of course," he adds, "there is the entertainment element. They don't have to carry a battery up and down in order to be able to play the television."

The shift to grid-connected mini-hydros may mean less burning of fossil fuels and therefore less damage to the environment, although a considerable amount of Sri Lanka's electric power already comes from hydro installations. The off-grid electrification sub-projects (mainly the village hydros) "will reduce the use of kerosene and lead-acid automotive batteries, thus benefiting the environment and reducing health hazards." This was noted by Loretta Schaeffer, the World Bank's Task Manager in the Asia Alternative Energy Unit, in 1997 when the project was announced.

This potentially positive environmental impact is what secured the involvement of the Global Environment Facility in the project. However, as GEF energy expert Eric Martinot explains, the number of solar home systems contemplated in the project are not likely to reduce kerosene consumption sufficiently to make a major short-term impact on the global environment. What is important, he argues, is the extent to which projects such as this one lead to a groundswell in the use of solar home systems at the national, regional and international levels. That's when significant environmental impact will take place.

It is the private sector involvement that makes this project novel, not only in Sri Lanka but on a global scale - that and the fact that the main driving force is the marketplace rather than donor incentive. "To me," says Martinot, "the main point of the mini-hydro component is that it pilots independent power producer frameworks and sets transparent power purchase tariffs for the sale of renewable power to the central utility."

The main contribution of the international community is funds to provide credit for the purchase of solar home systems or to facilitate the installation of hydros. One exception is a small grant element for the off-grid village hydros - "to level the playing field," according to Nagendran, by helping to "overcome some of the disadvantages this project would have relative to other technologies."

Another exception is funding for a pilot wind farm, also being undertaken as part of the project. This farm, intended to encourage the private sector to get involved in providing wind power, is already operating successfully. Elements of the Sri Lankan private sector are looking on to see whether the strength and duration of the wind in Sri Lanka, as detected on the farm, are sufficiently favorable to attract their participation in similar ventures. Such data are being generated by a related resource-assessment project, also funded by GEF but executed by UNDP.

Hand in hand with the generation of new, clean energy, the project is encouraging Sri Lankans to conserve power, both old and new. This approach, called demand-side management (DSM), is pursued on the initiative of the electricity board. In Sri Lanka, as elsewhere, DSM may prove to be a more economical investment than installing new electricity generating capacity. Also, both the UNDP and World Bank projects contribute to human capacity building - crucial both in DSM activities and in the provision of new and renewable sources of energy.

However, the bulk of the GEF-supported work in Sri Lanka's energy sector remains the provision of credit for solar home systems and hydro schemes. This credit is channeled through local banks and at this point, according to Sriyani Hulugalle, an industrial economist with the World Bank in Sri Lanka, things are going smoothly. "Even the bank staffs now feel comfortable in evaluating these projects."

Things did not always go so smoothly. GEF, the World Bank, the Sri Lankan government and the private and non-governmental sectors all had to go through a potentially discouraging learning curve.

For example, the original project document provided for the dealer and the body dispensing the credit to purchasers to be one and the same. However, this model proved unworkable. Sarvodaya, the country's leading micro-credit institution, found itself unsuited to the selling and servicing of the units. Equally, the traditional dealers found that their centralized, essentially urban structures were ill-equipped to collect installment payments in Sri Lanka's sparsely populated countryside. Now the dealers

stick to selling, installing, guaranteeing and servicing the units. And Sarvodaya does what it does best - providing rural credit, in this case using resources borrowed through the banks.

Everybody is more or less happy. Sarvodaya reports a virtually flawless repayment record on the part of purchasers. The banks, in turn, enjoy 100% repayment. The problem now is, as Martinot points out, Sarvodaya is "the only game in town" and more microfinance players need to become involved.

Hulugalle says there is also the need for some of the microfinance institutions (or MFIs), including possibly Sarvodaya, to obtain their funding directly from the government rather than through the banks, thus reducing the interest costs passed on to the final consumer.

First new selection criteria must be developed. These must take into account that MFIs, unlike banks, are not supervised by financial regulatory institutions and that World Bank and GEF investments need to be protected. On the other hand, MFIs are essentially social development bodies. They don't usually have much collateral. So they need to be evaluated differently. Fortunately, says Hulugalle, "we have some experience in other countries, and in fact one of my colleagues from Bangladesh is expected to join us to help in the evaluation process."

Recently Shell entered Sri Lanka's solar home systems market, a development directly attributable to the GEF project. This entry, effected through the purchase of a company already in the sector, and that of SELCO, a U.S. company which substantially expanded its minority investment in RESCO Asia Ltd., brought two big players, and increased credibility, to the solar home systems market.

Such a strong private sector vote of confidence, more than anything else, indicates that alternative energy is the wave of the future in Sri Lanka. Very likely, then, clean energy will continue to generate excitement among bankers, dealers and development workers alike long after the World Bank, UNDP and GEF have done their work, folded their tents and departed. Courtesy -Global Environment Facility (GEF)