Contents
---
Passion fired Dancesport 2001
By Chandani Kirinde
"Great dancers are not great because of their technique but they are great because of their passion" the legendary dancer Martha Graham once said.

At Dancesport 2001 held last Sunday, Sri Lanka's best dancers displayed their talents with a passion that kept a packed audience at the Hilton Ballroom enthralled for nearly three hours.

The show included a wide variety of dances and competitors were judged in ten categories which included the fresher and novices modern, open waltz, open amateur modern, open Viennese waltz, freshers and novices Latin American, pre-amateur Latin American, open cha cha and amateur Latin American.

The highlight of the even was undoubtedly the performance by Matthew and Nicole Culture. the World, European and UK Amateur, Latin American Dance champions.

The husband-wife duo who been dancing together for nearly eight years were specially in Sri Lanka as adjudicators at the competition along with Steven Han, the President of the Asia Dancesport Council.

The couple saved the best for last by putting on an explosive performance amidst loud applause from the audience to finish the show.

Yohann Jurie and Michiko Chiba came out on top by winning the Amateur Latin American which resulted in them being selected to participate in the Third Universal Dancesport Championships in Singapore to be held in April, 2001.

In the ballroom categories, the winners included Shane Wickremasinghe and Roshika Obeyasekera in the freshers - modern category, Ranil Attygalle and Maheeka Ariyapperuma in the novices - modern, Nalindra Fonseka and Lanka Averiwatte in the Open Waltz, Nishan Peiris and Manuja Siriwardene in the Open amateur Modern and Yohan and Shanez in the Open Viennese Waltz.

In the Latin American dancing categories, the winners were Dharmasiri De Silva and Dilukshi Wickremasinghe in the freshers - Latin American and Ruchira Perera and Harshini Senaratne in the Novices - Latin American. In the pre amateur Latin American there was a tie for the first place with the winners being Sampath and Thushara and Nishan and Manuja.

Three groups also completed in the formation dances which were well choreographed and were received with much enthusiasm from the audience.

Several of the twelve couples who took part in the contest were also awarded runner -up trophies.

A highlight of the evening was the honouring of Sri Lanka's veteran ball room dancer Owen De Abrew with a special trophy by the Director of Footwork Dharshan Wijesooriya, the producers of this event.

A downside of the event was the honouring arrangements which could have been made more comfortable and better arranged for the audience to get a good view of the participants.
---

'Saaksha' on TNL's 'Music Unlimited'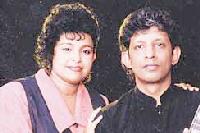 The husband and wife duo Mariazelle Gunathileka and Dulip Gnanakan, popularly known as 'Saaksha' will be featured on 'Music Unlimited' on TNL TV at 8.30 p.m on Wednesday, March 7.

'Saaksha' performs at the Lanka Oberoi lobby on Saturdays and this is the first time they appear on TV. 'Musical Unlimited' produced by Dalreen Suby.

'Saaksha' has been in action for quite some time and they are having more than 25 years experience behind them.

Individually taken each is very well known within their performing circuits.

Dulip has performed with top bands, of the past such as 'Suriyakumar and The Arrangement', 'Upekkah', 'Maxis Mahogany' and 'Pro Arrangement'. He is known by insiders as a perfectionist and a capable and very dependable bassist on any stage. He produces all the duos music in their home studio.

Although Mariazelle probably needs no introduction, her prowess in western music also probably has been largely under-rated. Since her beginnings with the 'Junior Rhythmiers' and the 'Emeralds' a lack of time mainly has prevented her from concentrating on what she does best. Now singing alongside her husband she varies her repertoire from Ella Fitzgerald through to Britney Spears.
---

'Oba Koheda Priye': Story of deceit and intrigue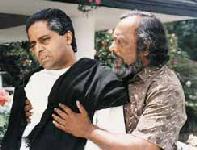 "Oba Koheda Priye" portrays the story of a happily married couple- unfortunately estranged-due to the evil machinations of the husband's father. Sanath Gunatilaka plays the lead role of George Madanayake the only son of an aristocratic up-country land owner, Edward Madanayake (Rex Kodippili). Falling in love with a poor girl of the area, Nilmini (Sabitha Perera) George secretly marries her amidst opposition, from his father and secretly leaves the country.

While abroad, one day George receives a message saying that his father is seriously ill. George returns to Sri Lanka leaving his wife who is pregnant now. However George was unaware of his father's plan to kill his wife in his absence.

Though Edward sends one of his henchmen to kill his daughter-in-law, Nilmini manages to escape from the killer.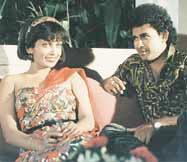 Unaware of the trap laid by his father, George on his return fails to locate his wife and hears a different story. He is told that she eloped with another man. Disheartened George returns to his country and determined to live as a bachelor.
After twenty years, Nilmini's daughter now a grown up young woman who resembles her mother recounts the sad story of her parents to her boy friend 'Priyantha ' (Ranjan Ramanayake) who is determined to meet George and verify the truth.
Meanwhile on a visit to Hong Kong George happens to see a girl who looked just like her wife when she was young. It reminds him of his sad past. Little does he realize that the girl he had seen was his own daughter.
At this moment Priyantha the boy friend of George's daughter gets a chance to meet the father of his girl friend.
At this meeting Priyantha accuses George of ill-treating both mother and daughter.
But Priyantha is surprised by what he hears from George who offers a completely different story. He says that Nilmini had betrayed him and that he still suffers from what had been done to him.
Meanwhile the man who was assigned with the mission to kill Nilmini is determined to keep the truth away from George.
Oba Koheda Priye is the latest work from Hemasiri Sellapperuma and is scheduled for release next month.
Art direction for "Oba Koheda Priye" is done by Saliya Dias while M. S. Alimann has edited it. M. A. Gafoor is behind the camera.
Music score for the film has been provided by late Sarath Dassanayake, the veteran behind the play back music of many dozens of award winning films.
---

Japan Nature films call for entries
The Japan Wildlife Film Festival has once again called for film entries, and Sri Lankan documentary film makers have an opportunity of participating in this event - the largest such film festival in Asia.

The festival, organised by the Nature Film Network, a non-profit organization based in Tokyo, is to be held from August 23 to 26, 2001 in Toyama City, in northern Japan.

The competition is open to new or established filmmakers and television broadcasters, including independent filmmakers anywhere in the world. Films for entry must have been completed after May, 1999 and must have an aspect of natural history as the central focus — e.g. animal behaviour, ecology, conservation of nature, environmental threats/issues and/or the co-existence with nature and people.

The guidelines for entries and entry forms are available from the Sri Lanka Environmental Television Project (SLETP), at No. 24, First Lane, Koswatte Road, Nawala, Rajagiriya (Phone 877 808).

All entries must be received in Tokyo by April 30, and award winners will be announced on August 26 at a gala ceremony which closes the festival. A VHS tape and script should be attached to each entry form. Sri Lankan film makers have the option of handing over their entries to the SLETP Office by April 23 to be forwarded to Tokyo by courier.

More information on the festival is available on the website http://www.naturechannel.org.

SLETP is a project of the International Television Trust for the Environment in collaboration with the Media House of the Open University of Sri Lanka, and in partnership with Sri Lankan broadcasters and NGOs. It is supported by German technical cooperation agency GTZ, Novib of the Netherlands.
---

Tomb Raiders: a controversial film
Conservationists worry that Angelina Jolie's newest movie "Tomb Raiders" filmed in the background of Cambodia's famed Angkor Wat monument may lead to the destruction of the country's ancient treasures through increased tourism, a possibility which Asiaweek has investigated and written about in its latest issue.

The movie is based on the exploits of video game star Lara Croft Although Cambodian officials are hoping that Paramount Pictures' summer movie will put the country on the tourism map conservationists already worry that tourists clambering freely over Cambodia's ancient ruins threaten to damage the sites.

With four major international movies being filmed in the country, Cambodia has become this year's "Tibet" as the flavor-of-the-month among movies seeking an exotic Asian setting to launch the dusty town of Siam Reap into trendy status in Hollywood, the Asiaweek said.

While tourism officials hope that the movies will encourage more visitors to the kingdom, UNESCO fears that the movie, 'Tomb Raiders" sends the wrong message to the world.

"The association of Angkor's image with a film about Tomb Raiders isn't appropriate," one official wrote to Paramount. Angelina Jolie says on the subject: "Lara is not a looter, and she'd probably shoot you for saying so,". Jolie added, "I'm not going to presume that everybody in Cambodia is happy about the movie but I would not be here if I truly thought they hated us being here,".

Some Cambodians worry that the sacred meaning of Angkor will be lost in the quest for dollars and with hardly a head left on the Khmer sculpture, looting reflects the cut-throat commercial frenzy.

Although the United Nations has named the temples of Angkor World Heritage sites, rampant corruption, looting and destruction have continued. Today many antique markets across Asia and the world are filled with Khmer relics looted from the sites, the weekly magazine reported.
---

Premiere show of 'Hemanthe Wasanthayak' in London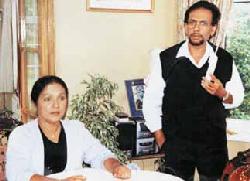 The maiden show of the teledrama directed by journalist Rodney Vidanapathirana, "Hemanthe Wasanthayak" will be shown at 2 pm in Kensington in London under the patronage of Sri Lanka's ambassador in the United Kingdom Mangala Moonesinghe and Mrs. Moonesinghe.

Filmed entirely in the beautiful locations in London, the story revolves around the struggle between two families living in London due to their different religious beliefs.

Comprising both foreign and local actors and actresses the cast features Sriyani Amerasena, Prema Ganegoda, Roshan Pilapitiya, Kanchana Mendis, Wimal Alahakoon, Anura Hagoda, Karen Hartright, Michael Russel and many others.

The screenplay was written and jointly produced by Sriyani Amerasena with Prema Ganegoda, Anura Hagoda. M. D. Jayathunge was behind the camera.

Edited by Jagath Weeratunge the story of 'Hemanthe Wasanthayak' is by Prema Ganegoda.

The teledrama is directed by Rodney Vidanapathirana with the assistance of Somadasa Maldeniya.
---
Komala's come to Lanka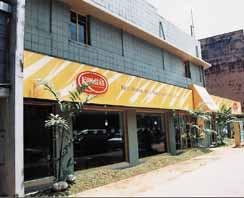 "Komala's" the first ever Indian vegetarian fast food chain in the world, has now opened its doors in Sri Lanka to experience the real Indian gastronomical delights.

Located right next to the very popular Pizza Hut in Union Place, with a seating capacity of 160 persons, Komala's is ample proof of the fact that you can indeed have the best of both worlds - in short a western concept and ambience, serving up the exotic flavours of the Indian sub continent. "It's both great food as well as a great experience," said Managing Director Keells Restaurants, Sumithra Gunasekara speaking at the opening of Komala's.

At Komala's what stands out is the menu which is 100% vegetarian with over 85 different dishes to choose from.

With over 15 varieties of Dosai, Bhattura, Chapati, Puri, Vadai, Idly, South Indian Thali meals, Naans, delicious desserts and mouthwatering thirst quenchers, not forgetting a staggering array of sambals, and chutneys, and of course everybody's favourite French Fries, Komala's is definitely the ultimate vegetarian food experience. All dishes are affordably priced and an average meal costs not more than Rs. 125/- per head.

With a staff of 40, Komala's will be open 7 days a week from 11.00 a.m. to 10.00 p.m., catering to both dining in as well as take away requirements. The Manager of Komala's Nelu Fonseka and the Assistant Manager have been trained in India. The rest of the team too have been trained by the Indian team on the total restaurant operation.

There are also plans for opening at least one more outlet during the course of this year, with prospective areas already being identified.

"With its unique concept that incorporates authentic Indian cuisine, fast delivery and service, value for money, together with great food and a great experience, coupled with the John Keells panache for perfection, at Komala's you can really have it all" said Chairman Vivendra Lintotawela, who was the chief guest at the occasion.

Since opening its first outlet in Singapore in early 1995, Komala's has caught the attention and taste buds of food lovers from around the world.

The brainchild of the Sekar brothers - R.T. Sekar and R.C. Sekar who seized upon the opportunity of making the traditional Indian vegetarian meal affordable and accessible, coupled with fast service in a clean and upmarket environment, Komala's restaurants specialize in serving and presenting the traditional Indian favourites in a manner that incorporates traditional Indian cuisine, coupled with the self service concept that matches the needs of today's current life style.

In Sri Lanka the architects for Komala's were Design Consortium Ltd. who have created a warm and welcoming ambience, with light hued wooden panels, and a soothing colour combination of yellow and green.

The menu together with the prices are up on the wall above the cashiers counter, while gaily coloured furniture, specially designed plates and cups and colourful paper mats, help create a friendly atmosphere.

Today there are Komala's restaurants operating in Singapore, Oman, India and Malaysia, and of course now in Sri Lanka.

John Keells (Keells Restaurants) who introduced Pizza Hut to Sri Lanka in 1993 are the franchise holders for Komala's Restaurants in Sri Lanka.
---

Chandimal to dance in Doha
'Chandimal and the Second Connection' will perform for two dances in Doha, Qatar in March.

The band will be in action at the 'SriLankan Airlines Awards Nite' on March 28 and the other dance organised by the Sri Lankan community, will be held on March 29 at the Sofitel Hotel.

The entire tour is sponsored by SriLankan Airlines and organized by Chanaka Olagama, the Sales Manager for SriLankan Airlines in Doha in Association with Kumudu Fonseka, the Manager of Sofitel Hotel.

This time Chandimal has teamed up with top ballroom and Latin dancers "Kevin and Sundari' and 'Anushan and Ushi' to add more colour to their performances in Doha. The line up of the band is Chandana, Elsworth and Dev. Chandimal handles the keyboards as usual.

This is their third tour to Doha. The band has performed in Australia, New Zealand and Bangkok in Thailand. On return 'Chandimal and the Second Connection', will go to Nuwara Eliya to play at the Grand Hotel for the coming spring season in little England.
---

Swiss cuisines at Mount
Popular Swiss cuisines Fondue and Raclette are now included for the first time in Sri Lanka in the menu of Mount Lavinia Hotel.

'Fondue De Fromage' and Raclette are now found in the menu card of 'Governor's Restaurant' of MLH.

Known as Cheese Fondue in English, this is a type of melted cheese in white wine seasoned and flavoured with a little Kirsch. Originating in the French speaking part of Switzerland this melted cheese contains no butter, no eggs, no starch of any kind and no chemical products in its form.

With the use of the earthen ware kept on fire and the cheese melting like the lava from a burning Volcano, people enjoy the aroma of melting cheese whilst sitting around the pot which their long forks. Several varieties of small cubes of bread are there to accompany the Cheese Fondue, where you dip your bread into the melted cheese and eat.

If a person drops his or her bread, then it's his or her turn to stand and sing their heart out or kiss their loved one seated right next to him or her.

Another variety from the Swiss Alps is Reclette. This was a speciality of the Canton of Valais made by holding a big piece of the local cheese to the fire and scraping off the softened part as it melts. The cheese scrapings are eaten with Jacket Potatoes and accompanied with White Wine!