Stars of 'sneaky ads'
When a star in a movie or television show tucks into a pizza, reaches for a cup of coffee or sucks a sweet, a till rings somewhere deep in a Hollywood office. Sneaky marketing men are stealthily advertising their products by slipping them into everyday scenes.
The name of the money-spinning game is "product placement". Actors and actresses are made to give a commercial break to brand names ranging from Coca Cola to Mercedes cars and Huggies nappies.
Advertisers pay from $2,500 to $150,000 to have their products casually and shamelessly dropped into film and television scenes, watched by millions of people. Agents who broker the deals rake in megabucks in annual fees.
Films and TV shows into which "product placements" have been dropped include Wall Street, Friends, E.T., NYPD Blue and Bowfinger.
Product Placement executive Norm Marshall says: "Virtually everything you see, other than background stuff, is a negotiated deal."
And not everybody is happy with the camouflaged commercials. Michael Jacobson, co-author of the book Marketing Madness, declared: "It's sneaky advertising - putting advertising in places where you wouldn't expect it and where you can't avoid it."
Here are some of the "product placements" that have hit the world's screens:
* When Tom Hanks enjoyed a pizza meal with a glass or two of wine with Elizabeth Perkins in the movie, Big, a Pizza Hut box starred on the table in the foreground.
* Mercedes outbid BMW to feature Tom Cruise's car in the film, The Firm.
* Dr. Evil and Mini Me enjoyed coffee from Starbucks when they tucked into brunch in the picture, Austin Powers 2. So did Tom Hanks and Meg Ryan in the hit movie You've Got Mail.
* As Rick Schroder took a stroll down the street in TV's blockbusting cop show, NYPD Blue, a FedEx truck just happened to roll past behind him. The courier firm also had a bit part in the film Bowfinger.
* On the TV hit Friends, Jennifer Aniston didn't just drink any old beer, she plumped for Pete's Wicked Ale.
* In the movie Baby Boom, Diane Keaton deftly changed the baby's nappy. And featuring largely on the carpet in the foreground was a large box of Huggies nappies.
* Fortune magazine outbid rival Forbes to have Michael Douglas refer to it on-screen as "the Bible" in Wall Street.
* In spite of having a problem keeping trim, John Travolta waded into the doughnuts in the movie Primary Colours. His snack was prominently displayed as Krisy Kreme doughnuts.
* Coca Cola has signed on the dotted line as the chief sponsor of the TV drama Young Americans, promising plenty of product placements.
The "selling by stealth" can make a huge difference to a product's sales. When Drew Barrymore as E.T. in 1982 swallowed some sweets called Reese's Pieces, sales shot up by 66 per cent.
---
Art that arrests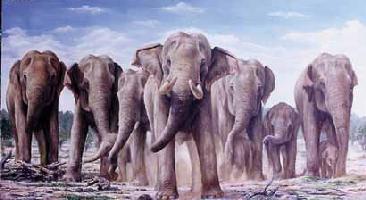 The elephants seems to be charging out of the canvas at you, so lifelike is the depiction. The artist has captured in his brush strokes, the movement, the intensity with particular skill. And if you like the big cats, take a look at his work on leopards, where the peculiar grace of this powerful feline is strikingly visible.
Vishi Dharmasiriwardena is a self-taught artist. But seeing his works, some of them large, sweeping canvases, one knows that this young artist who gave rein to his early passion for wildlife and art has come a long way. His exhibition 'Nature's Savage Innocence' opens at the Lionel Wendt gallery on March 8 with Canadian High Commissioner Ruth Archibald as chief guest.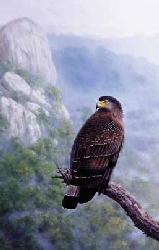 Vishi whose medium is oil on canvas hopes this exhiibition devoted to Sri Lanka's rich heritage of wildlife will create an awareness among the public of nature and the need for conservation. "I just hope people will learn to value the natural beauty of our motherland," he says.
Many of Vishi's canvases feature elephants and this is not surprising since he rates the jumbo as his personal favourite. He's been drawing them since he was just five. A stickler for detail, he believes that studying animals and birds in their natural habitat is vital, if one is to succeed in portraying their moods and anatomy, with any degree of accuracy.
His exhibition which continues till March 14 is sponsored by wildlife enthusiast Mr. Mehboob Hamza, chairman of the Seven Seas Computer Group in Dubai.