The teaching of English: Part 5
Indigenous languages and power of English
By Madhubhashini Ratnayake
The story of the Eng lish Language is a rags to riches story - of a language that started small and "made good" to be now considered a global language," said David Graddol, speaking at the SLELTA Conference held in September in Colombo. Professor Graddol is a lecturer in the Faculty of Education and Language Studies at the UK Open University and he is also the Managing Editor of AILA Review (the journal of the International Association for Applied Linguistics). He and Tony O' Brien, Director, English Language at the British Council in London, spoke at plenary sessions of the conference, about the future of the language, about the myths that were associated with it and the trends that one could expect to see in the future.

"But it was a conscious effort that made English a global power," said Professor Graddol. Colonization and all the historical processes associated with it ensured that it would spread around in the world. But the language itself had to be made strong first. "The 16th Century Renaissance had much to do with making the English language strong enough to be a global force," he said.

To be strong, a language needs two things: copiousness and significancy, according to him. Copiousness is the language gaining new words. Significancy is words gaining ambiguity, having the capacity to have layers of meaning - like in the language of poetry. In the 16th century this was done in England, where writers like Shakespeare had a great part to play in coining new words and giving words power. Science writing in the 17th Century in England also required a new vocabulary and more extensive grammar, and they too were devised for this purpose.

The next step was to "fix" the language through standardization. After the 18th Century Enlightenment, dictionaries came into being - and they could pin down the meaning of words and words could be used with greater regularity and confidence. Due to all these reasons, by the 19th Century, English was set to be the language of power that it eventually became.

Both David Graddol and Tony O' Brian mentioned, however, that to consider English as unshakable in its old strongholds would be a mistake.

Among the myths associated with English, are, to think that one day everyone will speak English; that a single variety of English will emerge; that Native Speakers will set the gold standard of World English. Though these have a grain of truth associated with them, reality could be different, they emphasized.

David Graddol, in his book "The Future of English" published for the British Council in 1997, has said that in the year 2050, the language spoken by the highest number of people will be Chinese, followed by those speaking Hindi or Urdu. English will have the third largest number of speakers, which will be very close to the numbers speaking Spanish or Arabic.

At present, there are more speakers of English as a Foreign Language - i.e. 750 million speakers - than there are of native speakers, who number 375 million. There are equal numbers of speakers using English as a second language as that of the native speakers. So, as opposed to the 375 million speakers using English as a first language, there are 1125 million speakers using English as a second or foreign language.

"The New Englishes today are distinct local varieties," said Professor Graddol, speaking about the varieties of English language found in South Asian, South East Asian, African countries and so on. "There are some common features associated with them, such as the fact that complex local and cultural politics play a part in it. It is often spoken only by a small percentage of the population. They also often look to British English as a model."

In creating such distinct varieties, post colonial writers play a major role, he said, citing writers like Chinua Achebe, and R.K. Narayan as examples. To strengthen a variety of English, perhaps the same process followed by 'standard' British English could be followed, he said. That is, the users of the variety could discover more about the actual usage of it; create reference dictionaries and grammar books about it and develop theoretical rationale to back it up. They could also develop linguistic resources required to widen the range of functions that the language variety can do.

This is not of course to say that all norms will not be an issue. The English language teacher will play an important part in maintaining a certain standard, he pointed out.

Despite all statistics, it is still a fact that the power of English, in whatever variety, will increase with time. Having become the language of power, it will continue to be the language that has most significance in the world, and thereby, the language with the greatest demand. This position has actually endangered some languages that do not have many speakers using it. "There will be a loss of languages - endangered languages," admitted Professor Graddol. "Indigenous languages, languages spoken by small communities might be extinct in the future."

In an interview with The Sunday Times, Professor Graddol said that with regard to the position of Sinhala, a language found only in Sri Lanka, it cannot really be called an endangered language because it has millions of speakers using it. "But for a language to survive, there has to be vitality and dynamism in the ethnic group that uses it," he said.

"For the language to move forward, you will have to find a very powerful thinker, thinking out new concepts, new words to speak of them, coining new words if they do not exist," he said. That had been the story of English at the Renaissance.

For Sinhala, we did have a somewhat similar situation in the 19th Century, when the classical Sanskrit founts were found inadequate to supply the needs of Sinhala then branching out to genres like fiction. Professor Ediriweera Sarachchandra says in an article in "History of Ceylon" (edited by K.M. de Silva, 1973) that "By the nineteenth century we find literature languishing for want of inspiration and stimulation, for the old Sanskrit sources had been tapped dry." He goes on to say that fiction writers had to contend with problems of great magnitude.

Now the challenge facing Sinhala would be to equip itself to the global trends of Information Technology and so on, if it wants to survive the future. It will only survive if it becomes a language of power - and we have to ask ourselves if we have thinkers who are committed and powerful enough to do so. A more important question, perhaps, is, if we have any among the younger generation - the prime decision makers of language use in the future - who care enough about the language to do so.

---
A taste of Sinhala (35)
Blacks, whites and brown sahibs
By Prof. J.B.Disanayaka
The Sinhala word for white or fair is 'sudu' as in sudu redda (the white cloth) sudu kellak (a fair complexioned girl).

It is also used as a base to form nouns.

One set of nouns refers to males: animals or people: sudda (the white male, the white man), suddek (a white male, a white man) suddo (white males, white men).

Another set of nouns refers to females: animals or people: suddi (the white female, the white woman), suddiyak (a white female, a white woman) suddiyo (white females, white women).

These nouns are also used in colloquial Sinhala to refer to Europeans, who are considered 'white' or 'fair' in complexion. Among the Sinhalese are also those who tend to imitate or ape the Europeans, in the way they dress, eat or talk. They are called 'whites' who are 'black': kalu sudda ( the black white), kalu suddek (a black white), kalu suddo (black whites)

There are such 'black whites' among the Indians too but they don't call them so. In Indian English they are called, 'brown sahibs'. So, one man's 'black' is another man's 'brown'.
'Colour power' in Colombo
---
A matter of context
Continued from October 8th issue

Not all of us can afford to hire the services of an architect. What should an ordinary person with no expert knowledge about architecture keep in mind when using colour on a building, we asked architect Madura Prematilleke.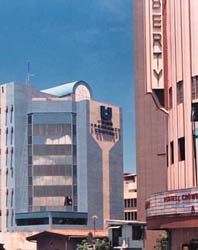 "Always look at the context," he says. "People tend to ignore their surroundings and build solely upon the picture in their minds. But you should always look around, at the buildings around, the trees and even the colour of the soil. Try to make some relationship between what you are going to build and what is already around it. Context is important."
"Our landscape is gentle, not stark, like a desert. So you can do a lot of things without actually harming the surroundings," he says. Channa Daswatta feels "bright colours like red and orange sit better in our landscape with the lush foliage etc., rather than, say white."


If you plan to choose colours for your own building it might help to remember the colour wheel. It's made up of the three basic colours, red, yellow and blue. The colour you get when you mix two of the primary colours contrasts with the third primary colour. For example, orange is the result of mixing two primary colours, red and yellow, and orange contrasts with blue, the colour left in the wheel. "Contrasting colours complement each other, and together they look pleasing," explains Mr. Daswatte.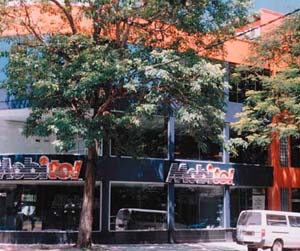 However there are disadvantages in contrasting too. "If you have used two contrasting colours inside a building, say red and green, if someone walks in wearing the wrong colour, it can be a disaster," says Anjalendran.
"But when you use colour to blend with each other rather than contrast, it settles down with life better," he explains.
All of us want our surroundings to look good. But that is the very thing lacking in many of our cities, most of all perhaps in Colombo. "If you use colour sensibly and with taste on all those buildings, maybe we could still have a beautiful city amid the pollution," muses Mr. Daswatte.
-Uthpala Gunathilake