Silenced forever
The funeral of journalist Mailvahanam Nimalarajan took place amidst a large gathering in Jaffna town last evening while Police had yet made no breakthrough in the probe on the killing.

Journalists, senior government officials and university students were among those at the funeral at St. Mary's church Jaffna, presided over by Bishop Thomas Saundaranayagam.

Parents of Nimalarajan who were also injured in the attack were released from hospital for two hours to attend the funeral, but journalists from Colombo were unable to go because Defence Ministry clearance was not given.

Jaffna's DIG Gamini Nawaratna said a special team had been assigned for the probe but no breakthrough had been made yet.

---
Mahweli manager alleges politcal assault
By Nilika de Silva
The Mahaweli Authority's Resident Project Manager, Ranjith Piyadasa, was assaulted and robbed by a gang of six but the victim believes the motive for the attack had political undertones.

Mr. Piyadasa who is warded at the Colombo National Hospital said he was seized by two men who dragged him to a side of the office where another four men joined in to assault him.

Mr. Piyadasa said he was robbed of Rs. 200,000 which had been handed over to him in office that day. But he believed the attack had some connection to politics. He said that when complained to higher officials they just told him to go to the police. Mr. Piyadasa also said he was a political victim and had been transferred to Victoria recently without valid reason. Mahaweli Authority officials were not available for comment.

---
'If it is war they want then it is war they get'
Foreign Minister Lakshman Kadirgamar has said there is no dialogue going on between the government and the LTTE, because the rebel group was not interested in peace.

In a television interview with the Norwegian Broadcasting Corporation on Tuesday, Mr. Kadirgamar also said:

"The LTTE is fighting for a separate state by force. No sovereign state can accept that situation. So in self defence we have to fight. We will continue fighting as long as the LTTE is trying to create a separate state by force."

Excerpts:

Q: Prior to the election a political settlement between the LTTE and the Government seemed possible; what exactly is the purpose of your visit to Norway?

A: My visit to Norway has nothing to do with that. My visit to Norway is on the occasion of the 50th anniversary of the establishment of diplomatic relations between Sri Lanka and Norway. This is an important occasion in the relations between the two States. And this visit was planned a long time ago, a long time before the elections. Naturally while I am here I will be talking about a number of different matters, bilateral economic co-operation and Norway's role in the peace process that was started some time ago, but that is not the purpose of my visit.

Q: Does Norway have a role in the peace process?

A: Well, we have asked Norway to remain engaged, to remain on board. The President has made that clear, and we have to see what developments take place. At the moment there is no peace process as such because the LTTE has made it very clear that it is not interested in peace. They feel that they can create a separate State by force of arms. They are totally mistaken in that belief. But that is their belief. As long as that remains their belief there is no question of talking peace. Remember that we want Norway to be available as a facilitator if and when the opportunity arises, and the necessity arises, for a dialogue on peace. Norway is willing to do that and I am very happy about that. But at the moment there are no negotiations going on. I wish to make that clear.

Q: What can a facilitator do?

A: I think, definitely, it is very good in these situations to have a facilitator available because a dialogue may start. It may not. But the presence of a facilitator is always helpful in case some kind of dialogue does start, but I wish to emphasise again that at the moment there is no dialogue because the LTTE's position is very clear. They are not interested in peace.

Q: What is the LTTE's objective?

A: The LTTE is fighting for a separate state by force. No sovereign state can accept that situation. So in self-defence we have to fight. We will continue fighting as long as the LTTE is trying to create a separate state by force.

Q: Are you pursuing a military objective or a political one?

A: Well, it is both. The LTTE is trying to create a separate state by force. We will not allow that, which means we have to fight and when we fight we fight to win. You don't fight to lose. So both concepts are involved in that.

Q: Do you still believe in a political solution too?

A: Yes, I think ultimately, in the long run, a political solution is necessary, something that is durable and fair by all concerned, in the long run. How long that will take to achieve, I simply don't know. I can't make predictions of that kind. Nothing constructive is going to happen until the LTTE changes its own attitude. As long as they keep on saying that they only want to retake the Jaffna peninsula that is a declaration of war. And what I say in answer to that is: "If it is war they want, then it is war they get".

Q: Dialogue with the Tamil Tigers, what would be your terms?

A: I can't say. That is hypothetical because the Tamil Tigers are not showing any interest at all in the peace process. We have to wait and see what they say and take it from there. If they keep on as they are there is no prospect of peace at all.

Q: How far is the government willing to go to recognise a Tamil homeland.

A: I don't think this concept of a homeland means anything at all. The homeland of everybody in Sri Lanka is Sri Lanka itself. The whole of Sri Lanka is everybody's home.

Q: Is there a prospect of a dialogue beginning?

A: No, we have to wait and see what the LTTE's position is. What I am saying is that we believe that every part of Sri Lanka belongs to every Sri Lankan. This concept of exclusivity which a homeland connotes is not acceptable.

Q: How can the war be brought to an end?

A: The most practical way really, ultimately, is for the LTTE to make it clear that it is no longer fighting for a separate state. The moment they do that in some bona fide form, if they really mean it, it might well be possible to talk about some alternative to a separate state. But as long as they keep on saying that they are fighting for a separate state, and are actually fighting for a separate state, I don't see that we can go very far.

Q: There was fighting last week in the North Eastern part of Sri Lanka. Does the Government have the capacity to keep on fighting?

A: The government can fight for a hundred years or more because the government is an institution. Whatever party comes to power the state goes on, the government goes on. So there is no doubt at all about the government's capacity to keep on fighting.

The serious question is what capacity does the LTTE have to fight for 50 years or a 100 years if that is what it wants. I doubt it. Further, I believe that even the Tamil people don't really want a separate State. The vast majority of the Tamil people, both those who live in Sri Lanka, and those hundreds of thousands who have gone to the West to earn a living are moderates. They are not interested in fighting for a separate state. Some of them support the LTTE with money. There are reasons why they do that. Some of them are coerced into doing that. Some of them do it for special reasons. If you take a head count among them, you will find that support for a separate State is simply not there. It is certainly not there in Jaffna itself.

Q: What will happen if the LTTE takes Jaffna?

A: That won't happen.

---
JVP members ready with 'people-friendly' motions
By Dilrukshi Handunnetti
The JVP which has emerged a powerful voice in national politics will table a series of "people-friendly" motions in parliament, calling for, among other things, the abolition of the executive presidency.

JVP parliamentarian Nandana Gunathileke told The Sunday Times the JVP in appreciation of the mandate given by the people believed that it was its foremost duty to campaign for the abolition of the executive presidency which he described as the root cause of corrupt and violent politics. "The PA pledged to abolish the office and the incumbent president gave a written undertaking to the then solitary SLPF member Nihal Galappatty. The UNP says in its manifesto it is committed to the same. But we cannot place faith on these parties. We believe we should exert pressure for the betterment of this country," he said. Mr. Gunathileke also said there was no necessity for MPs to get expensive vehicles worth millions of rupees. "We don't think extravagances are necessary.

The MPs only need sturdy vehicles for personal use," he said adding that he could not understand why MPs craved for luxury vehicles. He said the JVP would call upon the reduction of MPs' perks and privileges which had created a new aristocracy in this country.

---
MIA relatives to visit again
By Shelani de Silva
Family members of servicemen missing in action are renewing their efforts to visit the uncleared areas and meet their loved ones.

E P Nanayakkara, president of the Association of Relatives Missing in Action told The Sunday Times they would be meeting the President next week and seek permission to visit the soldiers in LTTE custody.

He said the LTTE had already given them the permission to visit the uncleared areas.

Mr. Nanayakkara warned that if permission was not granted they would go to Wanni on their own and would face any consequences.

---
The upward swing in portfolios
By Tania Fernando
With each general election, there seems to be a rise in the ranks of Cabinet Ministers.

On Thursday 43 of the 44 Cabinet Ministers were sworn in for the 11th Parliament.

Sri Lanka can boast of having one of the largest Cabinets consisting of forty-four Ministers, as against countries like India, Thailand, Pakistan, Indonesia, Japan, United States of America and the United Kingdom.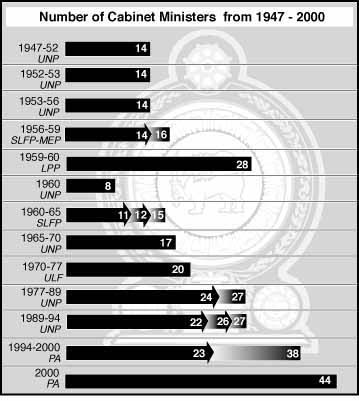 While it could be said that these countries have a lesser number of Cabinet ministers but would have Federal Ministers, Deputy Ministers, State Ministers etc, Sri Lanka too has Deputy Ministers in addition to the Cabinet ministers with some Ministries having more than one Deputy Minister, while there are also Provincial Council Ministers and Pradeshiya Sabha members as well. India with a population of one billion has a Cabinet consisting of 37 ministers, Bangladesh 22, Pakistan 12, Thailand 17, Indonesia 16, Maldives 25 while developed countries like Japan, United States and the United Kingdom have 19, 14 and 20 ministers respectively. In the first Parliament of Sri Lanka in 1947 there were only 14 Cabinet ministers.
When the People's Alliance came into power in 1994 it was reduced from the existing 27 to 23, but within the period of six years it was in power the number went up to 38.
In many countries ministers holding less important portfolios are given more than one, while functions of important ministries are separated and delegated to two ministers, but if a closer look is paid to our Cabinet, it could be seen that some ministers holding one portfolio could be handling some others too. Be it 44 ministers or even more it's the public that has to pay the price for the upkeep of the ministers by way of taxes, etc.

---
Big shake-up in ministries
By Shelani de Silva
A major shake-up in the administrative set up is expected following the formation of the new Cabinet.

Appointing new ministry secretaries, additional secretaries is currently being worked out by the
Presidential Secretariat, while the relevant Cabinet Minister will appoint the new board of directors to state bodies under the respective ministry.

A Presidential Secretariat official told The Sunday Times that there was no stipulated timeframe to appoint secretaries.

"The appointments are made by the President, this is done according to the relevant laws," he said.

Already changes are taking place in split ministries where the secretaries have to change to one
ministry.

The Power, Energy and Irrigation ministry which was earlier held by Minister Anuruddha Ratwatte was split to only Power and Energy, while Irrigation and Water resources were handed over to the UNP alternative group member minister Sarath Amunugama.

Minister Amunugama told The Sunday Times that the present secretary Jaliya Medagoda would be moving with Minister Ratwatte and a new secretary would be appointed to the Ministry of Irrigation, which is an independent ministry.

'I will ask the other members to resign and then re-appoint the members. There might be new appointments to my ministry,' he said.

Similarly where new portfolios were formed the secretaries will be appointed by President Kumratunga, leaving the board members to be appointed by the Minister.

It is in split ministries that a conflict is due to arise where the existing secretaries and other officials will be shared between the two ministries.

Ministry of Transport and Highways, which is separated and now headed by Minister A. H. M. Fowzie and Minister Dinesh Gunawardena is to be relocated.

Minister Fowzie told The Sunday Times that he would be changing only a few board members in the state bodies under his new ministry.

'The rest will be from my former ministry. There won't be many changes,' he said. However, Minister Gunawardena said he would be meeting the members to discuss the development work carried out by them, and studying their work progress before any changes were made.

'I won't rush into anything. I will study their performance and then make any changes and have new appointments,' said minister Gunawar-dena.

The new Health Minister John Seneviratne too said he would first study the officials and then make the appointments.
---
UNP challenges poll results in 10 districts
The UNP will challenge the electoral results of ten districts and a legal unit headed by Daya Pelpola has been set up to study the available evidence.

The UNP sources said the PA supporters did rigging in a highly organised manner and where the PA was weak, the rigging had been methodically organised to balance the possible gaps.

The results of Nuwara Eliya, Matale, Kandy, Kegalle, Kurunegala, Puttalam, Kalutara, Matara, Gampaha, and Moneragala districts have been so far identified as the areas chiefly affected by the stuffing of ballot boxes.

Meanwhile, the UNP has also instructed the group leaders of each of these districts to individually challenge the election results.

In addition, several civic organisations and individuals have also reportedly indicated their willingness to file election petitions challenging the outcome of the polls.

A special unit had been set up at the UNP headquarters at "Sirikotha" to gather information, sources said.

---
Young blood vows clean politics
By Dilrukshi Handunnetti
The 11th Parliament has created many firsts, with the voters deciding to return seasoned legislators and also infusing young blood, while also electing the first Muslim female legislator and ensuring the JVP a powerful representation, perhaps paving the way for a new political order. The majority of the newly elected Parliamentarians had strong political backgrounds with nepotism playing its own crucially supportive role. On the brighter side, the 11th Parliament will include 66 new entrants, the first elected Muslim female Ferial Ashraff, the widow of SLMC leader M. H. M. Ashraff who is yet to take her oaths and Anjan Umma, the JVP's nominated member.

Some members of this new band of legislators spoke to The Sunday Times about their political aspirations and what they plan to do in their six year term. Duminda Dissana-yake,the son of North Central Province Chief Minister Berty Premalal Dissanayake, who polled the highest number of preferences in the Anuradhapura district, is the youngest legislator to gain entry to the House.

Duminda's campaign drew more criticism than accolades as it was marred by violence. Minister H. B. Semasinghe was hospitalized when a group putting up posters on behalf of young Duminda is said to have assaulted the Minister and his supporters. The 21-year-old legislator told The Sunday Times that there were incidents all over and not just in Kalawewa and those who complained against his campaign had weak propaganda.

"Our entire family has served the district with dedication. I recently returned from overseas and thought of joining the fray because there was pressure for another family member to enter politics. Personally, I prefer fine arts" he said, not wishing to elaborate on the martial arts practised in Kalawewa allegedly by his supporters.

He pointed out that though there had been many powerful politicians from the Rajarata, Anuradhapura was still underdeveloped. " I want to serve not just my electorate but to develop the infrastructure of the entire district," he said.

Like Duminda, Sagala Ratnayake of the UNP has lineage playing its own decisive role in his political career. Sagala, a nephew of Victor Ratnayake, a member of the 1947 House of Representatives gained entry to the House polling the second highest number of preferences in Matara.

Brimming with enthusiasm after a glowing victory, he said his strongest wish was to witness a 'cleansing process' in politics and the replacement of the cult of political violence with decency. "We need a common agenda for democracy and there seems to be a certain trend towards the creation of a new political order. As for my electorate, it has suffered much during the two insurgencies and requires rapid infrastructure development. But before anything, we need to restore democracy where political divisions are confined to political activities alone where my neighbour need not fear me," he said.

Drawing inspiration from rural development and poverty alleviation programmes introduced by his father, former President R. Premadasa is young Sajith Premadasa, one of the most successful candidates of the October 10 contest. Sajith not only ensured victory for the UNP in the Hambantota district but also polled the highest number of preferences brushing aside political heavy weights of his own party.

"I was only the Hambantota organiser when I contested. Unlike many others who were provincial councillors before, I didn't have the government resources or the political clout. My victory is a victory for my father's vision, which the rural people embraced. I live with them and work for them and they have demonstrated their appreciation," he said.

Mr. Premadasa stressed on the necessity for any government to introduce ambitious poverty alleviation programmes and the enhancing of rural development plans. "I only wish there was less violence and rigging where people are allowed to express their free will," he said.

Making a strong comeback to mainstream politics is the JVP, which returned 10 legislators including the first female Muslim legislator. Anjan Umma, a former Western Provincial councillor was beaming with happiness when we questioned her about creating history as the first Muslim female to enter Parliament.

"It feels good, but the important thing is not the number of female representatives or the ethnic factor. It is a question of qualitative representation," she said. She felt that it was only the beginning for the JVP. It would be a challenge to work with a government and a main opposition dedicated to capitalism. " People have strengthened us because they know there is no left wing representation and this made the two main parties more authoritarian. The attempt by the Government to present the new Constitution and the UNP's lethargy as opposed to the JVP's vibrant opposition while not having Parliamentary representation were reasons for the public trust in us," she said.

Determined to play a powerful role in the House, she said the JVP would represent the people with a sense of dedication and not barter their dignity for perks and privileges.

Social Services Minister Surangani Ellawala from Sabaragamuwa is another female thrust to the arena of parliamentary politics. A reluctant entrant following the footsteps of her late husband Nanda Ellawala and Nalanda who was assassinated three years ago, Surangani says her quest is to fulfil the mission of her husband and son. "Ratnapura has so much to offer, geologically, geographically and politically. But there is little infrastructure development outside the city, and drinking water, roadways and the prevalence of unemployment are the key issues plaguing this district. I am here to see whether I could serve my people better," she said.Political violence is a touchy subject to this woman who lost her only son in the run-up to the local polls in 1997. "In retrospect, many legislators have so much to regret. It is their country that they have reduced to this level where the blue-green war is greater than any other war we wage. Before anything else, I wish for unity and love among all people," she said. Opposition leader of the Central Province Keheliya Rambukwella is one of the lucky UNPers who turned the alleged-state sponsored violence into a victory.

"I don't think there would have been so much of violence to keep one candidate out of the race like what they did to me. This began when I contested the Provincial Council, and it happened this time. There was no election in Kandy, it was a daylight robbery where a power crazy senior PA politico simply went berserk. All of us got affected not just me, but they put extra hurdles for me," Keheliya said, expressing happiness that every time he was suppressed, voters gave him a better mandate.

Regretting the levels of violence in once peaceful Kandy, he said before anything, this country needed to have democracy restored. "And people should evaluate the work and the character of a candidate without blindly casting the vote," he said, adding that only the voters could permanently retire politicians who paid scant respect to human decency. Mahindananda Aluthga-mage, a PA legislator from Kandy is still sporting several wounds on his neck. "I am lucky to be alive. A powerful UNP candidate's supporters played havoc in the area and I am still unable to move my neck," he said.

Refusing to comment on the traditional rivalry between him and a UNP candidate, he refuted all charges against him about various incidents. "But I can see it is a bad trend. There is so much of violence, but our government is not like the UNP to endorse such acts of party members," he said.

As for the district, he said there was a multitude of plans to develop underdeveloped areas, which he designed during his provincial days. "There is so much to do," he enthusiastically claimed. JVP's Publicity Secretary Wimal Weerawansa is enthusiastic about the people's decision to give a sizeable representation to his party. For a party, which had to go underground from time to time, sending ten members at its first attempt is a giant stride. "We are bound by the pledges to lead simple lives, not trade our loyalties for a pot of gold as many other political parties have done for portfolios. We stand for principled politics and this is not a family business," he claimed, adding that now there would be a political culture, at least practised by ten legislators for starters, on which the people could pin their hopes on.

---
Auditors rap Baiz reinstatement
By Chandani Kirinde
The re-instatement of Abdul Baiz as chairman of the Puttlam Urban Council — one of the conditions for the NUA's support for the PA at the recent polls — has drawn criticism from state auditors.

A spokesman for Puttlam Audit Department's branch whose officers were allegedly assaulted when they went over to the UC on official duty in March 2000, said they were strongly opposed to the re-instatement and were considering trade union action to express their protest.

Mr. Baiz was reinstated while charges were pending against him for assaulting a group of audit officers and for the misappropriating state funds. He was suspended by North Western Province Chief Minister S.B.Nawinna after the alleged assault incident.

However, Mr Nawinna issued a special gazette notification on October 13, re-instating Mr.Baiz while inquires against the UC Chairman were still pending. A one-man commission appointed by Mr. Nawinna to inquire into the charges against Mr. Baiz is expected to conclude its findings by October 30. A court case is also pending against Mr. Baiz in connection with the assault incident.

When Mr. Baiz arrived at the UC office last Monday following his re-instatement, his supporters welcomed him, lighting crackers. Although the re-instatement of Mr. Baiz was demanded more than two months ago by the late NUA leader M. H. M. Ashraff when he was bargaining with President Kumaratunga, it was only done last week on presidential orders. Mr. Baiz contested the general election from the Puttlam district on the NUA ticket but failed to gain enough preferential votes to enter Parliament.

---
Pollsters say 'we were right'
One of the features of the recently concluded general election is the increased enthusiasm shown by people for opinion polls.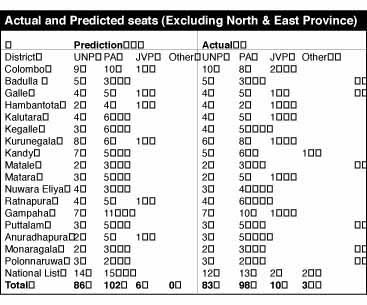 They are getting more and more accustomed to scientific surveys rather than astrological forecasts. Violence and large scale malpractices in some parts of the country on polls day notwithstanding, the final results of the election have given the opinion polls great credibility.


The Sunday Times, which introduced the scientific polling at the 1994 election, publishes below the post-mortem sent by two pollsters whose survey results were published in the paper in the run-up to the elections.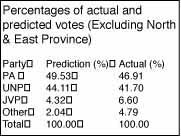 Pollster Org. Marg smart says: The following two tables give the comparison of actual results (the number of seats each party obtained and the percentage votes each party obtained). Since the opinion poll was conducted only outside North and East, the actual results too had been taken excluding the results of these two provinces.


It could be seen that although the percentage votes obtained by each of the parties are not exactly the same as actual, they are within the margin of error.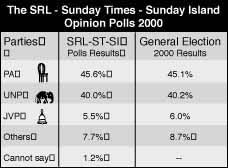 Further the direction of the results are the same which shows that the PA is winning and also you can see that in the actual results the difference between PA and UNP is five percentage points which is similar to the predicted difference. However there had been an underestimation of JVP and other parties' votes, which could be due to small sample for these parties. Again if you look at the total seats obtained by each party, there is only 3-4 seats variation from our predictions. Further, in 6 of the districts, the predictions are same as the actual. Again the problem of underestimation appears due to the same reason mentioned above. Meanwhile the SRL opinion poll says it has hit the bull's-eye in its