More than entertainment
After a hectic and turbu-lent week of political happenings, it was no doubt a breath of fresh air for music lovers in the city when Country Road X got underway last Sunday at the Trans Asia hotel. And it seemed the Trans Asia hotel had hit the Wild West trail too as imaginative decor complete with cacti and storm lanterns set the mood for the evening's happenings.

The Country Road concert presented by the Country Music Foundation (CMF) has earned its place in the music scene and this tenth anniversary concert did not disappoint the fans, young and old.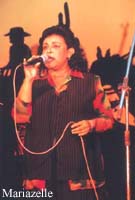 Anton Gunatilleke and Friends opened the show on a mellow note, delighting older members of the audience when they included two Jim Reeves numbers in their repertoire. They were followed by Flame, whose regular appearances at Country Road are always looked forward to by their fans. Flame did not disappoint with their choice of James Taylor and Eagles hits. Mariazelle too continued the mellow mood, doing 'Please, Mr. Please', and 'Let It Be Me' in her own distinctive style.
German folk singer Katja Kaye (featured on our cover this week) was making her first appearance at Country Road and the striking blonde whose voice seemed to evoke shades of both Shania Twain and Faith Hill had the audience enrapt. Included in her selection of songs was the popular 'Goodbye America'. But the song that really had the audience going was undoubtedly the John Denver hit that has come to be the Country Road anthem, 'Country Road, Take Me Home'.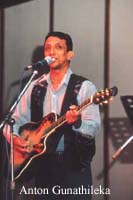 The Country Road concert, however, is more than mere entertainment. Dedicated to helping the needy through music, all proceeds are channelled through UNICEF to needy children. Over the years it has succeeded tremendously in raising awareness of their plight. The music community has supported the organisers in this worthy cause, as have sponsors like Ceylinco Insurance, Sri Lankan Airlines, TNL and host hotel Trans Asia. The Sunday Times has been media sponsor since the show's inception.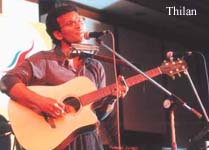 For those who remember the early Country Road concerts, the sight of a slim, bespectacled young man, guitar in hand, ascending the stage may have rung a bell. Thilan Wijesinghe is now better known as Chairman of the BOI but he proved he had not forgotten his love of music and his songwriting days. Joining him on stage were the organisers of the event, Feizal Samath and Juragen Majid of the Country Music Foundation for a rendition of Simon and Garfunkel's classic 'The Boxer'.
Enter 'The Mavericks'. The German band, making their fifth appearance at the show enjoyed themselves hugely. If the mood was relaxed till then, well they soon changed things with their pulsating, fun-filled performance. From Jambalaya to Cotton Eye Joe, they sang, fiddled and won the audience hearts with impromptu riffs and wisecracks. For Dirk Maverick, supporting the Country Road concert has been a commitment that he and his band have been happy to make. This year, his act was filled with surprises and when it was time to go, the audience indeed was heartfelt in their shouts of 'one more'. Return 'the King' as Dirk in white rhinestone-studded satin coat and dark shades did his 'Elvis' act, much to the crowd's delight.
It was left to the Cosmic Rays with a medley of Credence Clearwater Revival songs and Rhinestone Cowboy to wind up another Country Road. Encore, Country Road
---
The Mavericks: they stole the show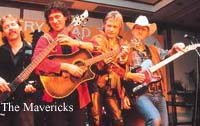 "I don't usually say this, but this time the show went off very well. I'm really proud of my band," says Dirk Maverick happily. And why shouldn't he be? Dirk and his country music band from Germany, 'The Mavericks', stole the show at 'Country Road X', the tenth anniversary show of the Country Music Foundation held last Sunday.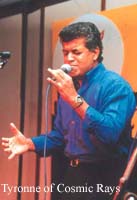 Dirk says that what he plays for German audiences are in essence the same as what was played at Country Road X, though with a difference. "We play live for concerts, festivals, and parties and they are huge celebrations." It seems that in Germany they are very well received. "In Germany we are good in business," he says.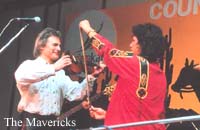 He appreciates the concept of the Country Music Foundation, and thanks Feizal Samath, President of the Foundation who has been organising the show for ten years, for his dedication. "What I like specially is that the money goes directly to UNICEF," he says.
This is their fifth Country Road show, and according to Dirk he's a committed fan of Sri Lanka. "This is my ninth or tenth visit to Sri Lanka. I like this country, I like to be here and I hope to be here next year too", he says smiling.

---
Kandy becomes Stratford-upon-Avon for a night
The air will be charged with fateful thrusts of swords and the passion of tragic lovers. Good will battle evil while laughter fuels the fires of every soul as the young players of Kandy take the stage to weave the magic of Shakespeare.It all happens when the Trinity College Drama Society presents this year's extravaganza of Shakespearean theatre on October 29. The Trinity College Literary Association launched the festival in Kandy, back in 1975. This year the organizers have brought together four schools to participate. Mahamaya Girl's College will stage 'Two Gentleman of Verona' directed by Michelle Goonasekara and Heshani Samarasinghe while Dharmaraja College will perform 'Henry VI' under the direction of Mr. Aloy Jayaweera. The players of St. Anthony's College will act out 'The Merry Wives of Windsor' directed by Mrs. Malini Perera, while Trinity College goes on the boards with'Othello' directed by Michael de Soysa. The show begins at 6 p.m. at the Trinity College hall. Tickets will be available at the participating schools and also at the gate. Be there, simply to enjoy the genius of Shakespeare.
---
Clothes line
Send in your submissions to,

Clothes Line
Mirror Magazine
C/o The Sunday Times
No. 8 Hunupitiya Cross Road
Colombo 2

Email : clothesline_lk@yahoo.com
---
Hypocrites and liars
I do not know if there is something wrong with me, but I feel a lot of people whom I have come across, or know pretty well are hypocrites. They make a big effort to hide their true selves and thoughts in a web of lies and actions. Is it because they fantasize about being something they are not, or is it simply because they are lacking in self confidence, or is it just plain dishonesty? What is the kick people gain out of misleading people with their hypocrisy?

I really lose my top, when I hear them draw up a web of lies to try and influence my thoughts about them or their actions. It's just absolutely disgusting. I believe that you should always give the right picture about yourselves. And if due to some circumstances you simply cannot, you shouldn't say anything at all.

Lying about who they are seems to be a way of life for some people. Once you know a person has been lying to you, you lose all respect for the person. And unwittingly you tend to keep the particular person at arm's length the whole time. Some people think that by saying things that are not true or things which they don't mean, they might make someone else feel good about themselves. But how would this certain person feel when he/she finds out that they had been lied to? The particular person would be in a worse state than before. Further he would lose all trust he had in the culprit. So to all the hypocrites/liars, please do get your act sorted out. It's really annoying most of the time, and at other times just plain hilarious.
Niranjan Perera

---
Don't follow her
This goes out to all the men and boys who think that the best way to get a girl is by following her. Many men (and boys) who see a pretty girl in a bus, mall, supermarket or tuition class and think 'she looks good', try to follow her to see where she goes. But what you don't realise is that this makes you look like a stalker and really scares us. And talking to us makes it even worse!

A decent girl will never turn around and give you a warm smile and say 'Hi', because she doesn't know you. She won't even tell you to 'go to hell', because she'll be too scared to even look at you face. Following a girl who you just saw a few minutes or even a few days ago makes you seem like a jobless guy.

Further, if you fill your days by following girls from one bus halt to another you are branded 'cheap'. That's because 'nice guys' don't do that sort of thing. So all you nice guys who think that following the girl of your dreams to her home, workplace or tuition class is going to help you get closer to her, forget it. She'll only hate you more. So if you are looking for a nice girl, don't try to find her in a pretty stranger you see on the road. Look for her in a more familiar place, and approach her nicely.
The mon