D.R. Wijewardene Memorial Award
---
Speaking to the winner
By Roshan Peiris
Arambawatege Yasawardena Rodrigo, a sub-editor of Lakbima, who has previously worked on the Lankadeepa won the 1999 Memorial Award, for his novel Viparyasaya dealing with the problem of blocking out of land and its effect on the people.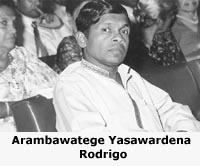 The writer hails from Bomiriya in the outskirts of Colombo. He has studied in the village school and later at Hanwella Madya Maha Vidyalaya. He started writing when he was 16 and to date has published 13 novels. Starting his journalistic career in the Davasa, he later moved to the Lankadeepa and now works for Lakbima.
"I studied Sinhala, Economics and Buddhist Culture at university all three subjects appealed to me very much," he said.
"I wrote Viparyasaya on the blocking of land to show how this process changes the lives of people. How, you ask? Their culture, attitudes, religion, even social mores all change. I have striven to bring this out in my novel."
"I will use my prize money of Rs. 40,000 to publish this novel. To me it is a great incentive," he said.
"My ambitions are to develop my knowledge and writing skills further. I have a longing and urge to write more and more books, to influence the thinking of people and to inspire the younger generations," he says, adding, "I also want to translate English books of worth into Sinhala. This will inevitably widen the reading horizons and knowledge of Sinhala readers."
Yasawardena received his award from Opposition Leader Ranil Wickremesinghe, grandson of the late D. R. Wijewardene.
---
The thrill of winning
By D.C. Ranatunga
It was a dream come true for journalist Yasawardena Rodrigo when he bagged the 1999 D. R. Wijewardene Memorial Award for the Best Novel in manuscript form. This is his 14th effort at writing fiction. The award winning novel is titled Vipparyasaya and discusses the social changes brought about by the current trend of blocking out land for sale.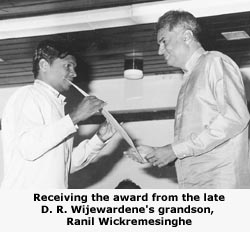 "It's true people make money by selling land in small blocks. With it comes a social transformation too. I have tried to highlight these in my work. No one has looked at these aspects up to now. I leave it to the readers to judge whether I have succeeded in my effort," Yasawardena said accepting the award.
"Winning the D. R. Wijewardene Award makes me really feel happy. It's the most prestigious award for literature. The judges are unaware of the writers when they go through the manuscripts. To us it means so much more than the State Literary Awards. A sense of bias can creep into the State Awards because the writers are known when they do the selections," Yasawardena said.
Serving on this year's panel of judges were renowned writer Dr. G. S. B. Senanayake and university dons, H. M. Moratuwegama (Sri Jayawardenapura) and Dr. Sarath Wijesuriya (Colombo).
A galaxy of stars
This year's Wijewardene Award ceremony was once again simple but impressive. It was a special occasion. The 50th death anniversary of the great nationalist was being celebrated. What better way than by recognising the literary talent in the country. In the formative years of Lake House, the founder had picked Martin Wickremasinghe, Piyasena Nissanka and G. B. Senanayake (they became literary giants) to serve on his newspapers.
Delivering a commemorative oration, Dr Gunadasa Amarasekera spoke of the great service rendered by him - as a nationalist, newspaper magnate and religious leader.
It was a fitting occasion to recognise the winners of the Award over the past 15 years. From Eileen Siriwardena, winner of the inaugural award (Balanharimi Kadathurawa) to Shanti Dissanayake (1998 winner - Vara Mal), the winners were present at the SLFI auditorium to receive a token of recognition. Ajantha Rajapakse (1985 - Galboralu Nopethu Payuga), Swarnalatha Kiriwaththuduwa (1986-Isuru Soya), Jayatilaka Kammalweera (1987-Ata Avurudda), Sarath Wijesuriya (1988- Avindu Andura), Piyadasa Ranpathvila (1989-Diyata Handana Kedetto), K G. Karunatilleka (1990-Chora Naga), Chandraratne Bandara (1991-Vana Sapumala), Langani Abeydeera (1992-Kandak Gini Avilenne), Sepali Mayadunne (1993-Debeduma), Bhadraji Mahinda Jayatilleka (1994-Pavuru Bendi Rajyaya), Sita Kumarihamy (1996-Aratu) and J. C. P. S. Siriwardena (1997-Pambaya) were the other winners. There was no award in 1995 with the judges deciding that there wasn't a manuscript worth the award.
The judges who had done yeoman service over the past 15 years were also recognised with the presentation of a token of appreciation.
Tribute was paid to the first panel chairman, the late Professor A. J. Gunawardena.
The country's topmost names in the field of literature walked up to receive the memento from Mrs. Nalini Wickremesinghe, Director, Lake House Investments who has done much for the promotion of Sinhala arts over the years. This year's panel chairman, Dr. Senanayake described the Wijewardene Award as " a silent service rendered for the promotion of Sinhala literature." He delivered a special lecture on 'Approaches to criticism in Sinhala Literature'.