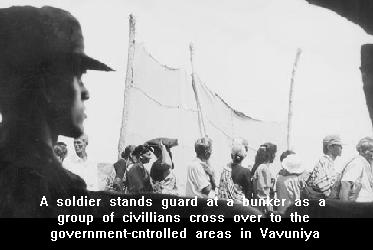 It was business as usual in the Vavuniya town. A far cry from the ghost town it was in November last year, when a threat of an LTTE attack prompted traders to close shop and flee.

Shops seemed to be well stocked with foodstuffs and consumer goods. Prices of the most items were more or less on par with those in other towns. Rice, vegetables and other food items cultivated in the area, however, were cheaper than in Colombo. The streets were filled with people carrying on with their work. Children attended school. Buses, lorries, three wheelers and bicycles were seen on the roads. Apart from petrol and diesel, which are rationed, goods are available in plenty.

"Before 1997, Vavuniya was a small town. Today it has developed into a large one. To sustain the development, security has to be maintained," Wanni Commander Neil Dias told visiting journalists.

The Wanni, home for some 570,000 people, is a large area encompassing four districts — Vavuniya, Mannar, part of Kilinochchi and Mullaitivu. Of these, Kilinochchi and Mullaitivu are under the control of the terrorists. Most parts of Vavuniya and Mannar have been cleared by the security forces. But most of the people of the area — some 355,600 people — live in the uncleared areas.

Major General Dias admitted that the troops had to make some tactical withdrawals in the Wanni. "Readjustments of troops took some time. We have pulled back the line up to Omantai to make the town secure and out of artillery range," he said. "The terrorists tried to compel people to leave Vavuniya. They succeeded initially, but the people have returned."

Explaining security measures the forces adopt, Maj. Gen. Dias said it was necessary to be vigilant and monitor the movement of people in and out of Vavuniya, a major town in the forward line. To facilitate this operation, a travel pass system has been introduced.

Vavuniya assumes its strategic importance because everything from the north goes through the town which is surrounded by jungle areas. "A high intensity of cordon and search operations is required due to the large jungle area. Last month, a large stock of explosives, weapons, ammunition and a few suicide jackets were recovered during search operations," the commander said.

Explaining the army's role in ensuring security in the area, Vavuniya's Coordinating Officer Tissa Jayawardena said all vehicles coming to and from Vavuniya are checked by the Army at checkpoints between Medawachchiya and Vavuniya. The issue of Permanent passes for residents is also handled by the Army, on the recommendation of the Government Agent who along with police handles civil administration.

He said the Army did not get involved in administration, but it gave its assistance whenever the need arose "We don't get involved in civil administration. We only provide security to transformers and key installations to ensure a smooth functioning of the administration. As a result, schools, telecommunications, transport including trains, irrigation and electricity networks are functioning satisfactorily," Brig. Jayawardena said. "The government hospital is also functioning normal, though it faces a staff shortage."

On the question of the controversial role played by ex-Tamil militants in Vavuniya, Brig. Jayawardena said that the groups — the PLOTE, TELO, EPRLF and the EPDP — which operated political offices there, had been disarmed and permitted only four weapons for the protection of the local leader and a few for their camps. "Each of these Tamil groups maintains two or three camps. These groups are quiet now," the Brigadier said referring to last year's clashes between the EPDP and the TELO.

"As for the LTTE, people know they cannot do much damage in the town. They have infiltrators carrying out acts like the recent post office bomb," he said.

But security does not come without a price. Some call it a restriction of one's freedom of movement while others call it a necessary evil or sacrifice to ensure security of not only Wanni residents but all Sri Lankans. The most controversial of all security measures is the pass system.

Security forces officers said it was necessary to keep a tab on movements of people in and out of Vavuniya as it was mainly through this town that people from north go to south.

"Many civilians from LTTE-controlled areas come to Vavuniya. One of them could be an LTTE member," Senior Superintendent M. K. Sugathadasa, who is in charge of the issuance of passes said. He said a non-Vavuniya resident entering the area through Irataperiyakulam, Chettikulam or at the railway station, was issued with a one-day pass, which could be extended, if required, up to one month at the Brown Police Post in the town. Further extensions could be obtained with certification by the Grama Sevaka and the Divisional Secretary, provided the visitor had a legitimate reason to be there, he said.

For residents of Vavuniya, the Army issues a Permanent Residence Pass, which does not require renewals. But when they want to be out of the area for more than two days, they have to obtain a travel pass, keeping their permanent pass at the Sanasa camp as surety. They have to notify where they will be staying in Colombo. They can then stay out for the period required. The Police also issue a three month open pass which enables a resident to leave Vavuniya for two days provided he or she has a sponsor in Vavuniya to vouch for him. Passes can be extended outside Vavuniya, in special circumstances such as sickness. Then a message needs to be sent to Vavuniya Police through a police station.

Maj. Gen. Dias said these measures were essential because Vavuniya was a strategic point as the entry to the south.

To transport foodstuffs and essential items to the large numbers of civilians living in the uncleared areas, a cross loading point has been arranged with the assistance of the ICRC. This point is located at Piramanamkulam, 24 km from Vavuniya on the Mannar Road. It is the only permitted entry and exit point to uncleared areas. On Mondays, Wednesdays and Thursdays, about 25 lorries loaded with foodstuffs are sent through this point. Tuesdays and Fridays are set aside for the crossing of civilians. Daily around 600 civilians pass through the point each way. They are brought by the ICRC to the point. They fill in a form and the Army issues a permit for 72 hours after their bona fides are established.

A long queue of lorries was seen at Piramanamkulam last Wednesday. Bags of rice, flour, sugar, dhal and other items were unloaded, permits and goods were checked by the Army personnel manning the point. It was a time-consuming process.

"There are many constraints," said Lt. Col. Parakrama Siriwardena, who was in charge of the cross loading point. "Each lorry needs four labourers to load and unload. We have no sophisticated equipment to expedite the process of checking," he said.

Another line of lorries with the ICRC flag across the front was brought in from the uncleared side, escorted by ICRC officials. The lorries were checked and taken to the Army point to load the goods. Foodstuffs from the Commissioner General of Essential Services are sent to the uncleared areas at state expense. Foodstuffs from Cooperatives arranged by the GA are sent on payment to the uncleared areas with the GAs, Grama Sevakas and government officials functioning in Kilinochchi and Mullaitivu, assisting.

For the first two months of this year, 1,310,674 kgs of rice, 1,676,024 kgs flour, 2,131,206 kgs of sugar, 110,400 kgs of dhal, 141,183 kgs of milk food 990,000 kgs of Fertilizer, 1784 barrels of kerosene oil and 115,601 kgs of miscellaneous items have been sent to the displaced persons in uncleared areas of Wanni by the Commissioner General of Essential Services.

A good part of this foodstuffs may go to feed the terrorists, but the government has no option because it has to save the people from starvation. As one officer commented, "Ours is the only army that feeds its enemy."

Waiting at the cross loading point on Wednesday was a long line of refugees seeking entry to Vavuniya. They stood patiently, some carrying children, bringing with them only a small bag with personal belongings.

"We cannot stay there. The LTTE is trying to recruit us," said N. Nagendra, who had fled from Mallawi in the night through the jungle, with his wife, two daughters and sister. "We asked for permits to go to Madhu church but they refused. Permits are only given to one member of a family at a time. We hid in a boutique in the night and came here to be helped across by the ICRC," he said adding that life in the uncleared areas was a misery with foodstuffs scarce and expensive.

"About 50 people seek refuge daily from the uncleared areas," said Brig. Piyasoma, the Chief Civil Affairs Coordinator for Wanni. "Yesterday, we took in 17 families."

The refugees who come in will initially be sent to a transit camp in Vavuniya. The GA will then decide where they could be accommodated. In the Sanasa transit camp and five other camps, some 22,235 displaced people have been accommodated.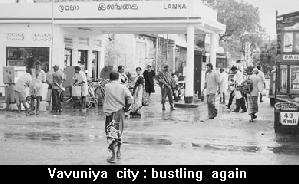 According to Brig. Jayawardena, about 30 to 40 refugee families from Vavuniya and the uncleared areas are resettled each month. For this month, so far 1615 people from the uncleared areas have crossed over to the cleared areas. A committee made up of the GA, the SSP, the military coordinator and MPs of the area meet monthly to examine the applications.
"We are having discussions with the GA, UNHCR and NGOs about the future of the refugees," said Brig. Sunil Tennakoon.
"We do not want them to live like this permanently. We are looking for a means of resettling them quickly and also have a system of vocational training and self employment. In resettling refugees however, we have to look at the security situation as well," he said.
Brig. Tennakoon said security was not only army's problems, but also the nation's problem. "It is a national requirement. We have a role to play. We are confident we can play it effectively if we have the manpower and the support of the people. We are asking the people to join us and help overcome this problem. There has to be a national feeling. When the national feeling is there, much can be achieved," he said.
His is a call for entire nation. But it seems the people of the Wanni have to pay a bigger price than others in heeding this call.