Contents
---
'Water' brings forth a flood of protests
By Yashodhara Sarachchandra
Deepa Mehta who sometime back created quite a commotion among the Hindu extremist bureaucracy in India with her controversial film 'Fire' has ignited the ambers once again, but this time with 'Water'.
Her latest film 'Water' has deluged a flood of protests and objections from the present political bureaucrats even before it has completed two weeks of film shooting. The hard-liners are opposed to the film because they believe that the film belittles Hinduism and the city of Varanasi. Certain changes to the script were recommended by the Union lnformation and Broadcasting Ministry (I&B) after which the modified script was given clearance.
Varanasi was the location chosen for the shooting of the film. But the Uttar Pradesh government, despite the I&B approval, has taken a hostile attitude towards the complete project. Ms. Mehta refers to the events as a 'political conspiracy'. Due to a law and order problem which originate from the disruption of the filming by the civilians of Varanasi and the demolishing of the sets, shooting of the film was halted immediately and the whole crew sent back to New Delhi by the local authorities. At the Delhi airport, flanked by the two leading artistes of the film, Shabana Azmi and Nanditha Das, the director admitted to being 'heart broken' and 'traumatised' with the unfortunate turn of events. Shabana Azmi who also happens to be a member of the Rajya Sabha was quite caustic with her remarks stating that 'instead of arresting those who were breaking the law, the government told us to pack up.' In a press conference held soon after, Ms. Mehta affirmed that she was determined to pursue the completion of the film even though the shooting would have to be done anywhere other than in Varanasi. The Director vehemently refused to consider of further alterations of the script.
Many BJP leaders including K.N.Govindacharya - general secretary of the Party, Uma Bharti, J.P.Mathur and others condoned the protests of the people, although most of them admitted to not seeing her earlier two films 'Fire' and 'Earth'. Govindacharya has also accused Deepa Mehta for her 'track record' and 'insensitivity to people's sentiments'.
This whole clamour seems to be based on a personal grudge against the director rather than an issue of morality. The Indian government has once again crossed the line towards religious extremity. It is unfortunate, because this attitude not only impedes cultural development it also pushes India several years to the rear. Moral degeneration occurs in many different ways in India and Mehta's film is the least issue to worry about. She is a credit to the country for her ambassadorial feats accomplished through her films. She is a creative artist and obstructing her work is like denying her basic right of freedom of expression. India is looked upon as a treasury of ideologies and art that has flourished due to the unfetterd growth of ideas. The recent incident has indicated signs of an alarming and disturbing transformation of this freedom that is most certainly not for the betterment of India.
---
'Steelers' call it a day
'Steelers', one of the most popular bands in the local music scene have decided to call it a day.
'Steelers' performed their last act in December 1999 and the boys have decided to go their separate ways this year.
According to a special letter by Eddie from Germany, the band has taken a break from five years of hard work and travel in Europe.
"Everybody seem to be tired and lost interest and could no more give their one hundred percent commitment towards the band. After fourteen years of handling the band, I think me too is tired and worn out. So we all sat together and came to an agreement to give Steelers a break" said Eddie Joseph, the leader in his letter to the TV Times.
'Even last year we came up with the idea of quitting but finally decided to keep till the end of 1999' he added. 'Steelers' comprise of Eddie Joseph, Damien, Sasha, Musha and Lasantha. Originally 'Steelers' were known as 'Average Steelers' and since they changed the name the boys started to climb up.
'Steelers' left Sri Lanka in 1995 for Europe and since then they had performed only once in Colombo. 'Specially I have to thank my mother and father and our fans not forgetting our close friends in Sri Lanka as well as in Germany' Eddie said. Eddie said the 'break' will be a temporary measure but he will be hoping to revamp the band in a couple of years time.
'I hope I will be able to do so. But for now the 'Steelers' is finished. Bringing 'Steelers' back to life will have to be on a completely different format?' he said.
---
FEA discusses its problems
A special General Meeting of the Film Exhibitors Association(FEA) was held at the Sri Lanka National Library Services Board Hall on Tuesday 15 to discuss various matters that the Sri Lankan film sector is faced with.
The association members discussed the decision taken by the Government to hand over distribution of films to the private sector; failure of the corporation to release Sinhala Films on due dates leaving 1st, 2nd and 4th release circuits without films; not withstanding the protests of exhibitors against circular ID/G/05, the Corporation's persistence in implementing same; and the contravention of the laid down rules and procedures in regard to importation of films.
FEA Joint Secretary Sunil Siriwardena said due to the implementation of the wayward policies with regard to film distribution by the NFC, exhibitors have had to face many problems.
He also said that as a result of our many requests to the Corporation to minimize the obstacles that existed in the import of films its chairman has informed us that he has done so, for which we should be thankful". However changes effected, in import procedures should be conveyed for the information of all concerned", he expressed.
---
'Dadabima': story of tea and drugs
By Sanath Weerasuriya
"Dadabima" the latest Sinhala film directed by Louis Vanderstratan will be a waiting its release after "Sathya Devi' on the same circuit.
A couple of new faces have been introduced to the silver screen along with Michelle Reimers.
Robin Fernando, Anusha Damayanthi, Chanki Ipalawatta, Tissa Wijesurendra, Nimal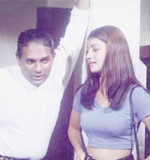 Sumanasekera, Wilson Karu, Sanath Imbulamure, Nalika Samaraweera, Milton Kumaraperuma, Lakmal Fonseka star in this movie.
'Dadabima' unveils a story of a powerful businessman involved in drug peddling under cover of his normal tea exporting business.
Nimal Sumanasekara plays Baladasa, a powerful businessman and Wilson Karu as his close associate who runs the drug business.
Mark Samson plays the role of 'Jumbo' who works for Baladasa and Tina (Michelle Reimers) a close friend and a business partner of Baladasa gets close to Jumbo.
Wickrama (Chanki Ipalawatta) is a friend of 'Jumbo' attached to the Police working in civils.
Wickrama noticed one day the Jumbo is a high spender, so he questions 'Jumbo'for the source of his income.
He said he had found a packet of ' Heroin' in a tea box. The following day Jumbo is killed and Wickrama is unable to investigate.
Wickrama applies for leave and tries to meet 'Baladasa' but fails.
'Baladasa 'lets Wickrema walk into his trap and hands him over to the police saying he is trying to wreck his business activities.
The Police assign an officer to go after Wickrema to look into his activities, but finally he too has to help track down Baladasa's illegal business.
Tina, Wickrama and this officer crash into his 'safe drug house' in a remote island and bust up the illegal activities.
'Dadabima' is produced by Pradeep Palihawadana and is a presentation of Hanako Films.
---
'Smarana Samapthi' brings out a hidden past
By Susitha R. Fernando
A young drama director Sathyajit Maitipe has chosen a story woven around the dark days of the late eighties in this country where thousands of youth met with their untimely deaths with his maiden tele

film "Smarana Samapthi" (An Absolution).
Sathyajit, an English instructor in the Colombo University pays tribute through his work to the memory of Richard de Zoysa a close friend of his who also was a victim of the dark era. The tenth death anniversary of Zoysa was commemorated last Friday. This tele film was air on Rupavahini on that day and will be repeated on ITN next week.
When asked what made Sathyajit to choose this kind of theme for his maiden effort he said " When I entered the university in 1990 it was really pathetic stories. Those stories of the insurrection made an impact on me",. The director who also had some personal experience of it said "before speaking on love or whatever theme I felt it was my duty do some thing on the fateful era",.
'Smarana Samapthi' is a story centered on a young assistant medical practitioner in a remote village hospital. After certain incidents we realise that he has returned after several years and is hiding a tragic past.
This young AMP is Asanga whose entire potter family had been wiped out during the JVP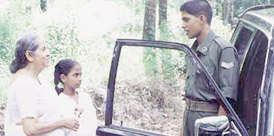 insurrection. He is actually Dayaratne, the youngest son of that potter family.
In hospital, he accidentally meets a worn out old woman with a sad look in her eyes and is immediately connected to his tragic past.
The old woman is Nandawathi Dissanayake, the former Vice Principal of the village school, who incidentally had been a main player in the tragedy on that fateful day when his family was mercilessly tortured and killed.
Asanga remembers with horror his desperate dash to "Iskole Hamine's" house and frantic attempt to get her to open the door.
The chain of emotions she thus releases is so frightful that he turns to his fiancee, Maya, a self assured divorcee from the city to join him in the village when he is forced to face his past.
Iskole Hamine comes to visit the new doctor to thank him for treating her grandson who was accidentally injured in a village fight. Maya casually talks about the past tragic incident but Iskole Hamine is evasive. Visibly shaken, she leaves hurriedly.
But both Maya and Asanga themselves are shocked to hear that Iskole Hamine herself has suffered immensely and that her family had paid dearly for the tragedy of Asanga's family. It is revealed that Iskole Hamine's son had been brutally gunned down and had died in her arms on their way to the hospital.
The cast of the tele film comprise Peter De Almeida, Irangani Serasinghe, Chandani Seneviratne, Kaushalya Fernando, Seetha Kumari, Giriraj Kaushalya, Chamila Ratnayake, Namal Jayasinghe, Saranga Disasekera and Nimal Veheragoda etc.
In the technical crew, art direction is by Mangala Fernando, make up by Priyantha Sirikumara, Costume Design by Mangala Fernando and Nelun Harasgama Nadaraja. Visharad Pradeep Ratnayake directs the music and is edited by Ravindra Guruge. Script and Direction is by Sathyajit Matipe.
---
Bandu has 'No Problem'
Bandu Samarasinghe, a popular comedian of the local cinema has stepped into the Sinhala theatre production field for the first time with 'No Problem'.
'No Problem' is a comedy directed by Nilanthi Dhammika and produced by Niroshan Devapriya.
The maiden show of 'No Problem' will be staged at Nithyanjal in Kandana on February 26.
Bandu started his acting career in 1979 with 'Sadahatama Oba Mage' and since then he acted in

more than one hundred films.
His maiden effort on stage will face a tough competition with his silver screen pal Tennyson Cooray.
Tennyson also stars in popular comedies 'Raliya' and 'Thoththa Babala'. which were staged more than one hundred times.
'No Problem' is ready to go islandwide from March.