Contents
---
Gypsy party in Moratuwa
By Sanath Weerasuriya
Gypsies along with the cream of the local music scene will be on stage to perform at the Mega Millennium concert in Moratuwa on January 29 in aid of the St. Sebastian's College.
'Gypsies in concert-' 'The Mega Snack Party' will come alive at the De Soyza Stadium at 7.00p.m.
This musical extravaganza will feature Gypsies along with their acts 'Singyore', 'Piti Kotapang',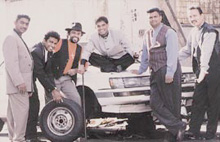 'Ojaye', Kurumitto', 'Uncle Johnson', 'Sudu None', Lunu Dehi' and for the first time 'Kasade'.
Bhathiya and Santhush, the latest attraction in the scene, will appear on stage for the very first time in Moratuwa long with Ronnie (Thattaya), Corrine, Athula, Samitha, Rukantha and Chandralekha.
The major part of the proceeds will be channelled towards the development of the St. Sebastian's College. The rest of the funds will go to the disabled airmen of the Sri Lanka Air Force and for the development of the De Soyza Stadium.
'More than 20,000 people are expected to gather at this mega performance and all will be with seating accomodation' said Neville Perera, the Managing Director of Uswatta Confectioneries Limited, which is the main sponsor of this event.
The ticket prices range from Rs. 1,000/=, Rs.500/=, Rs. 200/= and Rs. 100/=.
Major part of the tickets consist of Rs. 200/= category and school children only can obtain Rs. 100/= tickets.
Sri Lanka Air Force and Moratuwa and Mount Lavinia Police together will deploy about 350 strong security force around the ground.
'The Mega Snack Party' will be in a typical carnival atmosphere with several food stalls, a beer garden, soft drinks stalls and several drinking water fountains specially provided by the water board. The tickets are available at St. Sebastian's College, De Soyza Stadium office, at Uswatta Confectioneries, City Pharmarcy and all Keells outlets.
---
'Wizard of Oz' from Bishop's
The senior students of Bishop's College will present an adaptation of the 'Wizard of Oz' - by Frank Baum on January 29 and 30. This adaptation called 'the Wiz, with the script by William Brown and music and lyrics Charlie Smalls has hilarity and excellent dramatic effects that one could call mystical. Superb entertainment is guaranteed for the whole family.
The music has modern beat and is appreciably handled by Beatrice Devasagayam. The modern dances have been choreographed and directed by Oosha Saravanamuttu. Overall direction is by the Drama Teacher of Bishop's College - Irene Wanigaratne who has contributed her efforts through the years to maintain the high standards of theatre in the College.
Stage Management is in the capable hands of Andrew David. The Bishop's College Drama Society has given Sri Lankan audiences many ravishing treats especially the Musicals "Bless the Bride", "Gondoliers" and "South Pacfic" in recent years. The Wiz is one of the events that Bishop's College is organising to mark its 125th Anniversary Celebrations.
The programme will be held at the Bishop's College Auditorium January 29 and 30 at 6.30 p.m.
---
Cardinal's Aldrin weds
One time heartthrob of the local western music scene, Aldrin Gamage of 'Cardinal's Outburst' will be getting married on June 10 to his fiancee Prashani. Aldrin decided to leave the band Cardinal's about four and half years ago to tie his nuptial knot., which went wrong some time back.
Meanwhile Aldrin is now busy putting final touches to his latest song"Precious"which will be released in June to coincide with his wedding.
According to Aldrin the song will be on air and on television from June and he will continue to work as a studio musician in future.
---
Party 2000
By Sanath Weerasuriya
'Party 2000', the latest CD by Sohan & The X'periments is now the talk of the town.
'Party 2000' is the millennium gift of Sohan & The X'periments along with fifteen top singers in the local western music scene in Sri Lanka.
Ronnie Leitch, Corrine Almeida, Manilal Perera, Natasha Fernando, Rozanne Fernando, Dalreen Suby, Rajiv Sebastian, Upali Kannangara, Mignonne Fernando, Roshan, Shobi Neville, Asantha, Sureshni, Ginger along with Sohan Weerasinghe worked hard to release this Millennium Special to Sri Lankans here and abroad.
'The party 2000' comprises more than fifty songs in non-stop style. Some of the songs featured in the disc are; 'We like to Party', 'Boom Boom Boom', 'Sexy Eyes', Bossanova, 'Where, Do You Go', 'Dancing Queen', Voulez vous, 'Believe' gave her kiss', along with some top Sinhala tunes like Kalu Mame, Ruwanpure', Rellen Rellata', 'Suwanda Saban', 'Dunhinda Manamali, 'Sanda Sakki', Tika Wenna Nala', 'Hina Hina', 'Sandak Negi' etc.
The music arrangements were done by Neville Davidson, Willie Dias, Ashantha Perera and Shobi Perera and backed by the X'periments.
'I have to mention few more names for their help towards making this project a success. Sunil Piyal and Lal of Gypsies, Annesley Malawana, Athula, Samitha, Neli of Sunflower, Priya and Jayantha of Pearl gave their fullest co-operation, Sohan said.
'Party 2000' is produced by Torana Music Box.
---
Titanic not as big as made out to be
By Ismail Khan
At Empire - Titanic starring Leonardo DeCaprio, Kate Winslet, Billy Zane, Kathy Bates, Bernard Hill, David Warner, Bill Paxton and a cast of undreds of extras. Directed by James Cameron, a 20th Century Fox and Paramount presentation.
This film like the fateful ship itself had a jinx - it took nearly two years after its worldwide release to reach Sri Lanka. Once here on our shores being exhibited in two cinemas in Colombo and one at Kandy, our film reviewers from The Sunday Times and the Lankadipa had a time in viewing it which they couldn't although they were armed with an invitation. Reason - No seats All Booked. So how come the invitation?
Finally one reviewer appealed to a Cinema Manager in Colombo who agreed to accommodate him for a Sunday morning show. A good Samaritan, this Manager as this reviewer was frantically trying to view the film in order to give his copy on Monday. At least this Manager had a soft spot for the media.
Gone were the days when previews were shown to the press on invitation. It died down after the late 60's. Now the media had to battle it out to bring out a review.
Film Corporation make note of this and hope something would be done to help us.
Now for the review:
Duration of the film: 3 hours 14 minutes;
Credits: Winner of 11 Academy Awards. Top class special effects. Fair performance by leading stars;
Debits: A love story unnecessarily woven into a straight forward disaster tale which the film would have been better without it;
The film stretched too long with meaningless love scenes.
Fact File: Sinking time of the ship Titanic: 2 hours 40 minutes.
Running time of the film: 3 hours 14 minutes;
Time taken to build Titanic: 26 months;
Time taken for filming Titanic: 9 months;
Original budget of the film: Dollars 110 million;
Final cost of the film: Dollars 200 million;
The cost of the Titanic suit worn by main star Leonardo Decaprio:
Dollars 9000;
Number talking part in the film: 1000. Three times more than any other film;
Number of extras on some scenes on any one take: 100;
Number of stuntmen who acted in the tilting deck scenes: 30.
Number seriously injured when filming Titanic: 3;
Approximate length of Titanic: 775 feet;-
Approximate length of the ship built for the film: 118 feet;
First opening date for premiere shows: January 23, 1998;
Screened in neighbourly India: Last year;-
Screened in Sri Lanka in the year 2000, the new millennium.
The screening of Titanic in Sri Lanka is an anti-climax as it comes after the Titanic fever has subsided. Anyway this film that was blown up out of all proportions could be a cultural phenomenon. It caters only to the hoc plloi plus a dash of the middle class, so it seems. For the rest it is just an ordinary film though millions have been wasted on it.
The story in a nutshell. Titanic, the steamship begins on its maiden voyage on April 10, 1912 and entering the Atlantic, strikes an iceberg and goes down with 1600 perishing out of 2500.
Interwoven in it is a love story of sorts put in mainly as an ornament or even time killer.
End result: A normal film, an ordinary one but with special effects that catch one's imagination. Performancewise it is fair with main stars doing their respective roles to good effect.
The story is narrated to the filming team by a survivor, the leading lady in the film, who is now old and feeble almost in her nineties. The best performance in the film I thought was this old lady's, who narrates the story as it happened with an inner feeling that is most touching albeit infections.
The other striking sequence was the Titanic itself specially built for filming and the demise of it - part by part swallowed up by the raging and relentless sea..... and the special effects gone into the making of this film.
Apart from these few credits there's nothing much to crow about this film.... although a colossal sum has been spent on it. It is an ordinary film.... disaster of a steamship on the high seas with an enormous cost of life. There have been better films than this which had not unfortunately won any Academy Awards. The fact that this film won 11 Academy Awards blew it up out of proportions resulting in Titanic fever. See it if you must but do not expect too much out of it.
Note: This reviewer, thanks the Sirasa and the Maharaja Organisation without whose help in obtaining tickets he would not have had the chance of viewing this film and writing this review. It was one of their complimentary days. Thank you very much.
---
' Saroja'goes to Dhaka
By Sunil Jayasiri
Children's film "Saroja" directed by Somaratne Dissanayaka has been chosen to represent the competitive section of the International Film Festival which will commence in Bangladesh capital Dhaka on January 20.
Children Nithyavani Kandasamy and Pramudi Karunaratne play the main roles in this film produced by Renuka Balasuriya. Vocalists Nanda Malani and Edward Jayakody have sung in this while Suminda Weerasinghe performed the camerawork.
Somaratne Dissanayake who has been invited for the inauguration ceremony is scheduled to leave for Dhaka on January 18.
The Saroja story speaks of ethnic unity and it is mainly a children's film. Saroja( Nithyavani Kandaswami) is a Tamil girl. Her father is a terrorist and one day their home is burnt, and Saroja's mother is dead. Due to the army operation Saroja's father is wounded and they run away to the jungle. They enter an adjoining Sinhala village.
The father and daughter meet Varuni(Pramudi Karunaratne), the daughter of the village schoolteacher. Varuni is also of the same age as Saroja, but they cannot understand each other due to the language barrier.
But gradually a strong bond of friendship between builds up them. Varuni pleads with her parents and with much difficulty succeeds in providing accommodation for Saroja in their home. Later Saroja's father is also given shelter in the house.
However, suspicions arise among police and Army officers resulting in the family being subject to various types of obstacles from the forces. Suddenly Saroja's father is killed by a terrorist.
Varuni's father is given a punishment transfer to another remote village school. The family too leaves the village along with Saroja who is now treated as a family member.
---
Cinderella at Lionel Wendt
The students of Stafford International School present "Cinderella' at the Lionel Wendt Theatre on February 1, 2 and 3, 2000.
The cast comprises of talented enthusiastic students ranging from 8 yrs.-18 yrs. The musical direction will be handled by Mrs. Mary Anne David.
Niranjan de Silva will play on the keyboards, Soundari David on piano and Christopher Prins on drums. Yoshi Abeysekera will handle the choreography. The play is produced by Mrs. Bernie de Soysa who also produced Sinbad which was acclaimed as one of the best shows of 1999.
---

'Bheeshanaye Athuru Kathawak'
In accordance with the National Film Policy guidelines enunciated by President Chandrika Bandaranaike Kumaratunga for the development of the National Cinema, the Chairman of the National Film Corporation. Tissa Abeyasekara has formulated a programme to assist talented and experienced top film directors by fully financing the making of outstanding Sinhala films, which are worthy of export to the worldwide market place.
The first 100% financing category has gone to Amarnath Jayatilaka to produce and direct his long-awaited Sinhala film Bheeshanaye Athuru Kathawak (titled in English as "A DROP IN THE REIGN OF TERROR') based on the best selling novel of the same name written by Nihal P Jayatunga. The screenplay is written by Michael Subasinghe and Amaranath Jayatilake.
The Pre-production plans are underway now to commence shooting of the film within the next couple of months. The selection of artists and technicians for the film is now in progress.
The Producer-director Amaranath Jayatilaka said in a press release that he has been assured by film distributors in several countries of Europe, North America and Far East evincing interest to import this film once it is completed.
---
KUSHBOO: STAR BORN WITH 'GOLDEN SPOON'
By Ismail Khan
Kushboo, the beautiful star of the Tamil screen born with the Golden Spoon is of Persian origin. Her real name is Nakkath. At the age of 17 she entered films in a big way. Before that she had acted in a few Hindi films as a child star. But the real break came when she was offered a role in Tharmathin Thalaivan co-starring with Prabhu - Shivaji Ganeshan's son. And this set the ball rolling for Kushboo and also the tongues wagging as more than one writer linked her name romantically with Prabhu to the discomfiture of his family and especially Shivaji Ganeshan the great star of the Tamil screen.
These rumours were scoffed at by Kushboo and her family. What happened thereafter is history.
Kushboo launched herself into films with a vengeance and next came the film Varsham 14 opposite young actor (that is at that time nearly 8 years ago) Karthik.
This film although not very successful became the launching pad for her zoom into the milky way of filmdom, as her next film this time with her favourite co-star Prabhu, SINNATHAMBY, became an all time hit, grossing millions wherever screened. For this film both Kushboo, Prabhu, music director Ilayarajah and the very director won awards and rave reviews wherever screened.
SINNATHAMBY was something special. Everything fell into place, no square pegs in round holes. Even the bit part actors did so well that one wondered whether this was a film in a million.
Yes this was it. Kushboo really hit the top with this film. Sinnathamby broke all first day, first week and first month records. What's more on its 100th day celebration run this film had to be shown in 5 theatres in Chennai with 4 shows daily which went on for nearly a week.
This was the first time a 100th day celebration had gone on for one week. So that was the sputnik-like launch that Kushboo got and from there onwards she had not looked back.
Other films that she had starred in and shone brilliantly were:- MANNAN with Superstar Rajni Kanth where both Kushboo and Rajni were at their best, Annamalai which heralded a new line in Tamil films where the rich got the worst of the confrontation with the poor, Rajni taking the side of the downtrodden, ITHU NAMMA BHOOMI with Karthik, KILAKKU VASAL with Karthik, Kilakku Karai with Prabhu.
Then came another twist - she began acting with off beat actors like Napolean, Ettuputti Rasa which shot this rough and tumble tough man into stardom, then again with Rajni the film being the musical PANDIYAN which was dubbed into Hindi and Telugu too.
A while later she starred in the thriller CAPTAIN MAGAL with handsome Raja as co-star and Napoleon as the villain. In this film she did the stunt scene of climbing up a windmill where Napoleon was waiting for her with an axe. She got rave comments for enacting this scene.
Arjun the Macho star stepped in next to star with Kushboo and it was PRATAP an action filled thriller. This followed another Arjun co-starrer in ROJAVAI KILLATHAY.
Not to be left behind Kamalahasan affectionately known as Kamal joined the Kushboo bandwagon and the film was SINGARA VELAN which gave Ilayarajah the master music director another award.
After this handsome star Jayaram joined the fun with PURSHA LACHHANAM and MURAI MAMAN. Both became hits.
Other films she starred and with different co-stars were GOPALA GOPALA a comedy with Katta Pandyan MANAIVIKKU MARIYATHAI also with Katta Pandiyan, a rib-tickling comedy, MINSARA KANNA with Vijay, MUTHU KULIKKA VAREER GALA with Ravi Kumar, UTTHAMA RAJA with Prabhu, NADIGAN with Sathyaraj GALATTA KALYANAM with Sathyaraj, VANAJA KIRIJA with Napoleon and PONNVEETTU KARAR also with Sathyaraj.
As you can see Kushboo had acted with all the leading stars, almost, leave alone a few new ones here and there. Her performances in almost everyone of them was excellent.
Now according to reports Kushboo is on the verge of launching herself as a director and here's wishing all the best in her new endeavour.
For sure, she is definitely going to shine as a director too as she has the experience of more than 50 films in her career.
He star is on the ascendance and she has the will and the power to do it. Here's this writer wishing beautiful Kushboo all the choicest in her new endeavour as a director.
---
'Mahagedara' portrays an exciting family story
Mahagedara directed by Christy Shelton Fernando and produced by P. Mampitiya is a primetime Tele serial shown over Swarnavahini on Wednesdays.
Life to-day is busy like a machine and men and women are so taken up in the rat race, that social customs or even humaneness sometimes take a back seat. People who love money tend to think very little of others and Mahagedara is such a story well portrayed by Subatheris Mudalali. For him a fellow villager is a non person. He cared very little for such men or women, for money was his sole pre- occupation.
Piyawathie was his eldest daughter. She in due course fell in love with a driver, a poor man in her village. This roused the ire of her father who brought another proposal for her with a view to destroy her plans. But the daughter refused to budge, and Jinapala, her fiance had to elope with her to avoid father's machinations. Subatheris much outraged by his daughter's dare devil act, tells the villagers that she ceases to have any family ties. But her mother remains calm though sad over the fate of her daughter. She hides her sorrow in fear of her angry husband. Later the daugther writes home only to incense her dad's wrath and in a rage Subatheris tears the letter to bits.
In the meantime, news is received at Mahagedara that Piyawathi is now blessed with a son, which makes Gunawathi unhappy. The grandma is itching to go and see her grand son, but is careful not to show her sentiments to an angered hubby and keeps to herself her emotions. Things take a turn for the worse when her son Yasapala starts an affair. From here onwards, there is chaos in Subatheris's home.
The Mahagedara cast includes some of the well-known stars such as Nilanthi Wijesingha, R. Perera, Sunil Hettiarachchi along with 'Ashen' Manjula, Surangi, Ruwanmali, Roshan Pilapitiya etc.
This is not a story that is exclusive to a 'Mahagedara' but a common phenomenon that can happpen to any average family, says Director Christy Shelton Fernando, who handles the film expertly depicting the changes very effectively.
---
Top Dutch films on show
By Sanath Weerasuriya
A Dutch Film Festival organized by the Royal Netherlands Embassy in collaboration with Winson Films International will be held at the Elphinstone Theatre from February 5-11.
Seven top Dutch films are scheduled to be screened at this festival along with one documentary film on the Netherlands. All films are produced in the nineties.
The entrance for all films are free of charge and the showing time is 6.30 pm daily.
Among the films to be shown are two award-winning movies. Character (1997) of Director Mike van Diem who won an Oscar for the best foreign language film in 1998. The Northerners (1992) of Director Alex van Warmerdam who won three European Film Academy awards in 1992, two Golden Calfs on the Dutch Film Days' 1993 an award at the Stockholm International Film Festival 1992 as well as the Golden Rose Award in Italy in 1993.
The popular Dutch film director Jean van der Velde will be present at the festival. The festival will open with two of his films Little Blond Death (1993) on Saturday, February 5 and All Stars (1997) on Sunday, February 6.
On Monday, February 7 from 3.30 pm until 6.00 pm the Film Critics and Journalists Forum will hold a seminar on the Dutch Film Industry with Jean van der Velde as chief guest. The seminar is open to the public.
'Northerners' is based on a family saga in the era of 1960 in the Netherlands. This has won the Best Director (Warmerdan) and Best Actor (Rudolf Lucicer) awards in 'Dutch Film Days'.
The awards for Best Young's European Film of the Year', Best Composer of the Year' and Best Production Designer' were won at the European Film Academy Awards. Best screenplay award was won at the Stockholm IFF in Sweden.
All STARS by Jean van de Velde, director of the highly acclaimed film THE LITTLE BLOND DEATH, one of the great successes in Dutch cinema during the early 90's ALL STARS is a film based on a team of most popular sport in Holland as well as Europe Soccer.
TROPIC OF EMERALD tells the story of the Dutch man Theo. Staats and the Indo-European woman Ems Pons. The story is set in the Dutch East Indies (now Indonesia) in the period 1939-1949. This was directed by Orlow Seunke.
'Character' is a story on a young Lawyer.
(Looking for 'Eileen' and 'Another Mother' too were popular movies in the early nineties in Holland.
---
'Padadaya' travels
'Padadaya', Linton Semage's maiden creation, has gained a recognition in the 31st International Film Festival of India (IFFI) in New Delhi. Two films were represented Sri Lanka in this festival in competitive category.The Film Corporation has sent 'Nagarang" and the Asian Film Center (AFC) has selected 'Padadaya' to represent Sri Lanka in IFFI and Dakha Film Festival ,which is now on in Dakha , Bangladesh till January 28.
Linton, Sanath Gunathilake and Ashly Rathnavibushna of AFC were in New Delhi to participate in this festival, Padadaya has seven international film festivals including Delhi and Dakha. 4th IFF of Kerala, 12th IFF of Singapore, 'Festival of Films from The South' in Oslo,4th Pusan FF of Korea and Mumbai FF were the other festivals Padadaya has represented Lanka in the year 1999.
---
Battle for 'Kumite-Sword' in Colombo
By Sunil Jayasiri
Alan Mehrez, the US film director's new film Bloodsport III is now being screened in Sri Lanka. The story is that the martial arts film surrounds Alex Cardo (Daniel Bernhardt) who takes up the challenge to battle the most vicious warrior ever to enter the Kumite martial arts competion. This battle for "kumite Sword" continues in this third series of the popular mano-amano combat series.
Some parts of the film were shot in locations situated in the hill country of Sri Lanka and featured a famous Lankan martial arts teacher Charles Anthony.
The Casts of the film are Daniel Bernhardt, Noriyuki Morita, James Hong, John Rhys-Davies, Pat Morita.
Bloodsport III brings us back to the world of Alex Cardo (Daniel Bernhardt). Now honourable and ever-dynamic, Alex is again thrust against his will into the dark world of Kumite. This time he must battle against evil and reign victorious over the most vicious warrior to ever enter the fight to end all fights-The Kumite-Beast.
The stakes in this Kumite are higher. He must not only battle for his own honor, but also avenge the death of Sun, his mentor, teacher and spiritual "father", when Sun (James Hong) is spitefully killed by crime boss Duvalier (John Rhys Davis).
In Bloodsport III, we follow Alex's journey to vanquish the smoothly deceptive, malevolent and greedy mobster Duvalier who has brought his brute force upon the citizens of Moressa. Duvalier champions the warrior, Beast, and sets out to rig the betting of the greatest Kumite of all time. His only obstacle to victory is Alex. Sending his band of thugs to kill Alex, he underestimates his nemesis.
In order to defeat Beast, destroy Duvalier, and avenge Sun's death, Alex turns to Leung (Pat Morita), to whom he was indebted in Bloodsport II. Leung directs him to the great shaman, Makato "the Judge" to whom Alex must turn for guidance.
Alex journeys to the Judge's (Master Hee Il Cho) tea plantation and there learns how to fully channel the energy in his mind and body in order to rout the Beast in the Kumite. Forging a bond with the Judge, Alex undertakes a gauntlet of physical and mental challenges, in order to overcome his enemies. While on this pilgrimage, he learns that the Judge is Sun's brother.
Returning to Moressa, Alex finds that his friend Eli, who owns the gym where he ordinarily works out, as well as the young martial arts students who train there have been savagely beaten, but not bowed by Duvalier's men. These young men agree to help him in any way possible. But it must be Alex who fights the Kumite. It must be Alex overcomes with superior fighting skills the other combatants and the judges whom have been paid by Duvalier to turn a blind eye to illegal, dirty moves. It must be Alex who destroys the Beast in Bloodsport III.
---
First local Alien story
By. Susitha R. Fernando.
With the dawn of the Millennium there was a special gift from Jayantha Chandrasiri, the teledrama director who has earned a name as 'one an only' by making teldramas on very exceptional themes , to his audience.
"Rejina" the teledrama which was released on the very first day of this year is on a issue that would become a very common topic in the new millennium. Though it looks like a special love story between an 'alien' and a human girl, the drama brings its viewer to a broader experience. It is not a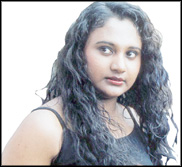 science fiction though it is a story related to an alien. The drama tries to give a universal interpretation to love and kindness through this distinguished theme.
Started on January 1 at 9.15 pm the drama has already telecast three episodes and still interconnected the rest of the 19 episodes make the viewer impatient for another seven days to watch the next.
When speaking of this work of art we cannot ever forget the creator of "Rejina", Jayantha Chandrasiri, the director who always goes for different themes in his journey of teledrama. In addition he has earned a name as a producer through the stage plays like 'Mora', 'Athth' and 'Oththukaraya (spy)', he has proved to be one of the leading teledrama directors in the country.
The director who always hunts for different tastes once came out inventing a medicine for deadly cancer from Ayurvedic medicine in his teledrama "Veda Hamine". Again he came out introducing a martial art that existed in this country generations ago, through his award winning teledrama 'Dadu-basnamanaya'. At last Jayantha has made his audience aware of the power of the mind that could walk through the future and past, with his last creation 'Akala Sandya'.
The story is on an 'alien lover' Homer played by Ravindra Randeniya 'who is also a bit alien to the teledrama' who has fallen in love with a earth girl called, Sujatha played by Yashoda Wimaladharme.
The girl born to them is 'Tharaka' played by young actress Paboda Sandeepani. 'Saranathissa' (Buddhadasa Vithanarachchi) who leads a highly spiritual life with his group of other colleagues too loved Sujatha. This group sometimes becomes more powerful than the highly technologically developed aliens. Among the other leading characters W. Jayasiri plays a part of a politician who has come from another planet. The teledrama will provide viewers a more interesting episode next Saturday at 9.15 pm.
In addition Geetha Kanthi Jayakody, Gamini Jayalath, Simon Navagaththegama, Vasantha Vittachchi, Damitha Abeyratne etc. play leading characters in the drama.
Premasiri Khemadasa plays a vital part in background music with his music direction.
---
'Den' has a different taste
By Sanath Weerasuriya
'The Den' is the latest addition to the fast growing restaurant mania in the city.
Just behind the landmark building at the Fifth Lane in Kollupitiya, 'The Den' is traditionally a romantic place which starts after10.00 pm.
"Den" associates its music always. Even their menu card is designed with a guitarist on cover. The reason is simple. The brainchild of this project is Keerthi Fernando, the former lead vocalist of "Rattlesnake' and "Venom".
Keerthi was a popular singer and a talented musician. He composed most of the original songs for ' Rattlesnake' led by Thilak Dias.
'Actually my brother is the main person in this restaurant business. He was in the trade for more than fifteen years. I think 'The Den' is a combination of food and music under one roof' Keerthi said.
The Restaurant serves various dishes. Chinese are around all street corners serving ' fried rice' in local style.
But 'Den' caters to a different clientele. This is basically not a family restaurant. Business starts here after 10.30pm. as a usual club concept. But serves any kind of specialties around the globe.
Chinese, Sea Food, Continental, German and Sri Lankan food are specialties at the 'Den'.
' Rockers Crumbed Fried Seer', ' Sea Food Kebab', 'Grilled Darne of Seer' are some of the attractions from the surrounding sea.
' Grilled Sirloin of Beef Led Zeppelin', The Den Mixed Heavy Metal Grill', Grilled Pork Chops with Robert Sauce' are some of the specialties on world menu. The prices range from Rs 250/= to Rs 275/=
Chinese Quarter comprises:
Dishes like Fried Rice (Prawns/Chicken/Seafood and vegetable), Chopsuuey Chilli Chicken, Diced Chicken with button Mushrooms, Sweet and Sour prawns, Stir Fried Chilli Crab, Sweet and Sour Pork and Stir Fried Beef with Garlic Sauce.
(Chinese Dishes rang from Rs.70/= to Rs 175/=
The Main Section of the Menu is 'The Den Rockers German Corner, Roasted Pork Knuckles with boiled potatoes and salad', 'Baked vegetable pie Augratin', 'Pepper Steak with French Fries and Salad' ' Chicken A La Kiev with baked potatoes and sala' and 'Half of a Grilled Chicken with French Fries and Salads' are some of the attractions on German Menu.
The price ranges from Rs 350/= to Rs 450/=
Devilled dishes are ranged from Rs 75/= to Rs 150/= while sandwich & snacks too are available for Rs 120/= per portion.
The Den has a well stocked bar and a dancing floor with live band in attendance every day. The Den is the meeting place for rock Music lovers as the band plays most of the heavy stuff.
The place is fast catching up as one of the 'cosy joints' in the city.
It is the only 'Hard Rock cafe' style place in Sri Lanka.
---
Radio plays on TNL Radio
Get ready to enter the world of fantasy. Journey through the realms of mystery, excitement and science fiction.
Because come February, TNL Radio and Lite 89.2 will be introducing a special collection of Radio plays, featuring the biggest stars from the Golden Age of Radio.
Their voices have been preserved in precious recordings that will take you back to another era, a time when wonderful voices and sounds came through a magical new piece of 'talking furniture'.
Old Time Radio's Greatest Shows where you can enjoy the most popular radio stars including Burns and Allen, Jack Benny, The Lone Ranger, The Green Hornet, The Cisco Kid, Hopalong Cassidy, Pat Novak for Hire, Gangbusters, Ozzie And Harriet and The Bob Hope Show and many more only on Lite 89.2.
Old Time Radio's Greatest Mysteries on TNL Radio allows you to return to those thrilling days of yesteryear! Pull the covers up close and be chilled by The Black Museum, The Chain, Canvas Bag, the Mandolin String, The Clock, Nicky, Bad Dreams, Bank Holiday, The Crime Club Silent Witness, Sum is a Witness and Murder on Margin, The Weird Circle The Bride of Death, Markheim and Pistol Shot.
Old Time Radio's Greatest Detectives. Radio's greatest detective episodes on Lite 89.2 from 20 of radio's most popular gumshoes. The Adventures of Philip Marlowe, The Hair pin Turn, The Grim Echo and Echo and The Gold Cobra by Gerald Mohr. Barry Craig, Confidential Investigator, Blood Money, Hay is for Homicide. Ghost Don't Die in Bed by William Gargan and Tales of The Texas Rangers, Dead Head Freight, Death in the Cards, Blood Harvest by Joel MeCrea.
Dimension X on TNL Radio is a terrific science fiction series, which came to radio in 1950 dramatizing the work of brilliant young writers including Ray Badbury, Robert Bloch, Robert Heinlcin, Isaac Asimov and Kurt Vonnegut. It features adventures in time and space told in future tense featuring radio's stable of old pros. Almost Human, A logic Named Joe, Mars is Heaven. The Castaways and the requiem are but a few of the plays that will be featured both on TNL and Lite 89.2's theatre Hour Series.
Raynor Silva, Managing Director of Asia Broadcasting Corporation Pvt. Ltd. and P K Mohankumar, General Manager of Taj Samudra is seen here with a thank you token hand-made by the 150 kids invited to Kiddies' Christmas Party which was organized by Sun FM and Gold FM for less fortunate kids. This party was held at the Taj Samudra on the 18th of December 1999.
---
The everlasting Smile
You cannot miss them. You see them on your way to work and they'll be there come rain or sunshine. In fact, many motorists find peace in their smiles during the rush hour.
Gantry signs springing up around the city or the 'smiling girls' in them, to be precise, are wooing the people.
"As usual I was stuck in a traffic jam. I was late for a meeting and ready to punch somebody. Then it happened. I just looked up and there it was. Believe me, it was mesmerizing... the eyes and that incredible smile", said one executive.
" Oh, yes, for a moment, I forgot all my troubles", he reveals.
Many agrees that the huge advertising boards showcasing smiling lasses bring a respite from the usual clutter. After all, who wouldn't like the sight of a pretty woman with a genuinely sincere smile, especially on our 'free for all' roads.
The brains behind this novel concept: Cameron Pale & Medina - the ad agency that executed the idea on behalf of telecommunication giants Hutchinson.
"What you see on the gantry signs is the personality of the client. Hutchinson believes in a one-to-one personal relationship with its customers. In fact, it's the only telecom service provider that goes to the doorstep of the customer through its HOMEZONE programme. The smiling girl just reminds the 20,000 customers that Hutchinson is there for them" says CEO of Cameron. The multi-million rupee gantry sign contract is serving more than just the Hutchnison customer base.
---
Manoratne: talented actor
D. M. Victor E. Pieris of Kalutara writes.........
Jayalath Manoratne who has captured the hearts of hundreds of TV stage and film fans recently celebrated his 30th anniversary in films. Thirty years of acting on TVs Radio and stage. He is a colossus in his field. Whatever the role, his performances go to prove his versatility as an actor.
Even though the whole country showers him with honours and accolades for his acting - he is the ultimate gentleman-humble, refined and pleasant to all he meets. Many are the instances where he has given a helping hand to up and coming actors. As a teacher I can remember Manoratne at Poramadulla M.M.V. He was a scholar who was admitted to the Boys' Hostel when I was warden. Before long he adjusted himself to his new environment.
He was a much loved friend to all. Whatever responsibility was given to him, one could rely on him to give his best. Soon he was appointed Prefect and later Head Prefect, which responsibility he carried out with distinction. His dramatic talents could be seen even in school. At All Island school drama competitions he carried away the award for the best actor for several years. He can well be described as a dramatic dictator.
He has a great respect and loyalty for his old school and teachers. Even today he never fails to look me up whenever there is a show in Kalutara. I wish him a bright future and hope he will rise to still greater heights as an actor. It is the wish of all his fans that he appears more often on TV shows and grant us the opportunity of enjoying his performances.
---
'Mr. Bean', where is he?
Rohan Fernando, Sharnika Mendis and Samitha Randeniya of Ratmalana write…
What happened to 'Mr. Bean' on MTV? It went off screen without any notice.
This happened sometime back, when MTV started Mr.Bean series. After about a couple of episodes if was stopped.
Now the same thing repented. Is there any one against in running 'Mr. Bean' at MTV ? You have just showed about four episodes.
Mr. Bean is a very popular programmes and we appeal to MTV authorities to show this tele series again on Saturdays.
---
SLBC drops surnames
By J.A.K. of Mount Lavinia writes…
For many months now, SLBC has stopped giving surnames of requests of all choice programmes on Radio Sri Lanka. Only the first names are read out by the respective presenters of choice programmes, and that too at a hectic pace especially on Saturday Choice, Sunday Choice, Golden Oldies, etc. With all first names being read fast, in some instances the first name could be the Christian name and the second could be the surname.
For example when Rachel and David are read fast it would easily sound Rachel David! Also on a Sunday night's greetings programme I have noticed some surnames were either deliberately skipped or not announced due to lack of sufficient time on the programme. Surely being a greetings programme loved by all and sundry, shouldn't there be surnames after all?
True, in foreign countries this is the format, that only the first name is read out for a request on a radio programme. But then in a foreign country there is only request for a song, which is phoned in and so the listener knows the song is for him/her for the particular song he or she had requested. But alas, here several names are constantly tagged on to once song and read out at a fast pace, the particular song being aired only for one listener because if every listener were to get his or her song, request programmes on Radio Sri Lanka would have to go on for hours.
But strangely it is only SLBC English Service, or Radio Sri Lanka as it is now more commonly known after the change of station identification from the former to the latter, that has decided to delete the surnames of requestees en-masse, when all other private radio channels give the names in full even 'from and to'. Due to this rather ludicrous decision on Radio Sri Lanka authorities headed by its Director General Eric Fernando under whose directive, they have decided to scrap surnames of listeners, the number of requestees even on the daily 'Housewives' Choice' programme from 2 to 3 p.m. has drastically fallen which in a way is a pity.
I sincerely hope Radio Sri Lanka English Service Director Nihal Bharathi will address his mind to this drawback of not including surnames of requestees on Choice Programmes forthwith, and take corrective measures to air the full name of listeners to request programmes, as is the case with the private radio stations.
---
Doing justice to Jothi
H.R. Jothipala of Mount Lavinia writes…
The H.R. Jothipala Fan-club very strongly protests over 9 cassettes produced with H.R. Jothipala's songs sung by other popular vocalists titled "Jothi Samaru Thilina". This cassette contains 16 hit songs originated by the evergreen singer H.R. Jothipala.
The Fan-club President Roy Mellanius states that this is a step taken for two reasons, one to erase Jothi's name from the new generation, and also to earn the maximum financially. The main reason behind this is to gain easy popularity through creeping songs popularised by H.R. Jothipala (which are still popular) as it is easy to popularise a song which is already popular than to do it to a new melody.
By this songs sung by the late singer would be forgotten and the new version by the new singer remembered. The Fan-club together with Mrs Blossam Jothipala has taken steps to take action legaly regarding this issue. Also we wish to inform the media to refrain from playing these duplicate songs and safeguard the evergreen of H.R. Jothipala.
---
Versatile Victor
If Victor Emmanuel had known his potential for singing, today he would have been a star among the shining ones, but his devotion for wrestling as national coach and duty as foreman in the Prisons Department inhibited him from being conscious of his inherent talent.
In 1987 when he sang at the Mahapola celebrations held in Dodangaslanda in the "inimitable" voice of late maestro Mohideen Baig, the crowd was enthralled but confused as to whether Baig himself or somebody else was singing.
In fact that day Baig was scheduled to sing there but due to unavoidable circumstances he could not make his presence and the Manager of Tower Hall Film actor Quintus Weerakoon who was in a quandary contacted Victor and requested him to stand in for Baig and Victor while being surprised over the invitation was elated.
Mahapola and Gamudawa are the most important events organized by the government and the question in Victor's mind when he got on to the stage was what his credentials were to participate in such a mammoth event and further to sing the songs of maestro Baig to which music was to be provided by no other than the famous music director Mohamed Sally and his group.
Mohamed Sally encouraged him stating that even though he had made his debut late in life he has undoubtedly created an impression among the listeners present of his prowess in singing, and that too on the occasion of a great event.
Further, he revealed to Victor that for the two songs of Baig he sang, he (Sally) himself had given the tune and was very pleased.
This gave Victor great encouragement and the moment was an unforgettable one in Victor's life.
Victor hails from a music-minded family and from the age of six he was enthusiastic in singing, dancing and taking part in dramas.
Versatile Victor in his tender age was able to sing the songs of the famous Indian singers, M.K.Thiyagaraja Bagawather, of course the words were of his own but the tune was flawless.
He also had a great liking to sing the songs of the Indian Screen play- back singers such as P.U.Chinnappa, Gandasala and Sidamparam Jayaraman.
In 1947 he had the opportunity of taking the role of hero in a school drama in which the tabla player of Asokamala film fame, late Nadarajah too participated. Then in 1951 his time came to make his livelihood and he joined the Prisons Department and there too he pursued his hobby and took part in all the music and drama shows.
In 1960 when Victor went to New Delhi to take part in the wrestling contest between Ceylon and India an incident which took place paved the way for him to be recognized as a talented singer.
At the end of the wrestling meet the then High Commissioner for Ceylon in India, late Sir Richard Aluvihare held a party at his residence and when the party was in progress all started singing baila songs and after some time Sir Richard and Lady Aluvihare requested that somebody sing a nice song, Victor grabbed this opportunity and sang the latest song of Baig at that time "Kotu Keli Soyala............" all had applauded "come on local Baig" and requested for repetition and Victor sang the song eight times.
Finally Sir Richard said Mohideen Baig went from India to Ceylon but you are the Mohideen Baig who came from Ceylon to India.
From this onwards Victor did not look back and the Maestro inspired him very greatly and Victor continued to sing the songs of Baig relentlessly.
The drama " Rukdeviya" staged by the inmates of the Prison was held in several parts of the country in which Victor also sang. Victor once met Mohideen Baig and to his request the maestro told him that he has no way of teaching him, but if he is going to taking to singing as a hobby and not keeping monetary gains in mind his blessings are with him.
Although Victor has been singing on stages he never appeared before the SLBC Examination Board since he would have had to be on the waiting list.
On bringing to his knowledge of this fact this official asked him to apply to participate in the Examination that was going to be held soon assuring that he would help him.
On account of this favour, he succeeded in the examination and now he is a registered singer of the SLBC and he is grateful to this official. Similarly there are many artistes who are in need of assistance.
Today all are describing Victor as singing in the voice of Baig. Victor who considers Baig as his guru, emphasises that he is singing Baig's songs in his own voice which is similar to that of Baig and not in the voice of Baig as many think.
According to Victor, Baig's voice which is a revered one which lasted for 74 years and whether it be devotional songs, love songs or national songs could be enjoyed by people of all ages. Finally, Victor pays a tribute to the maestro whom he describes as a disciplined, god fearing and honest singer who sang in the same voice he began his career up to his demise and maintained his integrity.
---
Sun girl Medha in Colombo
Our cover girl Medha Ragunath is a well known model and a TV presenter in South India.
A popular dance show 'Thilana Thilana' of Sun TV of Chennai is hosted by Medha.
Medha was in Colombo to perform in 'Illesam' another popular dance programme on 'Shakthi TV' directed by Harold Wijesinghe.
'This is my second visit to Sri Lanka and I really fell in love with the place. I was here to perform in a 39-episode musical talent contest.
Medha had won the title of 'Miss Chennai' in 98, Miss Tamil Nadu in 98 and Miss Look of the Year (South India) in 98. She also won the crown as Miss Salem 99 and Miss Super Model 97.
She has just finished shooting her maiden film by Mani Ratnam. 'Alai Payde' scheduled to be released in April this year.
---
Aussie food show at JAIC
Join in the celebrations to commemorate Australia Day, when the Union Bar & Grill Room at the Hilton JAIC Tower brings you a scorching, sizzling Barbecue from way Down Under.
This food promotion is on from Monday, January 24 and continues until Saturday, January 29 for dinner only.
The special a la carte menu includes Seafood like Salmon Steak and Shoe Lobster, Juice Tenderloin and Sirloin Steaks, Lamb cutlet to mention a few and tempting desserts like Pavlov, Mud Cake and Lamingtons. Enjoy the laid back atmosphere with Aussie Wines, Beer and experience good country music Aussie style by "Red Sand".
---
Comedies on Dynavision
Americas best and the most hilarious comedies now every Monday and Tuesday at 8.30p.m. commencing February, 2000 on Dynavision.
Everybody Loves Raymond every Monday at 8.30p.m. How could anyone not love a guy like Raymond? As the head of a chaotic household of the Nineties, he makes a heroic effort to please the messiest pair of twin year-old sons ever born, a pre-cocious 5 - year old daughter, a wife who is likely to crack at any moment under the pressures of full time parenting, and an intrusive mother, father and brother who spend most their lives invading the privacy of Ray's home. What's more, Ray handles this all with a wickedly funny sense of humor.
Maggie Winters Every Tuesday at 8.30p.m. - When Maggie Winters (Faith Ford of Murphy Brown) catches her husband cheating on her, she does what any smart and sexy thirty something who has bartered her own happiness for really great moves in with her adoring, yet eccentric mother. But for Maggie, living in the town of her youth where she is constantly reminded of her brilliant but wasted potential isn't as easy as she expected. She's wiping the slate clean and starting over!
---
Austro - Hungarian Food & music at Oberoi
Starting January 27 till January 30, 2000, a traditional Austro-Hungarian Food and Musical festival will be held at the popular roof-top venue "The Supper Club" of The Lanka Oberoi, in the form of a daily dinner buffet.
Authentic Austrian and Hungarian cuisine brought together to create a fusion of traditional and mouth-watering delicacies in an extravagant dinner buffet. One of the highlights of this food and musical extravaganza is "Karl Katz and his Ballroom Ensemble" flown in especially for the occasion, by the courtesy of VIP tours. Karl Kats, a multi-instrumentalist playing the saxophone, clarinet, violin and the piano has been to Sri Lanka before and is no stranger to the music lovers in Sri Lanka. Karl on his magic violin backed by his ballroom ensemble will perform Viennese and Hungarian folk music, Jazz and swing to create the right mood for the diners during the festival.
---
Doing a short EU round in Europe
Story and pictures by Sanath Weerasuriya
I was a bit nervous when our plane stopped at the Amsterdam Schiphol Airport. Though this was not the first time in Europe , Amsterdam was a new place for me.
"What are you going to do in the Netherland"? That was the first question by the immigration officer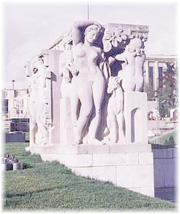 at the counter.
" We are going to Maastricht" I answered and he never bothered to ask any thing more.
Me and my colleague from Lake houes walked out from the small Maastricht airport to chilly outside and breathed the fresh country air after having travelled for nearly 14 hours or so.
Maastricht is the most southern city in the Netherlands and known as the sunniest city in the country, which has a population of 120,000. The most popular mode of transport in Maastricht is the pedal bicycle.
It is a known fact that Maastricht is the most attractive city among the European Union countries. and the oldest city in Europe . It is more than 2000 years old . The history of Maastricht began when the Romans built a settlement by the river Maas in 25 BC. But Maastricht became known after the famous Masstricht Treaty of EU signed in 1991 and the city is always remembered as the base for the unified Europe.
The sense of 20 centuries of history is almost tangible in the old town centre with its narrow clinker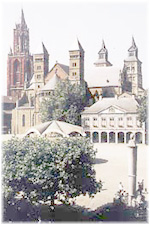 paved streets and impressive facades. Evidence of the old city's prosperity over the centuries can be seen in the churches, the treasure houses and the mansions. The remains of the city walls and the underground fortifications tell another story : history of a turbulent and warlike past.
I really fell in love with 'Maastricht', and I was thinking of staying back, forgetting all my commitments in EU study tour of Brussels.
We spent about three full fun days in Maastricht studying at the European Journalism Centre on EU issues before moving into Belgium.
I felt so bad , that I could not visit Germany,which is just 15 minutes from the Maastricht Centre. The border was so close yet very far,as we were tied down with work.
I have one dream now. I should spend at least two lovely weeks in Maastricht in high winter as soon as possible.
Maastricht to Brussels was just a two hour drive and for the first time I was enjoying the 'borderless' travel.
Though Brussels too has old churches, castles and other old buildings, it never appeals to any visitor coming from Maastricht. Most of the up town area comprises and expanding further with concrete jungles which are mainly from the European Union building complexes.
The most significant thing was the visit to the European Parliament in Brussels. We were lucky to be at the chambers for a session. The Daily press briefing at the European Commission building was another experience we had during this visit to Brussels.
Brussels is a bit expensive city when compared to Maastricht. Mainly I think ,because of the EU influence and the high spending officials and the journalists from around Europe,who are well looked after by their authorities.
Night life is in full swing and the Pubs are there almost at every street corner. Out of all, Irish Pubs are more popular and we too stuck to the same motto.
Theatres are more popular than cinemas and casinos are too in high demand with foreigners.
Visiting various Commissions attached to EU was a hectic thing, while we did not want to miss any group meetings with our colleagues from Slovakia.
Five day run in Brussels never made us fed up as we had parties every night. After completing our study tour at EU, we moved to Paris for the real vacation.
On a Friday evening at about 7.30 pm we took the popular 'Euro Line' bus to Paris. Though there is a train operating between Brussels and Paris the price at Euro Line was much cheaper. But it took more than three hours to get out of the city. This reminded me how we get caught to Galle road traffic and I think that Sri Lanka is very much better in this context.
Paris was freezing at the time we got out of the bus at 12.30am where we were supposed to arrive at 10.15pm. Our friend Jayantha Sumanadasa was there to receive us. Jayantha ,who has been living in Paris for the past eighteen years, is very fluent in French and it was very much easy to travel with him as no where in Paris was English a living language.
Lucky Ganewatta was another friend of mine who was waiting for us in Paris as I told him I was coming to the city. Lucky kept away two days of his busy schedule specially for a very quick city tour.
Eiffel Tower , White Church,Louvre( The most popular French Museum) and the 'death tunnel' of princess Diana ( Now it has become a tourist attraction) are some of the places we visited.
Louvre was outstanding among others as it comprises a whole world of Arts and Cultures around the world.
It was sheer madness trying to cover the Louvre in just two or three hours time.
The Louvre presents more than 30,000works of art divided into seven main collections including both Antiquity and Western Art from middle ages to the first part of the 19th Century.
Egyptian Antiquities,Greek, Etruscan, and Roman Antiquities,Sculptures, Painting ,Objets d'art, Prints and Drawings and the history of Louvre are the exhibition areas of this grand museum.
We have to say good bye to Paris sooner than we thought. Work load at the office back home in Colombo made us to terminate our journey without going to Switzerland and Austria.
Still I brought back memories of pubs , red light area, red wine, parties and Katarina.
But I will be back in Paris to complete the fun I could not finish in a couple of weeks.