Contents
---
Reincarnation of 'The Sensations'
"King" Claude has revived "Claude & the Sensations" which was one of the leading pop groups back in the seventies. Then they made a name for themselves with their originals such as "City of Colombo" which was composed by Claude and is Sri Lanka's first international song release, on the Decca label. They performed at the "Little Hut" six nights a week, and had their own weekly radio show as well.
The new line up consists of Claude on keyboard, Ernest Soysa on lead, Ajith Dahanayake on rhythm, Maurice de Silva on bass, Nesan Thiyagarajan on drums and Upali Kannangara and Graetian Ananda as guest artistes.
Claude & the Sensations have already made elaborate plans for the future. Starting with the release of a catchy Millennium, "Baila", and Zany, new interpretation of Mambo No. 5 which they have re done in their own style, with English and Sinhala lyrics, re naming it Mambo No 6.
These songs will soon be heard over the air waves as well as seen on TV.
They have already been offered a lucrative contract abroad by one of their earlier promoters - Shan, now resident in Denmark, and may embark on a brief European visit in early 2000.
---
Derrick J. at Supper Club
The romantic crooner from Australia, Derrick Junkeer will be ushering in the next millennium in the grand setting of the Lanka Oberoi's Supper Club which will be specially turned in to a "Starlit Paradise" on December 31, this year
Derrick with his wide repertoire of romantic songs and popular evergreens and the violin maestro Ananda Dabare with his exquisite melodies, will keep their fans entertained while they indulge in an authentic six-course new year's eve dinner with a complimentary bottle of Reine Pedauque Macon Villages or Beaujolais Villages for every table of two. A host of prizes and surprises including airline tickets to exotic destinations.
Be serenaded into the next millennium by Derrick J. and violin maestro Ananda Dabare in the perfect ambiance of Colombo's favourite Roof Top Night spot the Supper Club.
---
Noel & the Golden Melody
"Noel and the Golden Melody", duo of Noel and Lalin are now on contract with Hotel Ceylon Intercontinental, performing in the lobby on a regular basis on specific days.
In view of the festive season, they will perform on December 23, 24 and 25in association with a fifteen member choir, which will give a rendering of Christmas carols.
In addition, they have been honoured by "Inter-Con" to contribute their share in ushering in the new millennium on the night of December 31 at the lobby. So be there to enjoy the fun.
'Noel and the Golden Melody' has, and is performing in other hotels and institutions for private functions.
---
Thum Path Rela: child gets a father
'Thum Path Rela' is an 18 episode teledrama scheduled to be on Swarnavahini shortly.
This teledrama has been directed by Daminda D. Madawela, who has worked as an assistant director (AD) under Prasanna Vithanage.
He started as the 2nd. AD in 'Anantha Rathriya'. "The AD in 'Anantha Rathriya' Leslie Siriwardena helped me to pick up the work. for which I am grateful. It was followed by two award winning films of Prasanna Vithanage 'Pauru Walalu' and 'Pura Handa Kaluwara', and Boodee Kirthisena's 'Mille Soya'. However Daminda D Madawela is an ambitious young man interested in making film direction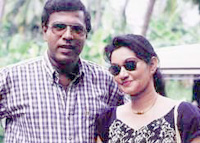 his future career. "Much more training and guidance by filmmakers is needed to reach the top." he said.
The teledrama he directed is scripted by Saman Weeraman and produced by Hiran Chandima Gunasekera.
A middle aged man named Pandula Seneviratne is the hero of this tele-serial. He is a bachelor, an industrialist by profession, appreciated for his honesty by the people of the area. But the good name he has earned is tarnished when summons are served on him seeking maintenance for a child. He is more worried as the summons were issued on him at a time when Ayesha, a distant relative of his residing in London has come to visit, him. This woman who is a lecturer in a University in London has visited Sri Lanka to do research work on birds. Pandula had been boarded at Ayesha's house when he was studying in London. She has developed a liking for him at this time.
When the case is called, a beautiful woman named Padma Fernando accuses Pandula seeking maintenance for a seven year old child. To every one's surprise he admits fatherhood of the child, and through his lawyer gets custody of the child
It is revealed that when young Pandula was being trained as a Planter in an estate he fell in love with Padma, a music teacher who gave birth to a child.
The child is taken to his home, he tries his best to get familiar with the child but fails. Finally he gets disgusted of it.
With many more incidents the drama ends up.
Ramani Siriwardena, Janak Premalal, Maureen Charuni, Buddhi Wickrema, Jagath Wickremasinghe and many others play in this teledrama. Jagath's sister Poornima Wickremasinghe has rendered a duet for this teledrama. Deshanjalie Wickremasinghe has written the lyrics for the song.