Christobel Weerasinghe speaks to Roshan Peiris
I dreamt I dwelt in marble halls…
Down Memory Lane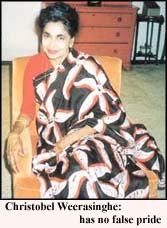 Christobel Weerasinghe's life seems like a vast thanksgiving as one accompanies her down memory lane. This petite, very attractive woman, one finds, is a symbol of both great ability and good breeding.
She though having been an alternative representative at the United Nations, while her husband Oliver was a member of the UN staff of New York from 1956 to 1965, has no false pride but is soft and gentle in her mannerisms and speech.
The only daughter of Sir Henry Kotelawala and Evelyn Bulathsinhala from Kotte, her early memories are of the love lavished on her. She was the second in the family, with two brothers, one eight years her senior and the other, two years younger. Her father represented Uva and Badulla in the former State Council of Ceylon for 28 years.
Christobel attended the Badulla Convent as a child. "I recall with fondness a nun who was kind to me and read me stories from the Bible. These fascinated me immensely as I was a Buddhist then." She is a staunch Christian now.
She also recalls nostalgically her years at the Ladies' College boarding from the age of seven until her early teens. "They were happy days of scaling the wall to get 'vadai' and sweets brought by a servant for our midnight feasts. We usually got caught and I as the ring leader was punished by being kept in a room incommunicado for a whole day with my meals also served in the room! I was often sent out of class or made to stand on a chair for chatter and laughter. I loved History and English Literature classes and abhorred mathematics.
"Here I must pay my tribute to Miss Opie, the Principal who was tolerant and showed much understanding regarding my naughty behaviour. I was sorry to leave Ladies," Christobel adds.
She went to the Visakha Vidyalaya boarding at fifteen to learn Buddhism mainly and recalls with affection, Principal Clara Motwani.
"There I learnt dancing under the Polish dancer Larissa Orliga, also elocution and pianoforte. I loved these classes and looked forward to them."
But it is strange that even then, Christobel recalls, she always wanted to spend time by herself. This was, she said, to relax and think, which she still does.
"Going down memory lane I recall my husband-to-be, Oliver Weerasinghe, coming to the operetta La-Boheme in which I acted as the heroine Arlene and sang the song 'I dreamt I dwelt in marble halls,' just to see me.
"The local press baron D.R. Wijewardene had asked him to attend the operetta and see me. He liked me, and hence after horoscopes had been compared my father Sir Henry allowed him to come home and visit me. He was impressed with my singing abilities and insisted I continue acting, dancing and singing."
Within six months they were married at her father's country home at Bandarawela. It was wartime so the wedding lunch was relatively small but close friends and relations came from all over the country.
She proudly recalls that her husband was Ceylon's first architect and city planner. "D.R.Wijewardene, bless him, created this post with the connivance of S.W.R.D. Bandaranaike under whom this new Department came."
They had two children Menekka and Rohan. Menekka attended Bryn Mawr, Cambridge and Harvard graduating with honours. Rohan served as a volunteer at the aerospace section of the Smithsonian museum.
Christobel is a natural story teller and she travelled with her husband to many a country when he was Director of the United Nations Department of Economic and Social Affairs. He worked mainly from New York. Christobel, wrote an American writer, 'had a burning ambition to tell stories and acquaint young people with the lifestyle of people in other countries such as India and Indonesia'.
" I had first-hand information of these countries my husband worked in. I made records of my impressions. If it was India I began, with an exotic solo played on a Veena. This I felt set a musical mood for my story telling," she recalls.
Her recordings bore the imprimature of the United Nations Children's Fund (UNICEF) and were co-produced by the United States Committee for UNICEF. "By the way my husband insisted that the royalties I received for my storytelling recordings be donated to UNICEF and that I was not to make any profit. I was happy to talk since I was at home before a microphone."
The happiest days of her life, she recalls, were her years in New York and then in Washington where her husband was Ambassador. She entertained small groups to breakfast or lunch and organised large formal dinners, where she served Sri Lankan food.
"I lectured in various American States with the help of the World Federation of United Nations Association (WFUNA) on the status of women in our country."
"I would be remiss if I did not record that Freda Corea, Gamini Corea's mother encouraged me to teach dancing when I was only 21 years old and also helped me join the Social Service League and teach. It was only last December that the League gave up teaching and now I teach deprived but talented children at the Methodist Daycare Centre, for children from three to five years, dancing, rhythm and nursery rhymes."
On her return to Ceylon she started a SLBC programme for children called 'Read to Discover.'
A woman of achievement, Christobel has been lucky in having a supportive husband in Oliver.