The story of "Sunethra Devi" - part 2
Never to fly again
By Roger Thiedeman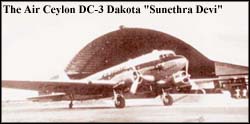 Fifty years ago, the then national airline Air Ceylon was a thriving, buoyant outfit. After a quiet start in December 1947, two years later it was making steady progress not only as a domestic and regional carrier but on overseas routes too. In February 1949, Air Ceylon's fleet of four Douglas DC-3 Dakota aircraft had been augmented with the purchase of two large four-engine Douglas DC-4 Skymasters. Carrying the names Laxapana and Ratmalana, the pair of Skymasters began international services between Ceylon and Britain, a first for Lanka's fledgling airline.
These services were flown in partnership with Australian National Airways (ANA), a company with a sizeable DC-4 fleet of its own. In an agreement struck between the government of Ceylon and ANA, the Australian company promised technical and managerial assistance, and importantly, training of Ceylonese flight crew on its international services. History shows, however, that the Australians did not fulfill their agreement in its entirety. Even after Air Ceylon's international flights extended eastwards to Singapore, Jakarta and Australia in January 1950, only one Ceylonese pilot, Capt. Peter Fernando, was licenced on the DC-4; and that too in a supernumerary capacity as Second Officer.
ANA's influence in Air Ceylon was not confined to overseas operations. From early 1949 onwards, a few Australians occupied senior positions in the Lankan airline's hierarchy. Based in Colombo, W.W. Doyle served as Chairman, while Operations Manager was Capt. Peter Gibbes, a pilot with great skill and vast experience. Even today, Gibbes is fondly spoken of by former Air Ceylon pilots who flew DC-3s on domestic and regional services under his watchful supervision. They remember him as a stickler for operational correctness while remaining an amiable colleague.
But 1949, the year that began so optimistically for Air Ceylon, ended on an unhappy note. A few days before Christmas, one of the airline's quartet of Douglas DC-3 Dakotas crashed in controversial circumstances while landing at the south Indian city of Trichinopoly (alternatively 'Trichy' or Tiruchirapalli). The airplane in question was none other than Sunethra Devi. Wearing registration letters VP-CAT, it was the same DC-3 that, in May of the previous year, lost its way in stormy skies over Singapore, endangering the lives of all on board (see part 1, last week).
In this latest misfortune to befall Sunethra Devi there was no loss of life. Miraculously, the most serious injuries sustained were a fractured skull and some broken bones. But for the ill-fated DC-3, it was the end of the line. Its fuselage shattered and scattered, six-year-old Sunethra Devi would never fly again, her remnants destined for the scrapheap.
Sunethra Devi's last flight began routinely enough. A cool, refreshing pre-Christmas breeze caressed the airfield as the DC-3 took off from Ratmalana on the morning of Wednesday December 21, nearly 50 years ago to the day. The plane's first destination was Kankesanturai (KKS), aerial gateway to Sri Lanka's northern city of Jaffna.
The crew consisted of Capt. Dixon Kotelawala, First Officer (co-pilot) Simon Rasiah, Radio Officer Hector Fernando and air hostess Ranee Ranawake (later Mrs. Ranee Raymond). Dixon Kotelawala began his aviation career as an Assistant Aerodromes Officer at Ratmalana. He later joined Air Ceylon as a First Officer on DC-3s, and not long before this fateful flight had been appointed as Captain.
But back to that flight aboard Sunethra Devi... KKS was reached without incident in just under 90 minutes. Here, while the DC-3 rested, the crew breakfasted at the airport cafeteria. One imagines that typically northern fare such as stringhoppers, thosai and vadai would have featured on the menu. Then, with plane, passengers and crew suitably revitalised, Sunethra Devi's doors were shut, engines started and brakes released for the next leg to Trichy, 55 minutes away.
Somewhere between KKS and Trichy, the hitherto even tenor of Sunethra Devi's flight seemingly began to go amiss. According to press reports following the crash, a passenger claimed that one of the engines "gave trouble soon after the plane took off from Jaffna". This seemed to corroborate Capt. Kotelawala's subsequent statement that "the engine stalled just before the plane was to land".
Whatever the cause, as Sunethra Devi commenced its descent into Trichy around 1.30 p.m., it was obvious that all was not right with the DC-3. Another passenger, Dr. G. Wignarajah, a regular traveller on that route, noticed that the plane was being flown erratically. He watched in consternation as the aircraft narrowly escaped collision with Trichy Rock, a landmark some 7 miles from the airport.
At Trichy airfield itself, some observers said the DC-3 appeared to come in too fast. Others noted that the left wing was tilted downwards, and not in a level altitude. But all eyewitnesses agreed that the plane touched down heavily, then bounced before crashing nose first onto the grass surrounding the runway. The left landing gear also slammed into the ground with a fearsome thud, the wheel collapsing under the force of impact.
Missing one of its two main wheels, the lopsided Dakota careered along the grass until the drooping left wing dug in and spun the plane around in a sharp left-hand turn through 180 degrees. Meanwhile, the left propeller had broken away. Now, as the crippled aircraft swung around, the right wheel and engine too were wrenched off and flung some distance from the fuselage. Finally, after what seemed an eternity, a battered and broken Sunethra Devi slowed to a halt. A small fire broke out but was quickly extinguished by the airport fire brigade.
The second heavy impact had inflicted horrendous damage on the nose section and cockpit area. Rescuers rushing up to the wreck expected the worst. But, mercifully, the crew were alive. Dixon Kotelawala had superficial injuries to his head, chin and ribs, although Simon Rasiah, the co-pilot, was not so lucky. He had suffered a fractured skull and broken a forearm. Back in the passenger cabin, stewardess Ranee Ranawake sustained a broken collarbone when she unwisely unbuckled her seatbelt after the first bounce to look out at what was happening, and was thrown on her side. Also injured was passenger C.V. Ramaswamy Reddiar, who fractured his nasal bone.
As often happens in such circumstances, there were tales of heroism as human courage triumphed over adversity.
One report told how Capt. Kotelawala had leapt out of his seat as soon as the plane stopped, then raced back into the passenger cabin to open the main door. This was not before three passengers had broken open a window, crawled through the gap, and were trying to open the door from the outside so that others could evacuate the stricken plane.
When news of the crash reached Colombo, another DC-3 was hurriedly despatched from Ratmalana to Trichy. At the controls were Air Ceylon's 'Aussie' Operations Manager Capt. Peter Gibbes and First Officer George Ferdinand. Also on board were several investigators headed by the Department of Civil Aviation's Chief Inspector of Accidents, Ron Godlieb. Returning to Colombo the next day, the relief plane brought back Sunethra Devi's injured crew members (except co-pilot Rasiah, who was admitted to the Trichy hospital), passengers from the crashed aircraft, and others who were booked to fly back to Colombo on Sunethra Devi.
Describing the crash scene many years later, George Ferdinand recalled that a fuselage panel adjacent to the Radio Officer's position had been torn off, exposing a gaping hole in the side of the plane. When firefighters reached the wreck, they liberally sprayed Hector Fernando from outside with a mixture of water and foam as he still sat stunned in his seat.
The official inquiry considered the suggestion that Sunethra Devi had engine trouble that day. Significantly, however, it found that the aircraft was being flown, and the landing attempted, by co-pilot Simon Rasiah.
Nothing unusual about that, except that the recently-promoted Kotelawala, although now a Captain, was not yet permitted to let his co-pilots carry out take-offs and landings. Only senior Captains were authorised to conduct in-flight training of co-pilots.
And that, it seems, is how Air Ceylon lost the first of two aircraft during its 32-year existence (the second, an Avro 748, was destroyed by a bomb in 1978 but again with no loss of lives). For Sunethra Devi it was the end of a colourful military and commercial career that began just six years before.
Footnote 1: Dixon Kotelawala was later appointed Director of Civil Aviation. His cousin, Sir John Kotelawala, was Prime Minister of Ceylon at the time.