Snooty Sophie
Royal bride comes under fire from palace officials and the press
She was the June bride millions envied - walking down the aisle with a prince on her arm, and lauded by many as the new Princess Di.
She even got to move in with her mother-in-law, the Queen of England. But now, say the staff of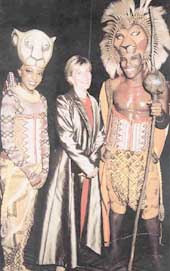 Queen's Buckingham Palace, she has become a real cow.
At first it was just a nickname derived from her initials - for when Sophie Rhys-Jones married Prince Edward, she became the Countess of Wessex.
Now palace servants say the nickname fits her to a T. Sophie, they say, can be rude, arrogant, stuck-up and demanding.
The word soon got out. Last month a British newspaper carried her photo alongside a gigantic headline that started That C.O.W.
Their story quoted a royal servant who said, "When she orders some dinner or tea, the people in the kitchens call out "The Cow wants some tea" or 'The Cow's back and wants feeding.'"
Another said, "Being a commoner, perhaps she has become more snooty than the royal who were born to it."
It is not the first criticism Sophie has faced since her royal elevation. Within weeks of the wedding she was under fire for trying to mix her business life with royal duties.
The gloves came off when 34-year-old Sophie's public relations firm, RJH, won a $410,000 contract to promote the new Rover 75 car.
After she posed for publictity photos at the Frankfurt Motor Show, the Queen is said to have issued Sophie an ultimatum that, unless she curbed her business interests, she could be barred from playing a full public role.
Prince Charles and his sister, the Princess Royal, were shocked when they heard Sophie was planning a promotional tour of the United States-dubbed by one insider "a rent-a-royal tour."
" Charles believes both Edward and Sophie must decide whether to be active members of the Royal Family or follow a commercial life, " said one courtier. "They can't have it both ways."
Even before the motor show, Sophie came under fire when she took Edward to the baptism of her brother David's first child. Hello! magazine bought the photos in a deal thought to have netted her brother $ 30,000. Sophie even agreed to pose for a cover photo.
In answer to her critics, Sophie says, "I am, and always will be, very sensitive to the responsibilities which I have assumed as a result of my marriage into the Royal Family."
But still defiant,she says: "I am totally committed to RJH and it is and continues to be business as usual."
Prince Edward has also come under fire from the Palace over his own commercial ventures.
He recently sold a series based on the Queen Mother's life to a U.S. network for $570,000 - although the Queen Mother refused to cooperate - and planned to publish a guide to Royal London under the name Edward Wessex.
Despite all this, he has not been too successful. His TV company, Ardent, is said to have lost $2,788,000 since it was founded six years ago. Fortunately, he has wealthy backers, including the Sultan of Brunei.
Behind the Queen's resentment of Sophie's activities lies the Royal Family's traditional view that family members must not be seen to be making money from their position.
It was inevitable that Sophie's PR firm would flourish once she became a royal, but as one of her friends said:
"She is a modern professional woman, and, in that sense, she is just what the Royal Family needs.
At least she earns her keep."
Modern or not, the lifestyle Sophie and Edward adopted from the start of their marriage caused much dismay.
Sophie lives in Edward's Buckingham Palace apartment during the week, while he stays at Windsor Castle or their new $22 million home, Bagshot Park, which they rent from the Queen.
While in the Palace, Sophie has royal servants at her beck and call 24 hours a day - which often necessitates them preparing dinner at short notice for the friends and clients she brings home.
Then the call goes up: "The Cow's back and wants feeding."
Despite her background she's seen as more snooty than the royals.
---
Super strike
Continuing his series on martial arts, Udena R. Attygalle checks out Taekwondo
The earliest records of martial arts practised in Korea date back to about 50 B.C. Known as Taek Kyon, these were practised by the Hwa Rang Do, an elite group of young noblemen, devoted to cultivating mind and body who played an important part in the Silla kingdom's (57 B.C -936A.D)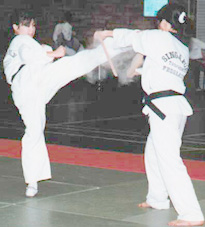 military victories . The old honour code of the HwaRang is the philosophical background of modern Taekwondo.
In the beginning of 1957, the name Taekwondo was adopted by several Korean martial arts masters, for its similarity to the name Tae Kyon.
General Choi-Hong -hi of the Korean army required the army to train in Taekwondo, so the very first students were Korean soldiers.
Modern-day Taekwondo is influenced by many other martial arts, the most important of these being Japanese Karate. The reason being Japan's domination of Korea from 1910 till the end of the Second World War .The influence that Japan has given to Taekwondo are the quick, straight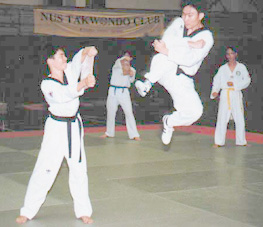 movements that characterize the various Japanese systems.
Cyril Anthony, a pioneer Taekwondo master who introduced this art to Sri Lanka in 1976 says, "Although influenced by Karate and other Japanese systems, Taekwondo movements are very different. Instead of the quick straight movements like in Karate, Taekwondo movements are semi-circular."
Taekwondo is a martial art characterized by its fast, high and spinning kicks .The name Taekwondo means Tae- to strike or to block with the foot or to kick, Kwon- fist or to strike and block with the hand and do, meaning the way or art. Put together Taekwondo means 'the art of kicking and punching'. There is no use of weapons in Taekwondo. The opponent is attacked with bare hands and feet. Taekwondo has become popular because it is a very powerful art and very spectacular to watch.
Says Cyril Anthony, "Taekwondo is a self-defence technique that can be used on the move. It is a fast system with rapid moves and jumps . Kicks requiring both feet to be above the ground are commonly used."
Taekwondo has no age limit and is a very good sport for children. They learn fast reactions, learn to respect each other, learn their own abilities and disabilities.
There are two main streams of Taekwondo. Gen Choi established ITF Taekwondo ( more traditional ) while WTF Taekwondo ( more emphasis on sparring ) is at present more popular.
Cyril Anthony added that there are some 15 variations of Taekwondo.
Although WTF Taekwondo is a full-contact sport where it is allowed to kick to the head ( punches to the head are not allowed ), during competition, full protection is used to protect the competitors.
ITF Taekwondo is semi-contact. One cannot attack the head with full force. However it is allowed to punch to the head using the so called 'killing blow', stopping just an inch before the target. To avoid injuries ITF uses gloves at sparring competitions.
Some common rules when using foot techniques at the basic level are-
* Generally the knee must be lifted first
* A technique should be pulled back at least as fast as it will be thrown out .
* Normally the sole of the standing foot will be completely on the ground, except for advanced techniques which can be done with some sliding.
* The standing foot is not completely stretched, as you will lose balance
A very important part of Taekwondo are blocking techniques. The block does not reflect the action correctly as most of the techniques will not block an attack but deviate it.
Another point is that any blocking technique can be used as an attack as most of the attacking techniques can be used for blocking; a concept hard to understand for beginners.
A good technique is the physical foundation of practising Taekwondo. Without technique one can injure another or oneself easily.
The inner strength in Taekwondo is generated by 'controlling your breathing,' says Cyril Anthony.
The Taekwondo Student oath
I shall observe the principles of Taekwondo
I shall respect the instructor and all senior ranks
I shall never misuse Taekwondo
I shall be a champion of freedom and justice
I shall build a more peaceful world
Three fundamentals of self defence
Stamina -against a stronger opponent, several blows may be required to thwart the attack .You must be in good enough shape to outlast him . Reflex -You have to be able to react automatically to an attack without panicking, freezing or having to think about what to do. Technique -You must be able to effectively complete the move necessary to end the attack using the proper speed, force, and trajectory.