Remembering a 'Man of many parts'
The SLFI (Sri Lanka Foundation Institute) auditorium was not full, but those who were there had come to pay tribute to a great man. Two memorial orations (one in English and the other in Sinhala) were being delivered in appreciation of the invaluable services rendered by Professor Ediriweera Sarachchandra to Sinhala literature, theatre and social thought.
This was the first activity organised by the Sarachchandra Sahurjjana Sansadaya, formed recently to keep the Sarachchandra name alive. The Sansadaya (organisers prefer to use the same name in English too) is headed by respected playwright Bandula Jayawardana as President. Another lover of the arts who wishes to do his bit quietly, Jayasumana Dissanayake is Secretary. 'Sarasaviya' editor Tilakaratna Kuruwita Bandara functions as Treasurer and serving as committee members are O. C. Jayawardena, Dr Luxmie de Silva, Buddhadasa Galappatti & Nissanka Diddeniya - all well known names in the literary and theatre scene.
Explaining why the Sansadaya thought of having two memorial orations in two languages, President Jayawardana said that since Sarachchandra was being appreciated at an international level, it was logical that an oration in English could reach non-Sinhala speaking audiences. In the future, they would even think of having an oration in Tamil. (The two inaugural orations are available as a Godage publication).
It was interesting to listen to Sarachchandra's university colleague (undergrad days), former civil servant and promoter of the arts M. J. Perera relating old stories. He went back to their early University College days reminiscing on how in 1933 the two of them and D. G. Dayaratne (who also had a distinguished career in the Ceylon Civil Service and was himself keenly interested in the arts) read for the Honours degree in Indo Aryan under the guidance of Professor Gunapala Malalasekera. Their friendship lasted for over six decades even though there were occasions when Sarachchandra being a very sensitive person, stopped talking to him over certain matters . He had not forgotten the baseless attacks on himself and Sarachchandra in the media when he was heading the Cultural Affairs Department solely because they were friends.
He welcomed change
Introducing Sarachchandra as "a man of many parts - a sitarist, philosopher, linguist, critic, poet, novelist and playwright", Justice Dr Ranjit Amerasinghe (he delivered the lecture in English on 'Some reflections of law & order'), also described him as a scholar, a teacher and an ambassador who achieved excellence in whatever field of endeavour he undertook. "He was free from narrow prejudice and was open to new ideas. He travelled widely, read extensively, researched deeply and was potently influenced and greatly inspired by what he learnt from other people and other cultures."
Referring to a comment made by Sarachchandra once that it was the impact of Noh and Kabuki that gave him the courage to write and produce 'Maname', Dr Amerasinghe pointed out that even if it was so, the music and choreography were those of 'nadagam', the play was based on a Jataka story ('Culla Daniggaha Jataka') and the play opens with words of homage to the Buddha followed by an invocation to the dieties.
"He was not a bigoted nationalist nor was he given to looking at the past with uncritical wonderment," Dr. Amerasinghe observed. "Yet he advocated circumspection and discernment. Change he welcomed, but not at any price."
Sinhala verse
Novelist and poet, Dr Gunadasa Amarasekera spoke on Sarachchandra's service to Sinhala verse. Sarachchandra being a dramatist following the path of stylised drama, did not claim to be a poet. He was fully aware that there was a difference between poetic drama and conventional poetry.
To Dr Amarasekera, Sarachchandra was a distinguished dramatist who is yet to be surpassed. The dramatists who followed are mere dwarfs compared to Sarachchandra, he said. He was also a born poet - a poet who was well versed in the Sinhala language who could be compared to that great literary figure Venerable Totagamuve Sri Rahula.
---
Painting together to help others
It's talent to the fore for a good cause when teachers, an accountant, a former air-hostess, a secretary and a housewife get together to hold an eight-woman exhibition of paintings from October 4 at 6.30 p.m. at the Lionel Wendt Art Gallery.
The exhibition will be open for public viewing on October 5 and 6 from 9.30 a.m. to 8 p.m.
The artists who will display their works are Alefiya Akbarally, Dilshani Ravindri Fonseka, Harshini Perera, Hethumathi Karunatilleke, Menaka Aruni Ranadeera, Patricia Wasgewatte, Shazmin Mohamed and Sonali Silva.
---
Making a soap for the child
By Wathsala Mendis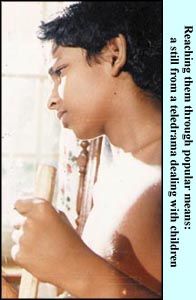 Child abuse and child rights have be-come so hackneyed that nobody cares too much about it. Harsh as it sounds, that's the grim truth. Only when hit close to home are people jolted into reality. So long as they close their eyes to it, thousands more innocents will continue to be affected. Educating and making people aware of the menace is the most effective way of fighting it.
YA TV, known for its quality youth programmes, together with Plan International- a UK-based international humanitarian, child-focused development organization- have taken on the task of bringing this universal theme to a prime-time audience in the form of a soap opera.
Why a soap opera, why not a documentary or something more serious?
The aim is to offer an alternative TV experience, to touch the subject in an entertaining manner, taking it to the grass-roots level.
Nobody likes to be preached to. The moment you talk about social issues through a documentary, people dismiss it with, "Oh, here we go again. Another one telling us what we should and should not do."
This way it would be easier to drive the point home. After all it's about creating awareness among young people about their daily lives in a way which appeals to them, says Marc Postelmans, the Project Coordinator. The techniques used will be the same as in American soap operas but with substance.
The production process is still in a preparatory stage with the script being finalized for six episodes. Says Hilmy Ahamed, Managing Director, YA TV, "Depending on the response we receive, it'll be continued. We hope it'll go on to be a long-running series."
According to Menno Gibson, Sponsorship Manager of Plan International, the series would be exported to Western countries as well, provided it became a success in this part of the world. It'll be a different yet interesting cultural experience for them and help increase understanding among people . Since the issues covered are more or less common to almost all countries, it'll be easy to relate to, he feels.
The shooting will be done entirely in Sri Lanka. Once the casting is completed, the locations will be decided on. An art trainer has been specially brought down from the Netherlands to help train the art directors.
The original production will be in English while the serial will be dubbed in various other languages as well. The cast will comprise youth from other South Asian countries also. The production team is not looking for famous or popular figures, rather the emphasis will be on ordinary girls and boys who want to help change the world.