Tie Me Kangaroo Down Sport
G'day mates and a bonza crack through the covers as we settle down in front of our idiot boxes for an Australian cricket tour of Sri Lanka. Shane came! This vulture is honestly surprised that the zinc coated one actually dared brave those nasty shopping-excursion bombs by touring. It only remains to be seen if his flipper works better here than it did in India last year. I guess this makes me a charter member of the world's largest anti-cricketer club, but I refuse to repent.
Having said that, I have to also say that Steve Waugh's diplomacy at the outset of this tour says volumes about the man's character. Hats off to the Aussie captain; he may be a hard cricketer on the field but he seems to be a pretty decent chap off it and merits all the success that comes his way. It's mid way through another Sri Lankan batting collapse right now and one has to wonder why history keeps repeating itself so often of late. It will be interesting to see what the pundits have to say now. Having blamed the World Cup fiasco on Ranatunga and bleated about the lack of a proper coach, what say ye now that Rana is gone and Dav is back at the helm? If rationality prevails, the excuses and finger pointing should be left behind in the garbage pail and the business of putting the team back on track commence forthwith.
For whatever my two cents may be worth, I think the selectors have got the right idea with this new look team, and I think Sana-boy is the man for the job - at least for a year or two when Mahela should be ready for the mantle. What this team needs though, is discipline at the crease. Sanath, Avishka and Mahela gave away their wickets in Galle last Sunday. All the bowlers really did at that stage was plug away at a line and length. Nothing wrong with that but nothing spectacular about it either. So come on guys, let's forget the notion that we're going to belt everything around the field; batting is about timing and shot selection (except where Mr Flipper is concerned - him you may cart about all over the shop and good luck to you too). Let's forget pinch hitting and get back to strokeplay if we're going to win this series.
10 Things I Hate About You
No, this is not about Shane Warne this time. 10 Things I Hate About You is the latest teen flick on the video shelves and it is a pretty good one. Oh the plot is trite and highly predictable, but there are plenty of laughs throughout the film to make it most watchable. 10 things also takes a good look at kids who try to be different, not because they have some deep-rooted psychological trauma in their past, but simply because they don't know how to express their individuality in other way but by being anti-social and casually-yet-calculatingly cynical. What one invariably finds out after a little bit of digging is that even these kids are pretty normal on the inside and just need a little bit of the right encouragement to bounce back.
Throw in a teen-pregnancy-obsessed-single-parent-father, a porn-writing counsellor and Spike Lee for a poetry teacher and you have some genuinely funny supporting characters for the usual complement of angry girl, duh girl, macho jerk, nice-yet-trod-on hero, brooding guy that no one knows too much about and slapstick best pal.
Rating: 4/5
Video courtesy of Pearl Video, 8th Lane, Colombo 04.
Looking ahead, your Vulture is happy to say that the recent theatrical drought is nearly at an end with Jerome de Silva's production of "The Lion King" and Tracy Holsinger's "Slag" due in September. On the video front, I cannot wait to get my hands on a copy of "The Blair Witch Project", an ultra low budget indie film that wowed the Sundance Film Festival earlier this year. Reviews to follow...
---

Broadway concert
Friday, September 3 is the date when "Broadway Showtime!", a gala festival of American music is presented at the Bishop's College Auditorium. The concert will feature five stars in Colombo's music galaxy and a large symphonic pops orchestra under the baton of Lalanath de Silva.
Lalanath de Silva is no stranger to the Sri Lankan public. A dynamic composer and conductor, his presentations have spanned the range from chamber music concerts in aid of war refugees, through classical orchestral performances of religious works, to dynamic premiers of Sri Lankan and Indian contemporary composers.
Serela Athulathmudali one of the show's young stars has been performing since she was very small and has participated in productions of The Sound of Music, Les Miserables and the 100th Anniversary celebrations of the Royal Schools of Music in Colombo. Serela has played leading roles such as Dorothy in Wizard of Oz, and Nancy in Oliver. A student of the Colombo International School, she commenced her singing studies with Mary Anne David and has continued with Priyanthi Seneviratne.
Tharanga Goonetilleke was the winner of the vocal category of the Concerto Competition held by the Symphony Orchestra of Sri Lanka in 1998. She is an Associate of the Trinity College of London, and has won prizes at prize-givings of the TCL. Tharanga will sing 'Sound of Music' by Rogers and Hammerstein, and 'Summertime' by Gershwin with the Orchestra.
Chamithra Perera has been a pupil of Mary Anne David since the age of seven. She is accomplished in the style of Broadway singing, and has a very natural feel for jazz and blues. She has appeared in numerous productions of the Merry-An Singers. She will perform 'Someone to Watch Over Me' by Gershwin with the Orchestra.
Rohan de Lanerolle (Jnr.) a member of the Lylie Godridge (LG) singers, has sung with the Philharmonic Pops Orchestra, and with the Lanka Philharmonic Orchestra in productions of La Traviata, and as chorus leader of the Choro Philharmonie in Rigoletto. Rohan has performed on invitation at the Singapore Anglican Cathedral, Singapore in 1996, and in the lead role of Narrator in Blood Brothers in Colombo, 1997. He will sing 'If I Loved You' by Rodgers and Hammerstein with the Orchestra.
"Broadway Showtime!" is sponsored by IBM and Eveready in an effort to support the arts, in a gesture of goodwill between the United States and Sri Lanka. Appropriate American food will be available at the Kentucky Fried Chicken (KFC) stall outside the auditorium!
---
The Circle of life
Majestic masks, regal costumes, saucy puppets and mirthful marionettes breathe life into the splendour of the musical, The Lion King, as it hits the stage next week. Under the baton of noted theatre director, Jerome De Silva, the musical unfolds the magnificent spectacle of Simba's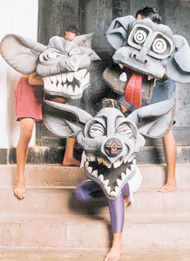 heart-wrenching journey to be king, writes YAMINI SEQUEIRA
There are cartoons and then there are cartoons. For those adults who have perchance had the opportunity to sit through The Lion King cartoon film, and haven't got themselves to leave before the last frame dissolves, here's a second lease of life! Director Jerome De Silva and his theatre group, The Workshop Players, bring The Lion King to life at the Lionel Wendt, from September 1-12th.
A preview of the play on a languid Sunday afternoon was enough to set the adrenalin running high. 'The Circle of Life', so brilliantly sung by Elton John in the film, is given more than a fair run by the entire cast of 73 actors. And the musical promises to be as majestic and breathtaking as the medium of theatre can render it, and this is one aspect this director uses so well. The magnificent costumes and masks implemented by fashion designer Senaka de Silva are truly unbelievable.
While one may be sounding like a stuck record at this point, the fact is that no expense has been spared and no theatrical device left unused in rendering the play a spectacle of gargantuan scale.
A chance suggestion by some friends, to Jerome De Silva about The Lion King musical, showing on Broadway and a CD of the soundtrack, were enough to send him across the seven seas to the USA to actually sit through the Broadway musical, twice! Thoroughly inspired by the endless possibilities of the theme, the charged director returned to Sri Lanka and embarked on putting together the cast for the film.
"While this musical is different from the ones I've done before, I am, and so will the audience - be able to connect with the African culture so well, wherein the musical is set. Our country too has a vast culture of masks and puppetry like nadagam and kolam, and these devices form the bedrock of this musical," says Jerome. Using every conceivable aspect of puppetry was by itself a "voyage of discovery'' for him. While the costumes are very close to the original ones used in the Broadway version, they have been adapted by Senaka de Silva to suit the Sri Lankan taste. Fabric, cane, foam, wood, have been used in the masks and costumes, with clever mechanical touches to give the characters like Zazu, the hornbill or Pumba, the wart-hog, a lifelike air. Moreover, all the faces of the characters have been left exposed. "We didn't want the musical to be a muppet show, where we parade overgrown soft toys. By exposing the faces, despite elaborate masks, we were able to retain the 'humaneness' of the characters as captured in the film," explains Jerome De Silva.
One of the toughest aspects of The Lion King, says Samantha Wijeratna, a seasoned actress with the Workshop Players, was the African language which is used in most of the chants in the musical. "The singing in this case has to be from the gut, really gritty," she elaborates. She plays one of the trio of hyenas who plot the death of Mufasa, in cohorts with Scar, Mufasa's sly brother, who has his eye on the throne. An uninhibited actress on stage, Samantha's plus points are definitely her clear voice projection and unhampered expressions.
Another regular on stage, Jehan Aloysius, who was seen last year as the romantic lover in 'The West Side Story' , is cast as Scar. Since a lot of the spoken film dialogue is converted into songs, he says, it requires actors to hit the right note, and this can be a tricky proposition. Jehan feels a lot more subtleties in Scar's character like the almost effeminate air, since as he claims in the musical, he is at the 'shallow end of the gene pool' are deliberately worked in. These facets are largely buried in the film and are aspects in the musical, that adults in the audience will pick up on, instantly.
Despite a cast of 73, avers Samantha, the musical has moments of emotional tranquility to balance the almost chaotic activity of the animals, for example, during the stampede. The scenes where Mufasa and son Simba gambol across the rolling plains covered with the gently stirring savannah grass are well-orchestrated. Kevin Franke as Simba is most lovable. A surprise is personality Noeline Honter, as Rafiki, the shaman baboon, a role she has portrayed energetically. The stylized puppetry used has required that the actors forge a symbiotic relationship between their dialogues, singing and puppetry techniques. During the rehearsal, Jerome, repeats over and again to his cast, how important it is for the masks and puppets to be used to the maximum, in order to elicit a near-lifelike feel. The set itself has been designed by him and will have vertical divisions, to depict the various locales. The complexity of the production has called for a large behind the scenes crew to monitor all aspects like sound, lights, etc.
This musical promises to be a sensory extravaganza for adults and children alike. For, children will watch with amazement, that their favourite screen cartoons characters have come to life and are so much more 'real' than the characters on their screen. It would be safe to say that almost every child is familiar with The Lion King and the lovable Simba. The story itself holds morals for children - it teaches them not to run away from their mistakes as Simba did, but to face the consequences of their actions. Mistakes thereby, are seen as opportunities for discovery and growth. As also to remember their duty and position in society and consequently fulfill their role in it, thereby completing the circle of life. For adults, the musical will open up a whole new vista in their imagination and reveal the endless possibilities, the medium of theatre offers.
I don't know about you, but as a 30-something adult, I am unashamed to say that I am as excited about going for the opening night of The Lion King, as my four-year-old!
---
Taking to the skies
By Wathsala Mendis
What's the first thing that comes to your mind at the mention of flight attendants? A prized job meant for glamour girls and boys, eh? Well, in a way it is. But it's more the staying power than mere good looks that'll stand you pretty. Could it be the reason why we have more males than females in our national carrier?
Being a flight steward or stewardess is not just providing food and drink for passengers but seeing to their maximum comfort from the moment they board the plane till they reach their destination. Regardless of whether they're in the first, business, or economy class, you have to meet the demands of all passengers and treat them equally well, so that they're happy from point A to B and will always come back. A good communicator with a pleasing, outgoing personality and a genuinely caring nature would be an ideal candidate.
There would be times when you have to think on your feet. Say, if a passenger has a problem with his or her choice of meals, you should be able to come up with an alternative. Occasionally, you'll come across that awkward customer who requires loads of patience. There could also be invalids or infants who need special attention.
Difficult situations call for calm, cool and collected people who can think rationally and act fast. A creeping delay, for example, can leave passengers angry and agitated. Some will miss their connections. It's up to you to ease the tension and provide them with all the necessary information, serve them food and beverages, and attend to their needs, if any. You should be genuine as to the reasons for the delay rather than leaving them in the lurch. While doing everything in your power to bring the situation under control, it's important that you keep them posted about what's going on, so that they'll understand.
An emergency could crop up during either landing or flight, say, a crash landing or a case of decompression sickness where you'll have to assist passengers to overcome the shock. Remember, you're responsible for the safety of each and every passenger on board. Of course, you'll be well trained on safety procedures to handle such situations.
Proper co-ordination in everything is vital in this job. And that cannot be achieved without teamwork. Participation in extracurricular activities will be a plus point in this regard.
Willingness to work at odd hours is essential as this job keeps one on the go. You'll have to complete 60-70 flying hours a month, with 12 off -days in a six-week period. It won't exactly be to your satisfaction when you have to miss out on family outings, parties, etc. since you have to be on stand-by. Now good things don't come cheap, do they?
Talking about good things, rest assured you'll be rewarded with salaries more or less in keeping with international standards. This will be in addition to various perks in the form of foreign allowances, free air tickets to family members, medical schemes, etc. Most importantly, you'll get the opportunity to visit places others could only dream of! There are also special incentive packages for those who're fluent in foreign languages like French, German or Japanese.
Now does that sound good or what?
"I'm leaving on a jet plane..." Bon voyage!