Speaking sign, he is determined to teach
By Nilika de Silva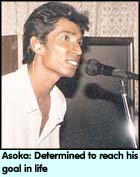 His mother tongue is sign language, his father, mother and only sister all being deaf and dumb from birth. But though born deaf too, Asoka Abeysekera, as a little child had the faculty of speech. And he has harnessed this gift with exceptional determination to reach his goals in life.
Today, Asoka (38) is one of the few deaf graduates in Sri Lanka. Having graduated from the University of Colombo in 1985, Asoka works as a teacher, using his leisure time for the betterment of the deaf community in Sri Lanka.
Ironically the Ministry of Education has never seen it fit to employ him as a teacher for hearing impaired children. Thus, although he is specially qualified and fluent in sign language, Asoka continues to find himself teaching normal students, rather than hearing impaired children. Having achieved many of his ambitions, inspite of being born deaf, Asoka would indeed be a model to them, proof that there is really nothing holding them back, if they have the determination.
"I have so much ability to teach deaf children. I am appealing for a post in a school where I can teach deaf students," Asoka said.
"My first teaching appointment was in 1988, to Padaviya Maha Vidyalaya in Alawanguwa and then I taught at Medawachchiya Central at Maithripala Senanayake National School. Since 1993, I have been teaching at Janajaya Vidyalaya in Moratuwa," Asoka said.
However as repeated requests to the authorities have only fallen on deaf ears, Asoka, continues to spend every minute of his spare time helping the deaf community in this country through voluntary work. Asoka teaches at the Ratmalana School for the Deaf and is the Secretary of the Sri Lanka National Organization of the Deaf.
"I wrote to the National Education Commission requesting them to allow me to teach deaf students. The teachers being used nowadays don't know sign language, that is the problem," Asoka stressed.
"I am proud about achieving so much, inspite of being deaf," Asoka said.
On July 7 this year Life Skills Day was celebrated at Janajaya Vidyalaya.
Although it is a small school in Moratuwella, Asoka organised a special day for the children to learn more about 'Life Skills', a new subject in the curriculum. He organized a Drama Workshop harnessing the talents of such youngsters as Pujitha de Mel (Best Child Actor 96) Ruwanthi de Chickera (BBC award winner for script writing), Nadi Kammellaweera (Hima Kumariya), Sanjaya Hettiarachchi and Namal Jayasinghe.
The following week too the programme was continued with the students learning to be creative with waste materials. Asoka said he felt that these children should be made to understand that life holds a great deal of opportunities for them. "We hope to stage a drama, on the International Day for the Deaf, produced by Pujitha de Mel," Asoka said.
"I attended a leadership course in Japan in 1991, and in May/June 1998 a UNO conference in India on the theme - "What are the barriers for disabled people" Asoka said.
Elaborating on the place given to disadvantaged people in society, Asoka said that 1991 - 2002 was declared the Asia Pacific Region Disabled Decade by the UNO. He added that once a week Doordharshan telecasts news in sign language, "but in Sri Lanka progress has been little."
---
Now a dictionary
With the field of communications given pride of place in the new millennium, a Sign Language Dictionary was launched last Wednesday at this year's ceremony to award certificates to participants of the sign language course conducted by the National Youth Council. The free sign language classes held at the National Youth Council every Saturday morning, allow the general public the opportunity to learn this special language used when interacting with hearing and speech impaired children and adults. At international conferences and events, sign language interpretation takes place alongside speeches made in international languages. Although differences exist between the British and American forms of sign language, basically the speakers are able to understand and speak to one another.