The Sri Ramachandra Hospital in Madras is proving popular with Sri Lankan patients, reports Shelani de Silva
Hi-tech and human touch
With rapid advances in medical science all over the world, more and more Sri Lankans are seeking treatment abroad. The latest state-of-the art hospital sought by many is the Sri Ramachandra Hospital in Madras.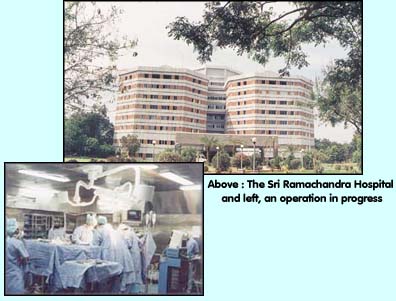 The Sri Ramachandra Hospital, could well be described as a 'town' within itself, such being the facilities provided. The 175 acre complex houses in addition to the hospital a university which is affiliated to the Harvard Medical School, a guest house, a spacious canteen , gift shops and boutiques.
The seven storied hospital is set in quiet, tranquil surroundings. Huge trees stand amidst neatly landscaped gardens. Situated between two major highways leading to Kanchipuram and Bangalore, its location in the suburbs of Madras, makes it accessible to both the rural and urban population. Moreover, it is particularly convenient for foreign patients, being just a 20 minute drive from the Madras airport.
The hospital was set up in 1988 by well known Indian industrialist Shri N. P. V. Ramasamy Udayar with the sole aim of 'serving humanity at large without any prejudice and in all fairness.'
The medical centre which has 1500 beds in both paying and non paying wards with a full spectrum of clinical activities provides comprehensive medical care. Serving non-paying patients, heavily subsidised ones and those who pay for the services in full, medical care is uniformly monitored to establish predictable levels of care for each patient.
Vice Chancellor T. K. Parthasarathy explaining the structure of the hospital said the Hospital serves three levels in society.
"Our out-patient care unit is frequented mostly by people from neighbouring villages and from the city. We serve about 2000 patients daily. The paying wards are usually occupied by Indians and foreigners from all over the world. We have patients from Sri Lanka, Nepal, Maldives and other neighbouring countries," he said.
While the non-paying wards are most often full, the paying wards have an occupancy of 70-80% on average.
Dr. Parathasarathy said one of the unique features at Sri Ramachandra is that its doctors are all highly qualified, having served overseas for many years. Medical students also attend to the patients thus providing extra attention.
The Emergency, Trauma and Critical Care Services are manned by well trained paramedics who are guided by physicians who provide 24-hour service. The Critical Care services are available for emergency situations, like heart attacks, respiratory failures, comas, and seizures. The special feature is that consultants in all fields are available at the emergency centre at the hospital.
Cardiac care also plays an important role. Dr.S Thanikachalam, Dean of Faculties and Director Cardiac Care Centre told The Sunday Times that more and more people will experience cardiac problems with the change in lifestyles.
"We have launched public awareness programmes starting in schools. Children are given a questionnaire to be filled by their parents. We identify those at risk and treat them," he said.
Explaining the functions of the Cardiac Unit, Dr. Thanikachalam said that high-tech investigations are carried out at affordable rates. The Centre provides cath studies, high tech invasive procedures like angioplasty, valvulo plasty and coronary stenting.
"Treatment of complex irregularity in the heart of a new born baby, complicated valvular disease in young adults and coronary vascular surgery in grown-ups are all done here. We also pay attention to preventive cardiac diseases," explained Dr. Thanikachalam.
Apart from the general functions in the out- patient wards there are clinics for asthmatics, adolescents and those seeking psychiatrist care.
The diagnostic services provided at the hospital too are highly sophisticated. The radiology and imaging science unit is well equipped with the latest machinery. The full range of nephrology and urology services are also provided at Sri Ramachandra Hospital.
The Gastroenterology Centre is another specialty of prime concern to many. The hospital has brought together the surgical and medical aspects where patients have access to physicians and surgeons. Emergency endoscopic procedures are carried out in this unit. Plastic and reconstrucive surgery has also today become popular among locals as well as foreigners. This unit carries out cosmetic surgery including cleft lip palate surgery mainly for children.
Medical Superintendent Dr. S. Mallikesan said the Sri Ramachandra Hospital caters to every strata of society.
"We are proud of the non-paying wards which are generally fully occupied. Cleanliness is of primary importance to us. There is no difference between the paying and non- paying wards when it comes to treatment or meals.The only difference is that in a paying ward the patient is in more comfort. There are different subsidised rates to suit every person,"explained Dr. Mallikesan.
Visiting Sri Ramachandra hospital, it is obvious that there is a difference in comparison to hospitals in Sri Lanka. Cleanliness is clearly paramount. Another striking feature, especially to Sri Lankan patients, is the attitude of the doctors, nurses and minor staff towards the patients. A patient is given the utmost care with a team of doctors from different medical fields studying each case.
---
'You feel special'
Thirty-six-year-old Ranjith Kumara who was living overseas was diagnosed with a kidney problem three years ago. He returned to Sri Lanka, but after two years of treatment, doctors had advised him to seek treatment abroad.
Today Ranjith who was accompanied by his father is awaiting a kidney transplant at Sri Ramachandra Hospital. The only setback he encountered was that the donor from Sri Lanka did not match his group, thus surgery was postponed until another donor was found.
"I feel much better since I came here. Mainly it is the attitude of the doctors.They have a lot of time for the patients," he said.
jith was full of praise for the doctors at the Sri Ramachandra hospital saying they are like friends." This helps a patient mentally. The doctor is always there to talk to you."
ther Lankan Rohan De Soyza was recovering after a kidney transplant operation-the kidney having been donated by his wife. The couple had gone to Sri Ramachandra Hospital in May.
as a bit nervous before the operation, but the doctors were encouraging, allowing me to clear all my doubts.
y give personal attention to each patient be it in the paying wards or non paying wards," he said.