The case of the "pending case"
By Our Political Editor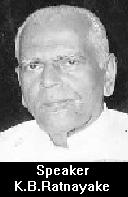 The Opposition UNP appears to have deftly out manoeuvered a Government move in Parliament to thwart a Motion to reform media laws in the country, resulting in a unanimous vote taken on Friday to hold a debate on the bi-partisan motion.
The drama really began last week. Opposition UNP leader Ranil Wickremesinghe gave notice of the Motion at a Party leaders meeting saying he wanted to formally present it on Friday (August 6), that date being reserved for Private Members' Motions.
The Motion which calls for the abolition of the existing criminal defamation laws, the abolition of the Press Council, the introduction of a Freedom of Information Act etc. is sponsored by Ranil Wickremesinghe Srimani Athulathmudali, Vasudeva Nanayakkara, D. Sithadthan, P.P. Devaraj, M. Chandrakumar, S. Sivathasan, A.M.D. Rajan and A. Adaikkalanathan MPs from both sides of the House.
Leader of the House Ratnasiri Wickremanayake has agreed in principle to debate the motion, but after consulting the Cabinet he shot off a letter to the Leader of the Opposition saying the Government was not in favour of debating the motion, the reason being that the items in the motion were matters before a Parliamentary Select Committee.
Early this week it was evident that Mr. Wickremesinghe was going to stand his ground. Quoting Standing Orders of Parliament he said he will present the motion on Friday, for Private Members' Motions, where the Cabinet has no say.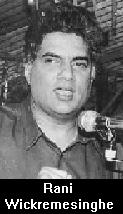 Then enter Minister of Parliamentary Affairs Jeyaraj Fernandopulle. While Minister Wickremanayake and Chief Government whip Richard Pathirana were non-committal, suggesting a later date for the debate, Fernadopulle argued that the motion cannot be taken up, especially because these were 'pending cases' and therefore the issue of criminal defamation cannot be taken up by Parliament. He suggested they get an opinion from the Attorney General on the issue.
Though the Government may have been unaware, the UNP had realised that on the following day, Wednesday (August 4) Justice Minister G.L. Peiris was to present a Bill called Offences Against Public Property (Amendment).
Ranil Wickremasinghe instructed his National List MP Henry Jayamaha, one-time lecturer at the Law College, to raise a point of order. The Bill cannot proceed because these were "pending cases" he was to say.
This is how the debate went.
Speaker: Items 1 and 2 are to be moved today. Hon. Minister may I suggest that we take both items together and have the voting separately, as usual?
The Hon.Prof. G.L.Peiris: That is certainly acceptable, Sir. I would suggest that we debate the two items together and take the votes separately.
Speaker: Thank you. Please carry on.
D.H.N.Jayamaha: Mr. Speaker, I rise to a point of Order. The Bill, Offences Against Public Property (amendment) is not in order. There is a serious flaw in this Bill. It has a serious defect. I base my contention, Sir, on the Constitutional provisions, Standing Order No. 51 and Erskine May. I will first set out my case. That is, the Hon. Minister now seeks to increase the limit from Rs. 5,000 to Rs. 25,000. It is just two sentences. But, Sir, you will see that this Bill on the Offences Against Public Property was enacted in 1982.
It came into operation on 25th March 1982. Seventeen years have passed since then. Now, in that there was a proviso in Section 8, which we seek to amend. The proviso states if the value of the property, the subject matter in respect of which the offence was, exceeds Rs. 5,000, there is no bail.
Speaker: Are you raising this by way of a point of order?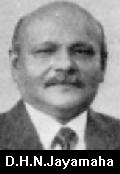 D.H.N.Jayamaha: This is a point of Order in this way - a rule of order. What I say is that the Bill is not in order so that can be adjusted. There are a large number of pending cases. There is no provision in this Bill to deal with this matter. Perhaps the Hon. Minister's attention has not been drawn to it. There are a large number of pending cases in this situation. This amendment raises the monetary value of the subject matter to Rs. 25,000. That means a large number of people will go scot-free. (Interruption). This is an amendment which touches the offences against public property.
It is a very serious issue and then the crime rate will also rise. Therefore we need a ruling on this matter after listening to the Hon. Minister. Now, the main function of Articles 75, 78 and 79 of the Constitution is legislation. When you certify a bill it must be without a flaw.
Next, Standing Order 51 says that at the Second Reading of a Bill we can debate matters of general merit and principles of the Bill. I am on the principles of the Bill.
At page 497 of the Nineteenth Edition "Parliamentary Practice" publication, Erskine May says the second reading is the most important stage through which the Bill is required to pass. For its whole principle is then at issue.
That is my issue.
Speaker: Right.
D.H.N.Jayamaha: The whole principle is then at issue. So, therefore, this is a proper matter that we give our consideration to it and we want a ruling from your honour. Thank you.
Speaker: Right. Yes, Mr. Minister, you carry on.
The Hon.Prof. G.L.Peiris: I do not think there is a point of Order involved here. There is no question of law. What the Hon. Henry Jayamaha has raised is the question of public policy, that is, Parliament is certainly entitled to make a variation with regard to the monetary limit. The values of money go up and down. Now I think the substantial.
W.J.M.Lokubandara: Hon Speaker. A legal point.
Speaker: A legal point?
W.J.M.Lokubandara: Yes.
The Hon. Prof. G. L. Peiris: Sir, I am responding to the point of Order raised by the Hon. Henry Jayamaha.
Speaker: When that is finished.
W.J.M.Lokubandara: You said there is no legal problem in it. I am trying to raise a point of order.
Speaker: Right.
The Hon. Prof. G. L. Peiris: Sir, my point is that if a transitional provision is required, then we can consider adding such a transitional provision, but there certainly cannot be objection to taking up a Bill which seeks to vary monetary limits in respect of offences. After all the value of money has changed since the original law was enacted. So I think what the Hon. Henry Jayamaha is saying is that he would like some definite step.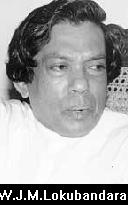 W.J.M.Lokubandara: I am raising a point of order, according to the standing orders. You explained the position, we accept that. Because there is a case filed in courts could the dignity of the house be undermined? As representatives of the people we in Parliament introduce legislations.
The Cabinet is supposed to get legal advice from the AG and act accordingly.
Speaker: This is the situation. When the matter goes to Courts again the AG's advice will not be accepted. Accordingly a decision has to be taken.
W.J.M.Lokubandara: Accordingly measures should be taken to protect the dignity of the House.
Speaker: Hon. Minister, carry on, please.
The Hon. Prof. G. L. Peiris: Mr. Speaker, I would like to say in response to my friend, the Hon. Henry Jayamaha that I will consider whether a provision should be added at the Committee stage to deal with pending cases. That is the only substantial issue that has been raised by my learned friend. But there is certainly no reason to exclude a debate on this Bill. There is nothing either in the Constitution of the Republic of Sri Lanka or in the Standing Orders that prevent Parliament from taking up this matter. That is my respectful submission to you Sir, in reply to what has been stated by the Hon. Henry Jayamaha.
The Hon. Ranil Wickremesinghe: The Bill cannot be brought up. You are not accepting his position.?
The Hon. Prof. G. L. Peiris: I am not accepting Hon. Jayamaha's position that there is a legal flaw. I do not accept that there is any legal taint in this issue.
The Hon. Ranil Wickremaesinghe: Sir, then you will have to give a ruling on one of the two, whether you uphold this proposition or you uphold his proposition.
Speaker: I have to go into this. I am not a lawyer.
The Hon. Ranil Wickremesinghe: Hon. Speaker, on the basis of the point of Order raised by Hon. Jayamaha, there is a reply given by the Hon. Minister that he does not agree with the proposition. I suggest that you give a ruling on one of the two. We will accept. If you do not give a ruling you cannot proceed, anyway.
Speaker: I accept what the Hon. Minister says. He has undertaken to reply Mr. Jayamaha and explain it during the Committee stage.
The Hon. Ranil Wickremesinghe: The Hon. Minister said that he does not accept the proposition. If you accept the Hon. Minister's position we can proceed with the debate on the Bill. If you accept Hon. Jayamaha's position, you cannot proceed.
The Hon. Prof. G. L. Peiris: May I explain the position clearly, Sir. The Hon. Henry Jayamaha is saying that it is desirable to have a provision to deal specifically with pending cases.
That is a matter for the Government to consider. But, that is not a basis on which a debate on this Bill can be ruled out by Parliament.
Speaker: That is right.
The Hon. Ranil Wickremesinghe: What Mr. Jayamaha said was, because this affects a pending case, this Bill cannot be taken up. Your position is that, that is not a legal basis at all to prevent the debate.
The Hon. Prof. G. L. Peiris: It is for us to consider whether such a provision is necessary in the public interest - (interruption). But the presence or the absence of such a provision does not interfere with our right to present the Bill to Parliament.
The Hon. Ranil Wickremesinghe: All right. Hon. Speaker, I am not arguing for either side. If you accept that, we can go ahead.
Speaker: Then may I say that the Bill can be debated now.
At this stage it appears that Minister Fernandopulle realised that the Government had been had. He said that the UNP was hatching something for the future.
Ranil Wickremasinghe then said "Hon. Speaker, you have given a ruling. Now you cannot reverse it. He has to challenge that by bringing a motion".
Prof. Peiris armed with the Speaker's ruling, proceeded to present his Amendments.
That evening Media Minister Mangala Samaraweera issued a statement (not in Parliament). He referred to the Parliamentary Select Committee's deliberations.
Apologetically, he conceded there were delays. He blamed it on elections. He accused Ranil Wickremasinghe of playing politics with the media, but there was a hint of genuineness as well in bringing out a bi-partisan time-tested media culture for a modern liberal democracy in Sri Lanka.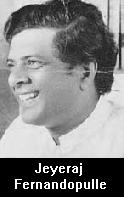 He pledged that he would call for an acceleration of sittings of the Select Committee, and present the final report by November and debate it in January, 2000. On Friday Ranil Wickremesinghe stood up and formally moved Motion No 218/99. The House agreed to debate it on October 8. There were no objections regarding "pending cases".
Ranil Wickremasinghe asked the Government benches whether they were unanimous about the debate.
"Yes" said the Leader of the House Ratnasiri Wickramanayake.
Alls well, that ends well.
---
NMAT sees hidden agenda
By Nilika de Silva
The National Movement Against Terrorism has expressed concern over a hidden agenda it sees in plans to set up a separate police division for Hatton.
NMAT spokesman Champika Ranawaka said they see it as a move to break up the Nuwara Eliya district into two segments — a Sinhala one and a Tamil one.
"The only criterion being used in the redemarcation of police divisions in the Nuwara Eliya district is racism. The idea of creating a purely Tamil district in the upcountry areas is the underlying goal," he said..
The Nuwara Eliya district comprises five Divisional Secretariats — Ambagamuwa Korale, Nuwara Eliya, Kotmale, Hanguranketha (Uda Hewaheta) and Walapane.
Mr. Ranawaka said the majority of the Tamil population in the Nuwara Eliya district lived in the Ambagamuwa and Nuwara Eliya Divisional Secretariat areas, and that more than 60 percent of the land area of this district also belongs to these two areas.
Expressing serious concern over the redemarcation procedure, Mr. Ranawaka said the final goal would be to even make similar changes in the Western Province.
"There is a conspiracy to create about 40 purely Tamil Grama Niladhari divisions. These Grama Niladhari Divisions will be formed in Negombo, Wattala, Kotahena, Mattakkuliya, Modera, Pettah, Bambalapitiya, Wellawatte, Dehiwela, Thimbirigasyaya and Kirulapone areas," he warned.
---
Dancing to the tune of LTTE in the name of peace
By Kumbakarana
The peace enterprise is gathering momentum. While representatives from the business community such as Lalith Kotelawala, Ken Balendra, Mano Selvanayagam are trying to bring together leaders of the UNP and SLFP,Tamil leaders, high level armed forces chiefs and Government officials, the religious alliance continues with its peace anthem. In addition foreign funded NGOs led by the National Peace Council are stepping up their peace propaganda.
Meanwhile Sarath Amunugama is pursuing the formation of a national government with the devolution proposal in mind. The aim of all these individuals and groups is to bring about an agreement between the UNP and the SLFP to initiate negotiations with the LTTE.
Meanwhile, the smaller parties, the Tamil communal parties and their leftist supporters are trying to prevent a Presidential election being held first. Instead they want to defeat the PA in Parliament and go for a general election. The Tamil parties know that they can wrest more concessions from a hung Parliament.
The West too is now looking more earnestly at Sri Lanka unlike in the past. Then Sri Lanka was not so important in the scheme of things. Foreign aid to Sri Lanka was also minimal.
The problem the West faces is whether the Tamil immigrants will get themselves entangled in international terrorism. They are also nervous about the growing economic clout of Asians in their countries, and the increasing interest in Buddhism.
The West is afraid that just as Islamic fundamentalism spread worldwide, starting in Iran, Buddhist fundamentalism with its roots in Sri Lanka could also spread. The Christians particularly are afraid of this 'Future misfortune' and for three decades they have been trying to intervene in Sri Lanka's conflict.
Earlier the West refrained from entanglement in Sri Lanka. But India's victory in Kashmir, with the backing of the US shows that the US has abandoned its old-time friend, Pakistan. The role of the West in the Kashmir issue, leading to a strengthening of Hindu nationalism can be looked at in three ways.
Some observers believe the West's aim is to prevent Pakistan being swallowed up by Islamic fundamentalism being spearheaded from Afghanistan. A second viewpoint is that US support to India is a blow aimed at China. Now, missiles can be directed from Kashmir to any part of China. Thus the Kashmir issue becomes not a problem between India and Pakistan, but a problem between the US and China.
A third viewpoint is that now, the US will turn to South Asia, and its focus will be in Sri Lanka. These observers take the view that in return for helping India, she will permit the West to meddle in Sri Lanka. India's victory over Pakistan in Kashmir has given Hindu nationalism a huge boost. If the BJP wins, India could interfere in Sri Lanka, with or without the west.
What is evident from all this is that peace mongers here are acting according to the behests of foreign countries and the LTTE. As the elections draw closer and closer we will see more and more and more games being played.
There are several shortcomings in the peace enterprise. Are these people really interested in peace, or are they representatives of the LTTE? These peace entrepreneurs equate the Sri Lankan security forces with the Tiger army. The LTTE is accountable to no-one, not even to its own party. It is answerable only to its supremo Prabhakaran. In the last 17 years the LTTE has killed 14,000 security services personnel belonging to a legally constituted government. In 129 attacks since 1983 it has killed 3500 Sinhalese, 550 Muslims, 5000 Tamil dissidents and converted 90,000 Sinhalese and 50,000 Muslims into displaced persons.
Furthermore the LTTE has destroyed transport systems, telecommunication and electricity transmission systems Now the LTTE has turned its attention on the newly liberated areas and is chasing away representatives of the people.
On the other hand the government is subject to the law of the land and it is accountable to the people. The armed forces are disciplined, governed by the law and are answerable to the government. Soldiers who oppress civilians can be punished for their misdeeds. There is a democratic process governing all their activities.
These peace mongers do not demand punishment for LTTE atrocities or that the mass graves of LTTE victims be dug up.
All their protests are within the Sinhala community. There are no terrorists among the Sinhalese. Their protests should be amongst the Tamil community, in the Wanni and in other Tamil areas. While the Sinhalese have the liberty to elect their own Government, the Tigers do not give this privilege to the Tamils. But these peace mongers who carry out their propaganda among the Sinhalese deride Sinhale nationalism, loudly proclaiming the consequences of the war.
What they are doing is carrying on the psychological war of the LTTE.
---
From the Green Corner
This is a record of self destruction!
Having read with amusement the puerile arguments trotted out by my unseen friend Paakshikaya, I was wondering whether they merit a reply. But I thought I must retort, for silence may be construed as an admission of guilt.
Paakshikaya's main contention is that nothing out of the ordinary happened on July 15 when UNPers and media men were tear-gassed and assaulted at Town Hall. If that is Paakshikaya's argument, so be it. The public has seen enough images on television and the newspapers to come to their own conclusions and I need not labour the point.
Then, when I said what happened that day gave the UNP a fresh initiative, Paakshikaya contends that to be an admission of lethargy and inactivity by the UNP all these years when it was in the opposition.
I will concede that our leader Ranil Wickremesinghe, in the early years of the PA regime did say that 'we should give the government some time'. But what is important was not what he said, Paakshikaya, but why he said it.
Our leader was well aware that your government was a coalition of unlikely allies, brought together only by political circumstances and not by mutual respect for each other. The team was headed by a lady who had no experience at all in governance at the national level, not even as a Parliamentarian or a minister.
So, with the foresight of an experienced politician, Mr. Wickremesinghe knew that given some time and left to their own devices, this government would destroy itself. And that, Paakshikaya, is why the UNP did not go on an all-out offensive in the formative years of the PA.
Mr. Wickremesinghe has been proved correct. Your Media Minister's outbursts against a so-called 'Media Mafia', the disruption of the UNP's peaceful protests and the Channel Nine controversy are all definite signs that this is the beginning of the end of the PA. So, you need not worry about lethargy in the UNP, my friend - just put your own house in order, will you?
Then, Paakshikaya, for you to accuse the UNP of lethargy while being in the opposition, you should have a proud record in government, shouldn't you? Is that what we see, my friend?
All that you have done so far is to sell the country's assets under questionable circumstances. You have sold Sri Lanka Telecom to NTT, you have sold AirLanka (pardon me, I prefer that to 'Sri Lankan'!) to the Emirates and now you are selling the Port to P & O and you are placing the people of this country at the mercy of these companies, allowing them to do what they want with our resources.
Emirates changed the name and logo of our national carrier and you could do nothing about it; NTT revised telecommunication charges and you could do nothing about it. And you talk of having a proud work record in government, Paakshikaya!
Your record is so good that in the last two weeks alone, railway employees struck work, private bus operators refused to put buses on the roads, medical students are staging protests asking for job security and graduates are staging death fasts demanding employment! With such a performance, Paakshikaya we in the UNP can indeed afford to be inactive because you have ensured that you will not be re-elected.
Remember, Paakshikaya, your rallying cry in 1994 was 'dooshanaya' and 'beeshanaya'. That was a powerful slogan that captured the imagination of the masses at that time. When elections are held next year, my friend, we need not think of new slogans. We will be using the same slogan, for the PA has shown plenty of 'dooshanaya and beeshanaya' now and it is bound to increase as the polls draw nearer.
We saw beeshanaya on a large scale by the PA at the Wayamba provincial council elections earlier this year. Since then it has erupted every now and then and the Town Hall tear-gas attack confirms that you have no intention of giving up.
As for dooshanaya, there was every sign that it was rampant when the government crippled the Bribery and Corruption Commission by withdrawing its officers. So, complaints made against ministers will not be investigated nor will that against Sanath Gunatilleke and that is what our General Secretary Gamini Atukorale was told by the Bribery Commissioner himself.
So may be those complaints will have to wait until the appointment of special commissions of inquiry by a future UNP government next year! How else can this Channel Nine controversy be solved, Paakshikaya with the Presidential Secretariat stars issuing statements exonerating people whom your own Cabinet Minister - except one - refuses to defend in Parliament?
And that is why we have launched a renewed protest to have this matter investigated but we know very well that it will never be done. But then, we wouldn't mind that because the people at large have already formed their own conclusions!
But the last nail in the PA coffin must surely be this attack on what is called the 'Media Mafia', Paakshikaya. My friend, one golden rule in Sri Lankan politics is that you should not live in glass houses and throw stones.By calling his erstwhile friends the 'Media Mafia,' your Minister Mangala Samaraweera has done just that. And in response to his outburst, I found what the 'Raavaya' newspaper had to say quite interesting, Paakshikaya.
Indeed, the Raavaya makes some startling revelations of behind- the-scenes political manoeuvering during the aftermath of the 1994 elections when D.B. Wijetunge was still the President.
Chandrika Kumaratunga, says the Raavaya, was anxious to be appointed to lead the government and feared that President Wijetunge might opt instead for Ms. Sirima Bandaranaike.
So, it is claimed, it was discreetly conveyed to President Wijetunge - through former President J. R. Jayewardene - that if Ms. Bandaranaike was at the helm she would take revenge on JRJ for stripping her of her civic rights and that therefore it would be prudent for the UNP to have Chandrika Kumaratunga as the leader as she had no particular grouse against JRJ.
Now, Paakshikaya, I cannot vouch for the veracity of this claim. But it has been made in the 'Raavaya' in response to Mangala Samarweera's allegation that the newspaper was a part of the 'Media Mafia'. And as far as we are aware, this has not been denied.
Now, what have you got to say about all this Paakshikaya? If this claim is true does it mean that your President moved to prevent her mother from assuming office? Surely, what would the public at large think about such conduct? Would they still vote for such leaders?
I don't think I need to say anything more about that little episode which must have transpired some time ago. But I think I have made my point: you have antagonized the media and what you reap from that is hardly pleasant especially when you seem to have so many dark little secrets in your closet!
So, my friend, do not ever worry about the 'lethargic' and 'inactive' UNP. We will slowly but surely rise to the occasion when the time comes. My sincere advice to you is, in the meantime, desist from foolish behaviour of the type displayed by some of your ministers. After all, Paakshikaya, as far as we in the UNP are concerned, with enemies like Mangala Samaraweera, who needs friends? In the cellular war, the watchdog has now decided it is time to get into the act.
The first crackdown will be on cellular cards that lapse after a fixed period of time after the first usage. The watchdog thinks this is an indirect way of charging a rental, though the ads proudly proclaim there is no rental.
The next on the firing line will be phones on offer at mega-discounts. Steps will be taken to ensure these offers are not on reconditioned phones.....
It is quite prudent to anticipate problems that may be caused by the 'Y2K' bug and make the necessary changes in your system, but that shouldn't lead to chaos.
One bank has begun switching over to a new system but most of its automated teller machines are in disarray and the telephone banking system just isn't working. So, despite prior warnings to customers, they aren't happy these days.
And it looks as if the sons of the soil are soiling their reputation over this bug business.
Even when a bomb explodes, it is somebody's business. Just after the recent Colombo blast that killed a Parliamentarian, there were a flood of queries from Aussie media men regarding the forthcoming cricket tour to our fair isle. And when they were told the tour would go ahead the next question was about how they could be insured and our local insurers are doing quite a bit of business these days as reinsurers, we hear........