Wanted: New beginning
A budding generation of players who would have made future replacements fall by the way-side
By Callistus Davy
Instilling discipline, futuristic planning and the complete restructuring of domestic competition have been identified as key factors that could put Sri Lanka back on track in the international cricket arena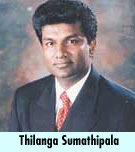 following the country's humiliating exit from the World Cup.
The call for the changes comes with the arrival of the embarrassed Sri Lankan squad that returned last Friday minus deflated big guns Arjuna Ranatunga and Aravinda de Silva, once hero-worshipped by adoring fans and now charged with mucking up the stakes in the global showpiece.
Ana Punchihewa, Cricket Board chief when Sri Lanka won the World Cup in 1996, contends that planning for the next World Cup in 2003 should begin now preferably with the services of a foreign coach while local tournaments be immediately revised to provide the ammunition for preparations.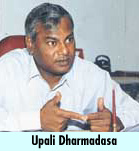 "During my time I implemented a five year plan for making Sri Lanka the best Test-playing nation by the year 2000. To achieve success you need to set yourself a goal and this is what must be done now", said Punchihewa, who was ousted from office at an election two weeks after Sri Lanka won the World Cup..
Although not wielding a bat at representative level Punchihewa managed to get the best out of an experienced side when he contracted the services of Sri Lankan-born Australian Dave Whatmore to train the players eight months before the World Cup in 1996.
But with Whatmore's controversial and premature exit now only of academic interest, Punchihewa insists that a foreign coach, an academy (cricket school) and a professional set-up at domestic level

should be foremost in the minds of present or future administrators.
"You have to make club cricketers professional and reduce the number of clubs in the main league to about 10", he said.
Winning the world title in 1996 however brought forth its share of bad effects on a budding generation of players save two batsmen in Mahela Jayawardena and Russell Arnold whose talents were recognized.
But the turf was not as rosy for other blossoming batsmen like Sanjeewa Varusamane, Varuna Waragoda, Naveed Nawaz, Saman Jayantha and Indika de Saram, all of whom had the potential to be groomed as replacements.
Two pacemen, Wendall Labrooy and Mario Villavarayen along with leg-spinner Suranjith Silva also suffered the same fate sans any guidance.
The list of players to fall by the way-side could be much longer, but Sri Lanka's failure to put up a worthy show even in the defense of the title has also been attributed to a breakdown in discipline among both player and administrator. While public opinion accuses administrators of failing to show senior players their limits, another one time Board president Upali Dharmadasa has endorsed the call for discipline.
"It's very simple. There was no discipline in the Board or among players. It's the duty of anyone in charge to instill such values", said Dharmadasa, who defeated Punchihewa at the Board election in 1996.
Cricket administration today has taken a confrontational course which reached a violent phase when rival factions clashed at an election last March that gave incumbent president Thilanga Sumathipala a second one-year term.
Sumathipala dismissed as "rubbish", rival claims that he used force to ensure his re-election. But analysts are now proposing that a board of governors be established to run the game's administration for minimum periods of three to five years with emphasis on accountability.
"I think this election system where clubs vote for office bearers is out-dated". said one analyst.
"The decline cannot be attributed to cricketers alone. They need firm but cohesive and professional administration to support them and we do not seem to have seen one since March 1996". Some past administrators who requested anonymity proposed the appointment of a Probe Committee to inquire into the breakdown in administration on the lines of a similar Commission set up in 1994 when the country's cricket reached its lowest levels.
When the Probe Committee report was published a hornet's nest was raised, but two years later Sri Lanka ruled the roost as kings in limited overs cricket.
---
Cry from the Streets: Clean up the game
By M.Ismeth
"Disgraceful batting, fielding and bowling is what I can say about the performance of our cricket team in the World Cup" said Mohamed Azafer an executive in a five star hotel. What a difference to how we played in 1996 and now. Is there any dissension within the team,then why aren't they playing as a team like before" he asked.
"The loss to India on Wednesday was one of the saddest days in my life. How many times we have beaten them before and in the most important match we lost to them badly, " he said.
"If we had put them into bat, we wouldn't have faced this ignominy. What a shame, isn't it time that we needed a change in the leadership and dropped some of those in the 30 year group."
Mr. Hettiarachchi a clerk in a mercantile firm said "what is there to say about the debacle at Taunton. We lost to South Africa after we bowled them out for just 199. This was not a score for our team at one time but now that too has become difficult for us."
"Why didn't Arjuna elect to bat after winning the all important toss. If only we had batted first, it would have been a leather hunt for India on that beautiful batting strip," he said. He asked the question "was there any reason to have taken players like Hathurusinghe and Kalpage. Couldn't they have taken two bowlers or a batsman and bowler who could have played instead of being mere passengers."
Housewife Ms. K.B.T.Perera said that the fielding was really hopeless. there was no fighting spirit in the team at all. We cannot get over this defeat in the all important match. There was no team spirit at all she said.
The number of dropped catches speak for themselves she said." Where are the strategies , the tricks up the sleeves, the all important motivation and the big talk by the private TV channel sports presenter who always spoke big of our team before they went to England and now has to eat humble pie.,asked? Mr. K. Balasuriya an executive in a mercantile firm.
" Its foot in the mouth talk by the manager, captain, and others in the board that cost us the place even in the Super Six. The captain, the board President, The Sports Minister, and the others who went to England with the team as officials should all resign honourably, he said.
"For God's sake resign and let there be some one else who could maintain discipline in the team and in the board takeover he said."
Mr. M..H. S. Hameed from Kandy said "Its about time that we forgot all the big talk and deeds of our team, now its all useless. Too much of fanfare, money, titles, publicity and dependence on our team cost us the place in the Super Six."
"It seems that some of our players had lost their heads, they thought they were indispensable. The debacle in Taunton may be a blessing in disguise for the youngsters to take over from the old ones," he added.
Businessman Mr K. Rajapakse said if the Board of Control for cricket in the sub-continent jointly protested to the ICC and the organisers that they would be willing to play in June and not from 14 May due to the cold and windy conditions there would have been some hope of a delayed start to the competition. This should have been done no sooner the dates were fixed."
"Now our board knew the next venue in 1996 itself,why then did they not prepare from then onwards for the World Cup. South Africa started preparing for this world cup since 1996,whereas we thought we could always beat any team at any given venue, ultimately we could not score 199 against the Proteas. Is it bad planning, or did we rest on our laurels he assked."
By Chanaka De Silva
Chandana Madanayake (Technician, Galle) — This is a disgrace. It is not only the loss, but the way we lost. We had a tag alright. But we all know that we did not deserve it. Against India we did not look any better than a schoolboy side. Well, it is a disgrace to the schoolboys because most of the guys who played were fit to be grandfathers of schoolboys. Our cricket is completely in the dumps. There are no two words about it. It is time for the people who are responsible for the humiliation to step down honourably. They once did Sri Lanka proud. But to erase all the good work they have brought equal shame.
K.T. Premalal (Taxi Driver, Slave Island) — This is the worst possible situation we can get. This surely must have made cricket bitter to our folk. I can't look at our performance and think that it was almost the same batch of cricketers which won the World Cup for us. Well, it is not the end of the world. We can still have some hope. But I think it is time that people like Arjuna, Aravinda, Hashan were kicked out to give room for the younger players to come in. Nilanthi Ratnayake (Sales Girl, Bambala-pitiya) — We hoped for a better performance because our players were the world champions going into the tournament. We have to be a bit more realistic than just putting all blame on them. They can't win everyday. I could remember that we thrashed India also in the same way in the past. We might win again. What is the big deal ? It should be looked only as another loss. However we could see that there should be drastic changes in the way the teams are selected. We also heard that the problems at the Cricket Board elections affected their performance. Cricket administrators also should take part of the responsibility for the debacle. Ratnapala Perera (Private bus conductor) — There is no point talking about it. That was an ugly loss. We had so much hopes pinned on them. We lost the recent few series. But I had the gut feeling that they would pull it through this time as well. But when the tournament started my ideas changed. Almost all the teams had made stunning progress. Though they lost to us I think even Zimbabwe are better than us. This proves that while we were stagnant, the others were making progress. We had not only failed to make any progress but in actuality we had gone down. Our senior cricketers have an attitude problem. Otherwise when they see that they can't perform why can't they resign. Well, that would be the last thing anyone will do when they are earning Rs. 400, 000 a month. So, it is up to the selectors. Shalini Amerasinghe (Student) — Nobody will lose purposely unless they are bribed. But our cricketers were giving their best. The simple fact was that India were too good for us. We should have better cricketers to do the job. It will not be in the near future that we will get cricketers like that. Hopefully our development programmes will help us to find good cricketers who can give a good challenge to the world's best.
---
Sri Lanka cricket needs complete overhaul...
By Bernie Wijesekera
The defending World Cup champions Sri Lanka, created a sensation, when they did proud to the 'Pearl of the Indian Ocean, by winnning the W.C. Final against Australia in Lahore, in 1996. The defending champions hit rock bottom in the ongoing championship at the Mecca of Cricket in London. The Lankans were held in high esteem worldwide to be in the running in the W.C. Olympics of cricket to enter the 'Super Six'.
Ironically the team is led by 'Captain Cool', Arjuna Ranatunga - the most senior player (Captain), in the international scene.
But they have lost the spirit, the courage and the confidence to be in the contest and fell on the wayside without a semblance of a fightback. As a result, it put the game to shame.
Before the start of the campaign to defend the title the Lankans lost 15 one day games, which included seven in the triangular series in Australia - the prelude to the World Cup.
This sudden drop in form in every department of the game, be it in Australia and the ongoing contest, it not only surprised supporters of the game at home and abroad, but also those, who made great sacrifices for the promotion and development with their own men and material.
Panacea
Unlike in the present era where some officials in sport bodies are enjoying holiday trips at the expense of the game in the past it never happened.
Excuses are not the panacea for its ills. The officials, the selectors (appointed by the Minister of Sports), the tour management, the players must take the blame allround for this debacle. They must be answerable to the sporting public, who spend much of their time and money to support the game.
What sort of preparation the management mapped out after winning the World Cup in 1996? The first thing the clubs did was to remove the incumbent President, who did much spadework for that great happening. Secondly, the coach Dav Whatmore, who was assigned through the good offices of the Sri Lanka Cricket Foundation in Victoria. Dav was removed. This was the start of the debacle.
Players, were rewarded with goodies, which they richly deserve for bringing fame to the country. The officials apparently enjoyed wine and song at their expense. The players themselves got lethargic.
They never trained to a plan or kept themselves in trim and at times punctuality was missing in their practise sessions, due to weak coaches and managment.
This never happened under Whatmore, who was a strict disciplinarian. No seniors and juniors. All had to adhere to a code of ethics and no one was indispensable. The players and the officials and sundry were trying to live on the W.C. laurels.
They failed to realise that yesterday was memory. Today is known. Tomorrow is unknown. They all wanted to enjoy a 'Carry on Series', without planning for a healthy future and now we have to pay the penalty to be kayoed from the 'Super Six', put aside retaining the title. 'One swallow does not make a summer.'
This is what former Thomian and BRC cricketer Barney Reid, now domiciled in Victoria had to say, when interviewed at the MCG early this year. Sri Lanka has not capitalised after winning the W.C. in 1996, by bringing on new players from time to time. This could have not only unearthed new talent, but also could have kept the seniors in the squad on their toes.
The seniors have got complacent and appear to have lost their spring in their step. Very true!
The changes made by the selectors are due to injury. Mahela Jayawardena went to Australia, due to an injury sustained by Aravinda de Silva. Mahela, made 120 against England. It surprised many past greats like Tony Greig, Ian Botham etc. Why was Mahela left out of the original tour party? Kissing goes by favour.
Reid, is a level one coach and a grade one umpire. He further stated the new players like Mahela, Russel Arnold, A. Gunawardena could have come up trumps, given the opportunities.
Unlike the other participants in the ongoing W. Cup, Sri Lanka has 11 players, who were members of the 1996 victorious team. What type of planning and strategy the local selectors had in their minds for this all important contest.
Imagine spinners have been preferred, instead of seam bowlers. This even surprised commentator Geoff Boycott, when looking into the composition of the teams in other countries. Minnows to international cricket, Zimbabwe, were better equipped and had better strategy than Sri Lanka. By virtue of their unstinted team effort, they have entered the 'super six'.
Petty politics
Put aside being the best test playing nation in year 2,000, the Lankans will have to fight for the third spot in the sub-continent with Bangladesh, if they don't keep out petty politics and get men that matter to help develop the game. Put the game before self. Otherwise the writing is on the wall.
Picking of the team to suit the English conditions should be attributed to the lack of knowhow and the conditions prevailing in England in this part of the year.
It should have been far better to have got the services of a consultant than a motivator at much expense. With all the motivation, we got bashed around and are just ahead of Kenya while India created new records in the cowboy game - thanks to our cart horse attack.
Duleep Mendis, who is the Chairman of the selectors and his selection panel must take the bulk of the blame, for picking a team, sans adequate seam bowlers. It should have been ideal to have included bowlers like Mario Villavarayen, Pushpakumara, or Ruchira Perera.
The bowlers did not appear to have a plan of attack.
Even former England skipper, allrounder Ian Botham, endorsed this view. What is the remedy I asked? You need a competent coach to handle them and put them on the track.
"King of swing"
Former Thomian, University, SSC and Sri Lanka player 'king of swing' Mevan Peiris put the blame on the selectors headed by Duleep Mendis, for this sad episode. Mevan, who speaks out his mind without fear or favour, is a contemporary of Prof. G.L. Peiris in school and at the University of Colombo, is one, who should be in the Cricket Board. But he will not dance to the whims and fancies or join camps with some of those power hungry officials.
---
Rajeev Tissera - Mr. Sri Lanka
By H.P.P.Perera
Prajith Rajeev Tissera of Leo SC Kalutara was crowned Mr. Sri Lanka 1999 at the contest held at the Kalutara Town Hall conducted by the Kalutara Physical Cultural Club on May 31. The Junior Mr.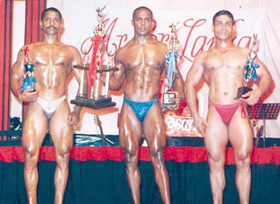 Sri Lanka title was won by Janaka Chandimal.
Tudor Dayaratna the Minister of Transport, Highways, Sports, Youth Affairs and Womens Affairs of the Western Province was the chief guest and gave away the awards.
Results
Mr. Sri Lanka Junior
Janaka Chandimal - Kalutara Physical Culture Circle, W.A. Sanjeewa Ruwan Kumara - Power Man Kalutara, G. Pradeep Saranga Silva - Hermes, H.A. Chaminda Pradeep - Power man, G.W.N. Duminda - Leo Fitness, R. Rajitha Popot Wijesinghe - Samsan Fitness Centre.
Mr Sri Lanka Fly weight below 60 kilos
Presanna Peiris - Navy, S.P. Siriwardena - Navy, Tedisan Silva - Super Gym Mahabage, W.K. Ranil - Wanathamulla CC, Niluka Sanjeewa - Wanathamulla CC, S.A.D. Chaminda - Power Man Katana.
Mr. Sri Lanka bantam weight below 65 kilos
Dikson de Saram - Kollupitiya CC, Kamal Prassana - Kasun BC, Pradeep Chaminda - YMCA Fort, L.D. Thushara - Arnold Health Club, R. Namal Nalatha Silva - Iron Man Ragama, Chandrasiri Wanasinghe - Phoenix.
Mr. Sri Lanka Light weight below 70 kilos
K. Dinendra Silva - Wanathamulla CC, M. Nazin - YMCA Fort, Priyankara Perera - Stace Road CC, E.M.S.P. Ekanayake - Power Green Centre Kandy, R.A.H. Sureshi Sri Buddhika - Leo Fitness Centre, P.N. Fonseka - YMCA Fort.
Mr. Sri Lanka Light weight over 70 kilos
W. Prajith Rajeev Tissera - Leo Fitness Centre, Sudath Premakumara - Navy, S.W.N. Sanjeewa - Dematagoda CC, Thaminda Rukshan Wijemanna - Wadduwa BC, A.A.S. Fonseka - Arnold BC.
Mr. Sri Lanka Light Middle weight 80 kilos
M. Wijeweera - Wanathamulla CC, P.G. Priyankara - Body Power Gym, Vijitha Sampath - Iron Man Ragama.
Mr. Sri Lanka 85 kilos
Jayantha Jayalal - Otters Aquatic Club, D.P. Charles - Army, T.N. Fazeed - YMCA Fort.