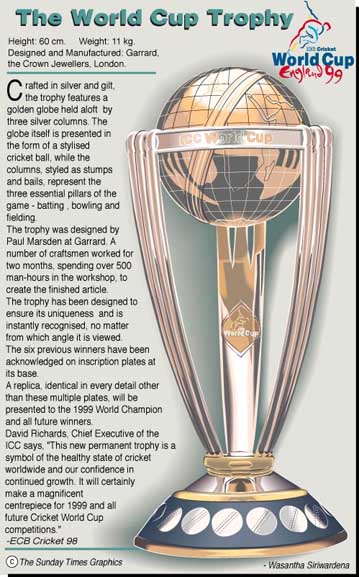 ---
Lankan team on collective couch ahead of World Cup
Manager Mendis disagrees with Cricket Board CEO
By Amal Jayasinghe
Sri Lanka's out of form cricket team went off the field on Friday and on to the couch for counselling ahead of defending the World Cup title next month in England.
The chief executive officer of the Cricket Board here, Dhammika Ranatunga said setbacks at recent tournaments and last month's management crisis was seriously affecting team morale and they desperately needed fresh motivation.
"We have started a three-day session from today and it is conducted by a Pakistan Psychologist, Omar Khan," Ranatunga said as players brushed aside a previously scheduled press conference and rushed off for counselling.
Ranatunga said the bitterly fought elections to the Board of Control for Cricket last month has created uncertainty among players and they needed professional help to focus on the game.
"We had arranged with Omar Khan prior to the Cricket Board elections," Ranatunga said. "Even before that we thought the players needed to be better motivated before they go for the World Cup in May."
Sri Lanka's team manager Dulip Mendis, however, played down the crisis at the Cricket Board which has now gone before a Colombo District Court following allegations of malpractice at the elections held last month.
"I don't think the elections affected the players because we tried to keep them away from the management side and got them to concentrate on cricket," Mendis said adding that they were better prepared to defend the World Cup.
Ranatunga disagreed: "If I say that the crisis did not affect the morale of the team, then I am telling you a lie."
Mendis said the 15-member squad led by skipper Arjuna Ranatunga will have a "new strategy" to defend the World Champion title. "The new strategy will be revealed when we go to England," he said .
There had been widespread criticism that Sri Lankans were only good at chasing a target and had done little to change their tactics since winning the finals against Australia in March 1996 to clinch the World Championship title although they were considered underdogs at the time.
Mendis said Sri Lanka was confident of making it again and felt that the main challengers were Australia, Pakistan and South Africa.
Cricket Board CEO Ranatunga, who is an elder brother of skipper Arjuna Ranatunga said he was hopeful Sri Lanka will make it to the semi-finals. "It is the team that is good on that day that will win," he said .
He said the Sri Lankan team has seen a marked improvement in their fielding following the induction of former Australian player Trevor Chappell to coach the team.
"What we found was that when we tried new players we did not do well and we were better off with the more experienced players," Ranatunga said. "That is why we have very senior and experienced players in the squad."
Most of the players in the squad are those who played in the 1996 World Cup but critics say that the ageing team was unable to meet the challenges of younger players fielded by rival nations.
---
Lanka's World Cup defence depends on swing and seam
By Bernie Wijesekera
Unlike in the placid pitches in the sub-continent, the defending World Cup champions explosive Lankan batsmen will have to confront against the continous barrage of bounce and swing- the two things that they will have to face in England this summer.
Its going to be a tough ordeal for the Lankan batsmen, unless they put their heads down and adjust their technique to counter bowlers like Darren Gough, Mullally whom they face in the opener at Lord's in the early part of a chilly summer, in May.
It needs tremendous application and concentration for the Lankan batsmen, a side that relies on explosive batting to compensate for a medicore attack. Otherwise it could turn out to be a recipe for disaster.
Todate, the performance of the Lankan team in the overs game doesn't speak well for their aspirations; in their quest to retain the title they won in Lahore. They toppled Australia with a great team-effort where Arjuna Ranatunga led from the front.
Ranatunga, alone can't win the match with his shrewd leadership, but it has to be a 100 percent team effort - in a team game.
Playing in the opener on May 14, against England they will face paceman Darren Gough the most dangerous bowler, who could make the maximum use of a seaming pitch at Lord's. Gough, in the tri-nation series match at the MCG (on Jan. 19) made a mockery of the Sri Lankan top-order in the start of the innings, when he had Jayasuriya (1), 'Kalu' (15), Atapattu (1), Tillekeratne (0),. They all surrendered to Gough's third, fourth, fifth and sixth overs.
It was left to Sri Lanka's 'man of steel' Arjuna Ranatunga, 76 (run out) in 151 balls and pencil-slim Upul Chandana 50 - in a 92 run sixth liaison that brought some respectability to the total. Gough, finished 4 for 28 in 10 overs and Mullally 1 for 23 in his allotted overs. Gough, who could be a scourge to any side in the coming World Cup had 4 for 10 in his first seven overs. England made the 187 runs for the loss of 3 wickets.
Cricket Board sent Anura Polonowita last year, at much expense to study the wicket patterns in England for the coming contest. He also made a similar trek to Australia, too. With his expertise and knowhow in the preparation, let's hope that he has done his duty by preparing pitches for our batsmen to practise akin to pitches found in England, in the uninviting weather in the early part of the English summer.
The Lankan team despite their showing in recent times are sure to hit a purple patch in the meadows of England. To face setbacks in any form of life, be it on or off the field make one to fight hard to the bitter end and be in contention. All Sri Lankan supporters be it at home or abroad wish and pray that the team will keep the lion flag flying. With a 100 percent effort on the field they could achieve their objective. If they fail then they would not be found wanting.
---
Pakistan signal World Cup intentions with Sharjah win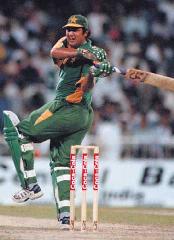 SHARJAH, United Arab Emirates, April 16 (Reuters) - Pakistan underlined their billing as one of the favourites for the forthcoming World Cup with a crushing eight-wicket victory over India in the final of the Sharjah Cup triangular series on Friday.
Inspired by captain Wasim Akram, who took two wickets in his first over, Pakistan demolished India for just 125 and then made 129 for two with relative ease in only 28 overs. England were the third team in the competition.
"We have been playing some excellent cricket over the past few months and the whole team has worked very hard. We have played positive cricket and that's the key to our success," Akram said.
Openers Saeed Anwar, with a brisk 30, and Shahid Afridi, with 24, set up the victory platform with a stand of 53 in 79 balls.
Inzamam-ul-Haq and Ijaz Ahmed then clinched the cup with an unbroken stand of 64 for the third wicket. The powerful Inzamam, who scored the winning boundary off Ajit Agarkar, hit six fours in a quickfire 39 while Ijaz made a more sedate 21.
Earlier, Akram set India back on their heels with two wickets in his first over. He removed Sadagopan Ramesh and Rahul Dravid, both leg before wicket, with his third and fourth deliveries. The Pakistan captain nearly completed a hat-trick when his in-swinger rapped Mohammad Azharuddin on the pads but he was no-balled in the process.
Reeling at nought for two, India were reduced to a shaky 50 for five by the 21st over. Alhough opener Saurav Ganguly offered some protracted resistance with a stubborn 50 in 95 balls, India never recovered and Wasim returned to wrap up the innings by bowling Agarkar for 20.-
Scoreboard
India 125 all out
Pakistan
S. Anwar c and b Kumble 30
S. Afridi c Ganguly b Kumble 24
I. Ahmed not out 21
Inzamam-ul-Haq not out 39
Extras (lb-1 nb-9 w-5) 15
Total (for two wickets, 28 overs) 129
Fall of wickets: 1-53 2-65
Did not bat: Yousuf Yaouhana, Wasim Akram, Moin Khan, Azhar Mahmood, Arshad Khan, Saqlain Mushtaq, Shoaib Akhtar
Bowling: Srinath 8-0-31-0 (nb-3, w-4), Prasad 6-0-17-0 (nb-1), Agarkar 5-0-52-0 (nb-3, w-1), Kumble 9-1-28-2 (2nb).
---
Front Page| News/Comment| Editorial/Opinion| Business| Plus | Mirror Magazine