Prelude to the inter-school rugby season
Royal grab win over Ananda in warm up
By Saif Izzadeen
It was a fitting start for the inter schools rugby as Royal, after some stiff resistance, scored a 22 points (three tries and one goal) to 13 (one goal and two penalties) win over Ananda at Reid Avenue yesterday.
This game was more of a warm-up nature to try out freshers and find out short- comings before the tournament proper starts next week. In club rugby the traditional Captains Game between leading clubs is played to test ones strength. This match between Royal and Ananda was similar to this..
However, rugby fans were not deprived of any thrills as both sides played their hearts out and even though the game was played in four quarters, there was a lot for the connoisseur to savor.
At the second quarter the scores were deadlocked at 10 all. Both teams played attractive rugby. The game swung like a pendulum and finally went in the direction of the Reid Avenue school in the last ten minutes.
Last year's league champions Royal were made to defend for most part of the game and trailed 10-13 but during the last ten minutes they got their act together enabling them to score two tries which sealed the outcome of the game.
The maroon and gold jersey ruggerites played an excellent game and gave Royal a good run for their money. They dominated the game through their forwards and they won most of the line outs and set pieces. Ananda should have scored at least on two occasions but poor finishes saw them missing out.
Although Ananda had possession and territory they couldn't convert them into points and in the last ten minutes cracks appeared in the Ananda defense and Royal made use of these opportunities.
Royal opened scoring in the third minute though No 8 Rajiv Fernando who barged over to score by the left corner flag for a try which went unconverted. This gave Royal a 5-0 lead.
Three minutes later Royal scored again through flanker Pavithra Fernando who scored by the right corner flag with a daring run. This try was also unconverted and this gave Royal a 10-0 lead.
After this Ananda began to draw their battle plans and came into the game with determination and scored a try through Chinthaka Gunawar-dena which was converted by Darshana Peiris. A penalty by Darshana Peiris saw Ananda levelling the scores at 10-all. This was the score at the breather.
In the second half Ananda took a 13-10 lead though a 20 metre penalty by Darshana Peiris. Ananda held on to the lead very stoutly but in the last ten minutes the blue and gold jersey ruggerites were able to punch large holes in the Ananda defense through their running which enabled them to score two tries through No 8 Rajiv Fernando and flanker Pavithra Fernando.
Of these tries one was converted by Dinesh Rahim to give Royal a 22-13 lead. When the final whistle was blown, Royal triumphed after dour struggle.
Aruna Jayasekera refereed the game. He also officiated the final of the Western Province U-24 inter club final between CH and CR and not Dilroy Fernanda as inadvertently stated in the Sunday Times a fortnight ago.
---
Leicestershire start defence with a bang
LONDON, (Reuters) - Defending champions Leicestershire began the 1999 English county championship with an emphatic victory over last season's bottom club Essex by an innings and 22 runs on Friday.
Australian pace bowler Mike Kasprowicz, Leicestershire's new overseas player, added three more wickets to his three from the first innings as the home side were bowled out for 150 at Chelmsford.
The result continued a disappointing run for Essex, the leading county in the 1980s. They ended last season with six successive defeats, finishing bottom for only the second time in their history.
For Leicestershire, unbeaten in 1998, it offered early promise of a possible third title in four seasons.
Another Australian in fine early season form was Middlesex opener Justin Langer. Batting against Kent at Lord's, the Australian hit an unbeaten 241 off only 276 balls including three sixes and 30 fours.
It beat his previous best for Middlesex, the unbeaten 233 against Somerset last season.
With most of the first day's play having been lost to rain, the match ended in a draw.
---
Grand Slam hopes are alive and kicking
By Bob Dwyer
The attack needs some work, but in thwarting the French the English were magnificent.
The biggest single factor in this game was that England made a lot of chances through good play, but failed to capitalize on any of them. This happened for a number of reasons, not least of which was that it was a game in which defenses won the day. However, overall, England finished with seven eighths of the exam passed with honours. They are still making very good progress and when they put the finishing touches to their game, they will be formidable.
The French showed signs of flair, there were some brilliant little breakouts but they were hauled beneath the water line by their indiscipline. If the French had shown the same sort of discipline affect the tackle that they showed in making the tackles then they would have had more of a shout and given the spectators more to shout about than watching penalties go between the posts.
It was a shame that France scored in the end because England shut them down very effectively.
The measure of the French frustration was clear in the fact that they started kicking away possession in the final quarter, which is very un-French, and it was a supreme irony that Franck Comba scored from a lucky bounce.
Phil Lader's imprint was indelibly stamped all over England's performance once again, England had taken it a step further through the tackler almost always getting an arm on the ball. England stripped the ball off the French carriers on numerous occasions and this played a significant part in their massive territorial advantage, particularly in the second half.
If their attack had matched their defence, they would have run away with it a few years ago England borrowed Pierre Villepreux, and it's exactly Villepreux's vision of how to outmanoeuvre defenses and put support players through gaps that they lack. England's bigget failing is in the final touches, that ability to shift the defender slightly out of line and put the support player through for the try rather than into a tackle.
However, as Chairman Mao said, "the longest journey begins with the first steps" and England have certainly taken the first step, even if they are not at journey's end. The fact that they made a number of gilt edged chances against a very good French defence speaks volumes for the construction of their attacks.. If the finishing can match the approach work, then England will be a very powerful force.
A classic case of their failure in applying the finishing touches was when Nick Beal was put away by Jerry Guscott, but Guscott's supporting run showed a complete lack of appreciation of how a support runner must provide the carrrier with options.
He was four metres too wide and far too flat so that the whole attack came to nothing because of a forward pass. Mind you, he was up against a considerable force in Pascal Giordani. When can any of us ever remember seeing Guscott as comprehensively done for pace as he was by Giordani? I suspect we will be seeing a lot more of Mr. Giordani.
The overall quality of the match was not in question, as far as I was concerned. There was a lot of pace on the game and a lot of sharpeners in the short passing game, which brings runners onto the ball late.
There was also some very good reading of attacking options by the defense and some great later acceleration by Giordani and Thomas Castaignede in covering one option and then closing down the other. England did not make it difficult for them, particularly when Mike Catt completely misread a first half chance and was decked by Giordani when he should have been aware enough to get the ball away. A similar failure to read the situation stopped David Rees scoring just before his injury when an unnecessary mispass botched a clear two to one advantage.
---
Mercantile cricket sixes on April 24
Thirty-one teams will vie for honours at the Mercantile Open Cricket Association's annual six-a-side tournament sponsored by Union Assurance on April 24 and 25 at the MCA and Nomads grounds.
The quarter finals, semi finals and finals will be played on April 25 (Sunday) at the MCA Grounds.
The participating teams are: Access Group, Ceylon Shipping, Regnis Lanka, Union Assurance, Colombo Dockyard, J.L.Morrison, John Keells, Confifi Group, AirLanka, George Steuarts, Coats Tootal Lanka, Jafferjee Brothers, ACL Cables, David Peiris, Sampath Bank, Janashakthi Group, ABN Amro Bank, Associated Motorways, Ceylinco Group, Arpico Group, Trico Maritime, Hayleys, Tristar Apparel Exports, Mabroc Teas, Hatton National Bank, CTC Eagle, Samson Silva Company, Profreight Limited, Colombo Hilton, Bartleets, Ceylon Business Appliances.
The General Manager Marketing of Union Assurance, Ramal Jaisinghe will be the chief guest.
---
Don Bradman wasn't kidding
A master tactician, Bradman stands no nonsense from opponents and makes certain they do not steal an advantage over his side.
As a batsman "he can dictate to many an inexperienced bowler and many more experienced ones" writes Denis Compton.
Worcester and Brandman's hundreds still being synonymous Australia's most-learned Don is once more going to be a very welcome figure on English cricket grounds this summer. We have heard all sorts of stories of illness and possible retirement. But the Australian skipper is unlikely to be wheeled to the wicket in a bathchair on his last trip here.
Fancy he would still be able to make bowlers respect him even in those circumstances. Don's answer to my inquiries after his health, "I never felt better" spells headaches for the men who are going to be faced with the task of trying to get him out.
For my own part I must say that he looked better than when we said our farewells in Australia a little more than a year ago which proves that he wasn't fooling me as you never know whether to take him seriously or not. For example he told me that if he wasn't batting better than he had been doing at the nets he wouldn't be good enough for the Test side. Then I knew he was kidding. But he was not kidding when he added; We are going to do our best to make this one of the greatest tours ever made by an Australian cricket team. Millions have seen Don in action, and know him as one of the greatest batsmen of all time but few know him really well. It is my pleasure to number him among my friends. His stock broking business is now a thrivng concern, but don't run away with the idea that he is progressing in this direction because he is a famous cricketer. He served his apprenticeship in an estate agent's office before he hit the sporting headlines. Apart from cricket he is happily playing golf but he had a disappointment recently when he was beaten by R.W.V. Robins.
The strategist who led my country to a championship triumph last year is a fine golfer and after he had been beaten Don said to me "You know Denis, I would have given a tenner to have beaten Robby." I know he meant it because wherever he plays Bradman goes on the field to win. This is why the Aussies are fortunate to have a man who can turn many things to his side's advantage which a less discerning skipper may miss in control of their first post-war side. I had a personal reminder of his ability as a tactician in the fourth Test in Adelaide in 1946 - 47 When I was playing for my second century in this Test I made the unintentional mistake of walking down the middle of the wicket to have a word with Godfrey Evans. On my way back to the crease I heard Don call, "Now then Denis, we still own part of this wicket".
The reminder was made with that wry smile of his, but for all that he made it perfectly clear that I musn't repeat the error. It was the last day of the game and there were signs that the wicket was wearing and walking along it with studded boots helped to break it up a little more, Don appreciated that. I looked at him sharply, but didn't reply since I was a little annoyed. On reflection however, I can see his point of view.
He certainly made certain that I didn't steal the advantage for my side. At the same time he made a possible one for his own side. I didn't let it worry me and went on to three figures. From the moment I first bowled against him Bradman struck me as being a slow starter. I have seen bowlers who look like getting him easily, but I think it's just another part of Bradman's make up because he always looks as if he is giving bowlers a chance although he is really as firm as the Rock of Gibraltar.
What's it like to bowl against him once his "eye is in"? I can speak from personal experience. During the second Test in the winter before last he was nearing the end of his marathon innings of 234 runs, cracking the bowlers all over the field.
Skipper Hammond decided to give me an over or two to reduce the scoring rate. I thought, the only method was to set a packed off-side field and bowl to it. I sent down a good length ball one and a half feet outside the off stump and wondered whether he would be able to score off it. To my dismay he swept the ball round to the square leg boundary. Was I dismayed? You bet I was! Don didn't miss my shocked expression, he smiled. I failed to see the joke. He went on scoring as if nothing had happened. A natural batsman, he produces every known stroke, and many others which don't appear in the copy book.
N. T. Kumarasinghe
Extract from Sports & Pastime
---
One-day cricket is a crowd puller
For most of us the early memories of one day cricket would be the neighbourhood games we would have played. Twenty overs-a-side or thirty overs-a-side. It has to be instant cricket in which every one wanted to bat and to bowl.
At the local level, cricket used to be played with a limit on the overs to be faced. Of course, serious cricket was played over three days or more.
That, however, was for those aspiring to make a career out of cricket. But the common man found joy in limited overs cricket, either in school, or the nearby park or a play field. Today one day cricket has sort of revolutionised the game all over the world. With the World Cup becoming the stage every player expects to excel at, it is natural for this brand of cricket to hold the imagination of the masses. It is not just the time factor that has contributed to the sad decline in spectator response to test cricket but the fact that a one day match has to have a result. There has to be a winner and there are no dull, dreary draws.
Only rain could prove the spoilsport in case of a one day match. Well, it was rain that led to the birth of one day cricket in 1971 when Australia played England at Melbourne. A monster was born that day. The purists would complain, understandably one day cricket encourages just what the coaching books do not. And, for the discomfort of the purists, it takes the charm away from Test cricket and the crowd too. The purists may have their attempts but one must accept the fact that one day cricket has sustained the spectator interest in the game.
There is action, there is result, and there is big prize money. There is a World Cup for One-day cricket and not for Test cricket.
Going back to Melbourne it was a rain-ruined Test that led the organizers to stage a limited overs match. For the sake of the spectators, forty overs a side, each over eight balls. It was a novel idea. Funny, the purists screamed. But it was fitting that one day cricket originated from the very place which gave birth to TestCricket. The day they walked out for the toss, Bill Lawry and Ray Illingworth, the rival captains, would never have dreamt that they were in process of creating a trend which would threaten the traditions of cricket.
One day cricket is for the masses who know little about the nuances of the game the purists have told us all these years. But the fact remains that it is one day cricket which grabs all the attention and provides glamour to the game.
It was ironical that one of the all time greats, Geoffrey Boycott, so particular about techniques in batting, faced the first delivery in a one day international from Graham Makenzie. True to his style, Boycott defended it. That Australia won the match in front of 46000 people is history but what must be recorded here is that the contest created unprecedented excitement.
There were no high fives in that match at Melbourne at the fall of a wicket. There were some great catches taken but the fielders did not hug each other.
There were no restrictions on the field, it was so different. There were no flood lights, coloured clothing, white ball. Yet, the match provided the spectators their money's worth. It did not matter who won because the spectators got to watch a good contest.
Those who saw that encounter would recall some shots which sailed over the close in-fielders, the slash over covers, the heave to midwicket, the drive over the top. The emphasis was on brisk scoring. The emphasis was on action. But it was only after four more years that Australia staged a one day International against England. The next time it was against the West Indies a year later. Among the other nations, only England and New Zealand picked a cue and organized one day internationals.
The interest among the spectators was built gradually and once the paying public realised that one-day cricket was all action the administrators woke up to the fact that here lay the potential for big money, and possibly a way to arrest the rapid fall in attendance rate at Test matches, and domestic cricket. Not that one day cricket was something novel in 1971. As far back as 1956 there was a suggestion in England to have a limited overs competition which finally bore fruit in 1963.
When one day cricket commenced among the English counties it was known as the Gillette Cup (later Natwest Trophy) and was essentially targetted to boost the financial position of the counties involved in the promotion of the game. With the Gillette Cup producing some enthralling contests it was natural that the public developed interest in this version of the game. Six years after the advent of the Gillette Cup came the John Player League, with matches being played on Sundays with the live telecast carrying the game to the drawing rooms of the cricket loving public.
A decade later, the Benson and Hedges Cup firmly established the popularity of one day cricket. Soon the coffers of the counties swelled as one day cricket brought people to the grounds. The purists kept grumbling but the paying public thought otherwise. The growing popularity of one day cricket led to the staging of the World Cup in 1975.
It was fitting that England hosted the inaugural World Cup sponsored by Prudential Assurance. The event was a tremendous success and it was decided that all the top squads of the world would meet once in four years to decide the best team in one day cricket. The staging of the World Cup and the pioneering efforts by those who conducted the one day competitions in England contributed towards making this shorter version of cricket so popular. But what really gave the game its biggest thrust was the innovations brought in by the Australian business magnate, Kerry Packer. It was Packer who gave the cricketing world colour, enormous prize money and glamour and made cricket a television Sport. Cricket on television came off as a great spectacle and the crowd got hooked on to the idea of day night cricket.
There was an increase in the number of one day internationals being played in a season and slowly all the test playing nations realized the fact that the future lay in this brand of cricket if the game was to survive. One day cricket was to be the oxygen pipe.
The success of the first World Cup was a key factor in one day cricket becoming so popular. Visitng teams played one day internationals regularly. New rules came into being and cricket was given a new thrust. There was big money for the cricketers and it was natural that the ensuing World Cups added to the status of the limited overs cricket. India, which played its first one day international in 1974 on that disastrous tour of England, realised the importance of one day cricket around that time. In the 1973 - 74 season the Deodhar Trophy was introduced for Zonal teams and later the Wills Tropy was started in 1977 - 78 for toppers of the Zonal Ranji league apart from a board presidents XI, and a team from the sponsor. Ten years after the Deodhar Trophy began, Kapil Dev and his gallant band stunned the world by winning the Prudential World Cup.
The administrators today have accepted the fact that one day cricket is the goose which lays the golden eggs. For test cricket to survive. In one day cricket the importance of saving runs is greater than taking wickets and aggression scores over tight defence. There purists may grumble but it is the masses who count and that is where the popularity of one day cricket lies. In attracting the masses the coming World Cup will provide yet another proof of this.
Thushara Kumarasinghe
---
Schoolboy ruggerite suffers black-outs after bloody match
By Callistus Davy
A schoolboy rugggerite from St. Joseph's College has lost three front teeth and is being tormented by subsequent black-outs after he was punched by a rival player from Wesley College at last week's 10-a-side championship.
The victim, Mindaka Dassanayake, was taken to hospital with a bleeding mouth after he was struck a forceful blow on his face as his team was awarded a penalty by the referee.
The player was initially taken to a dentist and then to the accident service of the Colombo General hospital where he was put under observation.
Two days later Das-sanayake complained of giddiness and is presently in the care of a neuro surgeon at a private hospital in Colombo 7.
A family spokeswoman said the injured ruggerite continues to suffer black-outs and his family is contemplating legal action against tournament organizers.
She charged that the incident occurred as a result of the match losing its sporting element and taking a violent course which she said match officials were unable to control.
"It was a chaotic situation and I don't know whether referees know what they are doing. If this is allowed to continue no parent will want to encourage their children to play rugby", she said.
But referee Shamrath Fernando said he was in control of the game and at no stage did he think the match deviated from course. "The game was not violent and it was the only incident that took place," said Fernando.
He denied that Dassa-nayake was punched deliberately but attributed the injury to a blow from an opponent's elbow in a tussle for the ball after he blew his whistle to award a penalty to the Josephians.
"I spoke to him (Dassanayake) and he told me he was okay. But I kept ice on him and sent him off the field for treatment", said Fernando.
The offending Wesley player was not identified but was suspended from playing for five minutes.
Dassanayake is a second year player and regular hooker of the senior Josephian team. He was reportedly punched in full view of at least one prominent Rugby Union official and a reputed referee who was not officiating in the tournament.
Schools' rugby comes under the purview of the Department of Education and all tournaments are conducted in accordance with guidelines set by the Sri Lanka Schools' Rugby Association.
The injured player's parents have yet to make a Police statement but took up the bloody incident with the Department of Education and the Wesley College authorities which they hope will conduct a full scale inquiry.
The Sunday Times learns from eye witnesses that the two-day tournament conducted at Longden Place produced a high rate of illegal tackling which led to several incidents of punching and booting among the schoolboy players.
Veteran referees attribute the growing number of violent on-field incidents to leniency on the part of present day match officials.
Last year a Wesley College player, Ruqshan Adjie, was put out of action from the season when he suffered a serious neck injury in a match against Ananda.
---
Schools' tennis begins on April 19 at NTCC
The Sri Lanka Boys Schools Tennis Association's age group championships for under 10, 12, 14, 16, 18 and 20 will commence with the preliminary round of the under 18 and 20 on April 19 and 20 at the National Tennis Centre Courts at Greenpath.
The championships will commence at 8 a.m. and conclude at 3 p.m. with the semi-finals and finals fixed for April 21 at the same time.
The under 14 and 16 tournament preliminary round will be played on April 22 and 23 at the same venue with the semi-final and finals fixed for April 28 and 29 at the same venue and same time.
The under 10 and 12 preliminary round will be conducted on May 3 and 4 with the semi-finals and finals scheduled for May 5 at the same venue and same time.
Royal are the defending champions in the boys under 20,18,16,12 and 10 with Ananda the defending champions for under 14.
The schools participating and their groups are:
Under 20- Group A- Royal, De Mazenod, Nalanda; Group B- Ananda, Thurstan, St Peter's, St. Joseph's.
Under 18 - Group A- S. Thomas' Mount Lavinia, Ananda, Nalanda, St Sebastian's, St Michael's Batticaloa; Group B-Royal, D.S. Senanayake,St. Peter's, De Mazenod, St. Benedict's, Trinity.
Under 16-Group A-Royal, St.Peter's, St. Michael's, Batticoloa, Thurstan, St. Joseph's, D.S. Senanayake; Group B- S.Thomas Prep, Nalanda, St Sebastian's, Trinity, St Joseph's, De Mazonod.
Under 14 - Group A- Royal, De Mazenod, St Peter's, Trinity, Nalanda, St. Joseph's, D.S.Senanayake; Group B- St Sebastian's, S.Thomas' Mount, St Benedict's.
Under 12- Group A- S.Thomas Prep, Ananda, Nalanda, St Sebastian's, Trinity, St Michael's, St Peter's; Group B- Royal, D.S.Senanayake, S. Thomas' Mount, Thurstan, St Benedict's, De Mazenod,
Under 10- Group A- Royal, St Benedict's, St Michael's Batticaloa; Group B- Ananda, Nalanda, De Mazenod.
---
Rover Pinpoints.....
Souvenir bloomer
The Board of Control for Cricket in Sri Lanka in a souvenir has extended a warm welcome to experience paradise on earth in their bid to host the Under-19 World Cup in January next year.
It says "Cricket is not just a sport in Sri Lanka, it is a way of life".
The souvenir goes on to say Sri Lanka received Test status in 1984.
We received Test status in 1981, I am sure that even a schoolboy could have told you that. More care with your pen Sir!
WorldTel
Is the chapter closed or not? This is what the cricketing and learned public are keen to know.
But Rover learns that a three-member committee comprising, Desmond Fernando, Ariya Kan-nangara and Michael Tissera have been appointed to serve on the impartial committee of eminent and distinguished personnel.
To hold an inquiry on the request of Thilanga Sumathipala, President of the Board of Control for Cricket in Sri Lanka.
The Exco of the Cricket Board is of the opinion that this committee had an obligation to look into the whole matter, in a fair and proper manner.
What Rover wants to know is whether this committee had met at all.
---
Army take on Havies on April 23
The Army rugby team will play anywhere in their confrontations against Kandy S.C. in the Carlsberg Trophy 'A' matches which will kick-off on April 23 for the 1999 league season. This was revealed to The Sunday Times by the Chairman Army rugby Brig. Juppna Jayawardana. We are not interested in any club politics, its the promotion of the game that matters. Whatever the venue - be it Bogambara or Nittawela - it doesn't matter to us. Despite the problems we faced last year the soldiers did well to be in contention and gave much opposition to some of the reputed clubs.
The soldiers, too had a couple of foreigners last season. This season foreigners are barred from playing in local tournaments and the game is bound to be more competitive among the locals and assured of keen competition, he added.
True, there was pandemonium in the Kandy S.C. - CR and FC tie at Nittawela last year followed by stone-throwing. It turned out to be a black Sunday for the avid fans, who made a trek to Kandy to watch this rousing game. Due to the ugly behaviour by some irate Kandy fans, the game suffered in the end. Kandy S.C., who will be celebrating their 125th anniversary this year will leave no stone unturned, to see the game is clean according to its president Dr. Sarath Kapuwatte. The club matches will in all probability be played in Bogambara for better security, as most clubs have been at the receiving end in the past.
Today, sports is no longer a gentleman's game, apparently due to, too much of professionalism and plagued by betting scandals worldwide. This is not confined to Kandy alone.(BW)
---
Dasith and Denham shine for Springwood in Cricket
By Bernie Wijesekera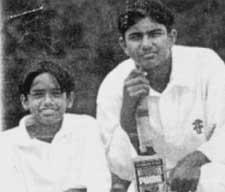 Two Sri Lankan lads now domiciled in Brisbane, Australia are going great guns for Springwood Suns Cricket Club.
Dasith Monnekulame 15, and Denham Ravi have contributed much for the success of the club. The club has gone places in the current season, thanks to the duo contributing with both bat and ball, in the Under 16 Beenleigh - Logan tournament. Dasith, a chip-of-the-old-block has been among the wickets claiming 16 for 32 in six games - is a wily leg-spinner. His figures speaks well for his rare accuracy.
Incidentally his father Jayantha, captained St. Anthony's Katugastota and was a frontline batsman in school and club cricket. Dasith, who has been nursed and nurtured by his father should be a force to be reckoned with in his bowling at junior level in Brisbane.
Ravi, has been a consistent run-getter in this tournament totaling 195 runs - including a top score of 59 n.o. Ravi batting with composure was dismissed only once in his six innings, but had to retire after 50 balls as part of the competition rules.
This tournament has attracted clubs from the Logan city area, including John Paul College Kuraby, Logan Village and Logan City.
Springwood Suns Cricket Club was afforded with advice from the Sri Lankan team, when they were here for the triangular series. The youngsters were fortunate to have had a few hours training with the Lankan team.