Meet Pettah's oldest businessman
Those were the days, recalls YuChin
By Shevan de Simon
Sixty-eight years ago, a 13-year-old Chinese boy stood on top of a box, to make up for his lack of inches and advertised himself as a dental technician.
He was trying to make a new life in Colombo together with his family who suffered as war refugees in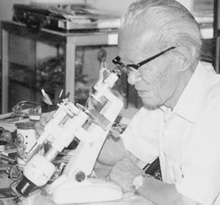 Burma they were a displaced Chinese family.
That was a long time ago hut boy Yu Chin Chai now has become the oldest registered businessman in Pettah running the well known optical firm Yu and Company. Chai changed profession from dentistry to optician 25 years ago.
Climbing up the roof to advise workmen on repairs, walking around Pettah (nearly 5 km a day) getting involved with the daily household work is normal routine for this 81 year old.
The family originated from Hubei an agricultural province and the main granary of China, had suffered a great deal in floods and famine.
Someone in the village had asked Mr.Chai's father to immigrate to Burma where 'the roads are full of gold'; "Speak to the road, and it will give you gold,"he had said. They moved to Rangoon in Burma in a bullock cart, where Yu Chin Chai was born. The family found that the streets of Rangoon had no gold and were forced to beg for their upkeep.
Poverty in Burma led them to Calcutta, a city with a large population of Chinese. Chai was only four years old when the father died, and his mother married again. As a family they made paper flowers, in great demand in India, and Chai only five years old then went with their stepfather from one festival to another selling flowers in the their bullock cart. After some time they went to Madras and then came to Ceylon, as the country was known then.
Young Chin Chai was 10 years old when he came here in 1928 with his stepfather, mother, brother and sister. "Chinese could come without visas at the time when Sri Lanka was a British colony,"Mr. Chai said.
They landed in 'Kapiri-muddukkuwa' straight from the harbour. Since then they have lived in Maradana and Pettah. Mr. Chai said that as children they used to help their parents in the family business. This is how Yu Chin Chai was trained to become a dental technician by his stepfather.
Yu Chin Chai being gullible and innocent and as normal lads go associated with all the notorious thugs who became his friends, and also was protected by them in his business. Pettah was a much cleaner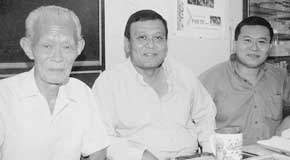 place then, he said. "The British kept our cities clean, there was a cart every morning to wash the streets and workmen washed and drained out the water," Mr.Chai said.
Mr. Chai said that Olcott Mawatha had given birth to many entrepreneurs. He knew M.D.Gunasena, Wijesiri Mudalali, and Maliban mudalali to name a few youngsters who started their enterprises, all from today's Olcott Mawatha.
At 20 he married a local girl from Kandy. "Fifty years ago our income was very satisfactory for a happy life,"Ms. Chai said. He had a monthly income of Rs.2000 - Rs. 3000 which was very attractive back then. After giving his mother a part of it and spending money for the families' daily expenses and spending for his two sons education at Trinity he had a monthly saving of Rs.500.
"Everything was so cheap, petrol was only 75 cents,"he said. "Now you can hardly live with even Rs.50,000, things are going up in price," he added.
The business was good during World War 11. He could buy a gold sovereign a day from his daily savings. "I collected 400 gold coins priced at Rs.43 each, but I lost it as I used to bet those days, we never got any advice nor did we listen to any; it was a bad age," he said chuckling.
Mr.Chai has handed over the dental business to his sons after practising for 40 years, as his vision is a little poor and he finds that sitting in the same place all day makes him tired. Though his son doesn't make dentures now they have converted the family business to dental merchandising.
His son, Mr.Chung said that it is quite remarkable that all the dental merchandisers for countries India, Pakistan, Bangladesh, Singapore, Indonesia and Sri Lanka come from the same province in China, Hubei.
Mr. Chai runs his optical business all by himself from purchasing to selling and maintaining accounts. After getting orders from his customers he gets the spectacles made according to their specific requirements by his workmen.
He maintains the Japanese 'just in time' technique where he runs with minimum stocks. His stock are only a couple of boxes and the spectacles that are in the showcase. He goes around Pettah (usually 4-5 times a day) to get the glasses or frames in time. He has a turnover of Rs.60,000-70,000 and makes a profit of Rs. 35,000 a month from the spectacle business.
His main clients come from the Ports Authority, S.L. Electricity Board, People's Bank, and Bank of Ceylon. They keep coming to him as they have confidence in him.
He starts the day at 4.30 am, after a cup of tea and a walk to buy his daily loaf. His work is well organised, very stable emotionally, as he believes in living for a day. "Every day is a new day,"he says. Nothing brings his emotions 'up' or 'down'. "By living for a day, you can have a low stress life, and you should not worry about tomorrow,".
"After his work is finished he goes home and helps his wife with cooking, and is also a very good Chinese cook,"his son Chung says.
Cheerful Mr.Chai likes to watch cricket matches and never misses an international match in Colombo. He lives on a low diet, just enough for his body. He enjoys playing 'Majang'( Chinese version of rummy) and can plays 24 hours non-stop.
One Saturday he started the game at 2 pm and went on to 6 pm the following Sunday, while other players took turns to sleep to play against him.
He has several cups of tea and cigarettes ( a little too much ) for a day. People are puzzled how he could be so 'fit'though he smokes daily. One more remarkable thing about him he knows five languages-Sinhalese, Tamil, Chinese, English and Hindi.
---
Call centres for 21st century banking
By Eric Tan
Call centres help the world's most forward-looking banks meet the needs of even their most demanding customers. Also known as phone banking, call centres are business operations that employ people, known as agents or customer service representatives, to handle large volumes of incoming or outgoing calls.
Technology enables a bank' s call centre to tailor service to the individual needs of its customers. This technology is transparent to callers and to the customer service representatives handling the calls.
For example, many people do not want to wait in queues. lf they do have to wait, they want to know how long the wait will be. Or they prefer to have the option of leaving a message for a call-back later. Or they may choose to be transferred to an automated service.
Top quality service
Computer-telephone integration (CTI) and special call centre software provide all these capabilities, using a variety of information to predict the expected wait time for a caller, play customised announcements, and offer choices to the caller based on the caller' s profile.
CTI also enables "screen pop" which transfers the caller's data record to the service representative's computer screen at the same time as the voice call. This eliminates the need for the representative to ask the caller for identifying information and saving time for the agent and the customer.
Changes in customer demands and in the workforce, escalating global competition, and the explosion of innovative communication technology all are transforming the traditional call centre, which, until recently, was viewed as a cost centre.
Today, the call centre is a competitive asset for many financial institutions. Call centres generate revenues and improve customer satisfaction. Meeting customer's needs with the right application makes a bank's call centre a powerful marketing tool.
Many banks recognise that superior customer service is critical to winning market share. Just ask Standard Chartered Bank. Standard Chartered, one of the largest banks in India, offers a wide range of financial services. Standard Chartered wanted a state-of-the-art call centre to handle it's large volume of incoming calls.
The bank wanted to ensure that every caller would reach a skilled customer service representative, making the caller's experience pleasant and enhancing the efficiency of the people staffing Standard Chartered's call centre.
Leveraging technology
Intelligent call routing software allows calls into Standard Chartered's call centre to be processed and routed according to the caller's individual needs and preferences. Skills-based routing sends calls to the agent with skills best matched to handle that customer's needs.
A call management system generates reports that analyse call volume, service levels, and agent productivity.
These reports help the manager of Standard Chartered's call centre forecast traffic, schedule agents' work hours accordingly, and identify agents' training needs. Call management systems also help Standard Chartered to assess the overall performance of the call centre.
Standard Chartered's system also improved the way callers are handled in queue, with customised announcements based on the expected wait time.
Back-up call-answering groups were also created for unexpected peak volume situations, ensuring consistent superior customer service. Unique solutions are necessary today to create differentiation in banking.
Brilliant corporate colours, stylish uniforms, and elegant bank interiors have no impact on customers calling into a phone centre.
Standard Chartered recognises that to remain competitive, technology and its intelligent implementation will enable the bank to meet and exceed customer needs and to attain a leadership position in a rapidly changing industry.
The writer is Regional Director, Business Communications Systems, Lucent Technologies Asia Pacific
---
DFCC eyes debt market in big way
By Mel Gunasekera
DFCC Bank has lined up a number of foreign and local unquoted companies who are keen to list their debt independent of equity.
Already, Rs. 1 bn out of the Rs. 4.3 bn (US$ 65 mn FRN) has been committed for long term debt, AGM (Treasury) DFCC Bank, Mangala Boyagoda told The Sunday Times Business.
"We are waiting till SEC (Securities and Exchange Commission) finalises the regulations to list unquoted debt," he said.
The manufacturing industry will be the major beneficiary of this scheme. "We already have a few Indian companies that are awaiting SEC guidelines to come into the market," he said.
One Indian plastic manufacturer has already entered a joint venture with Easwaran Brothers to manufacture plastic furniture.Under the Asian Development Bank (ADB) agreement, DFCC will guarantee the capital and the interest for these quoted debt issues, which will come into the market in stages.
In order to continue its commitment to create a secondary market for the debt they bring in to the market, DFCC Treasury will quote two ways to provide liquidity for the customers at any given time.
With the present quoted debt market being around Rs. 3 bn, we hope to come in a big way to drive the market further and create an appetite for debt, Boyagoda enthused.
DFCC Bank is expected to receive the balance US$ 5 bn due from the ADB this week.
Last year, DFCC guaranteed Ceylon Glass Company's Rs. 50 mn issue, which was oversubscribed.
---
Standard Chartered starts slimming
By Dinali Goonewardene
The local branch of Standard Chartered Bank has slimmed operations with nearly 50 workers being given a 'golden handshake', banking sources said.The voluntary retrenchment package includes 2-1/2 months salary for every completed year of service and half a month's salary for the balance period, sources said.
Retrenching was on a voluntary basis and a uniform scheme was offered to all categories of employees, CEO Standard Chartered Bank, Ahmed Rehman told The Sunday Times Business.
"This reduction in staff offers more opportunities to employees remaining at the Standard Chartered Bank in a refocused business operation," Mr. Rehman said.
Standard Chartered Bank has been operating in Sri Lanka for the past 107 years, with a deposit base between 2% to 3%.
---
Tea Council meeting in Delhi, May 6-7
Tea producers and consumers in South Asia are meeting next month in India for the inaugural launch of the SAARC Tea Council, official sources said.
A top team of Sri Lankan officials and trade experts will represent Sri Lanka at the conference on May 6 and 7 in New Delhi.
Apart from the usual niceties exchanged at such inaugural meetings, and proposals of plans for the future, the thorny issue of the tea quota under the recent India-Sri Lanka Free Trade Agreement (FTA) is expected to be discussed on the sidelines of the meeting between counterparts of the two countries.
An Indian delegation led by India's Commerce Secretary has been in Colombo for the past few days discussing with local negotiators the FTA's negative list, which has been the bone of contention between the two sides.
The FTA did not come into force as scheduled on March 1 due to a dispute over the inclusion of tea in the negative list. Earlier India had agreed to remove tea from this list but went back on that promise following powerful protests from the tea industry lobby in India.
Colombo was angered by the change and worried over growing anti-FTA sentiments here, and New Delhi then tried to work out a compromise formula to save the FTA. Indian officials offered to buy US $ 10 mn worth of tea, which amounts to 5 mn kilos in the first year as an option to save the pact.
But Sri Lankan President Chandrika Kumaratunga is learnt to have requested India to raise the quantity to 50 million kilos. Trade officials said Colombo may settle for 15 million kilos per year.
While Indian Commerce Minister Ramakrishna Hegde is reported to have told Indian media that the tea issue has been resolved, official sources in Colombo say that no finality has been reached on the issue.
Indian negotiators were also believed to be seeking other trade-offs for the increased quantity of duty-free tea exports sought by Colombo like concessions in automobile sales to Sri Lanka.
The formation of a tea council to benefit Sri Lanka, India, Pakistan, Bangladesh, Nepal, Bhutan and the Maldives, was mooted at a world producers meeting in Colombo last year. It was felt that a council of this nature in a region which has the world's biggest consumer (India), the biggest exporter (Sri Lanka) and the world's third largest importer (Pakistan), would help both producers and consumers.
Bangladesh produces tea while Nepal has a little output. Bhutan and the Maldives are essentially consumers.
Meanwhile, Colombo's tea auction went through another dismal phase last week with prices falling further, brokers said.
---
Y2K Consultant for telecom
By Shafraz Farook
The Telecommunication Regulatory Commission (TRC) has sought assistance from British Telecom (BT) for a Y2K consultant to ensure the telecom sector is compliant.
BT's Principal Networks Consultant, Terense Connolly, will be here next month to review the Y2K status of the telecommunications sector in Sri Lanka, Technical Director TRC, R. D. Kumarapathirana said. The TRC requires that the sector be Y2K compliant at least by the end of June this year.
According to TRC officials, the three fixed -phone operators and the four mobile phone operators are on target in achieving Y2K compliance and other operators are expected to follow suit. Most of these companies are assumed to be complaint, since they have commenced operations recently.
The three fixed -phone operators are in the process of conducting tests, Mr. Kumarpathirana said.
Mr. Connolly will also address a three day workshop on Y2K compliance and the effects of Y2K on the telecommunications sector.
Mr. Connolly, a senior engineer has been with British Telecom for over 26 years.
Meanwhile international telecom users too have stepped up co-ordination of their Year 2000 programs in an eleventh-hour bid to counter potential system failure.
---
TRC orders detail telephone billing
The Telecommunication Regulatory Commission (TRC) last week announced a series of mandatory measures to simplify the present complex billing system.
The TRC ordered Sri Lanka Telecom (SLT), Suntel and Lanka Bell to issue itemised billing for local and international calls.
The operators were also ordered to improve the billing format to make it easier to understand, improve frequency in dispatch of bills, dispatch bills in sealed envelopes to ensure confidentiality, minimise fraud and ensure accurate charging and metering devices, and an efficient procedure for handling billing disputes.
While SLT agreed during a public hearing to provide itemised billing in stages, Suntel and Lanka Bell already provide partial itemised bills, TRC Director General, Prof. Rohan Samarajiva said.
Free itemised billings will be provided for local and national calls for a Rs. 15 fee.
Customers with bona fide billing disputes may request upto three free bills including calls below the threshold per year.
Telephone bills in Sinhala and Tamil will become mandatory from April 2000, to subscribers who so request.
SLT was asked to change its pulse based system to time based billing. However, no specific timetable has been issued for this decision.
The operators were ordered to improve their billing periodicity by mailing quishes subscriber bills within 7 working days at the end of the billing cycle, and migrate to multiple billing cycles a month within six months of this order.
Subscribers are given 7 days to settle their bills.
Subscribers who are penalised though they have paid up on the specific date are now entitled to a daily Rs. 250 compensation for the penalty period and a free re-connection if the line is disconnected.
Prof. Samarajiva said the public 'expressed considerable unhappiness with the present billing system' during a public hearing by the Commission.
"There was strong demand for itemised information as SLT for instance did not provide information that distinguish between local and national calls," he said.
A public hearing on the quality and access of internet services will be held shortly following scores of complaints of poor service and access difficulties.
---
Youngest GM at Sampath
Mr. Anil Amarasuriya has been appointed General Manager of Sampath Bank. At 44, he is the youngest General Manager in the history of Sampath bank.
He is an associate of the Institute of Chartered Accountants, Sri Lanka and of the Chartered Institute of Management Accountants, UK.
He has served at Grindlays Bank as an Account Manager and also spent a nine-year stint at the Abu Dhabi Commercial Bank, UAE.
He joined Sampath Bank in 1992, as the Assistant General Manager internal audit and is presently the Deputy General Manager, Credit.
---
Mind Your Business by Business Bug
How's that?
A subsidiary of a group, which claims to protect them all, is into a new kind of venture- raising money on an unofficial if not illegal way.
It has sent letters to what it calls a "select clientele" soliciting investments and offering very attractive interest rates.
Where then is the catch? Strictly speaking this company cannot accept such investments because it is not a registered finance company but then, that is why the letter says boldly- "for private circulation only".
Even so, judging by the response, one cannot dispute the fact that a sucker is born every minute.
Wait you lose
The polls gave a mixed verdict- the blues had "won" in most regions but had clearly lost ground; the greens had clearly gained votes but not enough to win.
Therefore the speculation on the stock market Wednesday was on the possibility of an early general election, the rationale being that the longer the blues wait the more votes they will lose.
Assurances were sought and obtained at ministerial level, we are told that no poll other than the Southern provincial election will be held this year.
More to come
Also on the stock market there is news that a multinational with Anglo-American interests has pumped in funds to a local associate company.
The local company, a key "player" with a monopoly in its industry and contributing generously to state coffers will be boosted by the infusion and a public announcement is expected soon.
The result of that, of course, will be a surge in its stock price, analysts say.