Anura blasts govt. for bashing democracy
By Roshan Peiris
On the eve of his 50th birthday, Anura Bandara-naike is sad and angry because of the Wayamba carnage which he says is now posing the gravest threat to democracy in Sri Lanka.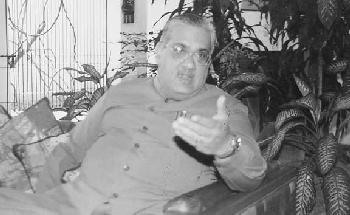 Mr. Bandaranaike, who returned two days ago from prolonged medical treatment in the United States, told The Sunday Times in an interview he hoped President Kumaratunga would act swiftly and punish all those who were responsible for the fraud in Wayamba — even if they be cabinet ministers.
Mr. Bandaranaike also said millions of Sri Lankans had lost faith in democracy after Wayamba and he hoped the President would act effectively to redeem democracy.
"The P.A. Government is trying to get away from the blame by saying that the UNP did the same thing. My answer is that this Government was elected to correct all the so called errors of the UNP government. Though it is a trite remark, I must say two wrongs don't make a right," he said.
"I would on the eve of my fiftieth birthday like to talk of my father. Excerpts from the interview.
Q. What would you consider your most outstanding political experience during the past 50 years?
A: It was the challenge of running an opposition with only nine members in parliament when I was leader of the opposition during the Jayewardene regime. The UNP had 145 members. I believe that was an outstanding challenge and I enjoyed it enormously.
Q. Do you regret leaving the political party your father founded?
A: To be quite candid I did not in the normally accepted sense leave my father's party. I did not leave on my own. Some individuals now holding high ministerial posts conspired to push me out. I won't name them. But any one can see what has happened to this country in the past four and half years.
Q: Are you happy with the UNP?
A: I have no reason to be unhappy. I have been treated with trust, friendship and respect particularly by party leader Ranil Wickremesinghe and by the rank and file. So I have no reason to be unhappy.
Q: Sorry to sound a discordant note but there were recent rumours that you left the country to avoid the Wayamba elections campaign. Your comments?
A: I also heard such rumours which are spread by those who want to sully my name. I went to the United States on medical advice. I wanted to come back in mid January to participate in the election campaign but my doctors did not allow me. They wanted me to stay for another three weeks. I kept Mr. Wickremesinghe informed and he understood my position.
Q: Anyway what are your observations on the highly controversial Wayamba elections.?
A: From all that I heard while in the USA and what I have heard since I came back two days ago, it was the most horrendous election and I have reason to believe it was the worst election ever held. We have cherished democracy and the democratic process in this country.
In the past most political parties especially the big ones did have clashes. But I am horrified at the brazen violation of all the norms of free and fair elections in Wayamba.
Mahanayakes who have normally spoken out against the UNP have now come out strongly against the fraud in Wayamba. So has the Catholic church. I hope the President would act on the assurances she gave the people on Independence Day and punish severely all those who violated election norms. No matter to what party the perpetrators of these horrendous acts belonged, they must be punished, especially those in the PA, Ministers and all.
This should be swiftly and impartially done and only then can the President redeem the badly tarnished image of the government.
I hope my sister will restore the faith millions of Sri Lankans have lost in the democratic process, due to the unprecedented violence in the Wayamba elections.
Q. What are your political ambitions as you reach your fiftieth birthday?
A: The only ambition, if you like to call it that, is to help save the democratic process which recently got a severe beating. Democracy in our country is facing its gravest danger.
We are fighting an unwinnable war in the North. The cost of living has gone through the roof. The economy is on the decline and all election pledges lie broken. To cap it all the government has unleashed carnage on its opponents, further dividing already divided country. All this must be corrected, and corrected soon. That's my ambition.
Q: We started with the highest point in your career. What was the lowest?
A: When my mother's civic rights were removed, it was the saddest and the worst experience of my political career.
Q: You told us once before about your devotion to Shri Sathya Sai Baba. As such will you give up liquor and meat eating?
A: As far as I know, the swamy never makes anyone give up anything. It is left to the individual. I revere, and respect him a great deal. Soon after my birthday I will visit him.
---
From the Green Corner
PA's waterloo was at Wayamba
By Virudhdha Paakshikaya
As I start to type this week's rejoinder to my friend Paakshikaya after a three week absence I might compliment The Sunday Times for its pre-Wayamba and post-Wayamba coverage of this country's most controversial election.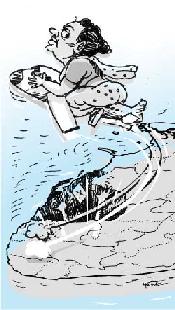 But I must also insist on telling The Sunday Times readers that last week's column of mine was not published, not due to my fault but because The Sunday Times ran out of space - or so they tell me.
Now, I would have thought that the readership deserved to be informed that my absence from the pages of their newspaper was only due to space constraints and not because of any inability to reply my unseen friend, Paakshikaya.
In fact, what I really wanted to do was to compliment Paakshikaya. For starters, it seems he (or she?) is not such an unreasonable person even though he is an SLFPer. If at all, he is exposing himself: he must be an old-timer, a member of the old guard of the SLFP and not of the new SLFP or PA frontline comprising the likes of S.B. Dissanayake, Jeyaraj Fernandopulle, C.V. Gooneratne and Mangala Samaraweera (in alphabetical order!) who played the lead roles in the run up to the Wayamba polls.
After the Wayamba disaster, Paakshikaya, I have met so many old- timer SLFPers like Lakshman Jayakody, Speaker K.B. Ratnayake, his Deputy Anil Moonesinghe and Dharmasiri Senanayake. The latter was literally pushed to preside at the post-Wayamba press conference on January 27th, immediately after the Cabinet meeting and I can assure you it was not an enjoyable task for him. Many of these honourable gentlemen have privately told me, in effect, that ''this is not the way the old SLFP did elections''.
But what do the young Turks of the SLFP and the PA say, Paakshikaya? When we protest at what happened at Wayamba, they hark back to history and quote the 1983 May by-election at Mahara!
Yes, Paakshikaya, whenever Mangala and his cohorts talk of the Mahara by-election, I'm reminded of the 1973 by-election at Dedigama soon after the death of our revered leader, Dudley Senanayake. Now, if you have forgotten about that, you just ask your General Secretary Dharmasiri Senanayake and he will tell you all you need to know, I'm sure! Young Mangala of course, would have been in shorts at that time!
Then, the notorious ''Attanagalle Doctrine'' - much like the Dassanayake Doctrine of 1999 at Ananmaduwa - was to follow in 1974 when peaceful Satyagrahis were assaulted by sarong clad thugs. So, Paakshikaya, how dare Mangala and his chorus talk of the Mahara by-election now?
Of course, Paakshikaya, I'm not blaming you because you seem to be generally condemning the violence and the rigging at Wayamba, but for some of your Johnny-come-latelys who talk of Mahara, the 1977 General Elections and the 1982 Referendum to say that we in the UNP began all this rot in the electoral process is to talk rot. No, My Dear, it all began in the early 1970s with a series of by-elections which the then SLFP government was hell bent on winning at any cost- Dedigama (1973), Ja-ela (1975) and Mulkirigala (1976) to name a few.
Then, of course, there was the thuggery unleashed on the Attanagalla Satyagrahis. Those of us who are old timers in the UNP remember those trend-setting days very, very, clearly, Paakshikaya.
So, let us stop this Dedigama-Mahara-Wayamba business, Paakshikaya. It is like the perennial question as to which came first, the chick or the egg! instead, let us look at how personalities in your own camp are reacting to Wayamba.
Some - the likes of Mangala Samaraweera, S.B. Dissanayake and D.M. Jayaratne - are justifying all that happened. Others - most notably two 'old' SLFPers, Anuraddha Ratwatte and Mahinda Rajapakse, not to mention the President herself - are playing a double game, happy with victory but careful not to be labelled as cheats. The 'intelligentsia' of the Party, G.L. Peiris and Lakshman Kadirgamar maintain a silence on the issue that is self-explanatory while old hands like Ms. Bandaranaike, Lakshman Jayakody and K.B. Ratnayake are frankly embarassed, and have said so at least privately.
But, my point is this, Paakshikaya: for all the soul searching and mea culpas, will anything change at all? For instance, see what the PA has done with Police promotions in the post-Wayamba period. Newly appointed DIGs have been posted pronto to the provinces where elections are due - quite appropriately on April Fool's Day!
The DIG at Wayamba who was acting until recently - and it was an Oscar winning performance too! - has been confirmed in his post because the PA knows that like night following the day, the courts of law will undoubtedly order a re-poll at Wayamba. And, no new DIG has been appointed to the southern province because there is no election there.
So, what are we gearing ourselves for, Paakshikaya? Is it not a re-run of Wayamba? The PA just does not want to lose, fearing it will set the ball rolling for General Presidential elections next year. But what they do not realise is that they are only creating an atmosphere where the people will have no alternative than to throw them out by means other than by the vote, if that vote is denied to them.
And, what is the reaction of your President to all this? She flies away from the growing dissent in her homeland to the island of Jamaica, and that too after cooling her heels in Switzerland.
I was indeed amused to read how the Director of Government Information reports from Montego Bay in Jamaica and if I may use his very words: "Sri Lanka urged the Seventeen Nations Group of Fifteen countries to make an all out endeavour to proscribe the scourge of terrorism as it had raisen to the level of annihilating all means which stand in its way."
Talk of being carried away, Paakshikaya! Somebody should not only censor his report but also see that the Queen is also not too offended. A western diplomat I spoke to described the Director as "Value for Money," but more than that, just imagine the Sri Lankan government talking of the ''scourge of terrorism raising its ugly head'' while itself being indicted for terrorising the people of Wayamba only a fortnight ago!
Now, I can almost hear you say, Paakshikaya, that I am making vague, generalised allegations, so I shall be more specific. Didn't your party supporters strip a fifty three-year-old woman and her seventeen- year-old daughter and parade them on the streets? Didn't you kill one of our UNP youth league supporters? These are just two of the most atrocious incidents, but your Media Minister has the audacity to say that this was one of the cleanest elections since 1977 and that "only 125 incidents'' were reported at Wayamba!
Let me tell you, Paakshikaya, (and I think you know it too) that your government has met its Waterloo at Wayamba. You have completely lost your image so cleverly touted by your propagandists - the image of a ''caring'' government. Your facade has been broken, your veil has been lifted; you have abandoned the course of right governance and in fact, abdicated the right to rule over our people. Now, we in the opposition and can tell the people what you really are - no longer a caring government but a scaring government!
And in the midst of all this, your irrepressible Minister of Justice, the ''honorable'' G.L. Peiris who was least heard of before, during or immediately after Wayamba is now out in the open again trying to flog his dead horse - the constitutional reforms package.
He is appealing to us in the UNP to help get a two-thirds majority in Parliament, but only last week, his revered leader, President Kumaratunga called our leader a ''Sanctimonious humbug'' and that mind you, at the Independence Day speech! So, the only conclusion that we can safely reach is that the "Honourable'' G.L. Peiris is trying to draw a red herring to the Wayamba fiasco by talking of his own fiasco - the constitutional package.
Now, we all know that the package was not an issue at Wayamba. But, imagine the TULF (or was it only the pro-PA ex-MP V.Anandasangari? ) who says that the PA's victory at Wayamba is a victory for the package! But then, Paakshikaya, we must excuse these old TULFers for they know not what they say or do these days - not much different from the power hungry politicians in your party, are they?
As for your leader, my assessment is that she has reached the stage where she thinks that by running away from the problems in the country, the problems themselves will run away.
When the Kolonnawa oil tanks were aflame, she went to New York. When the country's biggest military debacle occurred at Kilinochchi, she was in London. Now when the country's biggest ever sham poll has been concluded, she runs away to Switzerland, makes a ''stop-over'' in Colombo to slander her opponents at the Independence Day Address to the Nation and then flies away to sunny Jamaica!
And, from available reports, the President has already threatened her Cabinet that she will pack her bags and go abroad if things continue to go wrong!
Now, I might as well warn you, Paakshikaya, it is not that she hasn't done it before. Soon after the husband was killed by the JVP and her SLMP members were being targetted by the JVP, she set off to London, leaving those less fortunate members to fend for themselves. Rajitha Senaratne and Sarath Kongahage who were with her then - and are with us now - will tell you the whole story.
They say, don't they, Paakshikaya, that history has a habit of repeating itself? So, with elections looming next year the President, I daresay, must be thinking of a flight to London (or Paris, perhaps), and this time around, it is likely to be a one-way ticket too! But for the moment, she will have to be satisfied with the best wishes of an assorted array of mostly South American leaders at the "G-15" in Jamaica, for I am sure, there will be no Valentine Cards for her from the people of Lanka - not from Wayamba, anyway!
---
Newsmaker
Is this a volcano waiting to erupt?
By Rajpal Abeynayake
"Not me. I have not got into any violence," Sirisena Cooray says so, and especially these days people cannot dismiss him all that easily. The country's Supreme Court has absolved Mr. Cooray from having anything to do with the assassination of Lalith Athulathmudali.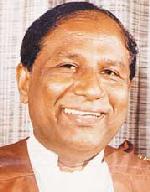 And now its famous that the evidence led at the commission which found Mr. Cooray guilty "wasn't enough to hang a dead rat." One thing Sirisena Cooray has found difficult to live down in his political career has been the image of godfather of the political toughs.
That's hurt him, he says, but he sees that things are fast changing.
Whether anyone likes it or not, the challenge he throws to any individual who thinks "Cooray is the patriarch of the political thug '' is whether they could pin any one single act of violence on him.
"They say I was responsible for every bad thing that happened in this country.
"You would remember that I was under house arrest for allegedly plotting the assassination of the present president.
"You'd remember that this was a total concoction; the Supreme Court quashed the detention order. I travel all over the country with my driver; just me.
"If I had done all these things that they say I have done, it's not likely that I will be able to go around like that, is it?" Mr.. Cooray has the kind of exterior with which he could charm an Eskimo into buying a refrigerator. But, there is nothing wrong with that, especially for a politician. You can't argue with his challenge, unless you are prepared to meet it. " Somebody must say," he claims, that " Sirisena Cooray specifically did this".
Or he got Sotthi Upali to do that.
"But nobody can say this so far — so why me, I ask?" About this godfather business, he is almost contemptuous.
"They say that the entire underworld was with me. Where are the other names, let them put forward one or two names to prove the point.
"But, are there any?"
The one name they pin on Cooray, he says is Sotthi Upali who he identifies as being "not an underworld character." The late departed Sotthi Upali does not fit, Mr. Cooray points out, to any underworld description.
He is not a smuggler, a bootlegger or a heroin peddler, he was not in any of these rackets.
Asked why he was assassinated in a gang purge in that event, Mr. Cooray says that "Sothi Upali got involved in gang rivalry through some trivial incidents which eventually escalated into a gang vendetta against him." That characterization of Sotthi Upali might not sit well with men who still think Upali was the devil incarnate, legitimately or otherwise But, Mr. Cooray's partner in clearing him of the crimes said to have been committed by him, has been the nation's judicial system which has almost unerringly vindicated Cooray at almost every request.
"We still have the independence of the judiciary; that's the only thing that has not been assailed," he says, so the Lankan judiciary has Mr. B Sirisena Cooray's unequivocal certificate.
Sometimes Mr. Cooray can have you confused.
Is he saying seriously that the UNP was not associated with any violence, that the UNP (green though it was) was also lily- white? The answer to this question is intriguing. Says he that "you have to ask this from the UNP leadership of today which has distanced itself from the violence, the dooshanaya and beeshanaya.
"In short, he feels that the UNP is attempting to father all violence on the late Premadasa and associates while avoiding the issue of who began the violence and for what purpose.
Asked whether he could give the answer to the question "where did this violence begin," he says " why should I defend the UNP?" Mr. Cooray — his tone of voice, his every gesture and facial expression conveys that he is hurt and aggrieved.
"I'm hurt because the UNP never came to my defense," he says.
But if politics is more than hurt feelings, what then of B Sirisena Cooray's journey into the future? Is he the lone ranger, the gathering juggernaut, or the man who will finally would rally the grand old party? It is difficult to say except to feel that Mr. Cooray looks and acts every bit today like the big dormant volcano.
The only hard guess is how and when the eruption is going to occur.
Yet, he is always in a mellow mood, so it's not difficult to ask him questions, so I dig deeper into the commission inquiry.
If he says there is no doubt that the Commission inquiry was an excuse to frame him, why did the state have its guns trained on him anyway? Why not Ranil Wickreme-singhe, the leader of the opposition?.
There is a distinct chuckle. "They say ,no, as long as Ranil is there, the UNP will never win…." So you see the mellow man can land a punch when he wants to.
But this Upali question keeps lingering during our conversation. "Upali is not my creation," he says.
"He is not my boy, he is a UNPer. A paper quoted me as saying he is my boy. What I said was that he is a UNPer and that he came and helped us. I didn't know he was an underworld man or anything like that, as far as I knew he did turfing and he had a good deal of boys to help him. Even if he had underworld connections, that's another matter, we didn't have anything to do with that."But Mr. Cooray is emphatic about one thing.
He says the "godfather image" was appended to him after 1994, when certain people felt that his being the General Secretary of the UNP would have been detrimental to their interests in the party.
"Our people were partly responsible for my so called house arrest on a charge of attempting to assassinate the President. I'm surprised at the levels to which people stoop to in order to grab power." So this is another man who says that the greatest enemy is the enemy within.
Mr. Cooray, a convert to the idea of a non party independent President said recently in a TV interview that if he runs for President as an independent, that he will run to and win and not spoil.
"I will be a winner he said, not a spoiler."
Will the winner take all, then?