2000 Summer collection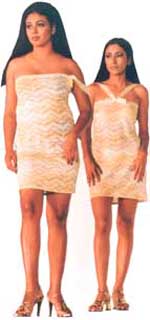 A totally different perspective of fashion came alive at the Atrium Lobby of Hotel Lanka Oberoi last Sunday when Andre Estefan presented his much-awaited Australian Summer 2000 Collection for men and women. True to the adventurous Estefan look, the show featured a collection of simple but elegant designs, each highlighting a finished, complete look.

The lightweight fabrics chosen with a matching colour combination from muted to strong shades made a dramatic fashion statement, the design being predominant yet enhancing the personality of the wearer.

The finesse of each product was beyond expectation, complemented by the hair and the make-up. A distinctive feature of the show was a collection of men's wear meant for the fashion-conscious males, filling a long-felt void. The models on the catwalk certainly did justice to the clothes, while Andre was a happy man having prove his mettle.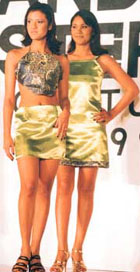 ---
Exfoliating products
The outer layer of skin consists of dead cells that are constantly being sloughed off and replaced. In recent years cosmetic products to aid or speed up this sloughing action have become popular. The claims are that sloughing makes the complexion more radiant, youthful, and healthy looking. Skin that has not had the benefit of exfoliation is supposedly dull looking and old. The rationale behind these products is scientific evidence that, as skin ages, cell turnover slows down. These products are supposed to remove the dead cells that have failed to slough off on time.

These claims must be viewed with skepticism for a number of reasons. Normal skin does not need any aid in sloughing off or exfoliating; it does this quite adequately by itself. However, removal of the outer three to five layers of cells of the stratum corneum (the outer layer of skin), particularly if the skin is rough, makes light reflect more evenly and improves the skin's appearance. While it is true that as skin ages cell turnover is slowed down, the degree of sloughing that these products produce is not enough to produce visible results. Only more potent medical treatment can produce significant peeling or renewal.

Many products that are promoted as increasing exfoliation really do very little. Those that really work such as abrasives may be harmful. The abrasives exfoliate by mechanical means. Complexion brushes and abrasive pads fit into this category, as do products that contain mild abrasives such as apricot shells or synthetic particles.

The abrasive products may be of some benefit in acne, but abrasion or rough washing often makes acne worse. They should be used with caution on normal or, especially, dry skin, as they may be too irritating. The skin may become red, irritated, and overdry, and flake or peel. It's difficult for the average person to know how long and how often to use such products, to control the scrubbing pressure, and to adjust use according to changes in weather, water temperature etc.