Melodious memories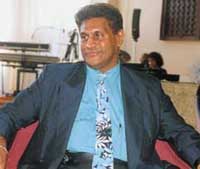 Beverly Denis Rodrigo, lobby pianist at the Colombo Hilton, released his first solo piano music compact disc in December last year. Titled "Beverly Rodrigo gives you Melodious Lingering Memories," the CD features 22 tracks including the ever popular "Unchanged Melody," "My Way," "Crocodile Rock," and the more recent "Have You Ever Really Loved a Woman" and "Don't Cry for Me Argentina," both chart-toppers.

Beverly's history as a pianist starts as early as 1962 when he began to play for his school band at St. Aloysius College, Galle and to accompany church and school choirs, followed by his stint as an organist with pop groups. In 1972 he began his own career as a resident solo pianist at Blue Lagoon Hotel, Negombo which, at that time, was Sri Lanka's top tourist hotel. From there he moved on to Havelock Tour Inn as resident solo pianist-cum- entertainment Manager at the "Flame Room," then reputed as Colombo's top night spot.

From 1980 at the Mount Lavinia Hotel, Beverly has had the rare opportunity of working in all the five-star hotels in Colombo from Lanka Oberoi to Galle Face Hotel to Ceylon Intercontinental in various capacities such as night club, lobby, bar, concert, and cocktail pianist. At the Colombo Hilton where he's currently performing, he also covers wedding receptions, product promotion launches, rallies and seminars and serves as pianist, conductor, and trainer of the Staff Christmas Choir.

Dedicated to the memory of his late mother Beryl and his mentors Lakshman and Pushpa de Alwis, "Melodious Lingering Memories" is sure to provide you with some serious soul-searching music.
---
New name in town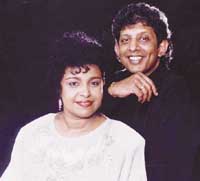 "Our motto is quality," says musician Dulip Gnanakan.

With wife and singer Mariazelle Goonetilleke forming a very solid partnership, the future is brimming with plans for this duo. They have just launched a home studio and now under the name "Saaksha," chosen because they liked its meaning of permanency, they plan to release a CD very shortly.

The home studio, they explain, gives them the freedom to experiment with their music. Dulip is all too aware of the market for his wife's dynamic voice and hopes the CD in which they plan to incorporate several new releases as well as some of her Oriental songs will provide ample scope for her talent. "What we envisage at this point is a party-time mix, with lots of moods, something one can dance to or even listen quietly to as the mood may be, something contemporary and upbeat," says Mariazelle.

Right now, just recovering from a hectic season, they will spend the better part of January getting the music together. There are also plans with the home studio to record quality jingles with the better singers.

The home studio, which Dulip describes with justifiable pride as quite state of the art and more than sufficient for Sri Lankan needs, is the culmination of many years of effort. He began at 16, with a box guitar, tutored by Gordon Mayo and began his professional career as a musician with The Emeralds. This incidentally was where he first encountered Mariazelle. Recalls Dulip, "She was enormously talented even then showing amazing versatility. She could turn her hand to drums, guitar, keyboards, but over the years, she's neglected that aspect of her music." Mariazelle chimes in to explain that then she needed to focus on her singing but now plans to reclaim her touch with perhaps the keyboards and the guitar. "With such a driving force behind me, I could hardly go wrong," she smiles.

Dulip played with groups such as Midnight Mist, Suriyakumar's "The Pioneers" and Maxi Rosairo's "Mahogany," before launching his own band Pro-Arrangement. A stint in Europe followed and then on his return to Sri Lanka, more music.

Mariazelle, recalls strong inspiration from her father who showed great faith in her musical abilities. "No one could stop me from singing and my father was fond of saying that I was probably vaccinated with a gramophone needle." Success first came at a talent search conducted by The Observer and she went on to join the Junior Rhythmiers. Kandy Lamissi, the song that catapulted her to stardom was recorded when she was with the group "Midnight Mist."

Mariazelle went solo, after playing with an all-girl band which toured Kathmandu and thus began what she sees as a rewarding stage in her life. She travelled overseas frequently, singing to expatriate Sri Lankans and also worked with big names in the local industry, Clarence Wijewardene, Ajantha Ranasinghe, Stanley Peiris, Piyal Perera and Chandral Fonseka.

Yet she is confident that her strongest partnership lies ahead with Dulip. "We have received some offers to play in hotel lobbies which we are considering and may think of the occasional tour if it is worth it," she says. 'Saaksha' has plans aplenty.