How many of us think about the underprivileged on New Year's eve?
What about them?
Rs. 5,000! No it's not the monthly wage of the average Sri Lankan who works very hard and struggles against all odds to feed, clothe and provide the other necessities of his/her family.
This is the amount some of us would pay to "ring" out the old year and "ring" in the new year. Yes, this the fantastic charge per person some of the many hotels are asking of people, to lay-out a "feast of booze and food, surprises and prizes" and what I call back-to-back dancing. Why back-to-back? From what I've heard, for being an average Sri Lankan I've never stepped into one of these "New Year bashes," apparently there is no room for anyone to dance, because the ballrooms are so packed.
Visions of Bacchanalian orgies — drunk men, half-naked women. Flashes of memory and I am transported to our Western Classical Culture lectures given by a veteran teacher and how she painted pictures of ancient Rome—they used to have feasts and feasts. They used to eat and eat, turn aside vomit and eat again.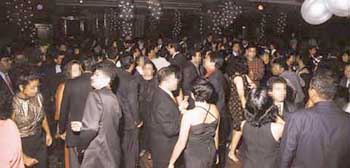 But to get back to our hotels and beach resorts. From December 1, they advertise tickets ranging from about Rs. 1,000 to Rs. 5,000 for the New Year's eve dance and several course dinner. But that is just per head, just for a single person. So if a couple goes dancing it becomes double. Then of course you have to pay for the extra liqour.
What about the outfits? In most cases, those in the wardrobe are not good enough. So it's more money for that glamorous gown or saree or whatever these people wear for such events. There are supposed to be a few "exclusive" places in Colombo selling outfits for such occasions — a short, skimpy little T-shirt for Rs. 6,000 and a dress for Rs. 30,000! Some Sri Lankans don't see this kind of money in a year.
And so they eat, drink and dance the night away. What about their children? I wonder.
If they are young, are they left with maids or grandparents, to await the New Year? If they are teenagers are they allowed to attend balls or parties on their own, without parental supervision? Aren't these parents worried and concerned about drugs, of children falling into trouble. Isn't this a way of bringing about decadence?
But I forget that we are in the age of materialism, and are not able to get out of the clutches of money. Slaves to money and what money can buy. Family values, old friendships are unimportant. If you have the money you have lots of friends, if you don't you are a nobody. So we engage in a spree of making money, how it is acquired and later wasted being irrelevant.
What about the contrast? What about the millions of others in this country? For them there is nothing new about the New Year. Some of them maybe lighting a few crackers on New Year's eve, if they can afford to. Others would just be getting ready for another year of struggle and survival.
Finding money to buy the children's books for the new school year. Finding the money to buy new uniforms if the children have outgrown their old ones...finding money to buy the white shoes, the water bottles, the tiffin boxes. Just the writing books, not even the texts, and colour pencils, Bristol board, clay etc. for Year 1 costs more than Rs. 500.
So for the common man, woman or child, New Year's eve means just another evening. Most probably, some of them would even be working that night like Ms. R who is a security guard at a building in Bambalapitiya, whom I met the other day. She is on her feet from 7 a.m. to 7 p.m., 26 days a month and takes home a pittance of Rs. 3,500 including overtime.
She smiles wryly. She is newly married and her husband drives a van. He also brings home about Rs. 3,500.
They live in a tiny room in Dehiwela as they are both from the south.
After bus fare and room rent, there is hardly anything left. With the sky-high cost-of-living how do they survive? Debt, debt and more debt........that is their life.
They are slightly better off than Gamini who does odd-jobs in our area. Father of two school-going sons, he toils in homes, polishing and cleaning, or in gardens cutting trees, grass, pruning hedges and killing snakes to make a living. His legs are full of wounds from cuts by the "veesi ketta" (scythe) and his vices are "kahata te and beedi".
His life depends on the weather. During the rainy season he earns nothing, as there's no gardening, then he and his tiny family starve.
Of course, he's a bit better off than the thousands of refugees like Michael Anthony who have been homeless since 1983, for no fault of theirs. He lives in a cardboard shack by the filthy, stagnant canal at Badowita in Attidiya.
They don't have proper toilets and disease is rampant. But the 40 families, comprising Tamils, a few Sinhalese and one Muslim family live in harmony in this refugee colony. They are striving to educate their children, though they don't have any facilities, no lights, no water and hardly any clothes. What they long for is a Petromax lamp for each tiny shack, so that the children can study into the night.
There are also the other refugee children in a camp in Vavuniya, whom a colleague visited recently. They don't get a decent meal. The rations are inadequate. They haven't had any protein, they haven't seen an egg for years, my colleague explained trying to hold back her tears.
"That's life," we say and assuage our consciences with the thought that we can't change the world and feed every hungry mouth. But what can we do? No one is advocating that we don rags, give up our homes, give away our savings and do full-time charity work. Maybe there's something we could do.
Think about it as the New Year dawns.
Have a very happy and prosperous New Year.