Hurricane , desert storm
Disaster is not heading this way nor is it the code-name for the latest military offensive. They are just two horse owned by Mohan de Lanerolle ... Ayesha R. Rafiq visits his stables in Wattala for an inside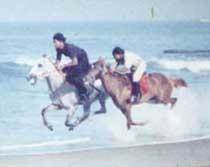 view of the riding school.
Hurricane, Desert Storm, Tornado, Roaring Wind, Spirit, Garabandle and Orenda. No, this isn't your everyday list of natural disasters. As destructive and sorrow giving as these winds are, the only things they hold in common with their namesakes are strength and speed. We are talking about beautiful and majestic, blue-blooded and proud. One noble toss of their royal heads is enough to keep one marvelling at their strength and majesty for long after.
Does 'Black Beauty' ring a bell? Ah, you finally got it. Yes, we mean horses. Black, brown, white and grey, and all equally splendid.
And they belong to one lucky man, Mohan de Lanerolle, owner of the largest privately-owned stables in Sri Lanka. "I've grown up around ponies and horses all my life, and I treat these creatures like gold," he says with obvious pride. Who wouldn't?
It costs about Rs. 8,000 to maintain a horse for one month. This involves a twice daily feed consisting of half a bag of Prima horse feed, grass and the occasional medication. It also includes grooming the

horse everyday. The horses are massaged and brushed daily, and washed almost everyday.
When you've got over 15 horses and half-horses (horses crossed with ponies), it adds up to more than Rs. 100,000 a month. "I earn some money from my riding school, but it isn't enough to cover the costs. That's when my father doles out," he says with a wink. And in the same breath he manages to weave some logic into the words, "I'm not rich, so thankfully my veterinary clinic offers its services for free."
He has over 15 horses and he doesn't consider himself rich? Well, he says, he doesn't earn any profit from the school, as the rates are so low, and since he devotes his entire life to the horses, no, he says, he's not rich.
His father, Mohan de Lanerolle (Sr.) has had decades of experience with horses. He was also instrumental in breeding Sri Lanka's first half -horse. So, it's not difficult to see the son's obsession with horses. "I got my first pony when I was about eight, and I called him Soldier. My first horse was called Bojangles, when I was about 13 or 14. The pony was a bribe for me to pass my entrance exam to St. Thomas' College. That was the only exam I passed well," he says with a mischievous smile.
Mohan has just imported seven thoroughbred horses from India. The largest of them, 'Champ' stands at 16 hands and is truly a beauty. It is feeding time, and I get a little too close to Runaway Delight, and two and a half lakh worth of horse snorts at me. "They do that when they're happy," says Helmut Hendricus, a friend of Mohan's, who owns three horses. "But I think it should be renamed. It sounds a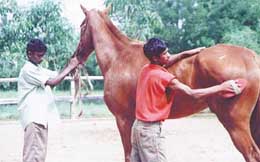 little like an ice cream. Like Sultana's delight."
The horses have to be kept in quarantine for one month after importation. I see one horse's passport. His ancestors bear names as regal as Czarinska. It also clearly states each horse has distinguishing marks, to ensure it can't be switched for any other horse along the way.
Most of the new horses are from the south of India. The north has better horses for sale, but Mohan says he couldn't get many from there. The best thoroughbreds are the English and Australian, but they are expensive to import, especially because of the shipping costs, so they got Indian thoroughbreds.
Mohan's and his father's favourite, Gandelf, along with another horse is now at Sigiriya Hotel. Earlier, the horses used to be at the Hilton riding school, which Mohan managed. The horses were so scared by the bomb blast, they lost 10 pounds in one day. It was after this that he shifted them to Wattala, close to his home. Here, they get to gallop, trot and canter along the Uswetakeiyawa beach.
The riding school at present, without the newly imported horses, consists of mainly ponies. There are just one or two stallions. As we approach, Moca, Foal, Ginger, Miracle Whip, Danture and McOven, along with some others, cock their ears.
Mohan is a qualified trainer who has passed three of the four stages of the British Horse Society's exams. He says the problem in Sri Lanka is that there isn't enough backing for this sport. He wishes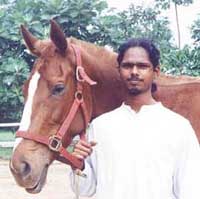 more people would realise that you don't have to be rich to be able to ride a horse.
This is illustrated by his low rates. He charges Rs. 250 from a junior member for a half-hour lesson and Rs. 300 for an adult member. For non-members, the charges are Rs. 300 and Rs. 350. Members also get incentives such as breakfast and coffee at a reduced cost at a nearby tourist hotel if they choose to ride for about two hours.
"The main thing you have to look for in a horse is temperament. You can't have a horse who kicks or bites, for a riding school, because the pupils would soon get scared and be put off riding. I made it a point to pick out gentle tempered creatures," Mohan says, sensing my obvious trepidation at being at such close quarters to such powerful animals.
Mohan's youngest pupil is four-and-a-half-years-old, and he just rides the ponies, getting used to their feel, as he is too young for lessons. Most of the pupils are under 12. It takes about six lessons to learn the basics of horse riding, and after that you can go onto the more advanced areas such as jumping and cantering. After the lesson, the pupils get to feed the horse carrots, apples and sugar, as a reward, or bribe, as Mohan says.
He says horses and ponies who are about eight years old are the best to ride, because they are the most willing to learn and listen.
For racing, the horse is ready at about three years. Mohan has raced in many events, and has a number of wins to his (and the horse's) credit.
After a round tour of the two paddocks, one where the quarantined horses are kept, and the other the ponies of the riding school, I am shown the framed photographs of the horses.
Then I learn that the family's fascination for animals doesn't end with horses. "The dogs in the photographs are some of the very best, and have won many dog shows," Mohan (Sr.) says. Stepping out of the house, Mohan introduces me to his 10 Persian cats, all absolutely gorgeous and proud, with their noses in the air, and 10 kittens.
My last surprise is the sound of gabbling, and on stepping out I see two mischievous geese trying to peck someone, and then waddling back to their two goslings. It all reminds one of Geroge Orwell's Animal Farm.
Now, if you're feeling nostalgic, go pull out your old copy of Black Beauty, or better yet, why not go for a horse ride.