Of twos, threes, and more
A National Twin Registry has been launched to facilitate research in this fascinating field
By Hiranthi Fernando
A Twin Registry is indeed a fascinating idea. Last March, the Sri Lanka Medical Association during its sessions launched a National Twin Registry making Sri Lanka the first developing nation to do so.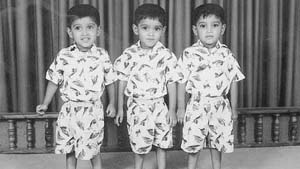 To initiate the Twin Registry, a competition for twins was announced in the media. Twins, their parents, relatives or friends were invited to participate by sending in authenticated details of twins. If the information was supplied by anyone other than the twins themselves, written permission was required from the twins if they were over 18 years of age, or from their parents if they were under 18. Prizes were offered for three winners selected by drawing lots. The draw was held in early November and the three pairs of twins received cash awards of Rs.25,000, Rs.15,000 and Rs.10,000.
"As a result of the media blitz regarding the Twin Competition, there was a tremendous response. Information regarding twins and multiple births is still flowing in," Prof. Rohan Jayasekere, Chairman of the National Twin Registry Committee said.
Prof. Jayasekere is the Head of the Department of Anatomy and Director of the Human Genetics Unit, Faculty of Medicine, University of Colombo. At present, 4509 pairs of twins have been registered. There are also 81 triplets, and two quadruplets.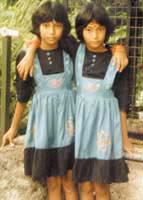 Dr. Sisira Siribaddana, a Director of the National Twin Registry said the idea originated from Dr. Athula Sumathipala. Thereafter, Prof. Devaka Fernando and Prof. Rohan Jayasekere initiated the launching. "Twins provide a powerful tool for genetic analysis and research," Dr. Siribaddana said. "At present, Sri Lanka lacks research in molecular biology into human diseases. We currently have collaboration with foreign scientists. They take the DNA and conduct research. People who do research on this in Sri Lanka can be counted on the fingers of one hand. Our main aim in establishing this Twin Registry is to use this facility to conduct research in Sri Lanka." Dr. Siribaddana explained that a pilot survey of the twins registered was done and a questionnaire by Japanese researchers translated and given to the mothers of twins in order to determine whether they are monozygotic (identical twins from a single egg) or dizygotic (unidentical twins from different eggs).
Prof. Jayasekere further explained that they have decided to establish the register first, with a reasonable number of twins and follow up with specific projects rather than looking for twins for specific projects.
Having a twin base will facilitate the progress of research. Without a twin base, it is not realistic to think about doing twin studies in Sri Lanka. However the twins who register in the Twin Registry are not bound to participate in future research. Each individual will be contacted personally to request his or her help in the studies when necessary, and consent obtained. The ethical approval of relevant authorities will also be obtained.
The scientific study of twins, known as gemellology has apparently emerged only in the last two centuries. Twin Registries have been in existence in many countries around the world and have served as a valuable source for twin studies.
The purpose of twin studies is two-fold, studying the multiple birth phenomenon and researching the genetic and environmental sources of human variation. Twin study may be defined as a "high powered" branch of genetics because when two or more identical siblings are affected by the same disease and external factors have been excluded as the cause, then the disease is most definitely a hereditary one. As such its origin can be traced back in the genealogical tree of that family on either the paternal or maternal side or both.
The initial aim of the Twin Registry project in Sri Lanka is to establish a nation- wide volunteer twin register and expand it to a population based register, to include as many twins as possible irrespective of ages. The objective of the register is to complement and supplement current teaching and research activities undertaken in Sri Lanka , in the field of Social, Genetic and developmental research. "We are trying to get registration at birth. If we can get them at birth, we can follow their development for a long period," Prof. Jayasekere said. As a first step towards this, they plan to request statutory authorities to permit the inspection of birth registers to trace details of twin births as far back as possible and invite them to register. The next step would be to obtain the permission of the Ministry of Health to trace twins through Primary Health Workers (PHW). WHO targets for immunisation are achieved through this infrastructure. The ideal final stage will be to get statutory status for the register so that every twin birth could be reported to the Registry. "Even some developed countries do not have population based twin registries," Prof. Jayasekere commented.
The Twin Registry, aims to stimulate the interest of local researchers to undertake projects using twin studies as a research tool, as well as encourage international collaborations for cross-cultural comparisons. To expand the local resources in the field in terms of training, skills, manpower and equipment is yet another goal. Opportunities to obtain training by international twin researchers will be sought. What they finally hope to achieve is an organisation similar to the Multiple Birth Foundation (MBF) in London.
To quote excerpts from Dr. Elizabeth Bryan, Medical Director of MBF, in her message at the launching of the Sri Lanka Twin Registry, "Most people, including professionals in the fields of health, welfare and education, have little idea just how demanding twins, triplets and higher multiple birth babies can, be. All too often, the parent's natural joy in their twins and their ability to cope are dramatically reduced by the complex problems that frequently arise." The MBF specialises in the problems and needs of twins and higher order births and the support of their families.
"We are trying to create a centre where the twins could come to us with their problems," Prof. Jayasekere said. "Maybe create a counselling service by twins themselves. The problems are common. They may be able to relate better with each other in their emotional, psychological and birth problems. It is a two way street. We want them to benefit in the long run. We start with research but hope to evolve into a personalised organisation. The benefits derived by our research will go back to the community. To provide guidance to them in their problems is our goal. We are also trying to establish a Trust Fund for those families who are in need."
According to Dr. Jayasekere, when a reasonable number of twins have been registered, some projects have to be identified. Some are already in the pipeline. The twins will be invited to participate. The first training workshop is expected to be held within about six months. A facility for molecular biology will have to be established. We do not have sufficient infra structure yet. "I have seen the Australian Twin Registry system that has a massive infrastructure," Prof. Jayasekere said. "It is funded by international organisations. Work on several projects and research papers are in progress. They are studying various aspects of twins, social, psychological and so on. We can learn much from them" he said.
Since large scale twin and genetic research is expected to take place, ethical considerations have been taken into account. The Twin Registry will work within an ethical framework for the country, guided by the SLMA and university ethical committees. Guidelines have been laid down to prevent abuse of the register and the twins and ensure confidentiality of the information and data protection. The projects undertaken will be presented in open national forums so that any concerns could be duly recognised and discussed. Regular workshops will be held from time to time to review and update ethical standards. The participation of twins to represent their views to ethical review committees will also be ensured. It has also been stressed that twins selected for specific research projects have absolute rights to abstain from participation in the study or to withdraw their consent at any time.
According to Prof. Jayasekere, they also hope to guide and encourage the twins to form a welfare organisation and assist them to make links with similar organisations in other countries. The aim of this step is to look into the broader issues they face as a group, the psychological, social and financial consequences of being twins and explore the possible interventions, including welfare work. It would also enable them to represent their views on the research projects involving twins.