Accessories – do they matter?
By Chamintha Thilakarathna
Accessories are not simply items to garland oneself with for a special occasion, they have become a part of life and personalities...and a fashion statement to so many youngsters.
What do Cher's chunky waist band and Michael Jackson's solitary glittery glove have in common? The same thing that Spice shoes and the famous Titanic necklace have. They are accessories of identification.
Would you recognise a Spice girl without those Spice shoes, or George Michael without his ear ring, or even our own cricketers without their trademark chains and bracelets? Maybe it's a part of the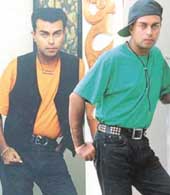 image they like to cultivate. Then again maybe not.
Today, accessories are not simply items to deck oneself with to suit an occasion, they have become a part of the fashion image. Take a walk on the road, and what do you see? Young men and women, and some times elderly persons, wearing everything from, bracelets, anklets, nose rings, chunky necklaces, waist chains, and even head bands to complete their outfits.
Accessories are not simply a hand bag, a necklace, brooch or bracelet. No. Today most of these have been replaced by the more eye-catching, a strategic tear on a pair of denims, a forehead band, even a bell on the shoe lace, a naval ring, sometimes even dog chain belts.
Not many of us would dare wear a torn pair of jeans or even a shoe heavier that the foot itself? But for some the fashion statement made by the accessories is so important, they would dare all. Recently it was reported that Baby Spice of the Spice Girls had injured her leg due to the weight of the shoe.
So why go to such lengths? Is it a fashion statement or personality statement or simply a means of attracting people's attention?
According to psychologists it could be any one of those. But what do those who are generally seen in such items feel?
"Although I wear heavy accessories for a shoot or when modelling, I prefer to simply wear my four rings, chain, bracelet and wrist-watch," said nineteen year old model and actress Nelum Haththella.
Of course, in the case of some, one rarely notices the accessories unless they are brought to your notice. These are people who have successfully harmonized these items to suite their looks and personality.
But does not that chunky jewellery on the neck feel just as uncomfortable as getting a cold when you have a nose ring?.
Dress designers do not agree. They say that the accessories are important to give the total look. They argue that the function of accessories is to bring out the dress and personality that needs to be emphasised.
"The accessories worn by a person can change the whole personality. The correct accessories could even turn a rebel into a saint look or vice versa," they say.
But is that what we want from accessories? To turn ourselves into another person?
" Well, people could get a complete change over from accessories and for those who want it why not?" questioned Mohan Perera, a twenty one year old model.
But as for himself, he prefers to wear silver chains. "I like it. It's different. As long as the accessories match with the clothes and person I don't see anything wrong. I sometimes like to wear bracelets as well," he added.
Roshi Ramanadan, another young model said that as models they are not allowed to wear accessories while working for these could clash with the outfit being modelled, unless they have been specifically selected for the purpose.
"Actually, I do not have a fancy for accessories. The only accessory I do wear are rings. And them I wear on each finger. Usually in gold and preferably with diamonds, although I cannot afford it right now," she said.
According to her, many people in Sri Lanka do not have good taste in accessories. She feels that people just cling to the trend and wear what comes their way. "And, that is why most people look so unimaginative and out of place, because they do not select what suits them," she said.
What do your accessories say about you?
Dress designer Senaka de Silva says that your accessories can speak volumes about yourself. " Your accessories in fact, show your tastes and according to some, the way in which you wear them speaks of your sexual preferences also. Finally all what you wear, be it clothes or accessories adds upto to giving the person a complete personality, the way he or she wants it," he said.
In his case, he is a silver fan. "More than gold, which is a wealth statement to many, silver is very attractive to me. I don't wear modern jewellery but the old type pieces. Basically it's just an additional decoration in the body which must blend with the rest of you," he said.
Wearing daring accessories also says that you are not concerned about norms, that you are not a conventional being. "Accessories were worn more frequently by men than women during the days of kings, although it's considered odd for men to do so today. Besides, the world will be a more interesting place to live in if people wore accessories and were creative with dress codes they wish to be seen in, rather than being boring," he said.
Nilhan Seneviratna, another young designer said that the problem in Sri Lanka is that there is no proper guide. "Overseas there are magazines to guide people with trends and suitability. We have nothing of the sort, so we blindly imitate trends we see," he said.
So the next time you reach for that chunky necklace or armband, pause awhile. Is it the correct look you're creating?

---
Nature: the best inspiration
Ayesha R. Rafiq speaks to Palitha Gunasinghe about his fascination for water colours and his maiden art exhibition.....
To write fully about Palitha Gunasinghe, one needs to be an expert in punctuation. But he is modest about the numerous national and international awards he has to his credit, as he is about the many lines of art he pursues. Instead in the style of the true artist, he prefers to talk about his art and the inspiration behind it.
For someone who has achieved so much, to which a huge scrap book of articles about him is testimony, as is a folder full of certificates, an exhibition and celebration of his art is probably the next natural stepping stone.
Soft spoken and affable, Palitha's face lights up with excitement and pride as he talks of his maiden art exhibition now being held at the Alliance Francaise, Colombo. The exhibition continues till November 20.
Herbert Read, referring to a painter once said; "He braved the fiercest storms at sea, climbed the

most inaccessible rocks, endured hardships as great as any explorer, in his determination to observe and record the subtlest and rarest of natural phenomena. Never was a life more devoted to purely professional activities."It seems almost as if Read could have been referring to none other than Palitha himself. Who else would leave one's job as a commercial artist, as it didn't offer him the opportunity to explore and develop other avenues of art.
Palitha's fascination with art developed early. His earliest memory of painting are the crayon scribbles he used to make on the walls at home. His passion was encouraged by an understanding family. 'I was lucky. Unlike most other children, I have no recollection of being scolded for drawing on walls,' he says.
"I also used to copy political cartoons at home. I was too young to know whom I was drawing, but my father used to tell me their names. My father was a great source of inspiration for me. While he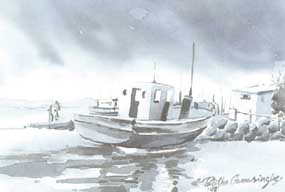 couldn't draw very well himself, he would show me where I had gone wrong."
Many years later, Palitha gained repute as a political cartoonist for the 'Divaina' newspaper. During his school years, he began to contribute his art work to children's papers such as 'Mihira'. Although not being able to afford any formal lessons in art, neither Palitha's talent nor enthusiasm could be dampened.
But this may not come as a surprise, as his family is an artistic one, where encouragement was never lacking. His uncle is an artist, and his brother an art teacher in the very school where he studied in Bambaraella, Meegahatenna. Palitha's mother too used to write poems and act in dramas in her younger days. Maybe this is where he inherits the more literary side of his talent.
In addition to painting, he was also a feature writer for the 'Divaina'. Almost all of his art, all water colour prints, depicts rural scenes.
Fisherfolk at sunset, a lone cart beside a carter's hut, or trees bathed in moonlight. 'I don't mind travelling to distant villages and spending a lot of time there, if at the end of it, I can get inspiration to paint one good picture,' he says.
Palitha says he prefers to work with water colours, as the majority of artists in Sri Lanka use oils, because they are easier. "I did not participate in the artists camp held in Habarana, because they were mostly oil painters.'
Now comes the test to the subtleties of punctuation. Palitha's achievements, as mentioned before, are many; he is a poet whose poems have appeared in the 'Tharuni' and 'Yovun Janatha' newspapers, and a songster. His lyrics have been recorded on disc for radio. He has also undergone a UNESCO course in photography and Animation Cartoon Film at the Politechnical Institute.
He was also the media artist and Associate Editor cum Page Maker of 'Sarvodaya.' He followed a course in Cinematology and produced the children's movie 'Veta Depasa' based on one of his stories. It was through Sarvodya that he was able to win a scholarship to study art in the Netherlands and in Belgium- his first real art lessons, and an experience which he says, changed his art forever.
Palitha is also, (yes, believe it or not, there's more), a stamp designer, to illustrate which he pulls out another folder full of the stamps he has designed, approximately 40, he says, together with the cover envelopes. He is also a poster artist.
Some of the stamps he has designed include those for the 50th anniversary of WHO and UNICEF, the 1998 Olympic Games at Seoul, South Korea, the Janasaviya Commemoration, and for the 1996 Sri Lankan Handicrafts. The last set, according to the Sri Lanka Philatelic Bureau, are the most popular among foreigners. "Stamps are a little more difficult to work on as they are so intricate and you have a very small space to work on, but I do it because it's something different and a challenge." He has been on the panel of government stamp designers for the last ten years.
Some of the awards he has won for poster competitions include the Red Cross Prevention of Aids poster, Anti-drugs poster and the All Island Temperance Youth Organisation poster.
Palitha manages to depict the commonest of everyday scenes, and still give every single piece of work a unique touch, a little bit of magic that holds your eyes to his work for just a little longer, to take in the beauty that you feel surrounds you. Truly a gift from God, which you may be able to feast your eyes on at his exhibition.