Needed: a new hostel for Royal
By Carl Muller
The Royal College needs a new hostel.... or do we sacrifice generations of children, the finest products of their age, by keeping them in an environment that is wholly disgusting?
On this page, I give you a headline and opening paras of a news item from the front page of the Ceylon Daily News of Wednesday, August 19. The President has declared, while addressing thousands of youth participating in the Tharunu Shakthi youth camp at Veyangoda: The greatest resource we have is our people, especially the youth. "I ask you to keep this in mind." In the same newspaper, on page 9 is an advertisement by Redd Barna - an advertisement reminding us that a child is also subject at times to emotional abuse. Any child robbed of its roots, a home environment, forced to live in stressful conditions, is a child abused. Keep this also in mind...because if there is one cause in this country deserving of the largest handout from the President's Fund, this is it!
It was not long ago, while collecting newsy material around Kandy, that I met Rushan Sumanaweera, old Royalist, and we chewed the fat awhile. It was then that he told me of a pet peeve. Pretty indignant he was too, because the Royal College hostel in Colombo, the hostel he had lived and learnt in as a boy, is now in a pathetic state. Rushan was reaching out, calling on all ex-hostelers of the Central Province, creating a body of concerned people who needed to pitch in with a will, raise 20 million rupees. This is what Royal needs. A new hostel that would house 400 children; a new hostel where these children could live in the sort of conditions we would always wish for our own.
On Saturday, August 15, I met Arthur St. V. Subasinghe, the oldest living Royal College hosteler. Arthur had made it to Kandy just to infuse as much enthusiasm as possible (and also stir the pot, which he did with a will) at the first meeting of the hill country Royal College Old Hostelers Association (ROCOHA). Also present was the College hostel Warden, H.K. Amaradasa, a quiet, unassuming man who was obviously feeling the weight of a dilapidated hostel and all its deficiencies. Many of Royal's 'evergreens' were there - Dr. Nihal Karunaratne (who was unanimously made President) and Kithsiri Wanigasekera, Chairman of the Queen's Hotel, Padmasena Dissanayake (who was made Secretary) and young go-getter Rushan who played a key role in getting all these 'Royal bed-fellows together. As Arthur said, four generations of Royalists today are absolutely appalled at the sorry state of the hostel. Nihal expressed shock and called attention to state of the toilets, dorms and other living areas. "Better hygiene must be developed," he said, adding that he hoped that none of what he said would get into the newspapers.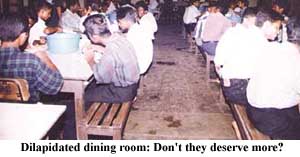 "Fat hope!" I told him over an arrack. "If we hide the problem what is the use of an association to solve it?" "I suppose you're right," he sighed.
Nihal and Arthur were pioneer Royal College hostelers, and it was Arthur who gave me such a precious insight into the days of old. It is still not quite certain when the Royal College first had its boarding. Some say the boarding existed in the late 1860's during the regime of Mr. Barcroft Boake, and it is certain that a boarding did exist in the early 1870's. It was the Colombo Academy then, and the Principal was Mr. Cull. This hostel constituted the upper floor of the main Academy building at San Sebastian - dorms and cubicles - overlooking the Beira Lake. As Arthur recalled, it was a haven for the big Lake flies - a determined body of insects who always shizzed around at mealtime. "We had to dress for dinner, full suit and tie," he said, "and there was the usual soup and stew into which the Lake flies plopped. There were the seasons when the flies came in swarms. Anyway, as Arthur remembers, the Lake flies may have won because by 1904 there were only 15 hostelers. They, too, ceased to be when the College was shifted to Thurstan. No boarding. Repeated requests, of course, but the government of the day did not respond (Now where have I heard that before?).
Anyway, it was only in 1935, when the Outstation Old Boys played the Colombo Old Boys at cricket that the two captains, D.W. Subasinghe and Forrester Obeysekere made a stirring plea for a hostel. The match was part of Royal's centenary celebrations and, with such a platform, the two skippers decided that the iron was hot enough. Naturally, all good things are worth waiting for and it took more time until Acting Principal H.J. Wijesinghe (who I am told was very energetic, especially with the cane!) went to Maha Mudaliyar Sir James Obeyesekere. "Give us, he suggested, your "Maligawa". That was Sir James' stately home, and with all its valuable furniture and fittings too. And Sir James did! Just like that! A Maligawa boarding. Could one ask for better?
The rest, as Arthur told me, could be said quickly. The military took over both Royal and the Maligawa in 1941. Royal continued at the University and then at Turret House, but the hostel had to be closed. In 1942 Royal had its war-time branch at Bandarawela. A hostel was imperative, what with the evacuees, and a bungalow, "Glendale" served. But the return to Colombo after the war did not see the return of the Maligawa. The military seemed to have taken a liking to it. The hostel had to move into a section of the old Training College, then shifted to the Siyawansa Exhibition Library building. Come to think of it, Royal really hasn't a hostel it can call its own.... even today!
So what am I pinpointing on? Is it simply a hostel that is needed.... or the Rs. 40 million to build one? If so, all that needs to be said is just that. But there is something else: Something that makes this a very large national issue. You see, the Royal College of today is a "reach-outer" - a haven and a hope for what we recognize as the cream of this country's students.... and these are students from far-flung rural areas and the outstations who have passed their Year 5 scholarship exam with flying colours. The best. The very best. And it is only the best that Royal accepts! Does the issue now become clear? It was ROCOHA Secretary Padmasena Dissanayake who made it clear still. Why can't the Education nabobs see it as it should be seen? "In the years since the birth of the Shisathvaya, Royal has accepted thousands of rural children.... the children who will not waste their sweetness on the desert air. They are the treasures of this country. They are the future , and, above all, they stand for a future of peace, unity and understanding. Our Royal hostel has preached and practised racial harmony since 1939. Just look at us.... "waving to the men leaning forward in their chairs, brothers all. Royal hostelers! All proud to be what we are! What do we have today? The finest students in the land, so many of them from far-away places, little hamlets and villages. A few are lucky. They board with friends or relatives in Colombo, but these are but a handful. Many need the hostel to live in. And what do they get?
Ah, a very palpable hit! Is it that even the government feels that village children, however bright, have no need for the scantiest of living comforts? So they may come from poor huts in Hambantota or plank houses in Chilaw.... but they have minds that are layered with riches. Maybe they don't ask for swansdown pillows or tiled toilets, but how does one expect children to grow, realize the fullness of their potential, expand, when the dormitories are flooded in the rains, when there is scarcely the room to breathe, when they can hardly go to their beds which are placed so close to each other that they must crawl in at the foot? This country has a future - and these are the children who will be it! Who else, for God's sake?
---
They are the future
Ahamed Sajid from Kandy has been at the hostel for the past four years. His favourite subject is science, and he wants to be a doctor when he grows up.
He is in the baseball team and enjoys school life. But he wishes the hostel facilities such as bathrooms, were better. When it rains, the bathrooms leak, and the grounds fill up with water. As a result they find it difficult to go to school, and to the dining hall, he says.
A.C.G. Fernando, a 14-year-old from Kurunegala entered Royal College four years ago, after obtaining a score of 183 for the Year Five scholarship exam.
The Rs. 4000 his father earns at the rice mill, supports a family of four.
Fernando is in the college hockey team and cadet platoon, and wants to be an engineer when he grows up.
Eleven-year-old Samith Kumara has only been at the hostel for two months. His parents' combined salary of Rs 7000 goes to support their family of four.
He misses his home in Kuliyapitiya, but knows he is here for his own good.