Veteran banker completes 50 years
Patrick de Silva, Deputy General Manager, Sampath Bank has completed 50 years of uninterrupted banking service, a unique feature in the Banking Industry. Mr. de Silva, a Fellow of the Chartered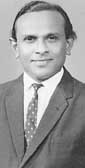 Institute of Bankers, London, started his career at the Bank of Ceylon at the age of 18.
He specialised from the inception in International banking, having pioneered this branch of banking in the Bank of Ceylon, when it started the Foreign Department under the guidance of C. Loganathan, who later became the General Manager, a bank release said.
Mr. de Silva also served in the London Branch of the Bank of Ceylon for four years where he had the opportunity of being trained by the Midland Bank and Barclays Bank. He retired from the Bank of Ceylon after completing 40 years of banking.
At the time of his retirement he was the Assistant General Manager in charge of the International Division. He joined Sampath Bank from its inception as the Assistant General Manager of International Banking.
Mr. de Silva took a keen interest in banking education. He has contributed several articles on banking to banking journals and conducted several training programmes on international banking.
He was the President of the Chartered Institute of Bankers, Colombo Centre, and was a founder member and President of the Association of Professional Bankers, Sri Lanka.
In recognition of his service to the banking industry, he has been given a Life Time Award by the Chartered Institute of Bankers, Colombo Centre, this year. Mr. de Silva is in charge of International Banking at Sampath Bank.
He is an old boy of Dharmasoka College, Ambalangoda.
---
Business Diary
August 21-23: Hotel Show '98 organised by the Ceylon Hotel School Graduates Association will hold classes tomorrow at the BMICH.
The target audience is the hospitality industry professionals including hoteliers, owners and managers of hotels, pubs, clubs, fast food outlets, restaurants and catering organisations.
The objective of the event is to provide an opportunity to all hotel-related suppliers, services and support organisations to come under one roof and exhibit their products and services.
This will include kitchen and restaurant equipment, food and beverages, cutlery, crockery and glassware, information technology and communication systems, sauna, jacuzzi and swimming pool equipment, leisure and fitness equipment, laundry and cleaning materials, air-conditioning and refrigeration, energy-saving systems and fire protection and security systems.
March 18-20 1999: Sri Lanka's premier apparel exhibition, AISEX '99 is scheduled to be held at the Sri Lanka Exhibition and Convention Centre.
The exhibition which is organised by the Sri Lanka Apparel Institute (SLAI) is being held for the third time.However, according to SLAI Chairman Lakdas Fernando, the '99 show is planned to be held on a much bigger scale. The exhibition will provide an opportunity for suppliers of fabric, accessories and services related to the apparel industry to display their latest range and develpments.
A total of 200 stalls have been planned for the exhibition.The SLAI also proposes to send a marketing team to India, Pakistan, Korea, Thailand, Malaysia, Hong Kong, China, Taiwan and Singapore to market stalls to international companies interested in introducing their products and services to the Sri Lankan and regional markets.
---
Tony's magic formula
This letter is a response from ComputerLand to our feature on Tony Weerasinghe of Millennium Technology in our column
Tony Weerasinghe's interview in your columns of the 19th instant makes interesting reading. As a former colleague and on behalf of ComputerLand where the seeds of his venture first germinated I should like to congratulate him on the phenomenal success of his company "Millennium Technologies" and wish him every success in the future.
However in the course of this exercise - with which we have no quarrel whatsoever - he has, inadvertently perhaps, shown ComputerLand in rather poor light. It is this perception that we wish to correct.
Let's get down to basics without more ado. Mr. Weerasinghe says he paid Rs. 32 million for the purchase of our Open Systems Div. Is this factually correct? Article 01 of the sale agreement states as follows, "The Buyer agrees to purchase from the seller and the seller agrees to sell to the Buyer the goodwill of the seller's Open Systems Div.(hereinafter referred to as OSD) for a principal consideration of rupees thirty million (Rs. 30,000,000)". Without doubt Mr. Weerasinghe will have a copy of the agreement.
Mr. Weerasinghe joined ComputerLand in Oct. '94 and when he left us in Jan '96 to join Millennium we had run up accumulated losses amounting to Rs. 4 million give or take a thousand or two.Add to this a sum of 7.5 million in outstanding debts and what have you - chicken feed really. All this must be seen in the perspective of Mr. Weerasinghe's assertion that he had to meet a number.
As manager of OSD Mr. Weerasinghe was solely responsible for the running of his department. He was given free rein, housed in a separate building, separate staff and overheads.
The entirety of his overheads was however met by the other departments and as a result of these losses the company as a whole was denuded. Every month scarce resources were drawn off the other profit making divisions and poured into OSD and, to think that this went on month after month for well over a year.
To give you an idea the rent of the building he occupied was Rs. 125,000. Compare that with the building that housed the rest of the divisions - Rs 135,000. Mr. Weerasinghe budgeted for Rs 223 million in sales but achieved just 28 million. Small wonder his overheads couldn't be met and what kind of "number " is that.
Here now we have a conundrum. How did this loss making entity compelling closure suddenly spring to life in the same hands albeit in a different location. Mr. Weerasinghe who maintains that he took a risk in joining ComputerLand is now in a new guise.
The very division that he controlled for little over one year unsuccessfully, now assumes a life of its own and begins to show profits from day one. Will wonders ever cease. Tell us the reason pray!
These and many other questions arise when we peruse Mr. Weerasinghe's article. Truth is we are also somewhat amused, like OSD was too complicated for us to handle, but he nevertheless made our staff to join him as he himself admits.Image building is all well and good but to do it at the cost of another's reputation is distasteful. In this case it smacks of biting the hand that fed you.
V. Ramanah
CEO, ComputerLand (Pvt) Ltd.
---
IPM New Office Bearers
39th Annual General Meeting of the Institute Of Personnel Management Sri Lanka was held recently. The following were elected Office Bearers and Council Members for the coming year.
PRESIDENT: Mr. U.A.C. Obeysekere Asst. General Manager, Human Resources & Administration, Hatton National Bank Ltd.
VICE PRESIDENTS: Mr. M.N.J. Jayaratne Asst.General Manager, Human Resources Management ,Commercial Bank of Ceylon Ltd Mr. M.U.J De Silva, Director, Human Resources, Brown & Co. Ltd. Mr. N.E.D. Wijegoonewardena-General Manager (Group Personnel) Ceylon Trading Co. Ltd.
HONY. SECRETARY: Mr. K. Wijayaratnam Management Consultant
HONY. TREASURER Mr. R. Mayan Personnel Manager, Cargills, (Ceylon) Ltd.
HONY. ASST. SECRETARY/ TREASURER : Mr. L.S. Peiris ,General Manager, G.O.B.U. Wellawatte Spinning & Weaving Mills Ltd.
HONY. EDITOR Mr. Y.S. David, Group Gen.Manager (Human Resource) Jafferjee Bros Group of Companies.
COUNCIL MEMBERS Mr. A. Joseph Management Consultant Mr. B.P. Ratnayaka Management Consultant Mr. D.P. Bollegala Managing Director, Pilgrims Rest & HolidayHomes (Pvt) Ltd. Mr. C. Hewapattini Manager, Human Resources, HongKong & ShanghaiBanking Corporation. Mr. A.P.L.D. Tillekeratne , Manager, Human Resources, CPC Lanka Ltd.Mr. U.L.P.K. De Silva Personnel Manager, Associated Batteries Ltd.,
---
Industrial Forum
Q: Under the Election Law we are required to give 4 hours leave for voting at a General Election. If an employee applies for 2 days leave for voting on the basis that his polling station is 150 miles away from the place of work what action can we take?
The election law specifies the minimum number of hours you should grant for voting. However, according to the Election Law the employer is required to grant a continuous period (not less than four hours in duration) to enable him to vote at the Election. Therefore, the employer is required to grant any period more than 4 hours as leave for voting considering the distance the employee has to travel to vote at his polling station.
Q: Some BOI Companies do not give letters of appointment, do not remit EPF, do not comply with BOI circulars increasing salaries but discontinue employment without giving valid reasons. They are even in the habit of changing their addresses to avoid receiving summons from courts. What are the remedies available for employees to redress these problems.?
The BOI companies are covered by existing Labour Laws of the country. If they do not remit EPF/ETF or fail to pay gratuity, the employee can make an official complaint to the commissioner of labour who is empowered to prosecute such employers to recover the amounts involved with surcharges. Similarly if they discontinue employees without valid reason, they can go before a Labour Tribunal or before the commissioner of labour under the provisions of Termination of Employment Act of 1971 for relief or compensation. If the BOI Companies fail to comply within BOI directions, such matters should be brought to the notice of BOI by the employee.
Regarding letters of appointment, there is no legal requirement in Sri Lanka to issue such letters except for shop & office employees.
Q: BOI Factories are financed by state banks on the basis of project reports accepted by BOI, in which managers salary is RS.15,000/= but the companies pay very low salaries and the Department of Labour is unable to help them as they do not came under the shop/office ordinance. How could such employees seek redress in above mentioned situations.?
The payment of salaries to Managers governed by the contract of employment entered between the Manager and the BOI company and not by the project proposal made to the BOI.
Q: Our organisation is a private company. We suspended an employee for misappropriation of company's funds and a Domestic Inquiry has been fixed. The accused employee has nominated a Trade Union Secretary as his defending officer and requested us to allow him to represent him at the Domestic Inquiry. Is it necessary us to allow this?
As you are a Private Company there is no legal requirement to allow the presence of a defending officer in the Domestic Inquiry. Such a provision is there in the Establishment code, which is applicable to state employees. Accordingly, allowing a defending officer will depend on the procedure followed by each organization. Most of the private sector companies allow only an "observer", (who is also an employee of the same company) to be present at the domestic inquiry. This provision is made even in collective agreement such as EFC/CMU collective agreement. However, the "observer" cannot question any witness and he is expected to play a silent role at the Inquiry.
Q:We employ travelling salesmen to sell our products. They normally work on Saturdays till 10.00pm and on Sundays from 8.00am to 6.00pm. Are these employees entitled for overtime for Saturday and Sunday work? They are paid a commission for selling our products.
As your salesmen are engaged in field work outside the shop or office, the provision relating to the normal maximum number of hours of work (i.e. 45 hours per week) will not apply to them. They can be employed over 45 hours per week without paying overtime. However, they are entitled for the weekly half holiday (Saturday) and for weekly full holiday (Sunday)
Q: I am an employee of a government owned limited liability company. I joined as an Electronics Technician and later I was appointed as an Assistant Manager .
By that time I had reached a basic salary of 7010/- on the structure of S8. The salary structure of the new post was on S10 beginning at RS. 5910/-.
On being appointed, my basic salary was reduced to Rs.5190 and the difference in the two basics viz. Rs.1820 was paid as a allowance that would be the same rate as the increment: Rs.325. In other words this allowance would be used to pay me my own annual increments. I protested about it and showed that this would affect my gratuity, EPF, ETF and Overtime. They told me that this had been done to avoid salary anomalies within the division. I have not had any tangible salary increase since 1993.
The personnel department argues that the advertisement that called for applications to the post did mention this (which is true) and that I had signed a document agreeing to this (also true). But I informed them that it was unfair to make this requirement from one who seeks career development and that they had no right to take away the privileges that I had already earned in the organisation. At my retirement, my basic salary will not reflect six years of service and this will reduce the gratuity payable.
I also suggested that if the basic was reduced and the allowance kept static, the effect would not be that harsh. The Personnel Department has remained non-committal throughout all this and has very carefully avoided replying all my letters from the very inception.
How can I seek redress if there is any possibility.
According to your letter you have applied for a post, the salary scale was lower than the salary scale you were placed and you have accepted the new post, agreeing to the terms and conditions of the new post of Assistant Manager. Therefore, there is no justification in your protest.
Q: According to law if an employee works on a Sunday, he is entitled to one and half times overtime and a lieu leave. During the past (3 years back) we have only paid one and half times overtime and not the lieu leave. At present we are acting according to law.
1. Now as the employees are claiming the past arrears of the lieu leave, does the company have to pay back the arrears according to the law?
2. Can the labour commissioner order the company to pay the arrears due to the employees?
3 Do the company have to pay the employees who have already left the company?
1. As the lieu leave is a legal entitlement the company has to pay arrears for the past.
2. The labour department can direct you and pay the arrears if any employee make a complaint.
3. Even the employees who have left you an entitled to receive arrears.
Q: In our company we have several labourers supplied by a Labour contractor. We do not make any payments to labourers and our dealings are only with the contractor. Is there any liability on us to make contribution to EPF and ETF on behalf of these labourers.?
The liability rests on the employer to make contribution to EPF/ETF. In your case, the employer is the labour contractor. However, if he fails to make contributions and the department of labour is unable to recover the contributions from him (due to incapacity to pay) through legal action, the company who engaged "contract Labour"is liable to make such contribution to EPF/ETF unless the company establishes that it takes all steps to ensure the contributions are made by the contractor.
Due to the confidential nature of the queries sent us we do not publish the names & addresses of the senders. And also we do not repy any letters by post individually.
Please do not hesitate to write to us about any problems you may come across regarding employment. Our expert on employment matters may advise you on any such matters. Our address is
"Industrial Relations Forum", C/O Sunday Times, No 47 , W.A.D. Ramanayake Mw. Colombo.02 Fax no.448323,423921. E.mail. Wnlgen@wijeya.lk
---
World Markets on Reuter pager
Reuters, the financial information organisation launches its latest product in Sri Lanka - the Reuters Smart Watch pager. This pocket - size financial workstation lets you follow the world's financial markets real-time.
Whether you are in or out of the office the information you need is available at the push of a button.
Smart Watch will keep you constantly updated on foreign exchange rates, interest rates, world indices, precious metals, domestic and international news as stories break.
The pager also includes live updates from the Colombo Stock Market. Create your own portfolio and watch it update wherever you are!
The smartWatch can be customised to your exact requirements, making it easier to monitor information that is vital to your business.
An invaluable 'limit alert' feature will notify you of market fluctuations even when you take your eyes off the market. Chart the progress of your favourite markets and see at a glance how they are performing.
Remember you can use smartWatch to receive personal messages as well!
---
Hero range launched
Hero cycles, made in India, launched an impressive range of international models recently. Present at the inaugural function at Lanka Oberoi were Minister of Transport A.H.M. Fowzie Minister of Trade' Kingsley Wickremaratne, Chairman, Hero Group Brij Mohan Lall and Vijay Munjal, MO, International Marketing.
Hero cycles have a strong presence in the standard cycles segment and with the launch of its new international range Hero plans to consolidate its position in speciality segments like All Terrain, Juvenile and Kids.
Sixteen new models will be added to Hero's current portfolio. A new marketing thrust for Sri Lanka has a single point agenda - 'Total Consumer Satisfaction". Along with the new products Hero Cycles is laying special emphasis in strengthening its distribution, a company release said.
Hero Cycles have 50% of the Indian market. In its drive to expand its market in neighbouring countries it is considering Sri Lanka as its first step.
"We are happy to begin our 'Overseas Marketing Drive' with Sri Lanka since it holds a special position in our hearts", Mr. Lall, has stated in the release.
The company manufactures 16,000 cycles a day in ISO 9001 plants under strict quality controls. These plants are state- of-the-art and are equipped with a fully automated paint shop and robotic welding techniques.
---
Herbals plans Galewela plant
Lanka Herbals (Pvt) Ltd., a subsidiary Company of Harcourts group will set up a modern Herbal medicine manufacturing plant at Galewela in a Rs. 200 million joint venture with Pharm Products (Pvt) Ltd. India, says a company release.
The Group Chairman Ahamed Rheyas said that he is proud to be associated with Pharm Products (Pvt) Ltd India, who are well known for producing high quality medicine using latest technology.
Lanka Herbals, one of the top runners in the Pharmaceutical Industry today making a substantial investment on Plant & Machinery is in consideration of the need to provide Herbal Medicine at affordable prices, the release says.
The foundation stone for this project was laid by the Chairman Ahamed Rheyas amidst a large gathering including the foreign investors at Puwakpitiya, Galewela. The installation and servicing of the plant will be done by a German company, the release says.
The Marketing Manager J. M. Ruzzan says that this new project will help develop international markets and provide an impetus for the global business strategy of the company. The stringent quality control from design to production, and final inspection of the product will be done by the Indian investors.
This new plant will be manufacturing drugs on par with international standards. The manufactured products will also be displayed at the Company's new state-of-art showroom cum medical centre at Dehiwela.
With the completion of the project in June 1999, jobs for more than 200 people can be provided and the company hopes to export herbal medicine to Bangladesh, U.A.E., Singapore and European markets.
Herbal products such as shampoo, hair oil, medicine for rheumatism, diabetes, asthma, and skin diseases will be manufactured.
---
New stereo systems from Hayleys
A new Philips domestic stereo system which delivers up to 3000 watts of music power has been launched in Sri Lanka by the sole agents for Philips, Hayleys Electronics Ltd.
The 'FM Series' CD mini system, which has been launched simultaneously in Singapore by Philips, is the most powerful model available in Sri Lanka, a company release says.
The launch of the 3000 watt stereo system follows the introduction of Philips 2000 watt model last year, which led the wave of high powered domestic stereo systems into the country, Hayleys Electronics Assistant Manager Philips, Lakshman Peiris has said in the news release.
The new model incorporates several special features including Philips patented 'Incredible Surround' and 'Dynamic Bass Boost' (DBB) technology.
The Incredible Surround technology provides a widespread effect of stereo sounds resulting in a sound effect similar to a concert hall, even if the speakers are placed only inches apart, the release said. The 3000 watt system is equipped with four surround speakers, it added.
The DBB feature is a separate bass booster switch which enhances the bass tones that tend to get drowned at low volume settings.
The new model is equipped with a three CD changer and 40 track CD programability, stereo digital tuner with 40 presets and a separate line-out jack for a subwoofer - a compact amplifier and speaker unit which delivers exceptional deep bass sounds.
Other features include the popular 'Karaoke' function, full logic dual cassette deck, wake-up timer and compatibility with PAL/NTSC televisions, which enables sound from the television to be output through the stereo system.
Hayleys Electronics markets other Philips products such as Home Theatre systems and the Philips 21 inch Nicam Stereo TV in Sri Lanka. The company is also involved in the distribution of home appliances and lighting products and is the sole agent in Sri Lanka for Daewoo Electronics, Daytron and Usha.
---
If future is your worry TBills can cure it
By GamBlurrr
Our topic for this week, is the primary market operations of Treasury Bills. We have the services of .Assistant General Manager (Treasury) DFCC Bank, Mangala Boyagoda to guide readers on the pros and cons of purchasing Treasury Bills.
Treasury Bills (TBills) offer a lower interest rate compared to bank deposit rates, this is a common phenomenon in developed countries. But in developing countries like Sri Lanka and India, it's the reverse. TBill rates are higher than bank fixed deposit rates.
For instance in Sri Lanka, a12 month bill is auctioned at 13 per cent interest. Bank fixed deposit rates are 9 per cent to 11 per cent on average. See the gap, there is ample opportunity for savers to move their money to government treasury bills.
Q: What is the advantage of buying Treasury Bills?
A:TBills are a very simple form of investment. The bill can be discounted anytime, anywhere before the maturity period, due to its liquidity. People are also willing to buy them because of its guilt edge security. It's like keeping cash at home.
Q: How does one know how much of TBills are on offer?
A: Every Monday, the Central Bank announces the quantum they hope to borrow from the public for that particular week on a 3,6, and 12 month basis. The Central Bank approved primary dealers could then bid for the TBills at the auction held every Wednesday.
Q: What should an investor take into account, prior to purchasing TBill?
A: If an investor wants to buy a TBill, he must first decide on what period he wishes to invest, be it 3,6, or 12 months. Once the period is decided, it's important for him to decide what rate he is going to ask from the government. The same Central Bank advertisement gives the previous week's auction weighted average rates indicating details of the previous auction, like the quantum the government issued, the number of bids they received, the amount they got, how much the government expected from the auction, and weighted average rates.
This gives a clear view to the investor. You have to compare this week's quantum against the last week's.
The government rates fluctuate from week to week. The quantum on issue and the bills maturing also change every week.
Q: What does it mean when the maturity rate is higher than the government borrowing requirement?
A: This means excess money is coming into the market. If the borrowing requirement is higher than the maturity, that shows the government needs more money. You also have to see the liquidity in the market. All this information is an important guide to make the correct investment decision.
Q: Where can an investor buy a TBill?
A: The government has appointed 18 primary dealers to trade TBills. There are 11 commercial banks and 7 non commercial banks.
Q: Can anybody go to any branch of these primary dealers to buy/sell their TBills?
A: Yes of course. All primary dealers having rural networks are committed to sell TBills. The access is there, but people especially in the rural areas are not using it.
Q: Does only the Head Office of these institutions issue TBills?
A: No. As part of broadbasing the TBill operations, Central Bank has instructed that all dealers having branches should deal with TBills. Even a farmer from Anuradhapura can go to the nearest primary dealer branch and buy a TBill.
Q: Can they cash it anywhere they want, at any branch?
A: Yes, anytime they want they can discount the bill prior to its maturity.
Q: How does someone go out and buy a TBill?
A: First of all, a minimum TBill issue is Rs. 10,000. The Central Bank reduced the amount to broadbase the TBill ownership. He can approach anyone of the primary dealers located islandwide and ask them to put a bid for a specific time period. As a bank customer he can go and ask what are the investment products available, and buy a TBill. As a primary dealer, if a bank refuses, then the bank is violating the purpose of issuing TBills. They should not be a primary dealer if they are not going to do that. The request must come from the investor.
The next step is, the investor should be aware of the risk reward structure. TBills have guilt edge security, it's like lending to the government, it's guaranteed by the government. Lending to government is the best anywhere in the world, it's the best security with nothing to worry. Liquidity is the next step. The problem is that, you should know when you are going to get your money back when you buy a TBill.
Q: Are the TBill rates higher than inflation?
A: Yes, the return is higher than inflation. The inflation this month is 10.3 per cent but a 12 month bill is sold for 13 per cent interest. Then you compare this with the existing bank fixed deposits and savings schemes as to what return you would get. First you must think of the risk you carry depending on the institution, then compare the liquidity with the savings and fixed deposits.
Q: What are the advantages of a TBill over a savings account?
A: A savings account permits only four withdrawals per month. If you withdraw more than four times you don't get an interest, ie no return on your investment. This means that your liquidity is restricted.
Q: What about fixed deposits?
A: Compared to bank fixed deposits, treasury bills are much more liquid. A commercial bank would penalise you by about 3-4 per cent if you withdraw your money prematurely. But such a loss never exists in TBills.
But in the case of TBills, if you have Rs. 100,000 deposits, you can take 10 certificates, you can also discount them at anytime. The primary dealers are expected to buy them back depending on the prevailing market rates. The return is much higher than bank deposits, so why not go for a TBill?
The entire process buying and selling TBills is very simple. Don't complicate things, it's just simple arithmetic.
Q: Are investors unaware of the benefits of a TBill to request to buy a bill?
A: Yes, there is a lack of awareness at grassroots levels. It's the duty of the dealers and the media to popularise it.
Banks may offer a lot of products. But it's up to the investor to decide what is suitable for him. If he is educated enough he would benefit from it. He should be able to pick and choose what he wants, without blaming anybody. The awareness has to be created.
The numbers game
If you invest Rs. 100 for a 12 month period, what is your return?
Investment Period Rate Interest income (Rs.) Total (principle+capital)
Rs. 100 12 months 13% 13 Rs. 113 (100+13)
If you invest Rs. 100 you get Rs. 113 at the end of one year. On the other hand, you can calculate how much you should invest if you want a return of Rs. 100:
100/113x100 = Rs. 88.4955.
That means if you invest Rs. 88.4955 you get Rs. 100. Now you calculate your return.
You get Rs. 100 by investing Rs. 88.4955, your interest amount is Rs. 11.5045 (100-88.4955 = 11.5045).
You have invested Rs. 89.4955 you got Rs. 11.5045 interest, your investment amount return as a percentage comes to 13%. (11.5045/88.4955*100 = 13%).
For 6 months period:
Investment Interest rate per annum Interest income for six months Total
Rs. 100 12.8% 12.8/2 = Rs. 6.40 Rs. 106.40
To get Rs. 100, how much should you invest?
100/106.40x100 = Rs. 93.9849
By investing Rs. 93.9849 you get Rs. 6.0151 as interest. To work yourself backward to get 12.8% you calculate it by: 6.0151/93.9849x100 = 6.4x2 (6 months) = 12.8%.
For 3 months period:
Investment Interest rate per annum Interest income for 3 months Total
Rs. 100 12.40 (12.4/4) Rs. 3.10 Rs. 103.10
To get Rs. 100, how much should you invest?
100/103.10x100 = Rs. 96.9932
By investing Rs. 96.9932 you get Rs. 3.0068 (100-96.9932) as interest, to work yourself backward to get 12.4% per annum you calculate it by:
3.0068/96.9932x100x4 = 12.4%.
This is the advantage in investing in TBills, it has a higher return and low credit risk.
We come back to the risk reward structure. If you can't understand the structure today you will never make a right decision. You have to calculate the risk, liquidity and return, prior to making any investment decision.
As savers it's important you pick and choose the right investment. The best investment is Treasury Bills and Treasury Bonds.
Next week we will discuss the secondary market for TBills, as well as the Treasury Bond market.
---
LUMS programme
Carsons Management Services (Pvt) Ltd, a subsidiary of Carson Cumberbatch & Company Ltd, in association with Lahore University of Management Sciences launched a General Management Programme on August 9 at Pegasus Reef Hotel, Wattala. The immediate past Chairman of the Ceylon Chamber of Commerce, Mano Selvanathan, was also present.
Since 1985, the Lahore University of Management Sciences (LUMS) has established itself as one of the leading centres of excellence in management education not only in Pakistan but also internationally, a company release says.
In 1993, Interman, an organisation of ILO recognized LUMS along with London Business Schools and University of Michigan as one of the three most innovative educational institutions in the world.
LUMS has also conducted executive education prgrammes for the Commonwealth Secretariat, World Bank, British Council and the United Nations Development Programme.
This programme is unique in Sri Lanka as it has brought an International flavour by having over 11 participants from the Asian Region all of whom are senior managers from reputed business houses.
This, a two-week residential programme is targeted at Senior Managers who are on the threshold of assuming higher responsiblitlies as General Managers. It also has the desired effect of interaction with foreign participants thus simulating an overseas training experience, the release says
---
Oriflame to market new product range
Oriflame Lanka
( Pvt ) Limited will expand their product range from 85 to 140. shortly
" We will introduce this new range at a big launch event at the Lanka Oberoi August 29," company officials, said at a media briefing last week.
"Due to the positive response we have received from the market, a decision was taken during March 1998 to expand the product range, company officials added.
Oriflame products, based on herbal extracts with their newest range provide the end user with a comprehensive body care collection.
This includes skincare, haircare, bodycare, colour cosmetics, manicure and pedicure products.
" To us each end user is also a distributor, " Sales Manager Ms Nihara Jayathilleke. said.
"Everyone can make themselves a lucrative career as a successful Oriflame distributor which is a luxury within everyone's reach.
Oriflame products were launched eight months ago in Sri Lanka and for that short period the growth has been outstanding with over 1800 male and female distributors in most parts of the country including areas such as Galle, Matara, Trincomalee and Badulla ," said Ms. Jayathillake.
The distributors in all parts of the country are given frequent training in all aspects of beauty and skin care.
Among their distributors are those who were once in full time employment and today having left employment these people have found Oriflame a flexible career with excellent prospects, incomes range from Rs 2000 -65,000 a month.
Founded in Sweden in 1967 , Oriflame , was quoted on the London Stock Exchange in 1982.Today it is present in over 57 countries worldwide and markets products to diverse target markets covering the Middle East, Europe and Asia.