Wesley,Trinity are joint champions
By Saif Izzadeen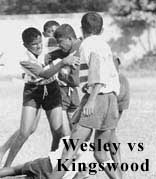 In a tournament which saw future ruggrites of Sri Lanka in action Wesley and Trinity emerged joint champions at the 'Daily' mini under 13 rugby tournament which concluded at Campbell Park yesterday.
This competition, which was conducted by Wesley College, Colombo to celebrate their 125th anniversary was sponsored by Daily Milk. Sixteen teams took part in the competition.
In the B Division final Royal 'B' met St. Luke's College, Ratnapura. After a hard struggle Royal 'B' overcame the Ratnapura school 21-0. St. Lukes, Ratnapura should be commended for entering the final. They played excellent rugby and should be a name to be watched in rugby circles in the future.
In one of the 'A' Division semi-finals it was a battle between two hill capital rivals - Trinity and St. Anthony's. Trinity had to go through a tough time before scoring a 7-0 win.
In the other semi-final the hosts Wesley beat another team from the hill capital - Kingswood - by the same margin to set the stage for a classic confrontation between Wesley and Trinity.
It was most probably the best match of the tournament. Both teams played rugby of the highest possible order. Attacking rugby was the order of the day by both teams. However due to stout defenes by both teams, the game ended in a barren result and they were declared joint champions.
When the first half ended the score was deadlocked at zero all. Even after full time the scoreline remained unchanged. Then the organizers added three extra minutes, but the scoreline did not change.
---
Mubarak, Jayasuriya shine for Royal
A swashbucking third wicket stand of 217 runs between Jehan Mubarak (129) and Ruchira Jayasuriya (86) helped Royal to amass 331 for 6 dec. against S.Thomas' at Mt. Lavinia yesterday.
In reply S.Thomas' were struggling at 5 for 1 at the end of the first day's play of the Singer Trophy Under 17 cricket semifinal.
S.Thomas' chasing a daunting target of 332, were made to struggle as the Royal pacemen removed one of the openers leaving them at 5 for the loss of one wicket at close. A huge task awaits the home team today.
Earlier Royal, electing to bat first after winning the toss, opened the innings with Andrew Perera and Malinda Totuwilage. But the pair failed to give them a good start as they lost Andrew Perera with the score at 9 .
Eighteen runs later Royal lost their second wicket, that of Milinda Totuwilage, which had them groping at 27 for 2. Then Ruchira Jayasuriya joined Jehan Mubarak and staged a right royal recovery by associating themselves in a 217 run stand for the third wicket.
The pair tore into the Thomian bowling attack and rescued Royal in grand style.With the score at 244 Royal lost their third wicket, which was Ruchira Jayasuriya's - who was out for 86. His innings was studded with eight well timed boundaries. Meanwhile Jehan Mubarak completed a fine century before he was out for 129 which had 10 boundaries and one huge six.
Then Royal added another 87 runs for the loss of three wickets with Shafraz Saldin and Sajiv Fernando, remaining unbeaten on 21 runs each.
For S.Thomas', Asela Paranawitharana (2 for 65), Milinda Gunaratne (2 for 30) bowled well. The match will be continued at 9.45 AM today Royal - 331 for 6 (Milinda Totuwilage 18, Jehan Mubarak 129, Ruchira Jayasuriya 86, Shafraz Saldin 21 n.o, Sajeev Fernando 21 n.o; Asela Paranawitharana 2 for 65, Milinda Gunaratne 2 for 30)
S. Thomas' - 5 for 1 at close of play - (SI)
---
Good Bye Duncan
The joy of living you had in full
you couldn't have wished for more
With all good things in plentiful
many reverses you forbore
No athlete has been raved so much
nor is esteem held to-date
Yet reckoning for that 'Silver' touch
sadly came too late-
The Olympic feat for years shall reign
in countless lines of rhyme
For Duncan White shall ever remain
'The greatest' in our time-
Your warmth and love woven together
reached beyond any depth
You would have given your heart to another
even in the hour of death-
To know you've gone and never return
shed tears of running woe
Though mortals decay or to ashes burn
memories fondly grow-
Your life is now in heavenly bliss
unheard, unseen and far
Yet in my thoughts I'll never miss
your children or Angela-
Our fun and mirth in friendship begun
for fifty years on end
and now when all is said and done
I've lost a precious friend-
Let's bless the lord that gave us
a journey less of strife
Pray you rest in the arms of Jesus
till we meet again in life-
Neville D. Abeygunawardene.
---
Asitha Attygala was awarded the Fritz Kunz Memorial Cup for the most outstanding schoolboy at Ananda College. He excelled in tennis and achieved the White Badge Umpire status of the International Tennis Federation. He is one of the youngest to receive this award.
---
Fakir to manage Carrom Team
M.F.M Fakir, senior vice president of the Carrom Federation of Sri Lanka and assistant secretary of the International Carrom Federation (ICF) has been appointed manager of the Sri Lankan team. The Sri Lankan team will play a three Test series both men and women against the visiting Indian carrom team for the Independence Trophy.
The first Test is scheduled to be played at the St. Joseph's College Auditorium, Maradana today (09. 08.1998) at 2.30 p.m.
The second Test is scheduled to be played at Badulla on August 11 at the Old Dutians Sports Club at 9.00 a.m and the final Test is scheduled to be played at the Galle Face Hotel on August 13 at 2.30 p.m.
Mr. M. F. M. Fakir is the manager (Branch Operations) at the National Development Bank of Sri Lanka.
---
Protinex Body Building
Protinex Inter Club Body Building Championship organised by the Central YMCA of Colombo and sponsored by Astron Limited, is to be held on August 28 from 5.00 p.m. onwards at the Colombo YMCA Gymnasium,
The semi-finals will be held on August 22 at 1.00 p.m. at the same venue.
Eight weight categories for seniors and an open event for juniors under 21 years will be worked out at this contest.
Entries close on or before August 22 with Mr. Sarath Kasturiarachchi, Sports Officer, Sports & Recreation Department, Central YMCA Colombo.
---
National Cycling C'ship after 14 years
The National Track Cycling Championship is to be revived after 14 years by the Cycling Federation of Sri Lanka. It will be sponsored by Mitsui Cement Ltd. The championship will be held on August 14 at the Sports Ministry grounds, Race Course on the grass track.
This event is commended by the Department of Sports Development of the Ministry of Sports.
For the first time cycling has been included at the 24th National Sports Festival as the 25th discipline. It is to be held at the Sugathadasa Stadium on August 22.
The best cyclist (man and woman) will be awarded the Mitsui National Track Cycling Challenge Trophy.
Events will be conducted for men and women open and for boys too.
This competition will be a preliminary selection trial to select teams for the Asian Games in Bangkok in December. The Cycling Federation is also to conduct a time trial on September 18 and 19 at Anuradhapura.
Judges and time keepers too are to be graded, with a view to get them international recognition.
The last National Track Cycling race was conducted in 1984 at Anuradhapura on a turf track. It was won by Prabath Silva who is currently a Vice President of the Cycling Federation.(AF)
---
Rover Pinpoints...
Coach thrown out
A leading basketball coach and five players who arrived in Korea claiming that they had been invited to play a few matches were sent back by the Korean immigration authorities who said that there was no such invitation.
Rover learns that they had gone to Korea for job hunting.
Earlier, this coach was caught using a false birth certificate to play for his school.
Tennis coaches sacked
1. A senior tennis coach who was for over 20 years on the SLTA's coaching panel was sacked without wages and EPF money and ETF money.
The reason for the sacking was that he had critisized the Chairman, Coaching and Promotion.
2. Another senior coach was told to get out because he came 10 minutes late to a meeting of the coaches with a bottle of coke in his hand. No notice was given for their being sacked.
Clarification
The National Amateur Aquatic Union admits that the team representing Sri Lanka at the 12th Asia Pacific Age Group Swimming and Diving Championships went under the tag of NAASU.
Then how is it that Sri Lanka colours were given to them, as reported in a Newspaper (not The Sunday Times). Rover stands by his story of the NAASU and their blue-eyed boy.
Seedings lopsided
With the withdrawal of a few leading players at the 83rd Tennis Nationals, the seedings seem to be lopsided, Rover feels.
---
Skanda to upgrade Sara Stadium
By Marlon Fernandopulle
Tamil Union's new President S. Skandakumar has pledged to upgrade the P. Saravanamuttu Stadium of all facilities for international cricket, the players, press and media.
Taking over the presidency of the club at the 99th annual general meeting Skandakumar said, "Ours has been a sad story of progressive decline from a position of high prestige. With the centenary year, only twelve months away, your committee has taken some meaningful steps to restore that prestige".
The Saravanamuttu Stadium which hosted Sri Lanka's first ever Test match sixteen years ago has been overlooked in the recent past for various reasons. In view of the very significant role played by this venue a request for financial assistance has been made to the Board of Control for Cricket in Sri Lanka, and the new president is certain that he will have a favourable response.
Among the elaborate plans Skandakumar has made prior to the centenary year is the development plan for two badminton courts, a squash court, a gymnasium and an Indoor Cricket net.
In addition, all facilities to host International Cricket matches will also be upgraded.
Addressing a large gathering at the meeting Mr. Skandakumar said: "Looking at the distinguished people today, I know that there is now a high tide in the affairs of the club".
In conclusion he said, "The club needs you far more than you need the club. All I ask, is that you extend your hand to help put it back to its rightful position".
Office Bearers:
Patron V. Balasubramanium; President S. Skandakumar; Deputy President Tryphon Mirando; Imm. Past President C.T.A. Schaffter; General Secretary Tissa Jayatilaka; Treasurer Ramesh Schaffter; Asst. Sec./Asst. Treasurer Ratna Thiagarajah; Ground Secretary Selva Perumal; Bar Secretary Felix Perumal; Pavilion Secretary Nihal Wijewickrema; Cricket Secretary Rasakantha Rasiah; Tennis Secretary Adrian Seneviratne; Reception Secretary Prins Ratnam.